Director(s): Chloe Zhao
Writer(s): Chloe Zhao
Cast: Frances McDormand, David Strathairn
Synopsis: Follows a woman in her sixties who, after losing everything in the Great Recession, embarks on a journey through the American West, living as a van-dwelling modern-day nomad.
I have been saying all year that sometimes the simplest of ideas provide some of the best stories. Nomadland doesn't do anything different. It doesn't reinvent the wheel as to how we are supposed to look at and enjoy a film, it doesn't set out to be something experimental or weird, and it sure as hell isn't looking for anyone's approval along the way. This movie, which at times doesn't even feel like a movie, never speaks down to its characters or its audience and is instead is one of the most honest, intimate, and beautiful looks at lower-class life that I have ever seen.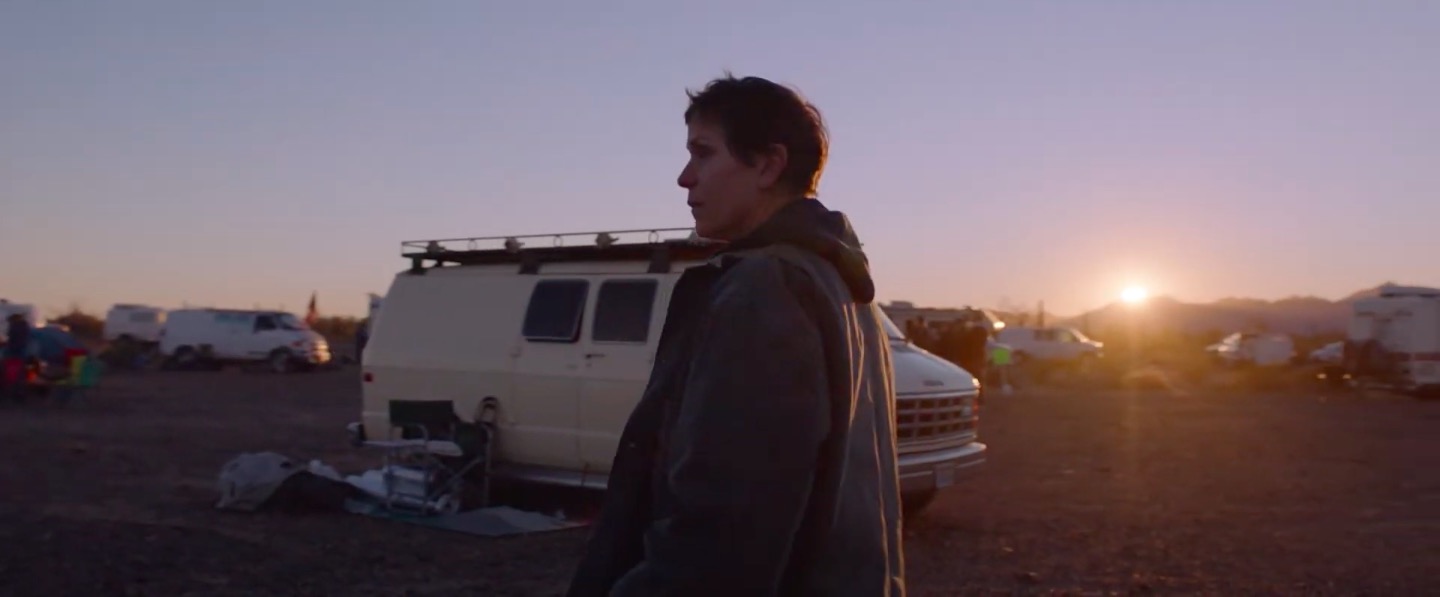 At the very root of the film, this movie is about people, and Zhao did such a remarkable job in highlighting some of the people that we often forget about. These people don't have time to stress over the material things in life, and instead find beauty in their everyday situation. No one in this film complains about anything but just manages to get by with the little they are given.
Told through some incredibly well written and delivered stories, we learn about the lives of these people and how much they truly had to endure. These people are some of the forgotten members of society, the worker bees that have to whichever dirty jobs they can to barely scrape ends meet. They don't find beauty in material objects, but instead search for the real beauties in nature and beyond. Their stories feel real and beautiful, but also heartbreaking at times and the wide range of emotions was perfectly captured.
Frances McDormand, who blows her previous Oscar-winning work for Three Billboards Outside Ebbing Missouri out of the water, is at her absolute best. Akin to Casey Affleck's harrowing and nuanced performance in Manchester by the Sea, McDormand is beautifully emotionless as someone who has lost everything and refuses to be stagnant and must always be moving. This lifestyle she has is a rough one and is one void of any real intimate relationships, but it is the lifestyle she has chosen.
Her grace and her journey along the film is captured with such a raw and vivid feel that makes every walk through the beautiful desert, or by the ocean shore, feel like a hero's journey in and of itself. She is doing just enough to get by, but it is the only way she would want it. When we start to learn more about her character through these small stories we begin to empathize with her decision and manifest that she gets everything she searches for.
On the technical side of things, this film is as top notch as anything I have seen this year. From the breathtakingly gorgeous score, to the beautiful scenic cinematography, to the intimate and poetic direction. Zhao and her crew finds a way to his absolutely every note imaginable, and the culmination is one of the best and most pristine films of the entire year.
Final: Nomadland shows us how every story is a memory, every memory is a moment, and every moment is a journey. Impeccably told through a powerful script, breathtaking score, and wonderful performances, Nomadland finds the beauty in the forgotten.
My Score:
Current Tomato Score: 97%
Current Metacritic: 97
Awards Prospects: Picture, Director, Actress, Supporting Actor, Original Screenplay, Cinematography, Score
Jacob is a film critic and co-founder of the Music City Drive-In. He is a member of the Music City Film Critics' Association and specializes in the awards season. You can find him on Twitter @Tberry57.