We're on to the back half of the NFL Season, and Week 9 provides a number of key battles that could have an impact on the NFL Playoff picture. Below are five games on Sunday that I'm excited to see, plus weekly picks from me and Lindsay.
Sunday Early Games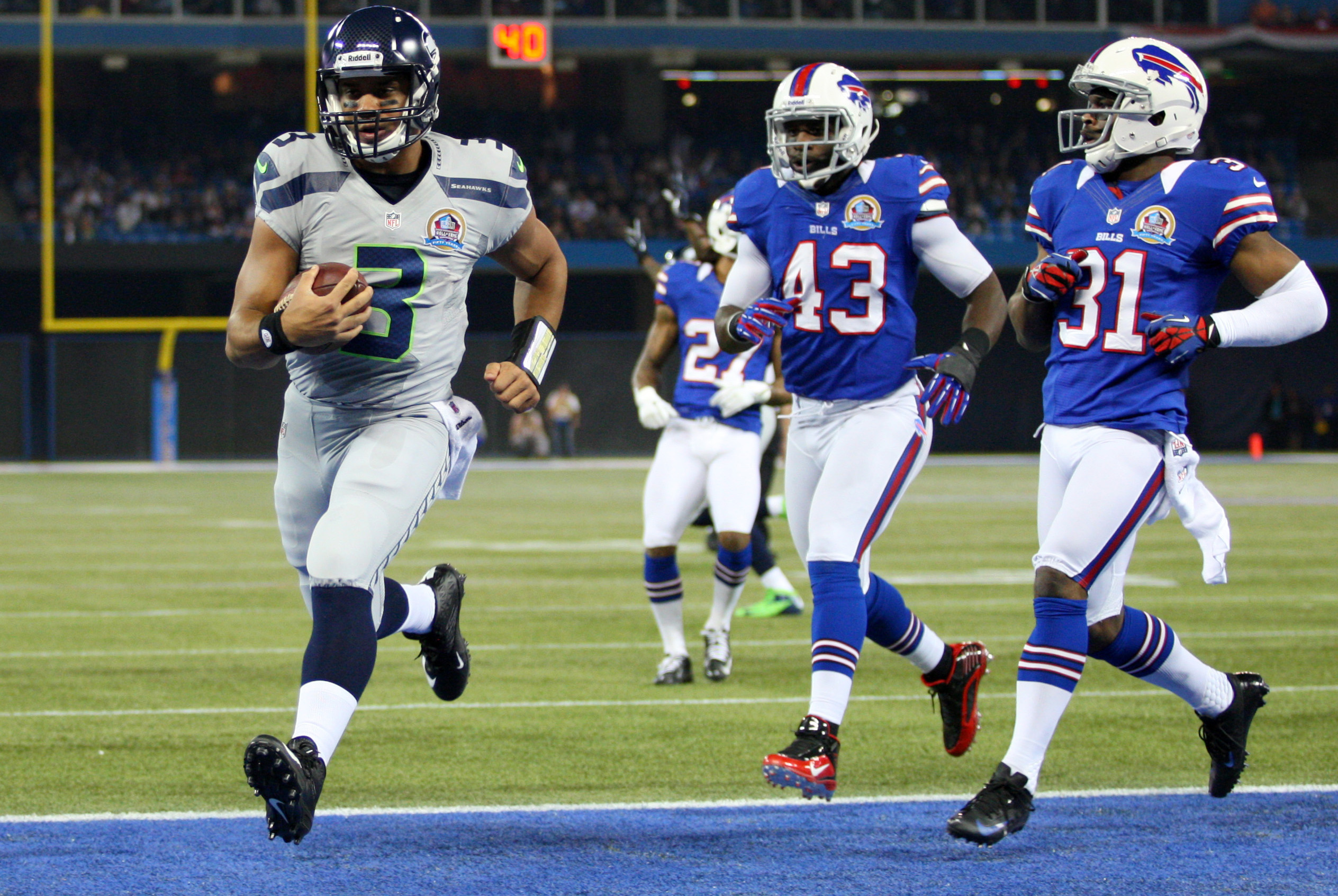 Seattle Seahawks (6-1) at Buffalo Bills (6-2)
A few weeks ago this would have been a battle of the front-runners in the MVP Race, but Buffalo's Josh Allen has cooled a bit since his hot start. Despite that, he has the Bills at 6-2, atop the AFC East and as one of the top teams in the AFC. Russell Wilson, meanwhile, has been amazing, leading the Seahawks to a 6-1 record while looking like a potentially record-setting gunslinger. This ought to be a big game, and one that will have major playoff implications for these top teams.
Chicago Bears (5-3) at Tennessee Titans (5-2)
This is a clash of teams that started hot but have been trending in the wrong direction. The Bears began the season 5-1 and have since lost two straight. At 5-3, they're now on the cusp of falling out of the playoff picture. The Titans are in the same boat. The team began 5-0, and have lost two straight to fall to 5-2. Now they face a tight battle with the Colts for control of the AFC South. Neither team can afford a three-game losing streak, so the pressure is on in this one.
Baltimore Ravens (5-2) at Indianapolis Colts (5-2)
The Ravens are coming off a tough loss to the Pittsburgh Steelers and are looking for a win to stay in contention for a solid seed in the playoffs. The Colts, meanwhile, with a win over Detroit in Week 8 and the Titans' loss moved into a tie atop the AFC South. Both teams are hungry for a win, and it will have a major impact on the divisional standings.
Sunday Late Games
Miami Dolphins (4-3) at Arizona Cardinals (5-2)
This is a battle of young, up-and-coming teams that find themselves in the playoff picture. The Dolphins are second in the AFC East, and coming off a win in rookie Tua Tagovailoa's first start. Now comes his first road game. He squares off against the Cardinals, who are coming off a bye week. Prior to that, second-year quarterback Kyler Murray and the Cardinals outlasted the Seahawks. The Cardinals sit at second in the NFC West, a division where every team is at .500 or better coming into Week 9. Will Tua lead the Dolphins to the win, or can Kyler keep charging toward the playoffs?
Sunday Night Game
New Orleans Saints (5-2) at Tampa Bay Buccaneers (6-2)
These two teams met on opening day, with the Saints coming up with a big home win. That was the only time Michael Thomas suited up for the Saints so far this season, but he could well be back for this Sunday Night Football clash. The Buccaneers, meanwhile, have been one of the hottest teams, and hold a slim lead in the NFC South. But a loss to the Saints would drop them back to second and put them even further in the hole having lost both head-to-head battles. This is the first week Antonio Brown is eligible, and he figures to play. That gives the Buccaneers yet another weapon as they try to defend their home field against their toughest divisional rival.
Week 9 Picks
Lindsay and I both finished 8-6 in Week 8, so she holds on to a slim lead. Will it grow in Week 9? Here's our weekly picks.
Matt's Week 9 Picks:
Packers Over 49ers
Broncos Over Falcons
Seahawks Over Bills
Titans Over Bears
Lions Over Vikings
Ravens Over Colts
Chiefs Over Panthers
Washington Over Giants
Texans Over Jaguars
Raiders Over Chargers
Steelers Over Cowboys
Cardinals Over Dolphins
Saints Over Buccaneers
Patriots Over Jets
Last Week: 8-6
Season: 72-47
Lindsay's Week 9 Picks:
Packers Over 49ers
Broncos Over Falcons
Seahawks Over Bills
Titans Over Bears
Vikings Over Lions
Ravens Over Colts
Chiefs Over Panthers
Giants Over Washington
Jaguars Over Texans
Raiders Over Chiefs
Steelers Over Cowboys
Cardinals Over Dolphins
Buccaneers Over Saints
Jets Over Patriots
Last Week: 8-6
Season: 73-46
Matt's Week 9 Picks Against the Spread:
Packers -2.5 Over 49ers
Broncos +3.5 Over Falcons
Seahawks -2.5 Over Bills
Titans -5.5 Over Bears
Lions +3.5 Over Vikings
Ravens -2.5 Over Colts
Chiefs -10.5 Over Panthers
Giants +3.5 Over Washington
Texans -6.5 Over Jaguars
Raiders +1.5 Over Chargers
Steelers -10.5 Over Cowboys
Cardinals -4.5 Over Dolphins
Saints +4.5 Over Buccaneers
Patriots -7.5 Over Jets
Last Week: 5-9
Season: 51-68
Matthew Fox is a graduate of the Radio, Television and Film program at Biola University, and a giant nerd. He spends his free time watching movies, TV, and obsessing about football. You can find him @knighthawk7734 on Twitter and as co-host of the Fantasy Football Roundtable Podcast, a proud member of the Drive-In Podcast Network.