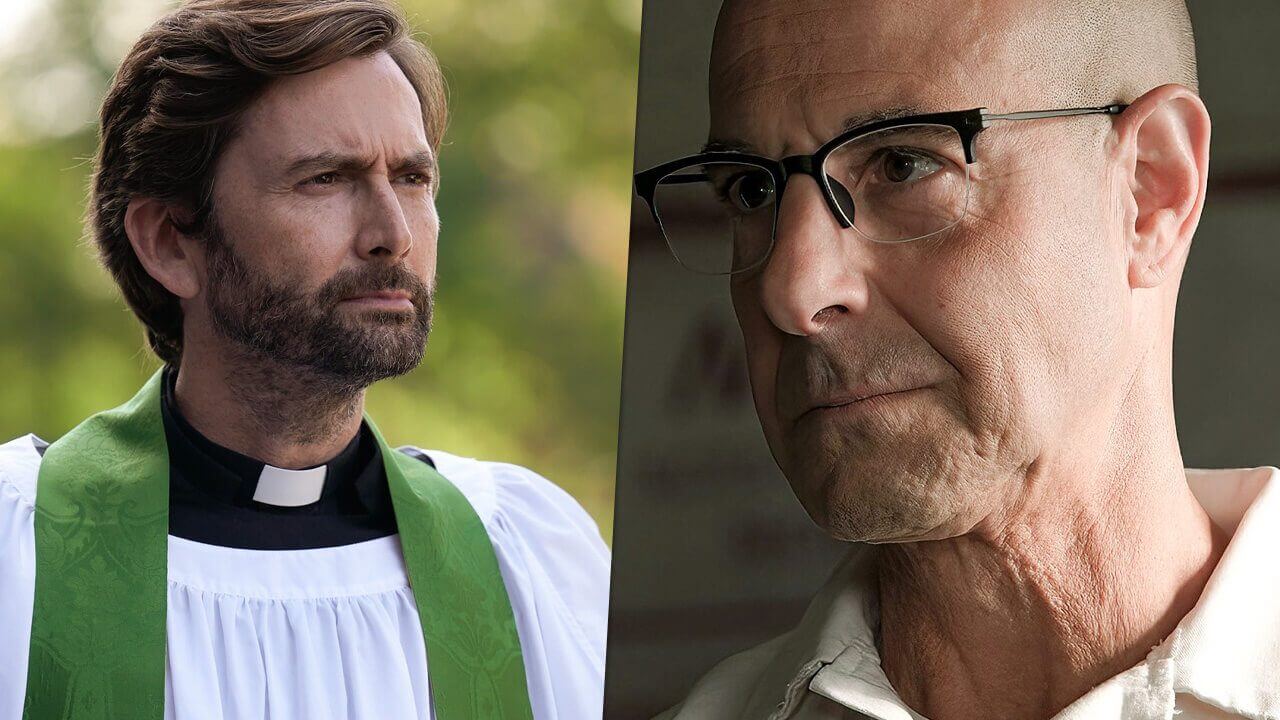 Hard to believe it's November. Don't worry, it is November officially today. You're likely in the midst of a candy hangover, looking to decompress with a good show. And there are plenty of options out there, but what's worth seeking out? Well, let this weekly post be your guide as I look at the pilot and second episode of new scripted series this Fall. Don't see a new show listed below? Check previous weeks.
Streaming Series:
Guillermo Del Toro's Cabinet of Curiosities, Now Streaming on Netflix (Premiered October 25)
About: This new anthology series had a week-long roll out, with two episodes dropping each day from Tuesday through Friday. It's the spooky season, and this was well timed to take advantage of audiences looking for a little grim entertainment. Del Toro created the series and penned two of the eight episodes. Each episode features a different director, different cast and a different story, all of them meant to cause you to think and be on edge. Perhaps there are some that do, as I didn't watch them all. However, the first two I watched when it debuted on Tuesday were OK but not as scary as one might expect. I enjoyed some of the shots and the idea of the series, which feels a bit like the old Creep Show format, but I wasn't thrilled with the first two stories. Both had potential and had some moments but both felt like they pulled some punches when it came to the overall resolution. Still, for those who are fans of the season, this will likely be something of a treat.
Pilot Grade: C
Second Episode: C
Tales of the Jedi, Now Streaming on Disney+ (Premiered October 26)
About: Hailing from Dave Filoni, the man behind Clone Wars, comes a new animated series. This short series features six episodes, all less than a half an hour, telling different stories in the lives of classic Jedi characters. That includes Ahsoka Tano, whose early years feature prominently in the first installment. The animated style here is similar to what we've seen in other features from the Star Wars universe, and these tales expand on the legacy and lore of beloved characters. For those who are fans of the universe, they'll be a welcome addition. For those who are trying to gain entry into the world, the self-contained stories might not be enough of a hook. I enjoyed the two I watched for what they are though I didn't feel a big draw to finish out the series.
Pilot Grade: C
Second Episode: C
The Bastard Son and The Devil Himself, Now Streaming on Netflix (Premiered October 28)
About: This new Netflix series wants to be a more mature Harry Potter. It's based on the Young Adult novel Half Bad by Sally Green. It's set in the world of wizards and witches, where an evil wizard Marcus Edge, has reigned terror on the rest. His son, Nathan Byrn (Jay Lycurgo), has born the pressure and scorn of being the son of the devil, being raised by his grandmother after his father killed his mother. Now that he's 17, he's coming into his powers and the authorities of the magical world want to train him to be a weapon to face off against his father rather than being an agent of evil that threatens the world. This is a darker and more violent world, but follows a similar premise to the classic series to which it will likely draw comparisons. The first two episodes are about building out the world, showing some sequences of violence but portending that more are coming. The series spans eight episodes, all around an hour and all now available to stream. I thought the premise was OK but I wasn't taken with the characters and stories, which made it something of a slog.
Pilot Grade: C
Second Episode: C
The Devil's Hour, Now Streaming on Amazon Prime (Premiered October 28)
About: This new crime drama is a six-episode series from England that is now available to stream on Amazon Prime. Each episode is about an hour and all are now available to stream. The series centers on Lucy Chambers (Jessica Raine), a social worker who is dealing with a strangely aloof son and keeps waking up at 3:33 a.m. each morning. She also seems to be having strange visions. As we're meeting Lucy and seeing her life play out, we also see her conversations with a man (Peter Capaldi) in custody who seems to know a lot about her life. At the same time, police are investigating a strange series of crimes that have links to Lucy and her son. Through the first two episodes all the pieces are put into play. It isn't until the closing moments of episode two that you understand how all these pieces are start to connect. I like the cast. Raine is a strong lead, and Capaldi is a good actor whose role is very limited in the early going. I like the idea and the potential of where this is going. While the pilot was a bit dry, the second episode picked up the action and ends on a cliffhanger that will either keep you in or be the deciding point for the journey. For me, it was enough to make me want to see how it all ends.
Pilot Grade: C
Second Episode: C+
Inside Man, Now Streaming on Netflix (Premiered October 31)
About: Just in time for Halloween, Netflix is dropping a British mini-series starring David Tennant as Vicar who gets embroiled in a tough situation. The series runs four episodes, each about an hour, and all four are available to stream now. The series aired earlier in the Fall in England and now makes its domestic debut, taking place in two locations and involving four people suddenly brought together. Stanley Tucci plays a legal expert who is on death row after killing his wife. He crosses paths with a young reporter (Lydia West) looking for a story. That reporter became friends with a math tutor (Dolly Wells) after she stood up for her during a bullying situation on a train. That tutor works with the son of a Vicar (Tennant), whose possession of a thumb drive creates a misunderstanding that forces him into a desperate act to keep his son's tutor from ruining his child's life. The first episode sets the stage and the second episode deepens the mystery and shows how all of it is coming together. It's buoyed by some great acting and some crisp writing. It's a unique premise and the pilot has a strong hook, while the second episode keeps the momentum going. Having it run just four episodes also makes it a quick investment, one that's worth checking out.
Pilot Grade: B-
Second Episode: B-
Matthew Fox is a graduate of the Radio, Television and Film program at Biola University, and a giant nerd. He spends his free time watching movies, TV, and obsessing about football. He is a member of the FSWA. You can find him @knighthawk7734 on Twitter and as co-host of the Fantasy Football Roundtable Podcast.