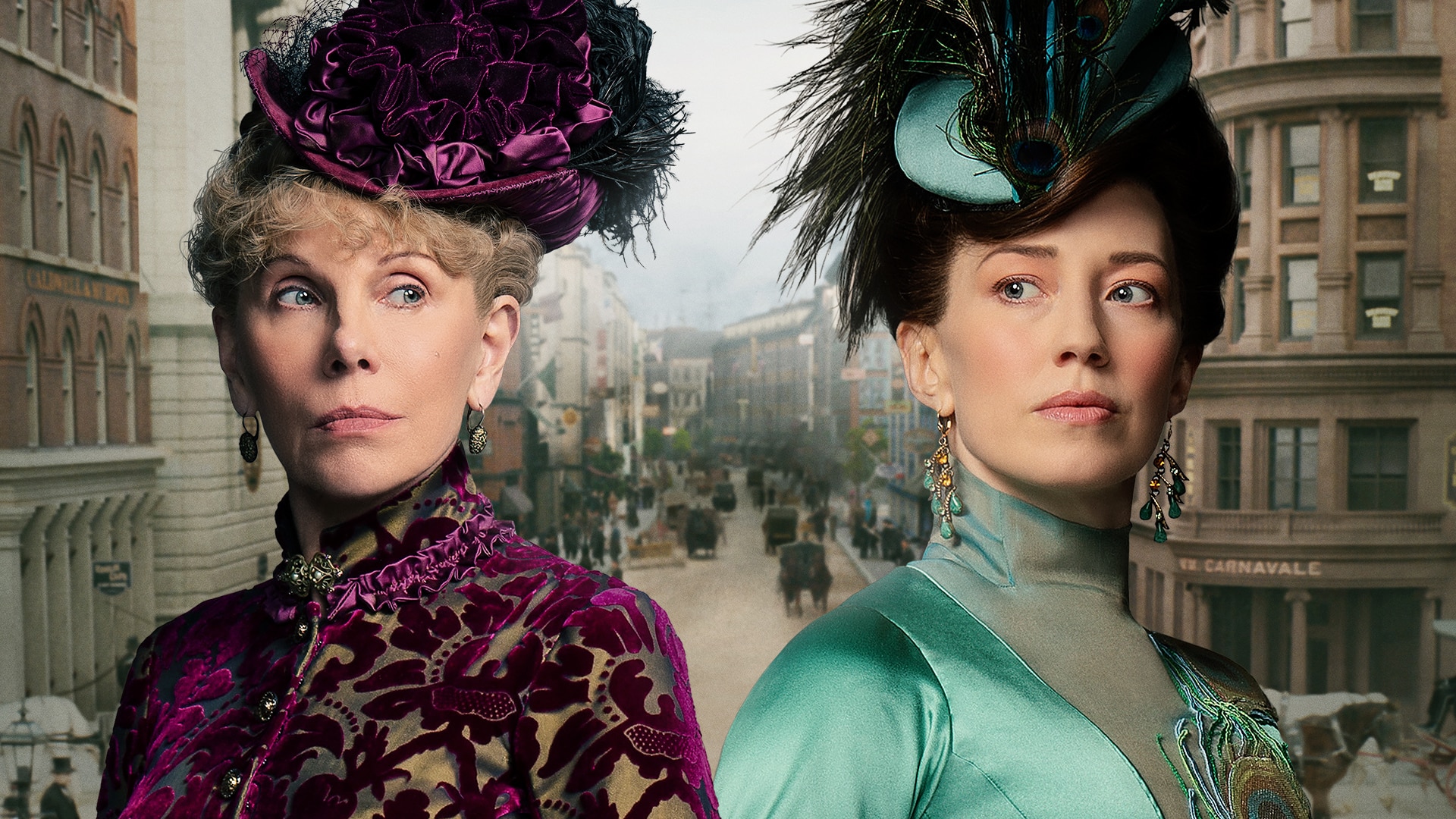 February is here, literally today. And if you're like me, it's a cold one. We're beginning days of snow and cold in Colorado, something that much of the East Coast had this past weekend. That kind of weather lends itself to staying indoors with a blanket and watching some TV. But what of the new series is worth your time? That's what this weekly post is all about as I look at the pilot and second episode of new scripted series this Winter. Don't see a new show listed below? Check previous weeks.
Mondays:
The Gilded Age, Mondays at 9 p.m. on HBO (Premiered January 24)
About: The latest from Julian Fellowes will likely hold great appeal for Downton Abbey fans, bringing that look at the upstairs and downstairs world to New York in the 1880s. The first episode, which ran about an hour and 20 minutes, laid out the world and characters. This is a beautifully crafted series with some great production values. It also boasts a strong cast. The second episode, which settled in around 45 minutes, kept going with the stories and building the world. I appreciate Carrie Coon and Morgan Spector as the Russells, and Christine Baranski as Agnes Van Rhijn. The writing is solid here and I enjoy the series set up. I think this could be a fun watch. I was a big fan of Downton Abbey, and I feel like this series will hit that sweet spot as well.
Pilot Grade: B-
Second Episode: B-
Promised Land, Mondays at 10 p.m. on ABC (Premiered January 24)
About: This latest ABC series is about a family of vintners who are fighting for power among each other. The pilot, which established the soapy tone, featured enough twists and turns to set up some fun conflicts moving forward. The second episode continued those threads but I thought it took things a bit slower. Overall, I feel like it's a decent swing if you like the style of series, and it feels stronger than the other series that follows the same basic idea, but it doesn't quite hit home for me. The cast is decent and there's some to latch onto but the first two episodes didn't hook me into these characters and world strong enough to keep coming back week after week.
Pilot Grade: C+
Second Episode: C
Wednesdays:
Astrid and Lilly Save the World, Wednesdays at 10 p.m. on SyFy (Premiered January 26)
About: This new series is paired with the returning series Resident Alien to give a new Wednesday night lineup for SyFy. This one wants to be a bit like Buffy the Vampire Slayer in its tone and construct. It's about a pair of high school outcasts who open a dimension to monsters and have to swing into action to safeguard the people of their town. That description seems appealing but the finished product here is dreadful. The pilot was a snooze that felt mis-cast and mis-timed in its execution. This was a complete miss and it's hard to see the second episode correcting the issues here.
Pilot Grade: D
Fridays:
The Afterparty, Fridays on Apple TV+ (Premiered January 28)
About: The latest for Apple TV+ comes from Christopher Miller and focuses on a group of people who are attending their 15th High School Reunion. During the after party, the most famous member of their graduating class (Dave Franco) is killed, leaving a local detective (Tiffany Haddish) to get the to the bottom of what happened. Each of the episodes, around 30 minutes, centers on a different member of the group recounting their take on the night and the party as the clues come together to figure out who is behind it all. The cast includes Sam Richardson, Ben Schwartz, Illana Glazer and Ike Barinholz, among others. I thought the concept worked well and the first three episodes, which all dropped Friday, moved at a good clip and introduced the characters and the world well. I appreciated the blend of humor and mystery, and I look forward to seeing how this plays out over its first season, slated to be eight episodes.
Pilot Grade: B-
Second Episode: B-
Streaming Series:
In From the Cold, Now Streaming on Netflix (Premiered January 28)
About: This new spy drama centers on a single mother (Margarita Levieva) who is chaperoning a school trip to Europe with her daughter. She's soon snagged by a member of the CIA, who discovered she was a Russian spy gone dark and trying to live a normal life as a wife and mother in America. She's recruited to resume her craft for the CIA or face prison, all of which reveals the secret to her success. I thought the pilot here was interesting and the idea was interesting. I also like Levieva in the lead role. However, the end of the pilot adds a twist that honestly didn't quite work. The second episode also went in directions that I didn't appreciate as much. The series is eight episodes, each about 45 minutes. It's an easy watch but I was torn after the first two episodes about whether it's worth the effort to dive into the journey.
Pilot Grade: C+
Second Episode: C-
The Woman in the House Across the Street from the Girl in the Window, Now Streaming on Netflix (Premiered January 28)
About: This parody of Rear Window-esque thrillers starring Kristen Bell was a hotly anticipated streaming premier. The series is eight episodes, each less than 30 minutes it is a breezy binge watch. That's all the good news. The bad news is that the episodes were fairly bland. I liked the idea and the potential, but it takes a bit of time to get going and doesn't really create an incredibly compelling narrative. I watched the first two episodes and felt little hook to see what would come next. I waded a bit into the third episode but it didn't pick up much. Word from some who've seen the whole thing is that the ending doesn't land, either, which is a red flag. I still think this is a solid concept that could work, and I enjoy Bell as a lead performer, but this didn't land as I'd hoped.
Pilot Grade: C
Second Episode: C
The Legend of Vox Machina, Now Streaming on Amazon Prime (Premiered January 28)
About: Stop me if you've heard this before, but this is an adult animated series. Those seem to be all the rage of late, and this one will likely appeal most to hard-core fans. It's set in the Dungeons and Dragons world of Critical Role, with much of the first season funded through a Kickstarter Campaign. As someone not familiar with the source material, I appreciate the story but it didn't mean much to my enjoyment of the series, which wasn't high. The first three episodes were released on Friday with episodes dropping in subsequent weeks. Episodes are about a half an hour and likely follow the source material closely. I wasn't taken with the style or the story, so it was something of a slog. This feels like some niche programming, so take that with a grain of salt.
Pilot Grade: C-
Second Episode: D
Matthew Fox is a graduate of the Radio, Television and Film program at Biola University, and a giant nerd. He spends his free time watching movies, TV, and obsessing about football. He is a member of the FSWA. You can find him @knighthawk7734 on Twitter and as co-host of the Fantasy Football Roundtable Podcast.