Where has January gone? The first full month of 2022 is almost in our rearview mirror. And with this month has come a flood of new content. Are you fighting to catch up? If so, you might be wondering what's worth binging and what's worth skipping. Let this weekly post be your guide as I look at the pilot and second episode of new scripted series this winter. Don't see a new show listed below? Check previous weeks.
Mondays:
The Gilded Age, Mondays at 9 p.m. on HBO (Premiered January 24)
About: The latest series from Julian Fellowes (Downton Abbey) is set in the 1880s in New York. It's another series tackling the cultural divide, with some core characters the wealthy elite living in palatial mansions and some those living in the serving quarters. The added wrinkle here is the class warfare among the elite, with the old money rejecting the new money—in particular the Russell Family who have built an opulent home in the midst of an old money neighborhood. The cast is loaded, topped by Christine Baranski, Carrie Coon and Cynthia Nixon. The production values were beautiful and the pilot, which runs nearly 90 minutes, lays out the world and the characters in an engaging fashion. For those that loved the Downton Abbey aesthetic, this will likely be a welcome addition to the lineup. I like the cast and the writing. This has promise and is a nice addition to the HBO original programming landscape.
Pilot Grade: B-
Promised Land, Mondays at 10 p.m. on ABC (Premiered January 24)
About: Apparently 2022 is the year of soaps, especially those about large, complex families running successful vineyards. That's the case with Promised Land, the second series in as many weeks to tackle the premise. This one feels a touch more series, also touches on immigration issues. It's in the anchor spot on Monday nights on ABC and boasts a solid cast. Unlike Kings of Napa, this one didn't kill off its patriarch. But it's still about secrets that threaten to undermine the empire that's been built. I thought the pilot moved at a decent clip and was well acted, offering a few different storylines that should be interesting moving forward. It also had a few interesting twists that I enjoyed. Overall, this feels like something with potential, but we'll see how that develops.
Pilot Grade: C+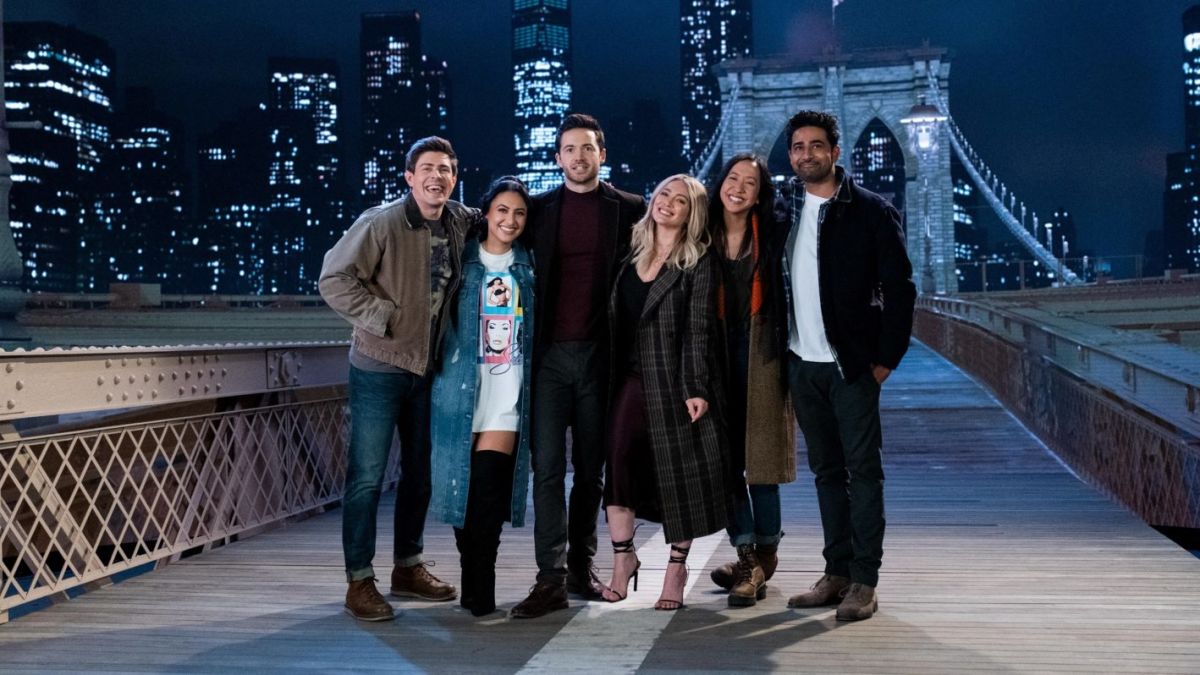 Tuesdays:
How I Met Your Father, Tuesdays on Hulu (Premiered January 18)
About: How I Met Your Mother was a popular sitcom for years on CBS. In fact, it's one of my favorites of all time. It makes sense in some ways that in the era where everything old is new again that we'd see this idea swing back around. Enter Hulu, which has a new version of the formula, this time centered on one woman's (Hilary Duff) story of how she met her son's father. Kim Cattrall plays the older version, serving as the narrator. This one also establishes a firm connection to the original story in the pilot and dedicates said pilot to the memory of Bob Saget, who narrated the original series. Those are all nice touches… however, the comedy and construct here does not work. At all. I thought the pilot and second episode, which were both released Tuesday with subsequent episodes released weekly thereafter, were both dreadful. I wasn't bought into the characters and the performances felt stiff and wooden. This was missing the heart and spark of the series it's trying to copy and as a result feels like a poor imitation. You can safely skip this mess.
Pilot Grade: C-
Second Episode: D
Naomi, Tuesdays at 9 p.m. on The CW (Premiered January 11)
About: The latest CW series based on a DC property feels markedly different from what's come before in the Arrowverse. The pilot was a slow burn introducing characters and only hinting at the basic premise in the closing moments. The second episode was another slow burn, one that sort of took some time and made little progress as the core character, Naomi (Kaci Walfall). This is a different kind of superhero story for The CW, paired with Superman & Lois, giving it a great lead in. The first couple episodes were too slow for me and didn't really hook me with the characters and the central premise. That made it hard for me to connect and feels like a miss. It's nice to see The CW trying to expand the brand, but this just doesn't quite work.
Pilot Grade: C
Second Episode: C-
Kings of Napa, Tuesdays at 10 p.m. on OWN (Premiered January 11)
About: This is the other Prime Time soap focused on a family that has plenty of secrets that threaten an empire built around a successful winery. This one saw the patriarch, played by Isiah Whitlock, Jr., pass away early in pilot, leaving the central plot to focus on the squabble between his children, the secrets he tried to bury and a black mail plot. So, there was a lot going on. I didn't take to the characters and the story felt more than a little forced. The second episode felt similar. It leaned heavily into the soap operatic elements at the expense of creating some compelling characters.
Pilot Grade: C-
Second Episode: C-
Thursdays:
Single Drunk Female, Thursdays on Freeform (Premiered January 20)
About: In this new half hour for Freeform, Sofia Black-D'Elia stars as a woman who hits rock bottom at work, injuring her boss in an ugly incident while drunk. After clearing the legal process, she's granted probation and forced to move home to live with her mother (Ally Sheedy) and try to rebuild her life with the help of a new sponsor (Rebecca Henderson). The series offered a two-episode premier on Thursday which helped you dive into the characters and the world. I enjoyed Black-D'Elia in the lead and I thought it had a compelling mix of humor and dramatic moments. I liked the cast and the sequences. The pilot had a nice hook and the second episode settled into a decent groove. This feels a bit different from some of the Freeform offerings and one that could have legs.
Pilot Grade: B-
Second Episode: C+
Sundays:
Somebody Somewhere, Sundays at 10:30 p.m. on HBO (Premiered January 16)
About: This latest half hour for HBO is centered on a middle-aged woman in Kansas, Sam (Bridget Everett), who is struggling with the death of her sister, and best friend, while trying to find a place to belong in her small home town. She has an up-and-down relationship with her family and a job that she merely tolerates. The second episode continued to explore the world and Sam's journey toward accepting herself and finding a way to build a life. I like Everett in the lead role and I enjoyed Jeff Hiller as her friend and confidant, Joel. It's an interesting addition to the Sunday night lineup, which includes the second seasons of Euphoria and The Righteous Gemstones.
Pilot Grade: C
Second Episode: C+
Streaming Series:
As We See It, Now Streaming on Amazon Prime (Premiered January 21)
About: The latest from Amazon is a new series from Jason Katims, who was the creative force behind Friday Night Lights the series and Parenthood the series. This time he's back with a half hour that tells another story about an under-represented group, those with autism. The series follows three autistic adults—Jack (Rick Glassman), Violent (Sue Ann Pien) and Harrison (Albert Rutecki)—who are all trying to find their place in the world. For Jack, that means fitting in at his job, for Violet it's a quest for love and for Harrison it's the ability to go out and engage in the world. There to help guide and support them is their aid, Mandy (Sosie Bacon). She has her own dreams, but she's torn between outside influences and the three in her charge that she's grown to love. The episodes had light-hearted moments but also some serious moments. It feels very much in line with other offerings from Katims, getting me right in the feels a couple times. I enjoyed Bacon in the lead role, and appreciated the character work done by Glassman, Pien and Rutecki. The supporting cast includes Chris Pang, as Violet's brother, and Joe Mantegna as Jack's father. The first season is eight episodes, all available now to stream.
Pilot Grade: B-
Second Episode: C+
Fraggle Rock: Back to the Rock, Now Streaming on Apple TV+ (Premiered January 21)
About: Fraggle Rock was a big part of my childhood. Now it's back on Apple TV+, which has produced quite a series of family-friendly programming. The new season is 13 episodes, each around 20 minutes and all available to stream right now. I watched the first two and it felt nostalgic, returning to a world and style of storytelling that felt quite familiar. I enjoyed them for what they were and think it will work best for younger viewers.
Pilot Grade: C
Second Episode: C
Matthew Fox is a graduate of the Radio, Television and Film program at Biola University, and a giant nerd. He spends his free time watching movies, TV, and obsessing about football. He is a member of the FSWA. You can find him @knighthawk7734 on Twitter and as co-host of the Fantasy Football Roundtable Podcast.