Directed By: Reinaldo Marcus Green
Cast: Will Smith, Jon Bernthal, Aunjanue Ellis, Saniyya Sidney, Demi Singleton,
Synopsis: A look at how tennis superstars Venus and Serena Williams became who they are after the coaching from their father Richard Williams.
All I've heard for the last month since King Richard debuted at festivals was that Will Smith is winning the Oscar for his portrayal of Richard Williams – the father of tennis phenoms Venus and Serena Williams. Of course, actors have been in similar spots before when the guaranteed early front-runner ends up not getting called Oscar night. HOWEVER, nobody has started campaigning harder than Will. In LA, there are about 1.3 million signs for the film with Will Smith front and center and he has spent the entire week weaving in and out of screenings sharing the film.
Richard Williams had a vision for all of his kids, one of which that he was convinced from the outset was that he was grooming two of the greatest tennis players of all time. The global impact the Williams sisters have had is nothing short of remarkable, so to see that the foundation of these ladies comes from a strong father, a strong mother, a strong family was beautiful to watch.
We often see biopics that try to reinvent the wheel or give us too much information at once. Throughout this film, the writing that stood out was Zach Baylin honing in on the Williams family's early stages; staying in that lane and not trying to cover their entire career. It was vital for Baylin to display the struggles and battles the family face, and how they overcame to become who they are today.
One of the things I wasn't expecting from this film was to walk away entirely floored by the score. However, upon seeing Kris Bowers's name in the credits, I was not shocked at all. Bowers is an unbelievable talent that elevates anything he puts his hands on. I was utterly moved in several critical moments by what he brought to the film, and I hope the Academy recognizes him for his work.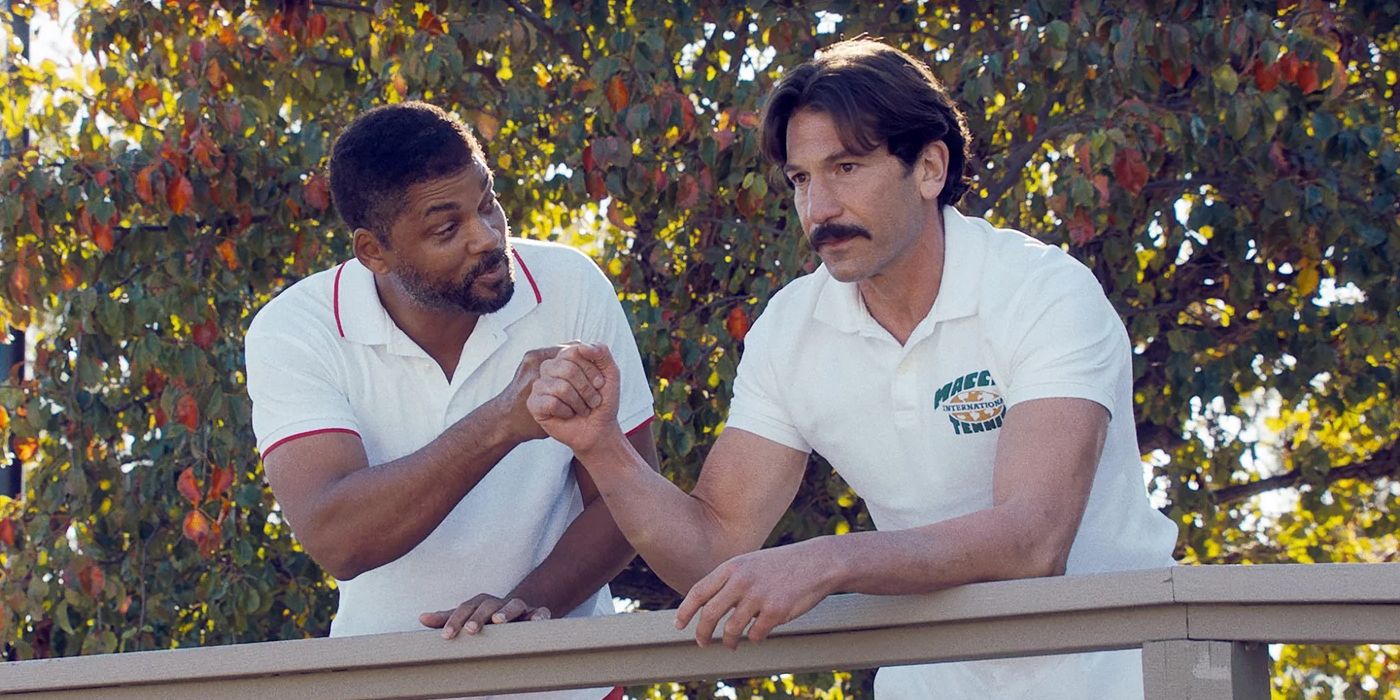 Speaking of the Academy, where do I start on the acting here? Will? Jon? Aunjanue? Demi? Saniyya? Tony? The entire cast is remarkable in this movie. Beginning with Will, he completely floors you with his super-dad approach to the role of Richard. There are several moments throughout this movie where he leaves you feeling every sort of emotion possible. Of course, we all know Will is a great actor, but this felt special and something we haven't seen from him in a long time.
Every year it feels like we are talking about one of the year's best films and Jon Bernthal has some role in it. However, the most significant difference between his role in King Richard and the rest of those roles is probably his best work to date. First, I will mention the Hall of Fame mustache. Next, Bernthal steals the show from the first moment we see him as Rick Macci and several scenes between Bernthal and Smith are my favorites of the year.
The rest of the Williams family is remarkable, with Aunjanue Ellis as Momma Williams and the dynamic pair of Saniyya Sidney and Demi Singleton as Venus and Serena. Each member of the cast knew what was needed to make this film as good as it was.
For the film's direction, Reinaldo Marcus Green's capture of the tennis sequences put us smack dab amid these matchups and because of that, the scenes were elevated to a higher level. He had a unique eye within every frame of this film that impressed the hell out of me.
Finally, the presented journey is one of which will stand the test of time as one of the better biopics we have seen in a long time. From top to bottom, everyone played their part to make this project special. I truly loved this film and I can't wait to revisit it soon.
The Verdict: A