Playing fantasy football is something that people take very seriously. It's very easy to get behind the eight-ball and have to make a comeback. There are so many variables in fantasy football and you are the manager behind all the decisions. Start a player that scores four points? Sit a player that scores 44? It's maddening.
I'm currently 0-5 in one of my re-draft leagues. Dalvin Cook, DeAndre Hopkins, DJ Chark, Ryan Fitzpatrick and TJ Hockenson have done everything they can to keep me out of the win column. It didn't help that I lost my first two weeks by a combined 2.4 points. I lost week 4 by 2.6 points. Just brutal. This can happen to the best of us. I'm either 5-0 or 4-1 in 85 percent of my leagues and it's a pretty big sample size. Being 0-5 is an aberration. I'm going to go nuts with this team. I'm sure I'm not the only one out there that thought they had a good team only to fall on the hardest of times. Typically the only solution in re-draft is either to put significant time into making trades or my personal hell, the waiver wire.
Typically my teams perform well and I'm later in the waiver order. It can be so frustrating watching all the top end players going ahead of you. When you're 11th or 12th in waiver order, it's really difficult to find anyone better than who is already on your roster. Watching the Carolina running back behind CMC getting picked up due to him being injured and not being able to do anything about it hurts.
A lot of leagues I'm in have the FAAB waiver system, which somewhat eliminates the waiver order. I used to end so many seasons with my full budget left over. Now I completely blow my budget early. I'm still working on mastering it. Making trades isn't always easy, especially in re-draft leagues. Simply working out an offer that benefits both teams can be difficult, then getting the other manager to buy in can be just as difficult. I have been running my home league for somewhere around a decade now and I think we've had less than a dozen trades, and not for lack of trying. People drafted their guys and they can be stubborn to let them go.
Without trades, the waiver wire is it, so hit it and hit it hard. Don't just plan for one week, unless you're streaming a position like defense or covering for bye weeks. Sometimes going big is much better than going home. I'll submit eight or nine waivers in some weeks hoping someone falls to me. Hitting on the waivered players can be a bigger driver than a solid second half of your draft if it's done right.
My advice to you would be to submit those waiver adds. As many as you think would improve your team. You can set up multiple waivers on a single player if you are only looking to upgrade one of your (hopefully) bench players. Don't get frustrated and let it drag your season down. You can't win them all…until you do.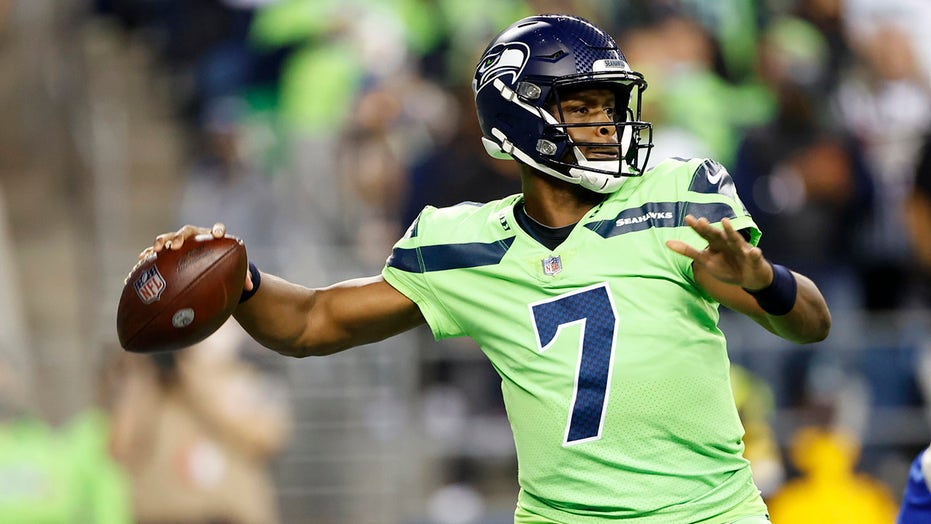 Geno Smith Will Be Playable In All Formats Until Russ Comes Back
I've been catching all sorts of laughs on this one, but I'm still going with news. I know, I know. Geno Smith has never been amazing. He's always been alright to somewhat less than alright. I'm probably crazy for this take. Geno can't be good at this point in his career right?
I think there's more to Smith than people think. He's going to make some plays that he wants back, but what quarterback doesn't? He's on a run first team that will probably go even further towards running the ball until Russ comes back. Doesn't matter to me. The Seahawks have been working the ball to the running backs through the air as well this season, and those running backs that are catching it are making things happen. He's got safety valves that he hasn't seen in past years.
The guy spent a portion of his career playing for the Jets. When was the last time the Jets had a decent quarterback? I'd lean towards Joe Namath. That can't be a coincidence. Geno hasn't had much opportunity since being labelled a failure. He finds a way to get into a game to throw a pass or two, but this is going to be his first real action since his sophomore season. Given how he performed after Wilson went down was very encouraging.
You have to remember that this is also his best group of receivers he's ever had the opportunity to throw to. D.K. Metcalf's physicality and talent make up for a lot of mistakes. It's hard to overthrow a Tyler Lockett. Freddie Swain can catch passes. Will Dissly is not hugely involved in the offense, but I think it's almost that coach Pete Carroll doesn't want to depend on him being healthy as the talent is there. They got Gerald Everett in the off-season and he has yet to make an impact, but has consistently caught 40 or more passes every season.
Geno was changing plays and protections under center right off the bench. He was prepared and obviously knows the offense. He did throw a pick in a bad spot, but he was trying to hurry the ball down the field without much time to make it happen. Just hitting the field in the manner he did gives me confidence.
Starting Geno is not going to hurt you. He's probably not going to throw up 40 point games, but he should be consistent enough that he can placeholder for Russ if you have him. I like him over a Heinicke, Tua, Zach Wilson, Mac Jones and several others. He's going to make the ball move down the field and get his from a fantasy perspective.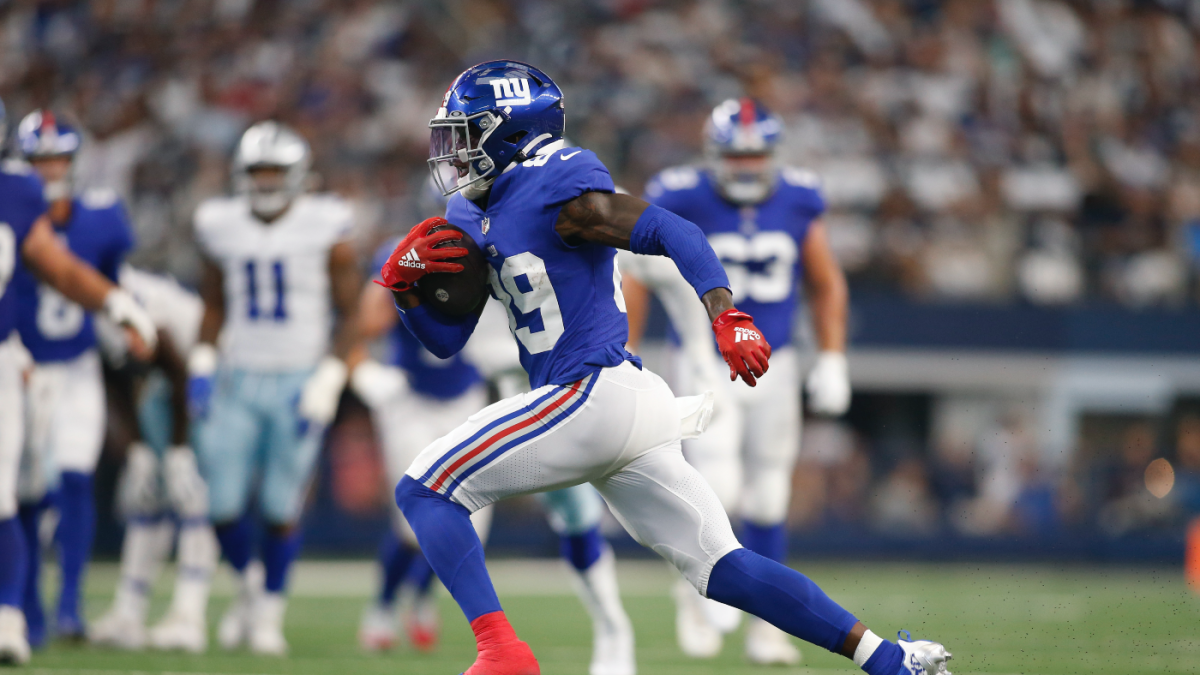 Kadarius Toney Is A Flex Play For The Rest Of The Season
Well I guess this depends on your league size and starting positional breakdown. I will call it news. Toney had a breakout game this past week. He had 13 targets with 10 of them caught for 189 yards. He was electric and exactly what the Giants have been lacking in their offense. All that came to a crashing halt when he decided he was going to try to punch a defender in the helmet.
I understand that getting ejected is a solid reason to not throw a punch, but what good can come from throwing a punch right at someone's helmet? Quarterbacks that hit their hands on helmets can miss games. What would possess someone to do something so counterproductive and potentially damaging?
Toney is a rookie First Round draft choice and perhaps youth can be blamed for his misstep. He had big expectations placed on him coming into the league and is just beginning to show his on field prowess. I've got to believe this was a one time thing and his temper won't be an issue going forward.
Toney has a great shot to be the No. 1 option for quarterback Daniel Jones when he next plays. The Giants were manufacturing ways to get him the ball throughout the game, giving him a carry at one point just for that extra opportunity to make something happen. Over the past two weeks he has accumulated 16 catches on 22 targets for 267 yards. His big play ability has been on display and he is quickly becoming a trusted option in the passing game. His big game was against what felt like a porous defense so that's something. His prior week was not bad at all and it was against New Orleans who has a good secondary. He has the talent for sure.
The only thing that will slow down Toney is the opportunity. Sterling Shepard will take targets from him as he's the defacto No. 1 option. Darius Slayton getting healthy will give him even more competition for targets. Eventually (maybe) Saquon comes back and starts siphoning those targets even further away from the young player.
The Saquon piece might be the biggest piece for me liking Toney rest of season. Barkley is always involved in the passing game. His targets have to go somewhere and who better to get them than the guy who is probably their most explosive weapon. Sometimes you need a guy who can get you a big play when you need it. Without Barkley, Toney might just be that guy.
So those were reasons for Toney to excel with Saquon out. How about when he's (maybe) back? Well everyone knows Barkley is a big play machine. He pulls down the defense with his ability to make defenders miss as well as with his underneath and swing pass routes. If you catch a defensive back with his eyes in the backfield, Toney can make them pay.
To the original statement that Toney is a flex starter rest of season, I wouldn't have any problems trotting him out there as a flex in a pinch or in deeper leagues. He's a great guy to run out there during bye weeks. I think he's going to give you more good weeks than bad ones. You missed buy low on him. If you've already got him though, you might as well use him.
The Raiders Have Any Hope To Salvage Their Season
That's gonna be a solid noise from me there. There's just no way they can make it back from this. Their Head Coach, Jon Gruden, who was signed to a 10-year contract to begin his tenure in Vegas just resigned. He was also the one that put them in the predicament they're in now.
Some of Gruden's e-mails were unearthed with him making anti-LGBTQ comments, racially motivated insults, and just generally not being a nice guy. In the day of modern technology, someone always has your receipts. Ask Urban Meyer. Losing your bonehead coach at the beginning of a season can be overcome, especially if they weren't fired for performance issues. Therein lies the problem with Gruden though. He had issues that were on the football side too.
Gruden was a good coach. Not great, but he knows the game top to bottom, inside and out. He won a Super Bowl in Tampa Bay with Brad Johnson under center. That's coach of the decade stuff right there. Obviously that Bucs defense carried the load, but the end result is the same.
Gruden as a GM however has yielded much poorer results. Bad trades, moving away from youth to veteran players in some head scratching deals. Blowing draft picks through trades and even worse through drafting incredibly poorly has been Gruden's modus operandi since his announcement as head coach. Gruden traded Khalil Mack as he was just hitting his prime. The Raiders traded Mack, a second-round pick and a conditional pick to the Bears in exchange for two first-round picks, a sixth-round pick in 2019 and a third-round pick in 2020. on it's face it doesn't sound bad, but since Gruden couldn't nail a draft pick with a hammer it didn't turn out as well as it should have.
Amari Cooper traded to the Cowboys mid-season of 2018 was a head scratcher as well. The Raiders received a single first round pick for Cooper. That was all. The Gruden and Co. turned that pick into a safety that can't stay healthy, and when he is on the field he can't keep the ball out of the opponents hands and them out of the end zone. Cooper found his home with Dallas and has become a significant threat for them posting nothing but 1,000 yard plus seasons.
With that kind of roster management going on for a few years, it's easy to see the Raiders and their 3-0 start was all show and no go. Their roster is just not good. Derek Carr might be a good quarterback but it's kind of hard to tell when you jettison his No. 1 target. The whole team is a wreck now and they have Gruden to thank.
The Raiders have a tough road ahead as well. I'm finding it hard to pick them as the favorite in all but one or two games over the rest of the season. I'm not saying an underdog can't win. I am saying they are not going to do so with any frequency. Their best bet is to roll up in a little ball and play for draft positioning. With Gruden gone, maybe they'll make it worth their while.
Zach Ertz Will Be A Top Ten Tight End Again This Season
I'm gonna go with noise. Ertz is currently 12th in fantasy points coming out of the Thursday night game. He has played every game this season so that only averages out to 8.2 points per game which is inly good for 20th in the league. Thought he was splitting targets with Dallas Goedert in Philly, he was still able to get a reasonably good start to the season.
Now he's been traded to Arizona and is jumping into a completely different offense. The air raid offense doesn't put as much emphasis in the tight end as previous offenses Ertz has been in. There has been some life in the tight end room with Maxx Williams having two games with over 15 points over the past four weeks. With Williams suffering a year ending injury, a trade for Ertz became the logical next step for a 5-0 team looking to make a strong push towards a deep playoff run this season.
Ertz has had some Pro Bowl seasons behind him. In a three year stretch, he averaged over 900 yards a season with more than seven touchdowns per game. While this a few years in the past, Ertz still has some juice in the tank. Having said all that, I don't see too much of an upside for him with the Cardinals. Getting integrated to the offense isn't going to happen overnight. Even once he's established, how much work in the passing game is he going to get? Also, he's missed games in six of the past seven years, including five last season alone. His durability could be a question as well.
I think Ertz is a good player and he has an opportunity to hop all the way up to top five tight end again. I just don't see it happening. Not this season at least.
Kareem Hunt Is The Browns Running Back You Want To Own
I'm shouting news from the mountain tops on this one. The Cleveland Browns have an embarrassment of riches in their backfield. Their starting running back is Nick Chubb, which would be solid on it's own. He's not on his own though. They also have Kareem Hunt.
Hunt is not the bruising back that Chubb is. He doesn't wear down a defense as much as he tires them out. While Chubb has 523 yards on the ground this season, he only has four touchdowns. Hunt on the other hand only has 295 on the ground, he also has 17 catches for 149 yards raising his value in PPR leagues. Chubb in comparison only has five catches for 35 yards.
It's obvious that Hunt is the more versatile back. He has sure hands and can run routes as well as any receiving back can. He's got burst and quickness. He's an all around good back that not that long ago had a 1,800-plus total yard season with 11 touchdowns.
Hunt was the starting running back for the Chiefs fresh out of college and took the ball and ran with it. He looked like a legitimate star. He was then filmed in an altercation with a woman in a hotel hallway and everything went off the rails. He wasn't truthful with the team about the situation and he got cut for it. He signed a contract with the Browns and then was suspended for his first eight games of his tenure there.
Ever since he returned to the field, he has been lightning in a bottle. He makes an impact on every play he's out there for. I tcould be by moving the ball, blocking, or simply pulling a defender. He's always involved and up to the task. This keeps him on the field.
Chubb is out touching Hunt overall, but Hunt has over three times as many receptions as Chubb has. Chubb is currently being outscored by Hunt in PPR leagues. I drafted Hunt as my RB1 in a zero RB scheme. He has produced thus far. I say he's got somewhere between more and much more upside than Chubb. This week's decision is easy, as with Chubb out, Hunt is going to be the man. I say roll with him beyond that and don't look back.
Looking for a lineup question to be answered? Got offered a trade you're just not sure on? Think fantasy football is neat and want someone to talk to about it? Get in touch with me @IHeartCaravans on Twitter. Hope to hear from you soon!