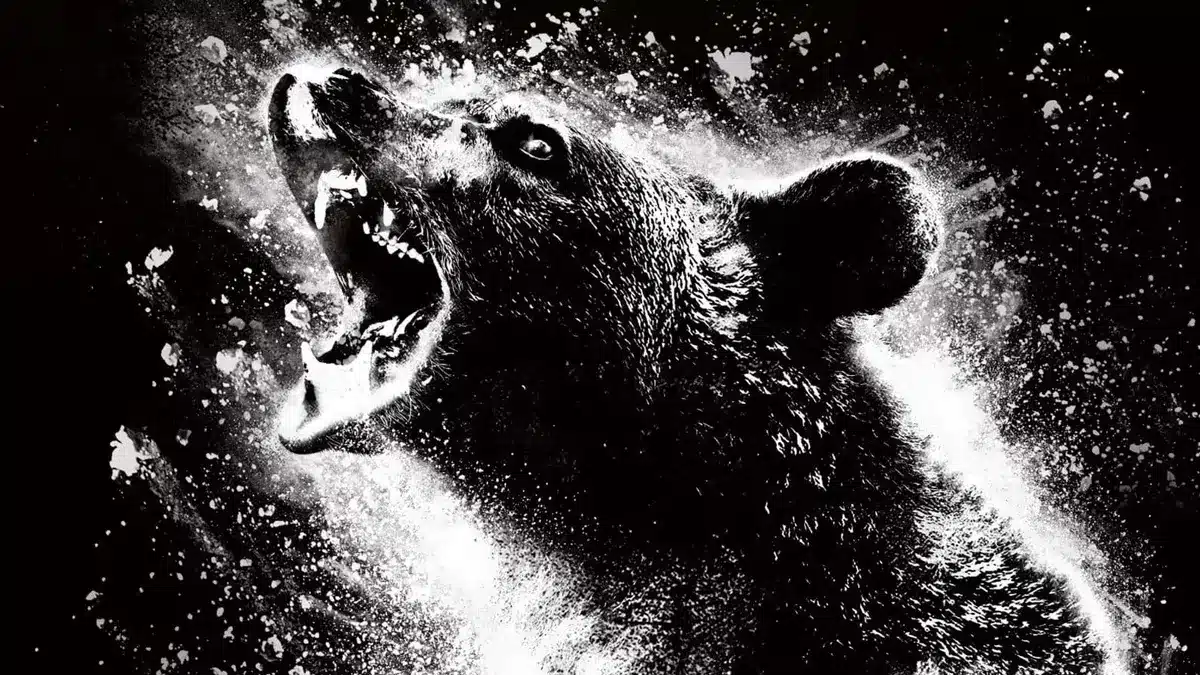 The cannon of animals gone wild films is mixed. Often, when we think of killer encounters with nature, it comes down to sharks. But we've also seen crocodiles, gorillas, snakes and lions on the prowl in live-action films. Now, we get a killer black bear. This one comes with the advantage of being based on a true story.
Does that mean all the events here happened? Decidedly not. But it uses a real-life incident as inspiration for a wild ride. It's also a film that knows it's a wild ride and doesn't try to bring grounded reality into the picture. That makes Cocaine Bear a fun trip to the theater.
The film takes the action back to 1985 where a drug smuggling run goes wrong. The pilot seeks to dump the cargo over a state park, but in the process has an accident and dies. When police discover the body, and a bag full of cocaine, in a residential neighborhood, it sets off a search.
For Syd (Ray Liotta), it spells trouble. He dispatches Daveed (O'Shea Jackson, Jr.) and his recently widowed son Eddie (Alden Ehrenreich) to get what's left. At the same time, a young girl (Brooklynn Prince) and her friend (Christian Coventry) skip school and head into the park to paint a waterfall and have an adventure. Turns out a bear in the park has found the cocaine first, leading to a series of attacks. Soon, the girl's mother (Keri Russell), a Park Ranger (Margo Martindale), a naturalist (Jesse Tyler Ferguson) and a detective (Isiah Whitlock, Jr.) head into the woods after them as the mayhem intensifies.
This film is based on true events but the story here is a wild fictional creation from screenwriter Jimmy Warden. With producers Christopher Miller and Phil Lord, and director Elizabeth Banks, you know you're getting something wild and fun, especially with this cast. This is a film that knows what it is and doesn't belabor the point, running about 90 minutes.
The opening is hilarious and the rest of the film follows suit. The action is intense and, at times, graphic. It's over-the-top in the right kind of way, creating a number of instances to let the talented cast and crew shine. I enjoyed the performances and I enjoyed the way Banks brought the mayhem to life.
If you're expecting something deep or serious, this isn't the film for you. But this is a lot of fun and that's what counts in a genre like this. In many ways it reminds me of the tone that I appreciated with the 1999 film Lake Placid. It's a bear on cocaine wreaking havoc on the wide group of people that happen to cross its path. The sequences are creative and the story and ending are satisfying. It's a film that delivers just what you expect.
Cocaine Bear is now playing in theaters nationwide.
Matthew Fox is a graduate of the Radio, Television and Film program at Biola University, and a giant nerd. He spends his free time watching movies, TV, and obsessing about football. He is a member of the FSWA. You can find him @knighthawk7734 on Twitter and as co-host of the Fantasy Football Roundtable Podcast.