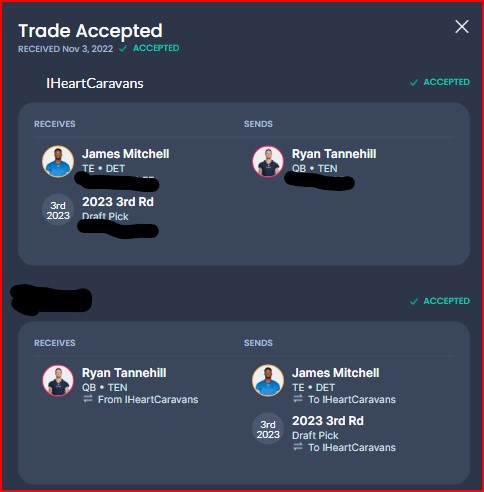 There are many reasons to make a trade. Getting value is a fantastic reason. Everyone likes to win a trade. There's dynasty trades to make your team better long term. There's selling off good players in an effort to accumulate draft picks and tank it out for a season or two. Lots of reasons.
Take the trade above for example. One quarterback league I had three starting quarterbacks in Jalen Hurts, Tua Tagovailoa and Tannehill. Obviously Tannehill was the odd man out there. Guy I was working with did not have anyone to start at quarterback and is in a position to chase a ship. I was middle of the pack but definitely in the hunt for a playoff spot with no one to start at tight end. We found an equitable deal for both sides. I got a potential maybe guy and a deep pick to take a shot at someone. Justin Jefferson went in the third round of rookie drafts so you could always get lucky.
I've talked about bad offers before. This was a situation I probably could have pulled a little more from him as he was desperate. But that's not where I went with it. I don't trade out of necessity, and I don't want to take too much advantage of anyone as I could lose a potential trade partner. Or someone could swoop in with a better offer and you lose the chance to make your team better.
I'm in a re-draft league where it has waivers every day. Me and another guy had guys declared out on Monday that were our only starters left. There was no way to pick up other players to fill the spots other than to make a trade. He was considering trading away Aiyuk for Trequan Smith so he could fill the empty slot. It's a laughable trade at any other point of the season, but it was a desperation play on his part. I told him to take the L and keep Aiyuk which is how it ended up going down.
I'd love to get some scenarios like this to put together for next week. Send me your (or ones you've seen made) desperation trades and I'll get you posted in next week's column.
And now without further ado, here's this week's News Or Noise!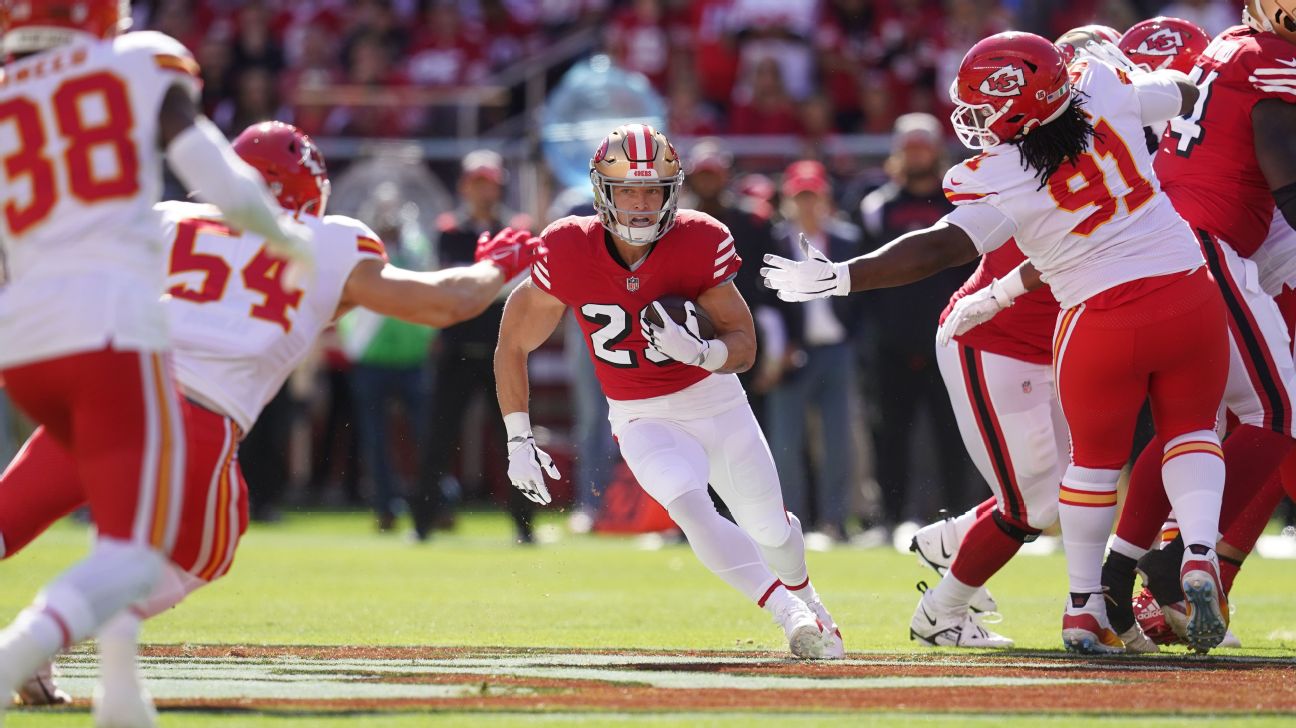 Christian McCaffrey Will Be Viewed As A Win
This has to be news.
I spoke to this a couple weeks ago and said he wasn't going to lead the Niners to the Super Bowl. I still think that's the case, even with his touchdown trifecta game in the books only two weeks into his tenure in San Francisco. That doesn't mean it was a losing trade. The 49ers gave up a fair amount to get a great player. Unless McCaffrey gets hurt again, and again, and again, he's going to produce at a high level and is perfect for the system Shanahan runs. He's going to see the ball a lot.
Any time you can go get a player like this and not give up a first, it has the potential of being a great deal. It gets even better if he helps get the Niners deep in the playoffs. The draft compensation they gave up gets a little bit less valuable with every win. With McCaffrey in the picture, the picks should be late in each round.
The 49ers are a better team after this trade. They have a legit shot at getting deep into the post-season. And they're deep on both sides of the ball. Giving up on some probable depth pieces next season for a chance to supercharge your offense for a playoff run is acceptable. I call it a win.
The Chicago Bears Made Good Deals
I'd have to say this is news, but not all good news.
The Bears were not going to win this season. There were too many question marks to even consider this to be a chase at a playoff spot. They had disgruntled players and needed to move on from them to move up in the draft by moving down in the standings. They moved Robert Quinn and Roquan Smith to ensure the slide towards a top end draft pick was in motion. They received a second, fourth and fifth in next year's draft to build around Justin Fields.
They also burnt their second, which should be much better than the Ravens' pick, on Chase Claypool. Claypool has been a good but not great player for the Steelers. But he's young and can develop with Fields to hopefully partner with Darnell Mooney as a quality one-two punch going forward.
I liked the deal netting them picks. The guys they traded wanted out. Roquan Smith was leading the league in tackles and is only 25 so that one has to sting a bit. They also got AJ Klein in the deal. He's a journeyman linebacker who is 31 and has never topped 75 tackles in a season, so very ho hum on that.
I did not like trading a top end second on a receiver that has one year left on his rookie deal and probably will perform equal to what a player would if drafted with the pick the Bears gave up. Losing those rookie contract years for what I consider to be a lateral move is a bad play for a tanking team.
The Hockenson Trade Is A Win For The Vikings
This is news. Absolute news.
While TJ Hockenson has only shown flashes of the unstoppable tight end he was touted to be, there are still flashes. He's been banged up a bit here and there, and the Lions didn't always have anything around him to pull coverage so it's not entirely unexpected. On the Vikings it will be a different story.
With Vikings tight end Irv Smith, Jr., going down for two months, there was a need to fill that spot with someone who can contribute now. Having Justin Jefferson and Adam Thielen out wide gives Hock plenty of room to operate. Having to respect Dalvin Cook out of the backfield only makes his job easier. Kirk Cousins now has one of the best receiving groups in the league, and has been playing like it this season. The Vikings are 6-1 so it made sense to go all in.
Only they didn't. They gave Detroit a 2023 second round pick and a 2024 third round pick for Hock, a 2023 fourth, and a conditional 2024 fourth round pick. So, the Vikings are trading somewhere around the 56th pick in 23 and 84th pick in 24 for maybe the 98th pick in 23 and the same in 24. That's less than a round and a half in 23 and less than a round in 24. Lotta numbers there, but basically they really didn't give up a whole lot. For price paid and potential offense added, the Vikings made an A+ play.
The Pittsburgh Steelers Won With Their Claypool Trade
Noise.
But I just said it was a bad deal by the Bears! How could both teams be losers? The Steelers didn't need to trade young talent to tank. This is a bold move that basically shows they know they missed with Pickett and are going to try to get one of the top quarterbacks next season. Why else would they trade a young guy who's shown talent and is working with a rookie quarterback who needs all the consistency he can get?
The Steelers have, for lack of a better phrase, fumbled their whole quarterback position this year. They had Mason Rudolph, who would have been perfect for a tank season. They brought in Mitchell Trubisky, who is a great quarterback for a tank season, and then they used their first rounder on a quarterback who was predicted to be perfect for a tank season.
They didn't need three of the same level guy. They could have saved the money on Trubisky and grabbed a better non-quarterback young player. They could have used their first rounder on a non-quarterback, or even traded it and got more firepower to move up next year. They could have done a lot of things.
Instead they did all the wrongs things and got caught with their hand in the candy jar. Mike Tomlin is going to miss the playoffs for the first time. He's basically got three backup quarterbacks on his roster so no one is going to give up much, if anything for any of them. If they would have done a true self-appraisal and realized it was going to be a transitional year after Ben walked away and maximized their resources to get back to competing next year, they would be in a much much better position. Right now they're giving up young starters for pieces to fix their mistake.
The Green Bay Packers Make Any Sense At All
Obviously noise.
You have an aging MVP level quarterback that just lost his No. 1 target in all-world receiver Davante Adams. You have a solid defense that thrives on playing with a lead. Your offense has been struggling to move the ball downfield with unproven rookies taking the majority of the snaps. Can anyone tell me what they needed to do?
They needed to go get a receiver. The Bears went and got one and they're not staring at a rapidly closing window for winning. The Vikings went and got Hockenson and they've got two top end receivers already. The Lions didn't acquire any receivers, but they've got Jameson Williams who hasn't played yet getting on the field soon. And they're not hoping to win.
Apparently they tried to make a trade or two but weren't willing to pay the price for the players. It's not surprising in the least. The Packers lucked out with Davante. They refused to put enough assets into the position and now they're paying for it. It's not fair to Aaron Rodgers that the Pack has played him this way for years on end. But at this point in time he has to regret resigning or maybe even coming back.
Looking for a lineup question to be answered? Got offered a trade you're just not sure on? Think fantasy football is neat and want someone to talk to about it? Get in touch with me @IHeartCaravans on Twitter, Medium, uStadium, TikTok, and the Fantasy Life App. Hope to hear from you soon!