Happy Thanksgiving Week! With the trappings of the holidays and time with family, you might be looking for an escape. There are plenty of new series to add to the wealth of options, but which ones are the right tonic to escape the madness of the holidays? Let this weekly column be your guide as I look at the pilot and second episode of new scripted series this Fall. Don't see a new show listed below? Check previous weeks!
Thursdays:
The Sex Lives of College Girls, Streaming on HBO Max (Premiered November 18)
About: This comedy series comes from Mindy Kaling and focuses on four strangers (Pauline Chalamet, Amrit Kaur, Renee Rapp and Alyah Chanelle Scott) who are paired as roommates for their first year at Essex college. The girls come from different backgrounds and have different areas of focus, but all of them seem to have sex on the brain, exploring it in different ways. And hilarity ensues. Or, at least, I assume that was the point. Instead, this felt like an awkward exercise in patience. The characters come off more as grating than interesting and the first two episodes felt disjointed, moving at a snail's pace in the 51-minute pilot. Comedies can take time to develop into a rhythm but there has to be something of a decent hook. For me, I didn't feel that in these first two episodes. I have enjoyed Kaling's work in the past but this falls short of being compelling. Episodes will drop weekly on HBO Max, too. Had this series dropped all at once, perhaps a binge would have hooked more viewers but I feel like the two-episode sample size isn't strong enough to get people to keep coming back when there are many, many other options vying for their time.
Pilot Grade: D
Second Episode: D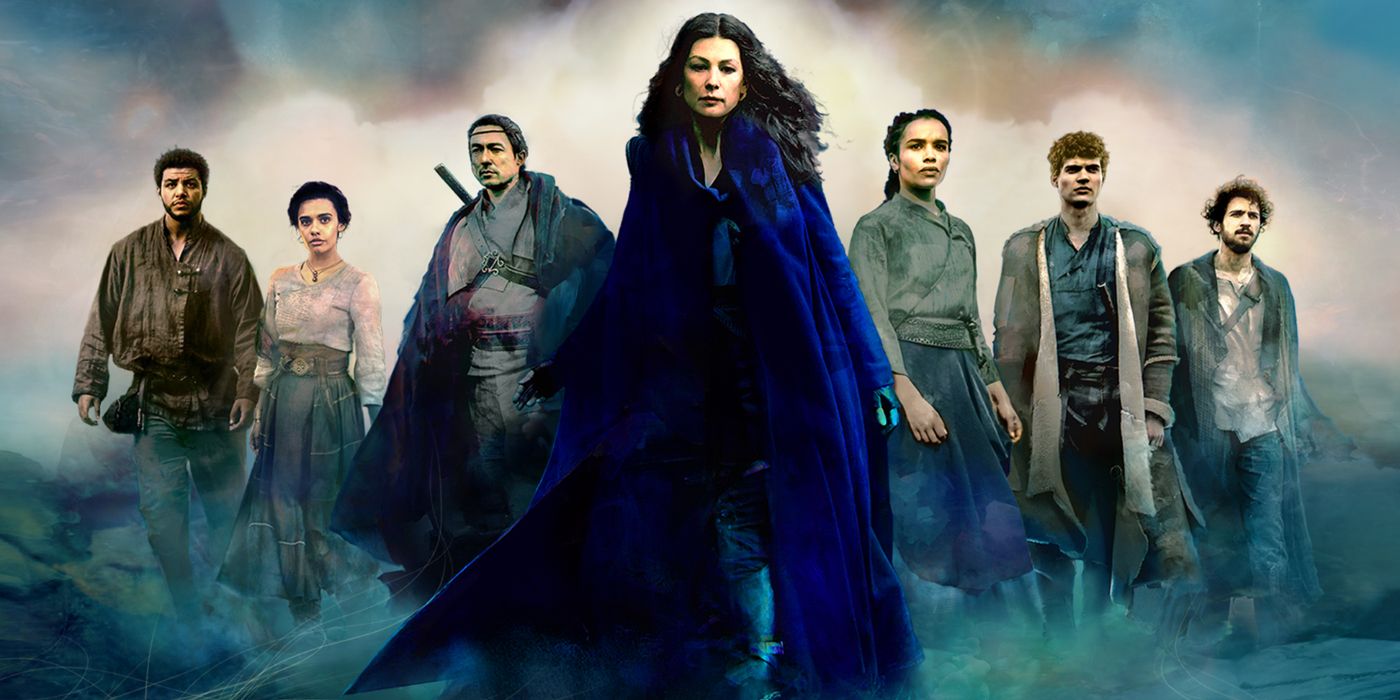 Fridays:
The Wheel of Time, Streaming on Amazon Prime (Premiered November 19)
About: Everyone has sought to capture the next Game of Thrones, but none has tried harder than Amazon Prime. The streamer will have a Lord of the Rings series next year but for now is proceeding with a series based on another set of fantasy books in The Wheel of Time. Coming from the series created by Robert Jordan, fans have long wanted to see an adaptation, but the dense source material spans even more books that Game of Thrones, making it an even bigger undertaking. Enter Amazon Prime, which dropped the first three episodes of an eight-episode first season on Friday. Subsequent episodes will drop weekly. The series drops right into the plot, meaning the first few episodes are dense world-building. The only recognizable star is Rosamund Pike, who takes the focal role as part of an order of magicians seeking the potential chosen one reborn in the soul of a young man or woman. She finds four potential candidates in a mountain village, saving them from attack and hoping to guide them back to her stronghold to determine who will be the savior of the world. It's a familiar formula with some twists. These kind of dense epics play well for book readers, who know the characters and the world already, and are invested in seeing the journey play out. But they require patience for those, like myself, unfamiliar with the source material. Game of Thrones is one of my favorite shows of all time but it didn't instantly hook my heart. With a cast full of relative unknowns and a lot of plot to put in place to build a world, it wasn't until the end of the first season I was fully bought in. That feels like the path that The Wheel of Time may require as well. I liked the moody setting and the potential in the plot for the first two episodes but it doesn't have me hooked. However, with this kind of rich source material and an eight-episode first season it feels worth hanging in a bit longer. Others might feel different, but I think there's potential here.
Pilot Grade: C
Second Episode: C
Sundays:
Yellowjackets, Sundays at 10 p.m. on Showtime (Premiered November 14)
About: Showtime's newest series is a wild one. It centers on a group of women in 2021 who are haunted by their past. While in high school, and part of a successful women's soccer team competing for a National Championship, their plane crashed. They spent months in the wilderness and things got…rough. The pilot does a nice job of filling in some blanks pre-crash and blending that with where the survivors are in 2021. It also alluded to the dark times that came upon them after months lost in the wilderness. It's clear that experience still haunts the survivors. I loved the moody pilot and all that it set up. By contrast, the second episode feels a bit slower. It's focused dually on the present, and the women being brought together by someone threatens to reveal the details of their time in the mountain, and the moments just after the crash. It's still interesting but didn't have the pop in the narrative or visuals of the first episode. Still, this feels like an interesting potential series, and a great companion with Dexter: New Blood on the Showtime Sunday night lineup.
Pilot Grade: B+
Second Episode: C+
Streaming Series:
Tiger King 2, Now Streaming on Netflix (Premiered November 17)
About: Back in March of 2020, it was a perfect storm. A pandemic was descending, the world shut down, we were all asked to stay at home and Netflix dropped a little documentary series about a guy running a zoo in Oklahoma. Overnight, Tiger King became the salve that helped us survive those early days of quarantine. It was a sensation, so crazy it was hard to believe and just what the people needed. It became a sensation. Now, a second round—a five episode follow up—has dropped. And, well, it feels unnecessary. The second run is five episodes, all about 40 minutes. The first one is half self-congratulations as it looks at the success of the first one and all the movements it spawned. The second episode again looks at the cast of Carole Baskin and her missing husband. It doesn't paint Don Lewis in a favorable light, nor does it do Baskin any favors. The thing is, I enjoyed the first go-around for what it was. This one feels like the second Sharknado film, now it's so self-aware it's steering into the skid and it's less fun as a result. If you want more, it's there for you. If you're good, you won't miss much with round two.
Pilot Grade: C-
Second Episode: C-
Marvel's Hit Money, Now Streaming on Hulu (Premiered November 17)
About: Imagine if Ted Lasso was animated and a hitman that served as a spirit guide for a vengeful primate. Well, if you can imagine that, you probably don't need to see Marvel's Hit Monkey, a new animated series that offers you the plot described above. Jason Sudeikis voices Bryce, a hitman whose last job goes wrong. He takes refuge with some monkeys, rubbing off on one of them. When he's killed, his spirit returns to help guide his monkey friend on a mission of vengeance. The series also features the voice talents of Olivia Munn and George Takei. It's ultra-violent with a style all its own. The first season features 10 episodes, all about a half an hour. All 10 are available to stream now. I liked some of the pilot but grew a bit weary of it by the time the second episode started. It's something different, I suppose, and clever at times but just didn't hook my attention.
Pilot Grade: C
Second Episode: C
Cowboy Bebop, Now Streaming on Netflix (Premiered November 19)
About: This new series is a live-action version of the popular anime series. I've never seen the source series but I was curious to check this out. John Cho takes the lead here as a former gangster turned bounty hunter in space. This is another adaptation that's ultra-violent and stylized, moving from the anime format to live action. The first season is 10 episodes, varying in length from 40 minutes to just under an hour. There is plenty of action and some cool sets here, taking advantage of the location and story. But the characters and the world felt a bit thin. I like Cho and it feels like a decent starring vehicle but I wasn't taken with the world that was being built. It feels like a loving tribute to the anime series and has been much-anticipated by some, but as someone coming to the story fresh two episodes were more than enough.
Pilot Grade: C-
Second Episode: C-
Harriett the Spy, Now Streaming on Apple TV+ (Premiered November 19)
About: This addition to the Apple TV+ lineup is an animated series for younger viewers, a new take on Harriet the Spy. It's been adapted before, but this one is a five-episode animated adventure, with each episode running about 20 minutes. The voice cast is led by Beanie Feldstein and includes Lacey Chabert and Jane Lynch. The first two episodes were OK, delivering about what you'd expect from this type of series. For younger viewers, this will be great. Those hoping for some nostalgia may or may not be taken with this series.
Pilot Grade: C
Second Episode: C
Matthew Fox is a graduate of the Radio, Television and Film program at Biola University, and a giant nerd. He spends his free time watching movies, TV, and obsessing about football. He is a member of the FSWA. You can find him @knighthawk7734 on Twitter and as co-host of the Fantasy Football Roundtable Podcast.