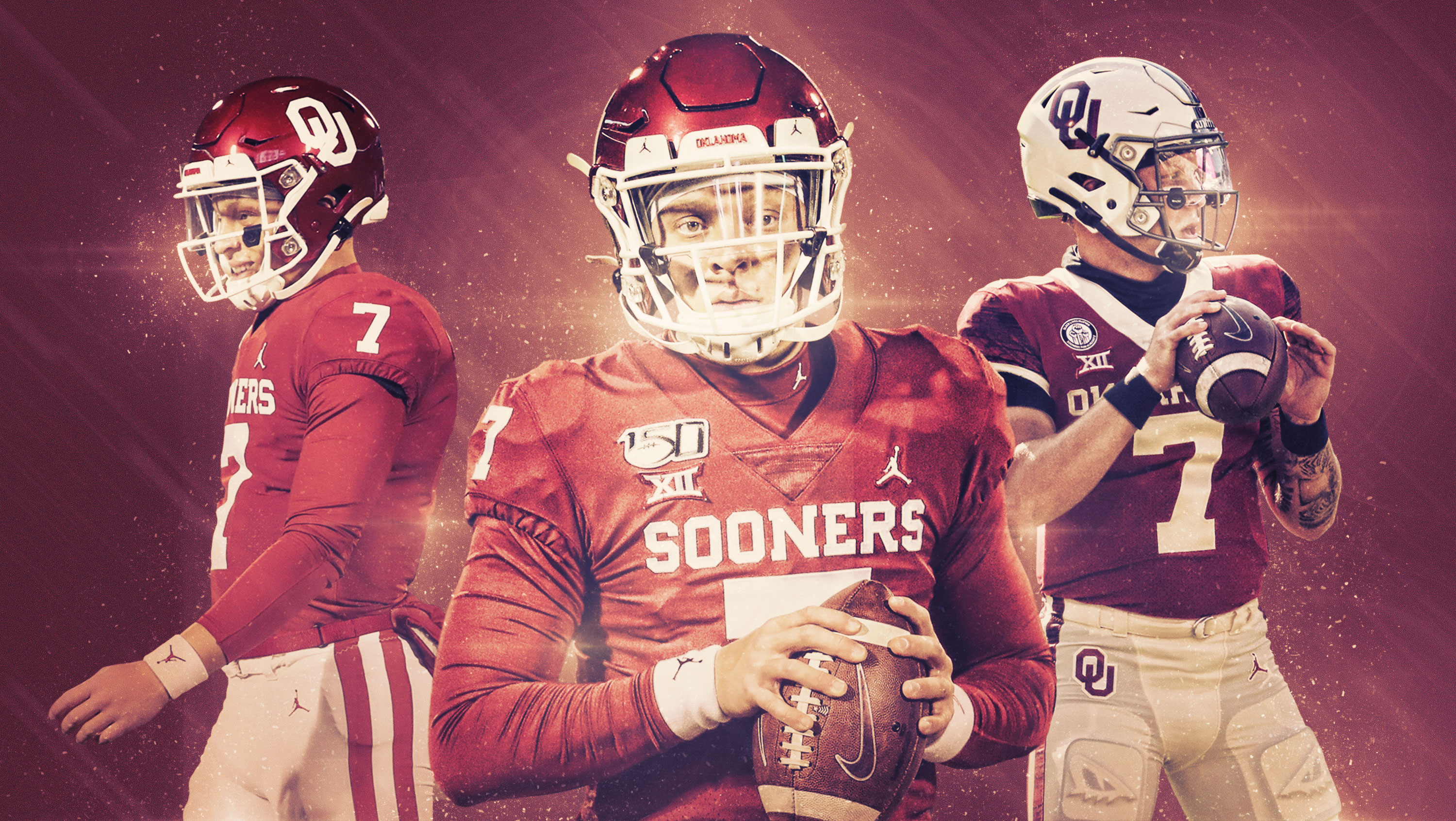 Tanking is a strategy employed by many football teams, both NFL and fantasy. If you aren't good enough to compete for a championship, then why not compete for the No. 1 pick overall? A quick way to turn your team around is to secure your player of the future without having to give up any assets.
In the NFL, this has been done many times. Tanking for Tua (even though he didn't end up going No. 1, it was still a thing), Burrowing for Burrow. Losing for Lawrence, Keeping the wins down for Kyler, it's a tried and true strategy. Until it's not. You'll catch the occasional JaMarcus Russell, Mario Williams, David Carr or even Alex Smith (over Aaron Rodgers? OVER RODGERS!!!!!).
In fantasy it's even more important to have the No. 1 overall. Sometimes you can lose heavy and that one player can change everything. Typically you'll have the first pick in every round as well, so you can pick up a good depth pick in the second and then it's top end lottery picks from there.
If you're in a superflex/two quarterback league, odds are you are going quarterback with your first pick. In 95 percent of my drafts in these formats this season Trevor Lawrence went number one overall. There was one Najee Harris, but it was pretty consistently TLaw. You want the top of the crop. I would have gone Trey Lance at one, but it would have been a homer pick.
This year in the NFL, it is looking like Spencer Rattler will be the first offensive player off the board. This could come as early as the first pick, but it might not be very likely due to the Texans drafting their current starter Davis Mills in the fourth this year, Tyrod Taylor who is a servicable starter, and who knows what's going on with Deshaun Watson. The Lions have their quarterback of the forseeable future in Jared Goff.
As those are the two teams that are predicted to finish in the bowels of the league, there is a good potential for the pick to move. Teams that are going to be looking for the quarterback position include the Falcons, probably the Saints, quite possibly the Broncos (assuming they don't get Rodgers), the Football Team (still my favorite team name), and the Steelers. I'd even throw the Dolphins, Colts, and Raiders depending on how their QBs play this season. Even the Packers might draft Jordan Love's eventual replacement, because that's a thing they do.
That's a fair amount of teams looking for that top QB, as I said is looking like Oklahoma's Spencer Rattler at the moment, though a lot can change in the course of a college football season. Only one team can take the top guy though. Moving up will probably be the only way any of those teams will have to get a top end QB in a weak class.
In dynasty leagues, you see that No. 1 overall move around quite frequently. Much more frequently than in the NFL. This can be attributed to the difference of impact when you are only starting somewhere between eight and 13 players. There are nowhere near as many teams as there are in the NFL either, so the odds of getting a solid offensive player with any first is high. Having 1.01 is nice, but probably isn't worth what it would cost in the long run. Unless you're playing real football.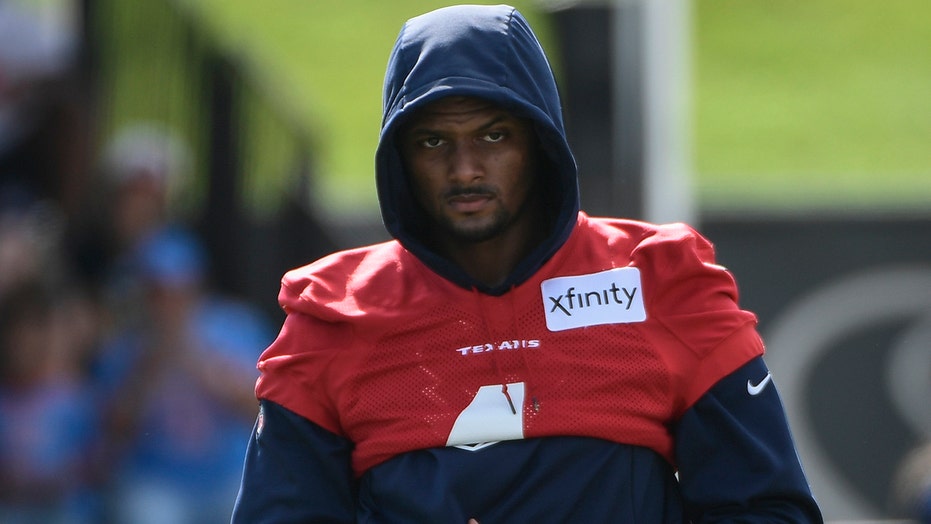 Deshaun Watson Will Find A New Home This Season
Well I really don't know. I'd have to lean towards noise.
There aren't too many teams out there who are looking for a franchise quarterback that is currently sitting for one of the worst teams in the league due to 22 (yes, I said 22) active lawsuits for sexual impropriety. This is the kind of thing that could take you out of the league, but the league hasn't weighed in on it whatsoever.
Before all this came to light, Watson was already requesting a trade. He is a young, incredibly talented quarterback in a league that's extremely quarterback driven. The Texans have been mismanaged so much over the past few years, mostly by Bill O'Brien, that they really have nothing to look forward to for a while as their cupboards are bare on both sides of the ball. It made sense that he wanted out.
I had someone say to me the other day that the sexual misconduct lawsuits were arranged by the Texans to give them leverage over Watson and his demands. While I don't think this is the case, the timing was very convenient. Now the Texans have him over a barrel, but unfortunately for them, can't do anything with him.
There have been offers for him, but the Texans are trying to make up for lost years and are demanding a king's ransom. With a quarterback that is facing a suspension that could last anywhere from several weeks to potentially a whole year, there's no one that is going to go up to what they're asking for him. I guess they're just going to wait for someone as desperate as they are to ante up with some serious pick and youth compensation.
I just don't see it happening. Watson has been a healthy scratch so far this season. With the injury to starter Tyrod Taylor that is going to sideline him for a bit, you'd think Watson would at least have a shot. The Texans however have shot that down, instead giving the ball to their 2021 third round pick Davis Mills. They are calling up Jeff Driskel to back him up while Tyrod is down so they can keep Watson on the roster but inactive.
Mills is just a prospect at this point of his career and is not ready for the spotlight of being a starting quarterback. Driskel has proven he shouldn't be under center in any meaningful games. Watson is the only healthy quarterback they have that is good, and he's been really good.
No matter how good he has been, the Texans would rather sit on him than get assets out of him, regardless what they are. While I believe this is another piece of mismanagement by a franchise coming to be known for it, they could surprise me and move him. Especially once the calls stop coming in. Something is better than nothing and the Texans are going to find that out the hard way.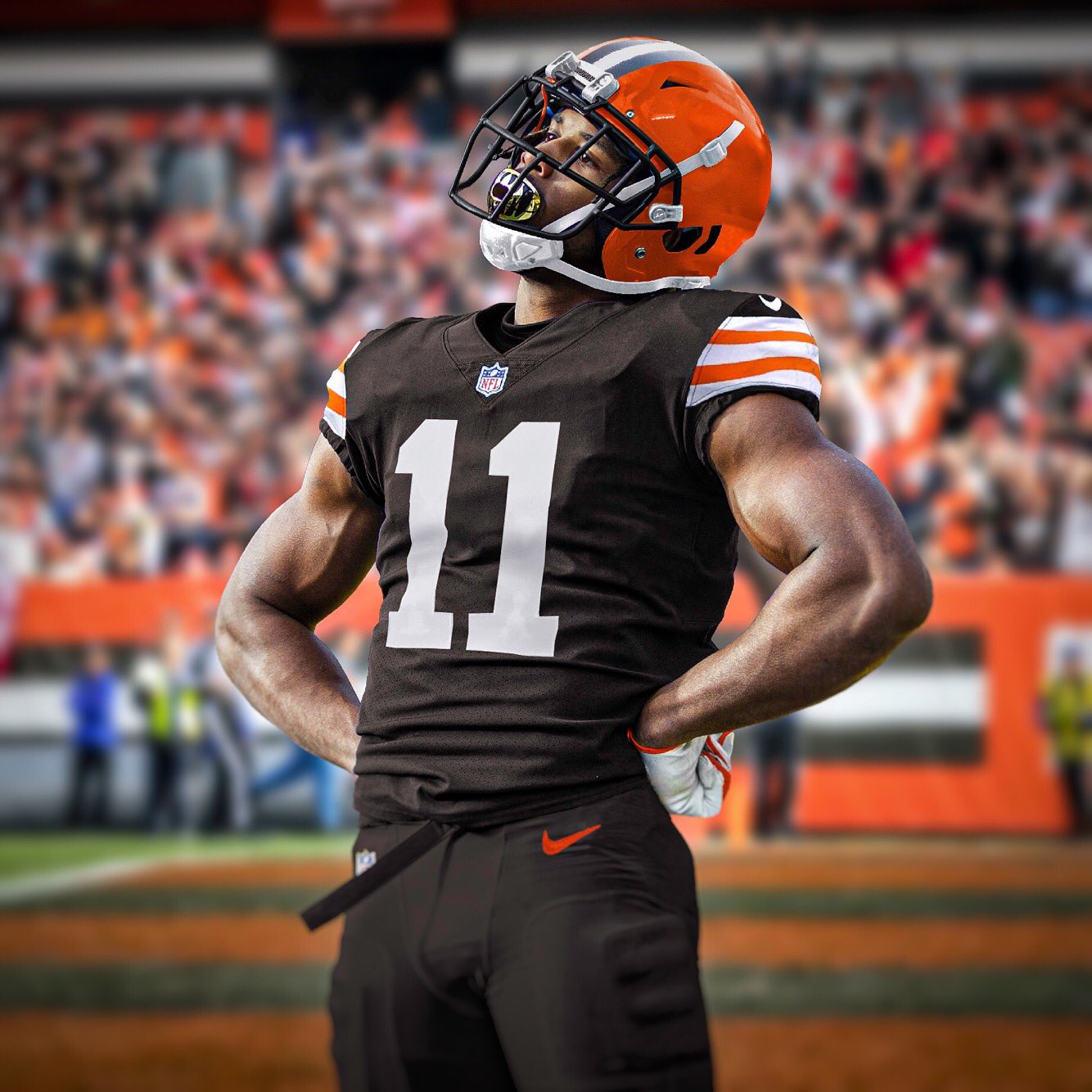 Donovan Peoples-Jones Is The Wide Receiver To Own On The Browns
So I'm probably going to get a lot of people shaking their heads at this one, but I'm going with news.
Peoples-Jones had an amazing camp. That doesn't always translate to regular season success, but I think this one will stick. With Jarvis Landry going down with his injury, it slots him in as a starter across from Odell Beckham, Jr.
Beckham is oft injured, and to be perfectly frank, I don't think he has been all that good since his time with the Giants. Not bad, but not the guy that he once was. I think too many injuries have sapped him of some of his speed and ability to go up for those contested catches he became known for.
Let's take a quick look at Bweckham's stats with the Browns; 2019-16 games played with 74 receptions for 1,035 yards and four touchdowns, 2020-seven games played with 23 receptions for 319 yards and three touchdowns, and so far he hasn't played this season. He's only played a full season twice in his seven year career, playing twelve or fewer in four of those. He's never been the same since his ankle fracture in 2017. He's still pretty good, but he's not the No. 1 fantasy prospect he used to be.
Cue Donovan. He's in his second year, without much fanfare last season. Let me restate, he was lights out in the preseason when he had the opportunity to actually play snaps instead of sitting behind big names. I'm not saying he's better than Beckham at this point in either of their careers, but he has a shot to be something special.
With Beckham being brittle and Landry having his first significant injury, there should be a lot of snaps and targets for Peoples-Jones. He showed in the pre-season he can handle that. In the preseason, he didn't have Beckham or Landry pulling the No. 1 corner off of him either. While I'm sure some of the opposing teams didn't have their number one cornerbacks out there either, the guy produced.
Do I think he immediately gets more points than Beckham? Of course not. But do I think Baker might be swinging him the ball quite a bit more now that Landry is out? Absolutely. Season long, I love Peoples-Jones. He has all the upside in the world. In dynasty? Oh my goodness.
With both Beckham and Landry coming up on the ends of their contracts and there only being so much money to go around, I can see one or potentially both of them moving on. If they kept either, I'd assume it would be Landry and he's a posession receiver. He'll catch his 80 balls a year and that's that. A spot is going to open up for Donovan in the near future and I think he is going to capitalize on it, and I think the beginning of that is now.
Cordarrelle Patterson Is The Guy To Own In Atlanta
I say news. At least kinda.
Patterson has emerged this season with 14 rushes for 65 yards and a touchdown and seven receptions on eight targets for 71 yards and a touchdown there as well. Not gaudy numbers by any means but through two games in PPR format that's 32.6 points.
Both of his touchdowns did come in Week 2, but that's impressive since they were against a tough Bucs defense that takes the running backs out of the offense of the opposing team for the most part. His opportunity share is going to go nowhere but up as Mike Davis has left a lot to be desired, not cracking 50 yards rushing or getting a touchdown on the ground or in the air in either game so far. Davis has 10 receptions for 48 yards so that's not really moving the needle either. Patterson has out performed him both on the ground and in the air.
While Davis profiles as a low tier three down back under normal circumstances, Patterson has popped out of nowhere to ensure Davis doesn't get enough work to be viable as anything but a fringe flex guy at best. With what is looking like a lost season for the Falcons, they have to find a way to generate some offense to at least be respectable.
Calvin Ridley is no Julio Jones and appears to have been propped up by not going against top corner backs while Jones was in town. Kyle Pitts has been just another tight end so far this season (as I expected), and there's nothing really behind those two as receiving options other than Patterson. Russell Gage was supposed to make the leap to WR2 for the Falcons and instead has dissapered, even before his recent injury. Olimide Zaccheaus hasn't shown anything either.
There is really not much option for Matt Ryan but to throw to Patterson. He's shown to be the best weapon the Falcons have. I don't know if he's going to be a start every week kind of guy, but I do think he has a higher ceiling than Davis, at least until a run game produces itself. Even then, I could see the ground game split and the passing game favorable to Patterson. I'm not saying drop Davis by any means. I am saying I'd be more confident right now starting Patterson over him and it's not really close.
Daniel Jones Is A Locked In Starter This Week
We've got another news here folks.
Daniel Jones has perhaps been the biggest surprise of this fantasy season thus far. Operating in the most important position in all of fantasy, he has gone 44-for-69 for 516 yards and two touchdowns through the air. "Two games in and that's all he has?!?!?" you ask. Well he also has 15 rushes for 122 yards and two touchdowns. Averaging 12.1 points on the ground alone tends to make a quarterback pretty valuable.
I think it's only going to get better. I called Kenny Golladay as not being the elite receiver he once was in a previous column, but WHOA. Seven receptions on 14 targets with only 102 yards and no touchdowns to show for it. Not what the Giants were thinking when signing him this offseason.
Now that Golladay has had some more time in the offense and is growing in familiarity with Jones, his game should step up. Sterling Shepard has over 200 yards receiving already, almost double that of Golladay. Nothing against Sterling, but even a diminished Kenny G should be the number one target in the Giants offense. Don't forget, Golladay was out for almost a month this offseason dealing with a hamstring issue, and those can linger. Not having reps on a new team is tough for a receiver going to a new team. You can only do so much on the sidelines.
Now that Golladay is mostly healthy and Evan Engram's calf injury might be behind him, look for Jones to distribute the ball more. This shouldn't take away from his running, but potentially give him more openings as these guys are going to be dragging defenders away from the line of scrimmage. Saquon getting healthier means he can catch more balls too. Plenty of places for Daniel to score and he will this week.
Jones and his Giants are going against the lowly Falcons this week. To say the Falcons defense is porous could be considered an understatement. They're currently allowing the most points to quarterbacks in the league, albeit through two games with one of those against Tom Brady. The other was against Jalen Hurts, who is also a rushing threat and tuned them up to the tune of 62 yards. If Jones has a decent game through the air, and finds some openings to scamper through, you're looking at a Top 8 QB this week. With the differentiation of scoring at the quarterback position, this is kind of a "go big or go home" pick. I'm saying go big and laugh yourself to a Week 3 win.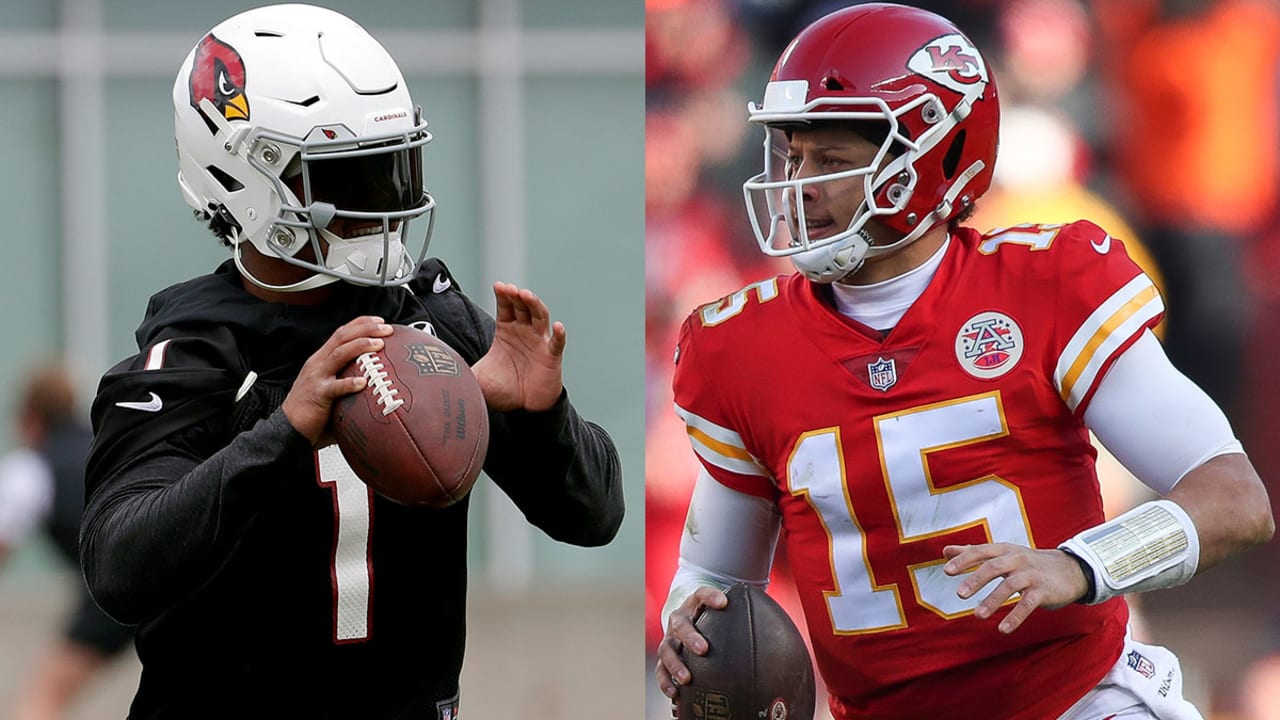 Patrick Mahomes Ends The Season As QB1 In Fantasy
Hot take coming!!! NOISE!!!
Baby Yoda is here to STAY!!! In wins over the Vikings and Tennessee, Kyler Murray has gone 50-for-68 for 689 yards with seven touchdowns and three interceptions through the air. He's added another 10 rushes for 51 yards and two touchdowns. That averages to 40 points per game (6 point passing TD leagues.) That's a lot.
Mahomes has amassed a 51-for-67 for 680 yards and six touchdowns with one interception through the air while chipping in six rushes for 21 yards and one rushing touchdown. His games average out to 35 points per game. That's a lot too.
Watching the Cardinals has become fun. Kliff Kingsbury's spread offense gives Kyler plenty of opportunities to air the ball out. Having DeAndre Hopkins, A.J. Green, Christian Kirk, and the emerging Rondale Moore give him plenty of quality targets. Tight end Maxx Williams chipped in seven receptions for 94 yards last game just for funsies. Plus with all the attention downfield, scrambling becomes something Kyler is not scared of doing. With both Chase Edmonds and James Conner able to catch passes out of the backfield, there is no shortage of receiving options.
On the flip side, Mahomes' top receiver got shut down Sunday night. Travis Kelce and the supporting cast stepped up big, but this could resolve itself into an issue. There isn't much behind the big two out there in KC, and with CEH not playing very well at all, the downfield coverage is going to be there. I didn't think it was possible to completely remove Tyreek Hill from a game the way the Ravens did. It happened though and that makes me worry about Mahomes going forward.
When I say I'm worried about Mahomes going forward, I mean his being QB1 in fantasy. Mahomes and the Chiefs are going to go farther in the postseason than the Cardinals, and with Mahomes under center a Super Bowl ring is always possible. With that being said, I think that the rushing ability that Baby Yoda brings to the game just pushes him into the QB1 spot.
Looking for a lineup question to be answered? Got offered a trade you're just not sure on? Think fantasy football is neat and want someone to talk to about it? Get in touch with me @IHeartCaravans on Twitter, Medium, and the Fantasy Life App. Hope to hear from you soon!