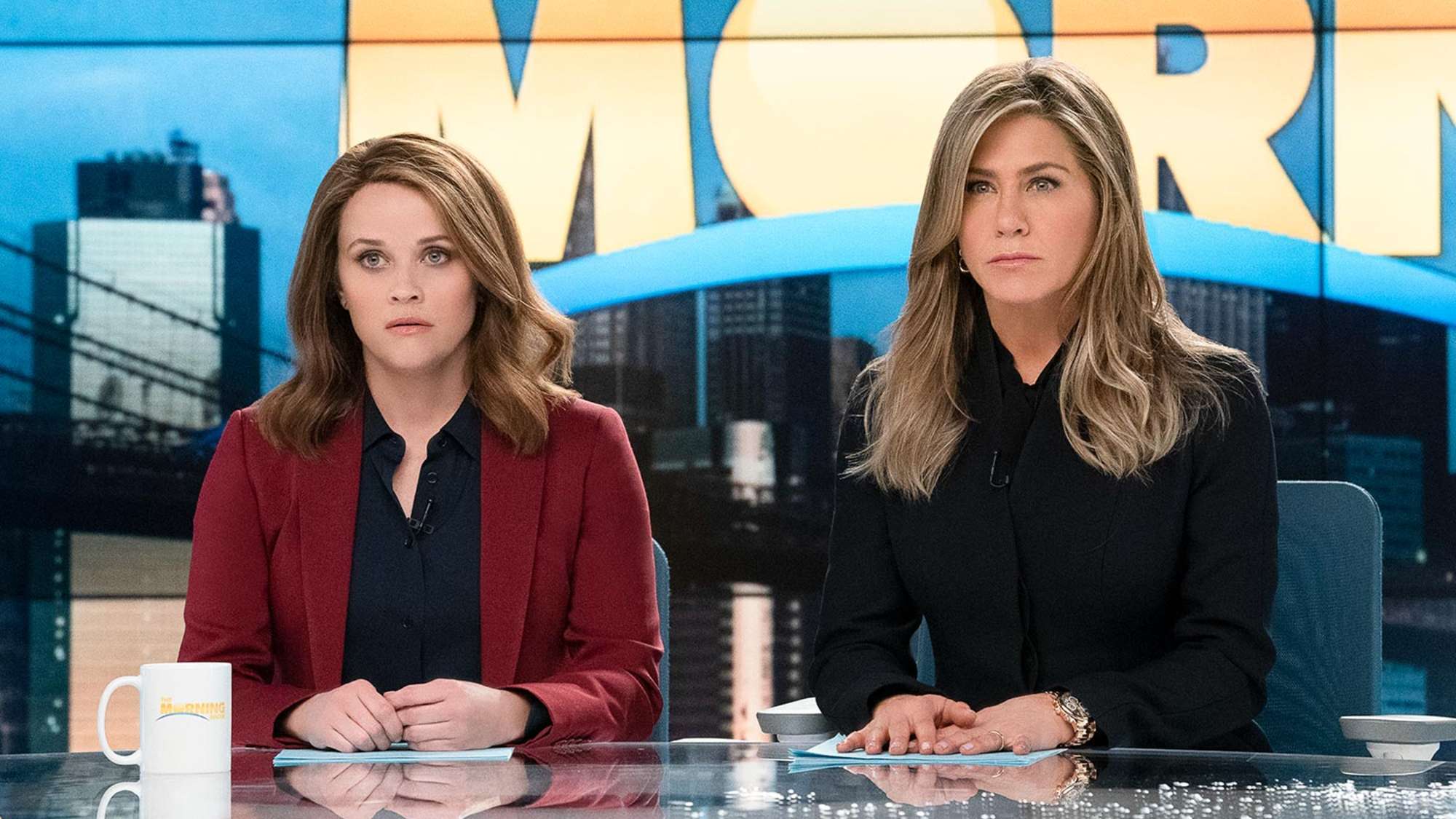 "Well, get out that super glue."—Cory
When Apple TV+ launched in November 2019, The Morning Show was the signature series. It boasts a high-profile cast including Reese Witherspoon, Jennifer Aniston and Steve Carell, and a set up ripped straight from the headlines. That was the big hook and in the early episodes that felt like the show. But as the first season drove to a conclusion, the drama and characters took over. It became incredibly emotionally engaging, including a finale that took things up to a 10.
Then the pandemic came. It's now been nearly two years since the first season debuted, but The Morning Show is finally back. The second season opener, My Least Favorite Year, returns the drama and the characters, setting the stage for another fascinating season. And I'll be back every Friday with a look at the episode, including picking an episode MVP and an episode grade.
In the premier, we pick up in the immediate aftermath of the broadcast that ended the first season. Alex (Aniston) is rightfully freaking out in her dressing room while Bradley (Witherspoon) is trying to help her gather her thoughts. Soon, Alex is whisked off by her team, promising to call Bradley.
We jump up to an impromptu board meeting. While Fred (Tom Irwin) is on administrative leave, Cory (Billy Crudup) is facing the wrath of the board. While he views himself as a White Knight, shinning a light on a scandal, the board sees it differently. They fire him on the spot, much to his dismay.
The camera fades and we come up on New York City—but a very different New York City. This is an empty and eerie cityscape where everyone is in lock down because of COVID-19. This is New York City in the Spring of 2020 and it's a sign of what's coming. From those empty street we flash back a few months to New Year's Eve.
A new year, 2020, is just around the corner and Bradley and her new co-host, Eric (Hasan Minhaj), are capping the show with a big song-and-dance number to lead into their hosting the annual New Year's Eve party in Times Square. It's been eight months since the big reveal and Bradley has been holding down the broadcast with Eric and her new producer, Mia (Karen Pittman). Surprisingly, Cory is STILL running UBA. Turns out Bradley helped him stave off his firing.
Bradley is the star but The Morning Show's ratings aren't on solid ground. UBA is still plagued by scandal, now forced to fire its evening news anchor. Cory plans to tap Eric for the post but needs to find someone to pair with Bradley to keep The Morning Show on solid ground.
Meanwhile, Alex is living in solitude in Maine, writing her memoir. She has left her old life behind and is hoping to tell her story before a version of events from Maggie Brener (Marcia Gay Harden) can paint her in a darker light. But her publisher suggests Alex needs to dig deeper, something she seems unable or unwilling to accomplish. As she's trying to work things out, Cory arrives with an offer. She rebuffs him at first but can't let it go.
Alex is lost. As New Year's Eve arrives, she heads to a party. There she crosses paths with a card reader (Cathy Najimy) who turns out to know precious little about the details of her life but still manages to offer her the nudge she needs. Out in the snow, waiting for her vehicle, Alex hears a message from Cory. She returns the call and the table is set.
Meanwhile, at the New Year's Eve bash, things have gone off the rails. Bradley is having fun and finally feels safe with her new on-air partner. Eric, meanwhile, is guilt-ridden with the secret he's leaving. He tells Bradley, who in turn confronts Cory. She finishes her duties but it's clear the trust between boss and star is fractured.
Cory finally feels like he's turning a corner toward victory. As the ball drops and the confetti falls, Cory is embracing a new year. As he looks up to the marquee, he sees that Hannah's (Gugu Mbatha-Raw) family has filed a wrongful death lawsuit against the network, squelching his festive mood.
As always, a few steps forward and a big step or two back. But it's great to be back in this world and soon the band will be back together.
Notes:
No Mitch (Carell) in this episode. Will be interesting to see how they can keep that story going.
Chip (Mark Duplass) has a new job producing a much smaller show. He seems happy, with a lightness of being we never saw in season one. He also has a new love (his real-life wife and League co-star Katie Aselton). In fact, as New Years arrives Chip proposes. He seems happy and secure, which means something is coming for him…
Episode MVP
This was a tough one to pick, but I'm going with Eric. Minhaj does a nice job sliding into the role, seamlessly participating in the musical number in his first sequence. But it's his strong moral center that compels him to tell Bradley the truth. In a world of deceit and double dealing he seems a bit different, which is why he likely won't be in the show much. Still, he was a catalyst for the big climax to the premier episode, so he gets the nod Week 1.
Episode Grade: B+
Matthew Fox is a graduate of the Radio, Television and Film program at Biola University, and a giant nerd. He spends his free time watching movies, TV, and obsessing about football. He is a member of the FSWA. You can find him @knighthawk7734 on Twitter and as co-host of the Fantasy Football Roundtable Podcast.