We're closing in on Labor Day, and with it will come the Fall season. But it's still in the 90s where I live, so Summer continues. With temps that hot, you likely don't want to be out for too long. Good thing we have some new shows to consider. But which of the shows are worth staying in the air conditioning to watch? Let these weekly posts be your guide as I review the pilot and second episode of new scripted series this Summer. Don't see a new show listed below? Check previous weeks.
Tuesday Nights:
Fantasy Island, Tuesdays at 9 p.m. on FOX (Premiered August 10)
About: This re-boot of the classic series sets things in the present and finds Roselyn Sanchez in the lead as Elena Roarke. The idea remains the same, people in need come to the island to have their fantasies played out, or rather to gain some perspective. The first episode was OK, but the second episode focused on a couple played by Dave and Odette Annable, and I thought their story was a little more interesting. I'm still not sold that this is appointment viewing, and probably won't come back to it, but the second episode was more fun and gave an idea of how it could work as a weekly series.
Pilot Grade: C
Second Episode: C+
Hard Knocks: Training Camp with the Dallas Cowboys, Tuesdays at 10 p.m. on HBO (Premiered August 10)
About: Hard Knocks is an anthology series that covers training camp with an NFL team each year in the run up to the season. This year, we get America's Team, the Dallas Cowboys. The first episode, which was heavy on Dak Prescott and Ezekiel Elliot, was one that I enjoyed quite a bit. The second episode was a little drier. These seasons live or die on personalities and storylines in camp. Dallas should have plenty of both, but the second episode was a bit drier. Still, it's a fun way to get ready for the NFL season.
Pilot Grade: B
Second Episode: C+
Wednesday:
What If…? Wednesdays on Disney+ (Premiered August 11)
About: This latest Marvel series centers on The Watcher (Jeffrey Wright) sharing alternate realities for classic Marvel stories and characters. The pilot introduced Captain Carter (Hayley Atwell), while the second looked at T'Challa (Chadwick Boseman) if he'd been taken from Earth and became Star Lord. It was a strange story to take in, including seeing Thanos (Josh Brolin) as something other than a menacing villain. I like the idea, and it was delightful to see Boseman back, even for a brief episode. Still, this series hasn't resonated as strongly as some of the other Marvel offerings this year. But this is still an interesting idea and interesting world, one that's worth following to the end.
Pilot Grade: C+
Second Episode: B-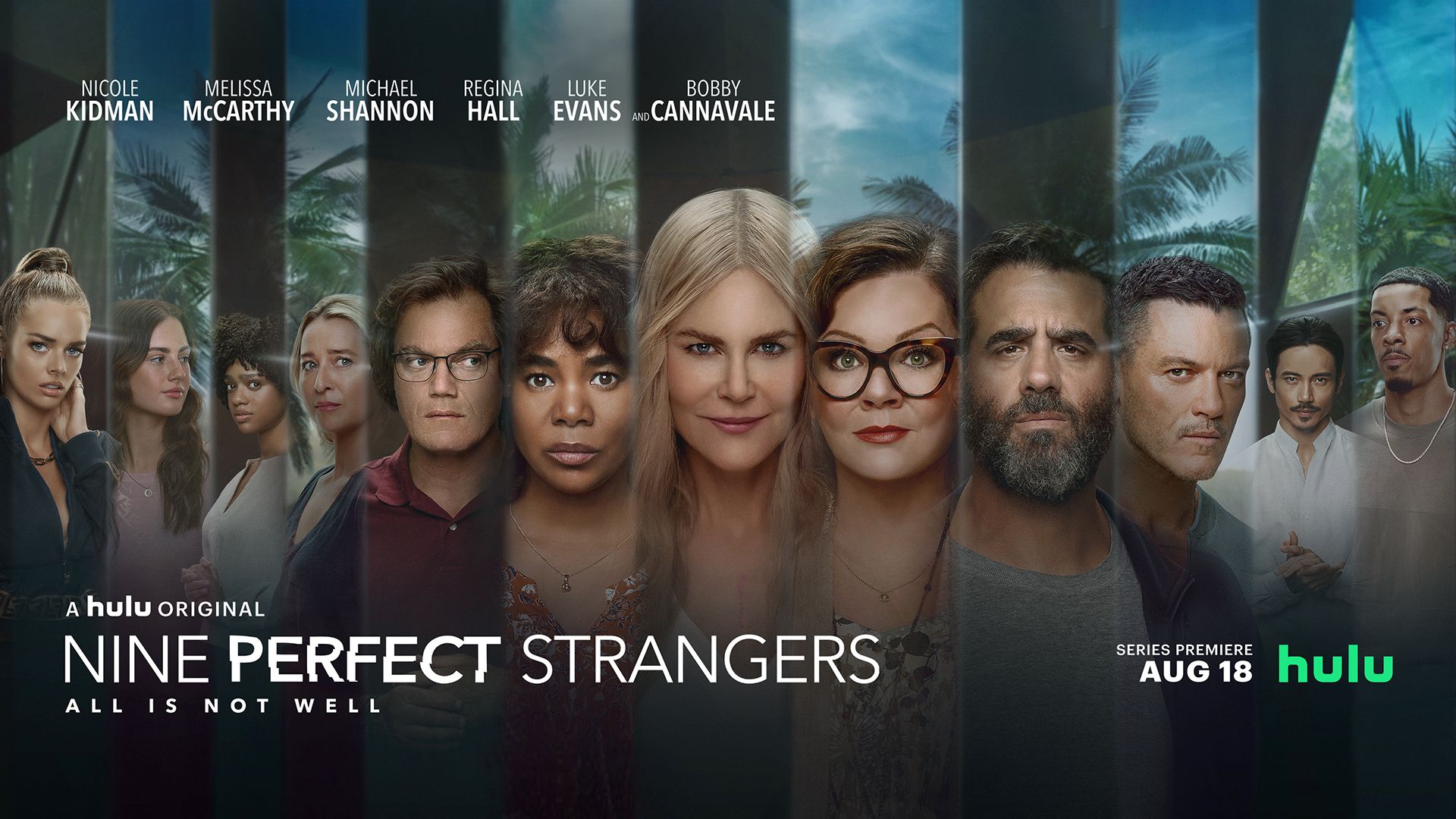 Nine Perfect Strangers, Wednesdays on Hulu (Premiered August 18)
About: This new dramedy comes from creator David E. Kelley, based on the book from Liane Moriarty. It's the same source writer, producer and star, Nicole Kidman, that teamed for Big Little Lies. This one centers on strangers, each struggling with their own issues, that land at a private and exclusive health and wellness retreat run by a temperamental genius (Kidman). The cast includes Melissa McCarthy and Michael Shannon, and at times it looks like it wants to be funny. It's simply not. It's not that engaging, either. The first three episodes dropped Wednesday, with subsequent episodes dropping weekly. I watched the first two and that felt like more than enough. Kidman is saddled with a tough accent; the story is all over the place and nothing about the narrative led me to invest in the characters. In short, it feels like a high-profile miss.
Pilot Grade: C
Second Episode: C-
Sunday Nights:
Heels, Sundays at 9 p.m. on Starz (Premiered August 15)
About: This new drama centers on a pair of brothers (Stephen Amell and Alexander Ludwig) who are wrestlers in a small Georgia town. They're carving out a life while following their talent, passion and family legacy as wrestlers. There is drama, some adult content and an intriguing set up for this Starz series. I thought the pilot ended in an interesting place, and I liked the slow burn of the second episode. Amell and Ludwig are strong, as is the rest of the cast. I like the story and character development, and I think there's some potential here. This grabbed me through two episodes and has me curious where it's going.
Pilot Grade: B-
Second Episode: B-
Streaming Series:
The Defeated, Now Streaming on Netflix (Premiered August 18)
About: History is written by the victors. That's something that sprung to mind when watching The Defeated, a new drama on Netflix set in Berlin just at the end of World War II when the city was split into four sectors, each run by a different country as it tried to put itself back together. Much of the drama of the first two episodes is set in the American sector, where an NYPD detective (Taylor Kitsch) has come to help get the police department up and running. All this while trying to find his AWOL brother (Logan Marshall-Green), who has his own way of moving forward post-war. This one has an interesting look and a fascinating concept. I was taken with the pilot and thought the second episode was decent as well. Each episode is between 45 minutes and an hour, while the season runs eight episodes. This felt like something different, and while it didn't get a lot of publicity I enjoyed the first two episodes and want to see where it's going.
Pilot Grade: B-
Second Episode: B-
The Chair, Now Streaming on Netflix (Premiered August 20)
About: This new comedy comes from executive producers David Benioff and D.B. Weiss and was created by Amanda Peet and Annie Wyman. The six-episode season focuses on the new chair of the English department at a prestigious college, Ji-Yoon Kim (Sandra Oh), and the wacky staff she has to try and supervise. The supporting cast includes Jay Duplass, Bob Balaban, David Morse, and Holland Taylor, among others. The episodes are around a half an hour, and while not a traditional comedy the blend of humor and drama with the subject makes it amusing and engaging. Oh is great in the lead and it's a quick binge for those that are looking for something light and engaging.
Pilot Grade: B-
Second Episode: C+
Matthew Fox is a graduate of the Radio, Television and Film program at Biola University, and a giant nerd. He spends his free time watching movies, TV, and obsessing about football. He is a member of the FSWA. You can find him @knighthawk7734 on Twitter and as co-host of the Fantasy Football Roundtable Podcast.