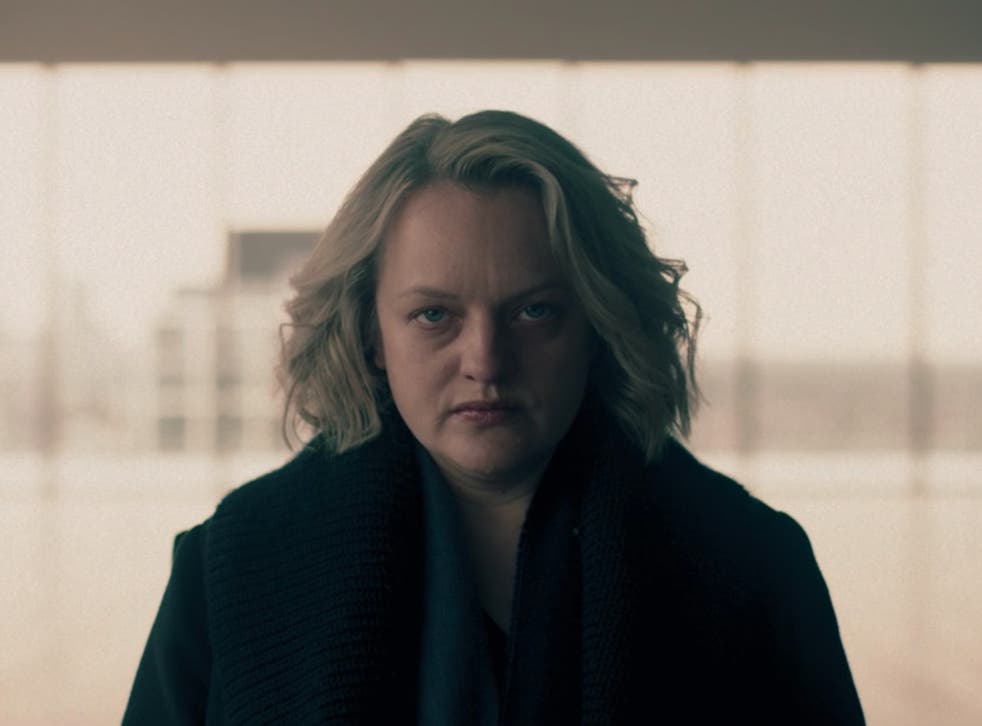 Early in the film The Dark Knight—a personal favorite and one of the best films ever made—District Attorney Harvey Dent (Aaron Eckhart) offers some wisdom that will prove sadly prophetic when it comes to the fate of his character. He tells Bruce Wayne (Christian Bale) and others, "You either die a hero or you live long enough to see yourself become the villain." Indeed, Dent wanted to be a hero but eventually caved to tragedy and circumstance as he became the villain—though not to everyone.
I couldn't help but think of that line, and that story arc, as I watched the latest season of The Handmaids Tale. The fourth season began on April 27, concluding its 10-episode run with the finale, "Wilderness," released on June 16. It was a fascinating and brutal season, one which saw the fortunes of June (Elisabeth Moss) and many of the core characters change greatly.
Perhaps no show seemed to capture the foreboding of the current political moment more upon its release in 2017 than The Handmaids Tale. Based on the famous novel from Margaret Atwood and adapted by Bruce Miller, the series presented an alternate world full of brutality and oppression, often in the name, or at least under the guise of religion. It was sometimes incredibly tough to watch, but worth the effort thanks to its fantastic performances, especially Moss. As the series has continued, it's remained a brutal world full of brutal stories, and it's remained worth the effort thanks to the execution.
But it was fair to wonder if the show—which has long since passed the content of the source material—could continue to keep audiences hooked while making little progress in changing conditions. The third season saw some possible changes, while the fourth season leaned into those, including Moss's June finally breaking free of the constraints of Gilead.
I thought the fourth season was overall solid, with moments of soaring emotional resonance and moments that didn't sit well with me. It remains, however, a testament to the talented cast, including Yvonne Strahovski, Ann Dowd and Bradley Whitford. But this fourth season was also a great showcase for June's best friend—Moira (Samira Wiley) and husband Luke (O-T Fagbenle)—in Canada. As June fought her way through Gilead, the season hit its high for me near the mid-point as June and Moira cross paths in Chicago to end the fifth episode.
The sixth episode, "Vows," was the high point of the season to me as June makes the painful decision to finally escape, leaving her first-born daughter behind. We see as she wrestles with the decision, leading to an emotionally charged exchange with Moira aboard the fleeing vessel and then a beautiful exchange with Luke when she finally arrives.
But while June's body is free, her mind is forever changed. A truism of many crime series is that you have to be careful that you resist becoming the thing you're hunting. That, sadly, bears true for June as she challenges Gilead and her fiercest tormentors—Serena (Strahovski) and Fred (Joseph Fiennes). The anger and seething rage, mixed with the guilt and the trauma flood back to June at times as she tries to acclimate to a normal life. Seeing the quietly peaceful rhythms of Moira and Luke feel alien to her, and Moss is exceptional at playing this during the back half of the season.
Also fascinating is June's influence on the other survivors. Like June, Emily (Alexis Bledel), is forever changed. We've seen her struggle to let go and move forward but confronted with a confident June that exhorts Emily and others to embrace their rage, she is finally able to give into all that has bubbled just below the surface.
The season builds to a crescendo in the finale, "Wilderness." June is finally able to exact some measure of revenge. While I won't say it wasn't earned, I will say that it will likely split audiences' notions of justice. Regardless, it leaves the story and June forever changed. It will be interesting to see where that carries our tragic "hero" as she enters the fifth season.
The Handmaids Tale is now available to stream on Hulu.
Matthew Fox is a graduate of the Radio, Television and Film program at Biola University, and a giant nerd. He spends his free time watching movies, TV, and obsessing about football. He is a member of the FSWA. You can find him @knighthawk7734 on Twitter and as co-host of the Fantasy Football Roundtable Podcast.