We're heading toward the Dog Days of Summer, and with the 2020 Tokyo Olympics finally debuting Friday, you'd be forgiven for having your attention focused elsewhere. Still, we're getting new series, and some of them are quite engaging. But what's worth your time and what can you skip to watch the U.S. Athletes hit the pool? Let this weekly post be your guide as I review the pilot and second episode of new scripted series, and select unscripted series, this summer. Don't see a new show listed below? Check previous weeks.
Monday Nights:
The Beast Must Die, Mondays at 9 p.m. on AMC (Premiered July 12)
About: This drama centers on a mother (Cush Jumbo) who lost her child in a hit-and-run accident. Dissatisfied with the lack of results from the police, she decides to find the killer on her own. Following a trail, she finds the suspected family responsible and begins the process of ingratiating herself with them in order to plot her revenge. The pilot moved at a fairly glacial pace, while the second episode brought in Jared Harris, likely the foil to Jumbo's grieving mother, but still didn't make a ton of progress. It's fine for a slow burn, but it feels like the kind of plot that would have been great as a two-hour movie as opposed to a six-episode series.
Pilot Grade: C+
Second Episode: C+
Thursdays:
Gossip Girl, Streaming Thursdays on HBO Max (Premiered July 8)
About: The new iteration of Gossip Girl doesn't feature any of the same characters, but it's set in the same world. As I noted with the pilot, while most of the drama, stories and characters felt blah to me, I was amused by the change in who Gossip Girl really is. This time it's a group of private school teachers trying to keep students in line and protect their jobs. That is an interesting wrinkle, but one that was too little explored in episode one and is clearly a sideline note in episode two as well. The rest of the stories and characters remain blah to me. The new series tries to expand the kind of characters and stories featured in the series, which is an improvement over the original, giving a bit more inclusivity to those depicted. While that's a positive, it's not enough to keep me coming back after the narrative failed to get me invested in any of the characters the first two hours. I like some of the twists, but overall, this high-profile spin-off falls flat.
Pilot Grade: C-
Second Episode: C-
American Horror Stories, Now Streaming on Hulu (Premiered July 15)
About: This spin-off from American Horror Story is airing weekly on Hulu only. The first two episodes of the anthology series dropped Thursday with subsequent episodes coming in future weeks. These are meant to be shorter horror stories, offering self-contained tales that resolve in an episode or two. The first two were inter-connected, returning to the Murder House from Season One of the original series and bringing back the Rubber Suit from that season, populating it with a teen that has a penchant for violence. The cast included familiar faces like Matt Bomer and unique adds like Paris Jackson, Michael's daughter, but mostly trod over the same kind of cliches we've seen in multiple seasons of the original series. The first two episodes were fairly violent and contained plenty of sexual content as well, an indication the streaming series may get to explore looser content restrictions. The performances were decent, but I wasn't that taken with a storyline that felt overly familiar. Fans of the franchise will always be happy for a little more, and hopefully we'll get some different kind of stories in future episodes. For now, this felt just OK.
Pilot Grade: C
Second Episode: C
Fridays:
Schmigadoon!, Now Streaming on Apple TV+ (Premiered July 16)
About: This new comedy comes from producer Lorne Michaels and boasts and all-star cast, led by Keegan Michael Key and Cecily Strong. It's a half hour that finds a couple trying to work on their relationship suddenly trapped in 1940s musical. That's a high concept set up and a high bar to clear, but the first two episodes, released on Friday, demonstrate that co-writers and co-creators Cinco Paul and Ken Daurio are more than up to the task. I LOVED the look and feel of the pilot, which might well be my favorite pilot of 2021 so far. Key and Strong have great chemistry and comic timing, and the cast includes Kristin Chenoweth, Alan Cumming, Fred Armisen and Aaron Tveit in supporting roles, among others. There is also a cameo from Martin Short in the pilot that is nothing short of a delight. I loved the first two episodes and think this is one of the best new shows of 2021 so far, another hit from Apple TV+, which is quickly becoming one of my favorite content producers. Make a point to check this out!
Pilot Grade: A-
Second Episode: A-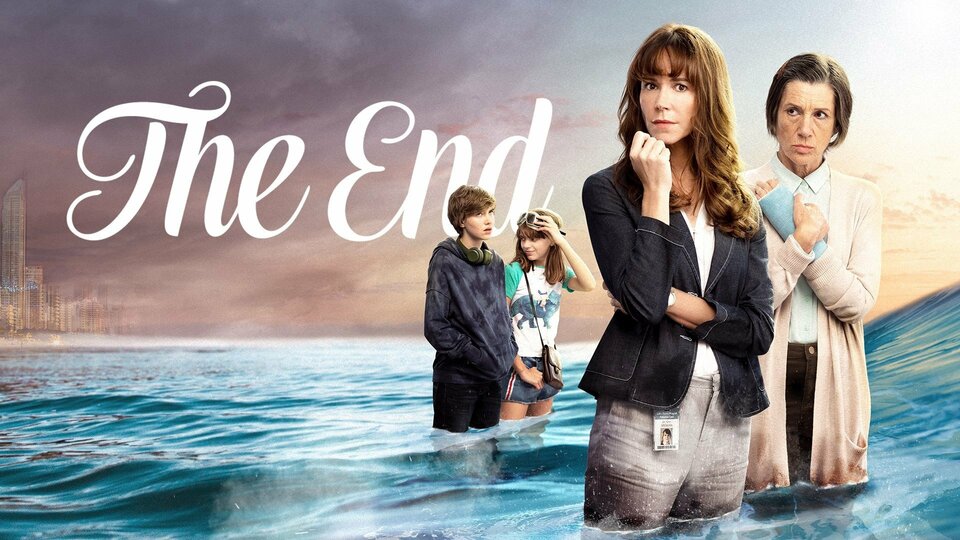 Sunday Nights:
The End, Sundays at 8 p.m. on Showtime (Premiered July 18)
About: Harriet Walter and Frances O'Conner take the lead in this half hour about an aging widow (Walter) who tries to end it all. In the aftermath, she's sent to Australia to be under the care of her adult daughter (O'Conner) who has issues with her own teenage children. This one is dark, with suicide and depression taking center stage in each of the first two episodes I watched. It can be tough to sit through. Though it's a half hour, there isn't much in the way of comedy. Back-to-back episodes aired Sunday, with future episodes dropping on subsequent Sundays. There are decent performances but, again, the content here is dark and a bit dry in its delivery.
Pilot Grade: C
Second Episode: C
The White Lotus, Sundays at 9 p.m. on HBO (Premiered July 11)
About: This new drama from Mike White is a six-episode satire set at a beach resort. We know from the opening moments of the pilot that things aren't going to go well, but it winds back to show the preceding week and the issues faced by guests and the staff at the resort. The cast is loaded, including Steve Zahn, Jennifer Coolidge, Jake Lacy and Connie Britton, but so far the two episodes have been beyond a slow build. In fact, I'd say they've doled out the plot at a glacial pace which caused me to become somewhat disinterested in a hurry. At the outset I wanted to know how these tragic events would unfold, but the first two episodes burned my patience getting there, focusing instead on what feel like the petty problems of the super-rich.
Pilot Grade: C+
Second Episode: C
Streaming Series:
Dr. Death, Now Streaming on Peacock (Premiered July 15)
About: This new series is based on the Podcast of the same name and tells the true story of Dr. Christopher Duntsch (Joshua Jackson), an incompetent surgeon who butchered, maimed and even killed his patients through incompetence. The series focuses on fellow surgeons played by Christian Slater and Alec Baldwin who uncover Duntsch's work and strive to get him disbarred and charged criminally. Meanwhile the series flashes back to show Duntsch's journey and the botched procedures that put his patients at risk. Jackson, Slater and Baldwin all do a decent job in the series, which runs six episodes, each about an hour. I watched the first two and wasn't hooked on the characters, instead quickly looking to see what happened to Duntsch. For those that followed the case and podcast, this will likely be a fascinating depiction of what happened. But, overall, I thought the production as a stand-alone drama was a bit dry.
Pilot Grade: C
Second Episode: C
Cat People, Now Streaming on Netflix (Premiered July 9)
About: Do you love Cats? If you do, this show might interest you but I guarantee you don't love cats as much as the people depicted here. This six-episode mini series chronicles different cat lovers and the lengths they go to express that love. The pilot episode centered on a rap artist, with the second episode centering on a woman who trains cats to put on a show. All of it is delightfully strange and entertaining if you're in the right mood, one of those series you can find only on Netflix.
Pilot Grade: C
Second Episode: C
Matthew Fox is a graduate of the Radio, Television and Film program at Biola University, and a giant nerd. He spends his free time watching movies, TV, and obsessing about football. He is a member of the FSWA. You can find him @knighthawk7734 on Twitter and as co-host of the Fantasy Football Roundtable Podcast.