Director(s): George C. Wolfe
Writer(s): Ruben Santiago-Hudson
Cast: Chadwick Boseman, Viola Davis, Colman Domingo
Synopsis: Tensions rise when trailblazing blues singer Ma Rainey and her band gather at a recording studio in Chicago in 1927.
When Chadwick Boseman unexpectedly passed back in August of this year, it was a major blow to everyone. Not just Marvel fans, or film fans, but people everywhere. He was one of the truly good ones and to find out what he was battling and how he still tried to spread love with his infectious smile was devastating, to say the least. From the outside, and as a fan, he was one of the greatest people there could be, and his untimely death was heartbreaking to me as well as so many others.
Heading into this film, I knew it was going to be tough to watch, and at times it was. Boseman reminded everyone of his charm and charisma, and his smile rang through me unlike ever before. He was beautiful on screen, and acted unlike he has ever acted before. His words and his voice rang true throughout the movie and I was floored at every moment. He was a commanding presence, as he has been his whole career, and he absolutely dominated this film. He had three moments in this film that can stand alone as some of the best of the entire year. Two incredible monologues and one gut-wrenching moment that left me stunned. He commanded the screen and reminded us why he was one of the best actors working. It pains me that we will never get to see his beautiful face on screen again, but he absolutely left his mark on cinema and saved his best for last with this one. He deserves all of the praise coming to him, and not because he passed, because I think he would be getting praise either way, but because he truly was that good.
While Boseman elevated the film, the movie was already pretty good, to begin with. You could tell this film was based on a play with the way the entire thing was shot in such a closed location. We really only stayed in one building for the entire film, and I think George C. Wolfe was smart in trying to not do too much, but let the actors do their thing. Aside from Boseman the rest of the cast was great. Colman Domingo gives a very solid performance, and Viola Davis provides her best work since her Oscar-winning Fences. She felt like more of a supporting player in this film than a lead, but nonetheless, she made the absolute most of the time she had on screen. She stole moments and proved Ma's worth in the building. She, along with Boseman, had a few killer monologues that proved her worth as a character in the film. Ma didn't take any bullshit from anyone, especially the white man, and she proved herself to be a demanding force. Anything Ma wanted, she got, and Viola knew the power she had in the film.
Touching back on the direction of this film, again, I think it was smart to contain this to one specific area. I liked the lack of multiple sets to have it feel contained like a play, but still, feel open like a film. This also closed space helped me understand the world these people were living in. Being black in this time, everything felt closed down to you, and you can tell from the first band room they enter into how poorly they had been treated. Always being put down and shut out, and forced to work with what they were given.
The story itself seemed pretty straightforward. It was the dialogue of what was being said and how these people were saying it that was what made the film feel so special. There was a relevant nature to this film that was so powerful about finding your voice and standing up for what you believe. While I knew, for the most part, where the film was going to go, what was being said was what kept me engaged. I will say, the end, even though I saw it coming, shook me to my core. Boseman really went out with such a powerful end. Ultimately what this film is about is finding your voice. If the stuttering nephew didn't show you that, Ma Rainey definitely did. This was a powerful and special movie that will be honored for years to come.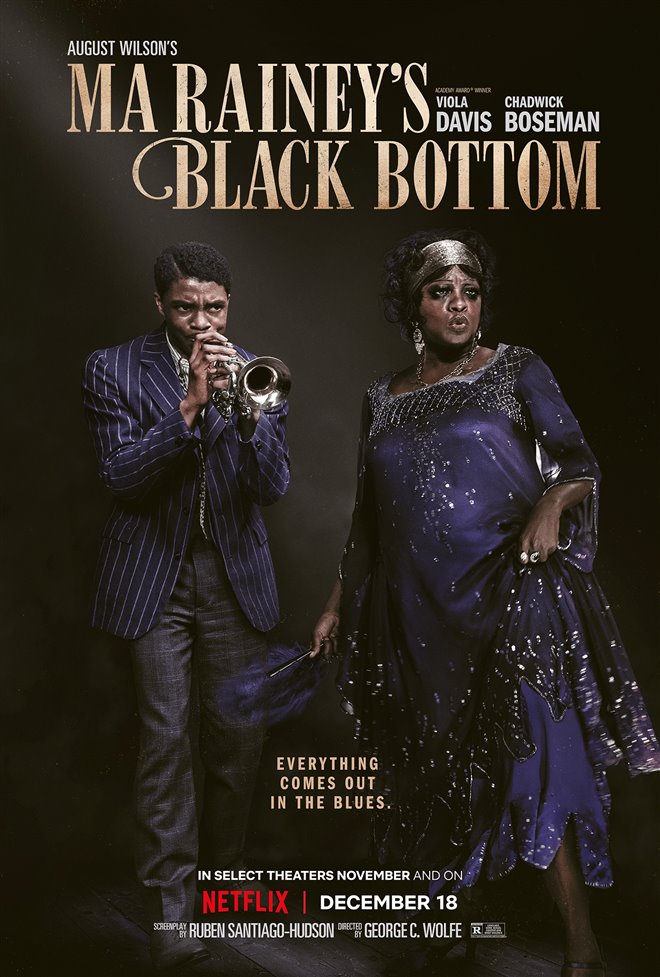 Final: Chadwick Boseman's swan song gives us the best performance of the year as Ma Rainey's Black Bottom challenges you to find your voice.
My Score: B+
Current Tomato Score: 99%
Current Metacritic: 86
Jacob is a film critic and co-founder of the Music City Drive-In. He is a member of the Music City Film Critics' Association and specializes in the awards season. You can find him on Twitter @Tberry57.