LOCAL NATIVES ANNOUNCE FIFTH STUDIO ALBUM TIME WILL WAIT FOR NO ONE OUT JULY 7 VIA LOMA VISTA RECORDINGS
WATCH THE JOYOUS AND CHEEKY NEW VIDEO FOR FRENETIC NEW SINGLE "NYE" HERE
25-CITY US TOUR KICKS OFF AUG 18 IN MINNEAPOLIS, W/ 2 NIGHTS AT DC'S 9:30 CLUB ON AUG 24 & 25 AND PERFORMANCES AT NYC'S PIER 17 ON AUG 29 AND AUSTIN'S STUBBS ON SEPTEMBER 16
BAND CELEBRATE ALBUM ANNOUNCEMENT WITH YOUTUBE LIVE STREAM PERFORMANCE FROM NEUEHOUSE HOLLYWOOD ON MAY 11
PRE-ORDER/PRE-SAVE TIME WILL WAIT FOR NO ONE HERE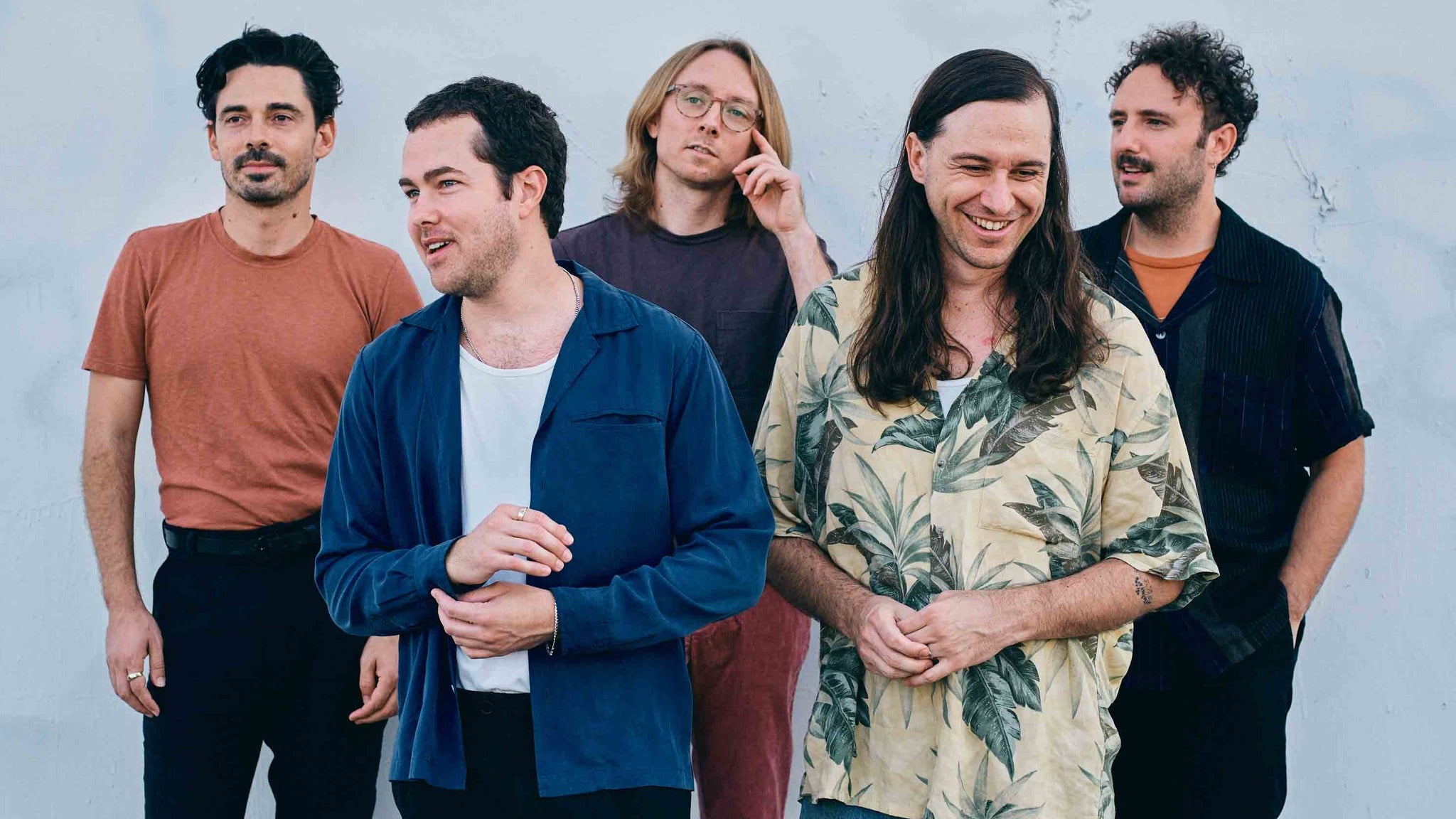 Today, Local Natives confirm the release of their fifth studio album, Time Will Wait For No One, out July 7 via Loma Vista Recordings. The collection of songs showcase the band's seminal SoCal harmonies and was recorded across historic LA recording studios with Grammy award winning producer John Congleton (Angel Olsen, Death Cab For Cutie, St. Vincent, Sharon Van Etten), Michael Harris (Lana Del Rey, Feist), and Danny Reisch (Sun June, Other Lives)
Of the album the band said, "This record was made during a time of metamorphosis for us. Former selves melting away as some of us became fathers, endured periods of isolation, loss, and identity crisis. The highs and lows we were feeling at the same time were so extreme. There was a moment halfway through making the album, we played one of the most emotional concerts of our lives. A sold out show at the Greek Theater in LA, our first performance in almost two years, and we didn't know if it would be our last. As individuals and as a band, we were on the verge of a collapse. Time flows on uncontrollably and change is relentless, and the people you love are the only constants. Out of that reckoning we dissolved everything down to start again, and had the most prolific period of songwriting in our history. This is the first chapter, Time Will Wait For No One."
The announcement comes with the release of their newest single "NYE," that premiered this morning on 6Music. In the cheeky and joyous video, directed by Jonathan Chu, the band endure turbulent times. It's an unfiltered, and frankly weird Local Natives we haven't seen before, letting loose in a testament to new beginnings. 
Local Natives have an ongoing tradition where the rest of them make up the wedding band when another member gets married. So when Ryan Hahn's wedding took place during the making of the album, the others assembled to play some of his favorite songs of all time, one being by The Strokes. Ryan says of the experience, "I was so psyched watching the guys play this from the audience, something I'd never seen before, that I thought we had to do a fast and wild song, & NYE was born." A catchy soundtrack to a favorite memory.
To celebrate the announcement of their new album, Local Natives are hosting a Sunset Sounds at NeueHouse Hollywood on Thursday, May 11. This celebration includes a special rooftop performance that will also be live streamed via the band's Youtube channel at 7:30pm PST that night and followed by an official Youtube After Party live Q&A with fans.
The band also announces the Time Will Wait For No One Tour, a 25-city nationwide tour kicking off in Minneapolis on August 18 and criss-crossing the US all summer, including performances at NYC's Pier 17 on August 29, two nights at DC's 9:30 Club on August 24 and 25 and Austin's Stubbs on September 16.
Based in Los Angeles, the group progressed their sound over the course of four full-length albums, Gorilla Manor [2009], Hummingbird [2013], Sunlit Youth [2016] and Violet Street [2019]. In the span of one year the band performed twice on Jimmy Kimmel Live! For the first performance they were accompanied by Sharon Van Etten playing "Lemon feat. Sharon Van Etten" off the Sour Lemon EP. They closed out 2021 with a performance of Roxy Music's "More Than This" from Music From The Pen Gala 1983, an EP coinciding with their appearance in the Apple Original Series The Shrink Next Door starring Paul Rudd and Will Ferrell. Local Natives have received praise from Pitchfork, Consequence of Sound, The Guardian and many more. In between countless sold out shows and festival appearances – including a standout Coachella 2017 set – they've graced the stages of Austin City Limits, The Tonight Show Starring Jimmy Fallon, The Late Show With David Letterman, The Late Late Show With James Corden, Jimmy Kimmel Live! and more. 
Local Natives Time Will Wait For No One Tour Dates
August 1, 2023 – Los Angeles, CA – Ford Theater (Hummingbird 10th Ann. Show)
August 2, 2023 – Los Angeles, CA – Ford Theater (Hummingbird 10th Ann. Show)
August 18, 2023 – Minneapolis, MN – First Avenue^
August 19, 2023 – Milwaukee, WI – The Pabst Theater^
August 20, 2023 – Detroit, MI – Majestic Theatre^
August 22, 2023 – Boston, MA – House of Blues^
August 24, 2023 – Washington, DC – 9:30 Club^
August 25, 2023 – Washington, DC – 9:30 Club^
August 26, 2023 – Pittsburgh, PA – Stage AE^
August 27, 2023 – Philadelphia, PA – Franklin Music Hall^
August 29, 2023 – New York, NY – Pier 17^
September 8, 2023 – Chicago, IL – Riviera Theatre*
September 9, 2023 – Cleveland, OH – House of Blues*
September 11, 2023 – Columbus, OH – Newport Music Hall*
September 12, 2023 – Nashville, TN – Marathon Music Works*
September 13, 2023 – Atlanta, GA – The Eastern*
September 15, 2023 – Dallas, TX – House of Blues*
September 16, 2023 – Austin, TX – Stubb's Waller Creek Amphitheater*
September 17, 2023 – Tulsa, OK – Cain's Ballroom*
September 19, 2023 – Phoenix, AZ – The Van Buren*
September 21, 2023 – Denver, CO – Mission Ballroom*
September 22, 2023 – Salt Lake City, UT – The Depot*
September 23, 2023 – Bozeman, MT – The Elm*
September 25, 2023 – Vancouver, BC – Vogue Theatre*
September 26, 2023 – Seattle, WA – Paramount Theatre*
September 27, 2023 – Portland, OR – McMenamins Grand Lodge*
September 28, 2023 – Oakland, CA – Fox Theater*
September 30, 2023 – Del Mar, CA – The Sound*
^ w/ Annika Bennett
* w/ Halfnoise
LOCAL NATIVES ON THE WEB:
Website: http://www.localnatives.com
Facebook: https://found.ee/LN_Facebook
Twitter: https://found.ee/LN_Twitter
Instagram: https://found.ee/LN_Instagram
TikTok: https://found.ee/LN_TikTok