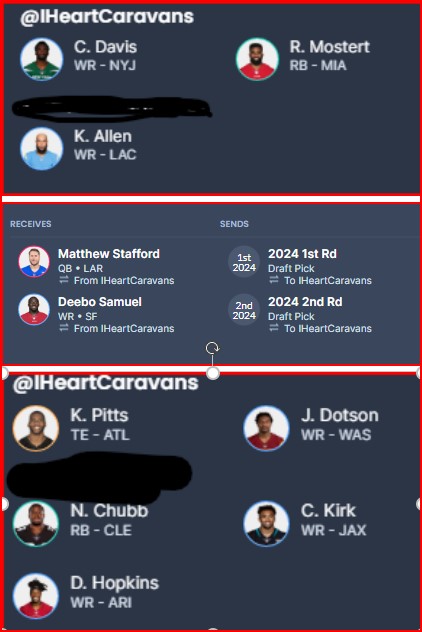 Who doesn't love when the "So and so proposed a trade in whatever league" notification pops up? There are a world of infinite possibilities that could come through. Maybe something that strengthens your team if you're going win now in a dynasty. Maybe it's a balancing trade to give you quality at every position by sacrificing some depth. Maybe it's something that's going to blow your mind as an auto-accept.
More often than not, it's going to be trades like the above. Horrible, terrible, all around bad offers. Like you just bought a 2023 Bugatti and the offer you a 2010 Corolla with 150k miles and a gas card with $42.79 on it.
I'm not going to say I've never offered a bad trade. Usually it's because I overvalue someone slightly and am going pieces for a high end player. But I at least try to make it fair. As you can see with the trades above, that's not always the case with other people. I know we've all had offers like this come through. These are just the ones that I found in a quick sweep. There are so many more.
The worst are when they keep sending them. There have been multiple occasions this season alone where I've gotten successive bad offers from the same person, and even after hopping in the chat and explaining why they're terrible, they keep'em coming. Like bro, we just talked about this.
I wish there was a trade offer block feature. There are some people who I won't trade with regardless of the offer. I'll send out something fair, and they send back something outrageous. And after an insta-decline, they send another, and another. You get the picture. I don't even look at offers from these people anymore. I just decline them and move on. Even if it's an OK offer, I try to completely stay off their radar as a trade partner.
I also don't agree with people that offer shame people. It's one thing to tell the person who is sending the bad offer that they're out of their fricking mind, but to throw it in the league chat is just rude. I've seen people post trade offers with the specific intention of throwing shade at someone. I've also seen people post the trade in another league without blacking out the name of the offender and not realizing they're in that league too.
Not saying I don't share them. The really bad ones end up in a chat. I've texted them to people. Only if they're so bad people will get a kick out of them. And quite a few times I've gotten the response that they, too, received a trade offer from that person that was complete refuse. It's comical sharing bad offers to say the least.
Moral of this story is don't send absolute terrible offers. Put the cleat on the other foot and see if you would accept it before you send it. It's OK to be a little off, but sending two guys who are going to be cut for waiver adds for a locked in starter is just a waste of both people's time. Do better. And if you don't, expect a constant stream of declines, even when you make decent offers.
And now without further ado, here's this week's News Or Noise!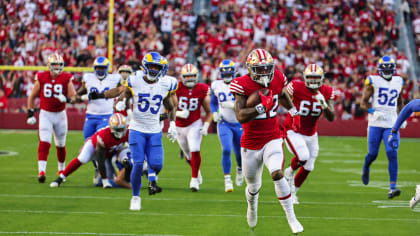 The Niners Will Cover The Spread And Hit The Over Against Carolina
According to my betting sheet, this is news.
The line for the 49ers to beat Carolina is currently sitting at -7.0. Carolina is bad. B-A-D bad. You know it's bad when the fan base is awaiting a Sam Darnold return. Anytime you ask a question and Sam Darnold is the right answer, you're asking the wrong question. Having said that, Baker Mayfield is making Darnold look like he's the better quarterback option.
The 49ers just beat the Rams 24-9 and it shouldn't have been that close. San Francisco's defense is playing lights out, even if they did drop a couple picks including one in the end zone that let the Rams put an extra three on the board. The Rams haven't been looking themselves so far this season, but they're still light years ahead of the Panthers.
So, the real thing we're worried about is the over. The Niners' games so far this year have averaged just over 29 points per game. The O/U is listed at 39 so taking the over is a bit of a stretch but I'm in regardless. The Panthers have been able to put some points on the board, even with how bad their offense has been. They're averaging almost 20 a game and have played some decent defenses. I believe if they get 14-17, San Francisco will do the rest and POOF, the over hits.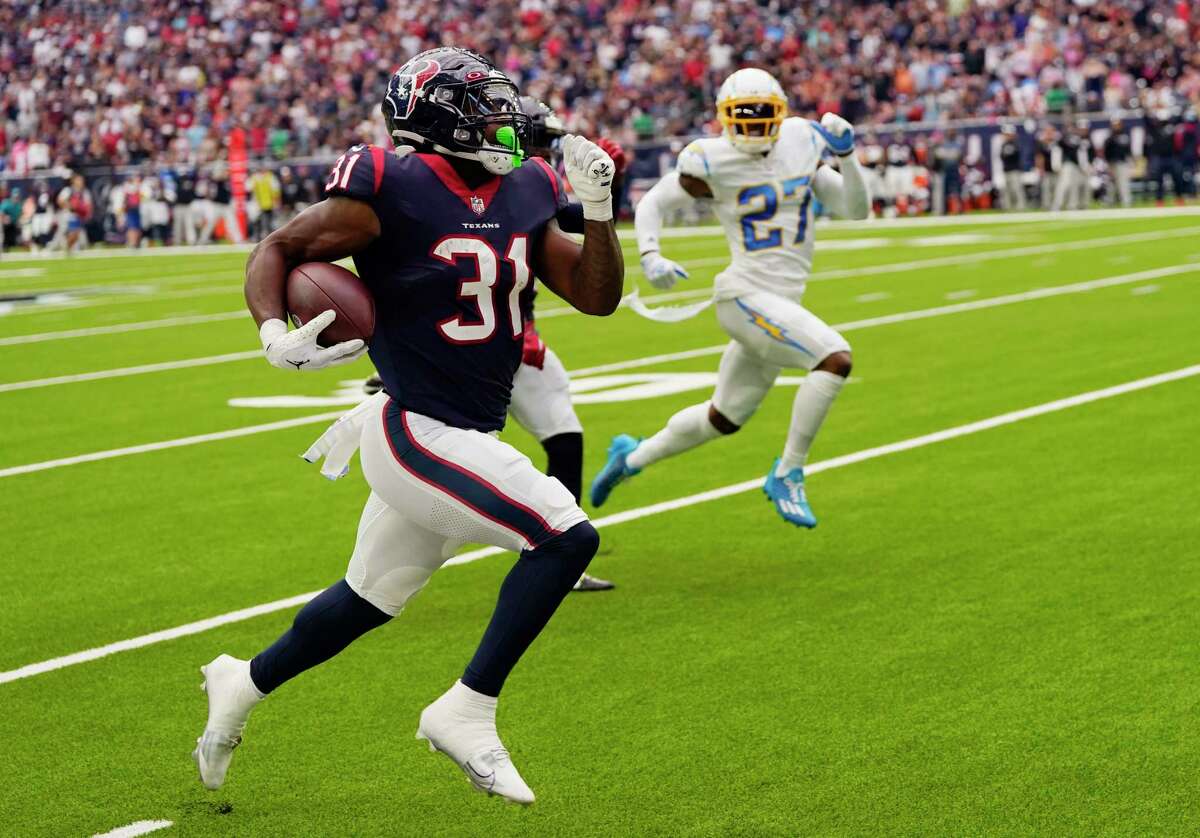 Dameon Pierce Will Win Offensive Rookie Of The Year
Noise.
I'm not saying he isn't good. I'm not even saying he doesn't have a chance. I'm just saying that he's a good running back on a terrible team.
Pierce is averaging over five yards per tote, has four touchdowns and is looking good. Like real good. He sprung a 75-yarder where he outran the entire defense last week, which was phenomenal. The other 13 carries weren't terrible at 4.3 per, but without the big play his numbers aren't in the stratosphere. Of course the same thing could be said about many performances every year, and he's now shown he's a big play waiting to happen.
As I said, it's very possible for him to *ahem* run away with the award… I just feel like his competition has a leg up on him. Especially in the projected win column as the Texans are a lowly 0-3-1 coming into this week and will be underdogs in every game they play in. Right now, Garrett Wilson and Chris Olave are putting up grown man numbers as well. Wilson has been winning games while Olave has been more of a garbage time guy.
Wilson has 255 yards receiving and two scores on 20 receptions for the surprising 2-2 New York Jets. Olave has 335 yards and one trip to the end zone on 21 receptions for the Saints who are 1-3. Both wide outs have been making it happen through backup quarterbacks, which makes it all the more impressive. Starters Jameis Winston and Zach Wilson are no Brady and Rodgers so a huge uptick in performance is not really expected.
I think the award is going in Garrett's direction for the moment. He's making big plays in big moments and looks good doing it. Olave is very good, but has been thrust into a bunch of situations where he was the top dog and has produced. Neither guy is *ahem* getting much seperation from the other. I could very well be wrong. Dameon is killing it and could be the guy at the end of the season. I just have to take the field for the moment.
Nick Bosa Will Take The NFL Sack Record This Season
And here's another news.
Being Nick Bosa must be pretty cool. You have a brother to compete with at the top level of your position. You get to play your home games in sunny California. And you have a season long lease on the property behind the opposing teams' offensive line. Bosa has six sacks in four games. That's a lot. Enough for first in the league. But that doesn't tell the whole picture.
Bosa is miles ahead of everyone else in so many important categories. He has almost double the QB hits as the closest player. He is averaging a little over an extra QB pressure more per game than the next closest guy. It's basically the definition of defensive domination.
Some of that is the defense he's on. With the 49ers having so many defensive weapons, it's hard to account for all of them. You'd think that they'd at least try to account for him though and not open the chute to let him plant the quarterback.
Bosa is on pace for 25.5 sacks. That's a lot. The record is 22.5. I know it's only four games, but it's also now a 17-game season. That extra game is all the more opportunity for him to feast. I believe if he stays healthy, he gets it with a couple to spare. While it might not be 25.5, it's going to be in the neighborhood.
LeVeon Bell Is Going To Win His Upcoming Boxing Match
Does anyone really care? I'm going with noise.
Le'Veon Bell recently fought in a boxing match against Adrian Peterson. There were no winners in watching the fight, but Bell was announced the winner via TKO regardless. Now Bell is coming back for more.
This time he is going against an actual combat sports fighter in Uriah Hall, former UFC middleweight. Bell is going to get his *ahem* bell rung. Hall carried a 17-11 record with 13 knockouts in his tenure with the Ultimate Fighting Championship. Half the fights he had in the octagon resulted in him knocking his opponent out.
Bell laid one real good lick on Peterson that made his leg wobble. Both guys showed that neither really belonged there. Now, Bell is going to catch that lick, because he still doesn't belong there. There is a driving force behind Bell taking this fight. It's money. Being on the undercard for the Paul-Silva fight pays well. The exposure he is getting on the super long shot of him winning is worth even more than that. However losing embarrassingly would not pay off the way he hoped for.
Bell was a hell of a running back until the money took it all away. He's not good at boxing and will be punched in the face a lot, but at least he's getting paid. Unfortunately I will probably be watching this due to my love for Anderson Silva's talent. Hopefully this is a short one.
Tom Brady Is Going To Play Past This Season
Two weeks ago, I probably would have been pretty firm in the noise camp, but I actually think this may be news.
Tom Brady and Gisele Bundchen each hired a divorce lawyer this past week. Tom continuing to play has been a topic of contention for the two for years now, with each year seemingly wearing more and more on their relationship. Tom coming out of retirement before the start of this season may have been the final act.
I hope they can make it work. They've always seemed to be a great couple. Obviously publicly, but you could still see the way they looked at each other. You could see the way they were with their kids. They were a happy family. I hope they get back to that.
But if they don't? Oh boy. Brady might play until he's 50. If there's nothing at home pinning him down to retiring at a certain time, they might have to force him off the field. He could be drawing an NFL pension and still getting game checks. His kids will be facing him on Monday Night Football.
Tom hasn't looked great this season. The NFL came out with another Tom Brady Rule. Unlike the infamous tuck, this one is about smashing tablets on the sideline. He's been a little cranky. It's yet to be seen if his personal life is going to fuel him or hinder him. It's also too early to call on his relationship. But it's obviously one or the other between NFL and Gisele.
Looking for a lineup question to be answered? Got offered a trade you're just not sure on? Think fantasy football is neat and want someone to talk to about it? Get in touch with me @IHeartCaravans on Twitter, Medium, uStadium, TikTok, and the Fantasy Life App. Hope to hear from you soon!