Honourable remakes are hard to come by. They're a rare breed. Really, it's no wonder film lovers are hesitant when Hollywood takes aim at a beloved classic, especially when said remake involves a complete English-language makeover – this typically being the case wherever horror films are concerned. By no means are all remakes a disaster; The Grudge (2004) isn't the least bit terrible, neither is Let Me In (2010), both maintaining powerful elements of horror with the latter receiving global acclaim.
Sadly, far too many fantastic foreign-language films have suffered the opposite fate – Quarantine (2008) being a prime suspect here. America's answer to the terrifying Spanish found-footage horror Rec (2007) is notably identical to its source material, failing to capture any originality. Quarantine serves as a step-by-step guide on what not to do when rebooting a horror film – or any film for that matter. Yet, 14 years later, it seems a lesson remains to be learned as Goodnight Mommy (2022) drags across the floor without hope for lift-off.
Based on the Austrian horror of the same name, Goodnight Mommy stars twin brothers Cameron and Nicholas Crovetti who return to their mother's (played by Naomi Watts) house to find that something disturbing awaits. Mother is not quite as she seems. Citing cosmetic surgery, she hides her face behind bandages whilst her behaviour grows increasingly hostile. Soon, the boys become erratic in their thoughts and theories, suspicious that the woman may not be Mother at all.
Where the 2014 original is a dark, extremist take on the genre, this remake is anything but. There is a severe lack of tension and mystery. Frequent dialogue removes any trepidation. The tone is shifty, creating moments of ambiguity that are never referenced again or explained further. If anything, Goodnight Mommy becomes a lacklustre drama with an ending that can be spotted from a mile away and never once attempts to reach the level of discomfort found in the original.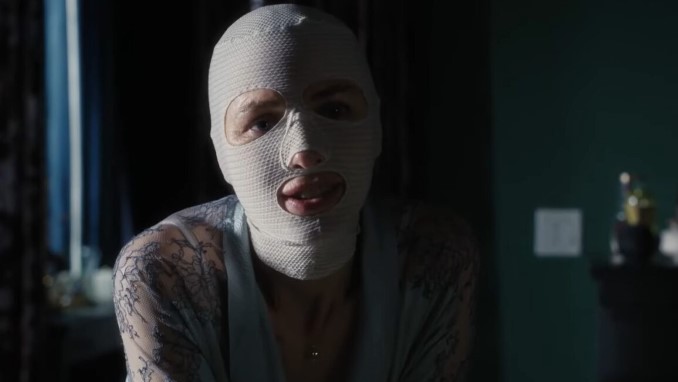 Goodnight Mommy is unfortunately another misfire in the ever-growing list of American reboots. Watts gives it her best shot and her efforts are commended; although, it would take a lot more than her grade-A abilities to pull this apparent horror from its desolate grave. Sometimes, it's more than alright to leave well enough alone, and that includes films that have yet to scrape the 10 year mark.