The weather is changing and pretty soon it will be more fun to curl up on the couch than be outside. (Though, in fairness, that's always the case for me.) While we're on the couch we might be looking for something to watch and since we're in the midst of the busy season of premiers, but which are worth diving into and which can be safely ignored? Let this weekly journey through the new series of the Fall be your guide as I review the pilot and second episode of new scripted series. Don't see a new show listed below? Check previous weeks.
Tuesdays:
La Brea, Tuesdays at 9 p.m. on NBC (Premiered September 28)
About: Following in the proud tradition of shows like LOST, this one is a high concept sci-fi drama. It begins with a sink hole opening up in La Brea, swallowing a bunch of Southern California residents and depositing them in a strange new world. While those left behind try to figure out where their loved ones went, those in the hole are just trying to survive. And, naturally, it's not a world they expect. As you might have guessed, there are some elements of time involved in this plot that give it a bit of a twist. I liked the potential here and the pilot was engaging. The second episode was a bit slow, and I can see some potential landmines, but as someone who enjoys the genre I'm willing to give it a few episodes to develop. If you're in the same boat, this might be a journey worth taking.
Pilot Grade: B-
Second Episode: C+
Wednesdays:
CSI: Vegas, Wednesdays at 10 p.m. on CBS (Premiered October 6)
About: The original CSI debuted in 2000 and became a huge hit. For a while, it was the top-rated drama on television. It eventually spawned three spin-offs that dominated the CBS airwaves for years. The mothership series signed off in 2015, but like so many things absence and a dearth of new ideas has made the heart grow fonder. On Wednesday, more than 20 years after the original series debuted, CSI returned. With the return came the familiar faces of Jorja Fox, Paul Guilfoyle and, be it ever so briefly, William Peterson. Those original stars plus a new crop are at the heart of this re-booted series, which follows a familiar model but also has an ongoing story arc presented in the pilot that will add a more recurring through line to the show. I was a big fan of the original and pumped when I heard Peterson would be back. We didn't see him much in hour one but I'm hoping for more going forward. For those who are fans of the tried-and-true crime format on CBS, this will be a welcome piece of nostalgia.
Pilot Grade: C+
Thursdays:
Ghosts, Thursdays at 9 p.m. on CBS (Premiered October 7)
About: The network sitcom is a dying breed but CBS is one of the last robust purveyors. While there isn't a single sitcom on the schedule this fall for FOX and NBC, and only one night on ABC, CBS has a full block Thursdays and a block on Mondays. Among those six sitcoms only one new offering made the schedule, Ghosts. This one is adapted from a British series that finds a married couple (Rose McIver and Utkarsh Ambudkar) inheriting a stately manor that they plan to turn into a B&B. After an accident that results in a short-term death for the wife, she can see the ghosts that inhabit the property and communicate with them. Those ghosts have needs, and they aren't too pleased about the new owners' plans. Hilarity ensues. It's a high concept swing with the first two episodes debuting on Thursday. I like McIver and Ambudkar, and I thought the first two episodes were enjoyable and entertaining. There is some potential for this to develop into something fun or go completely off the rails, but it's too early to tell which way this one is trending.
Pilot Grade: C+
Second Episode: C+
One of Us is Lying, Now Streaming on Peacock (Premiered October 7)
About: This series debuted on Peacock Thursday, with three episodes available and more dropping weekly on Thursdays. The first season is set at nine episodes, each running about 45 minutes. The series sets up like a cliché re-boot of Gossip Girl, where a vindictive student runs a gossip website promising to reveal the dirt on a quartet of fellow classmates, among them the star athlete, the rich princess, the brainy head of the class and the resident bad boy. All of them end up in detention together the first day and, just when things are looking predictable, the purveyor of gossip drops dead. And more interesting, it seems one of his four targets might have killed him, while someone is secretly taking up his mantle and continuing his work. That gave this series a bit of a twist, one that played out in some interesting ways in the first two episodes. That is the only saving grace for a series that, by-and-large, has a lot of cliché character archetypes and tropes. The affair that can't be revealed, the secret drug dealer, the popular athlete trying to stay in the closet—none of it feels particularly new. So, like many original series on Peacock, this isn't a terrible swing but it's not a terribly compelling swing, either. There was some potential, but it doesn't totally feel like the journey is worth the effort.
Pilot Grade: C
Second Episode: C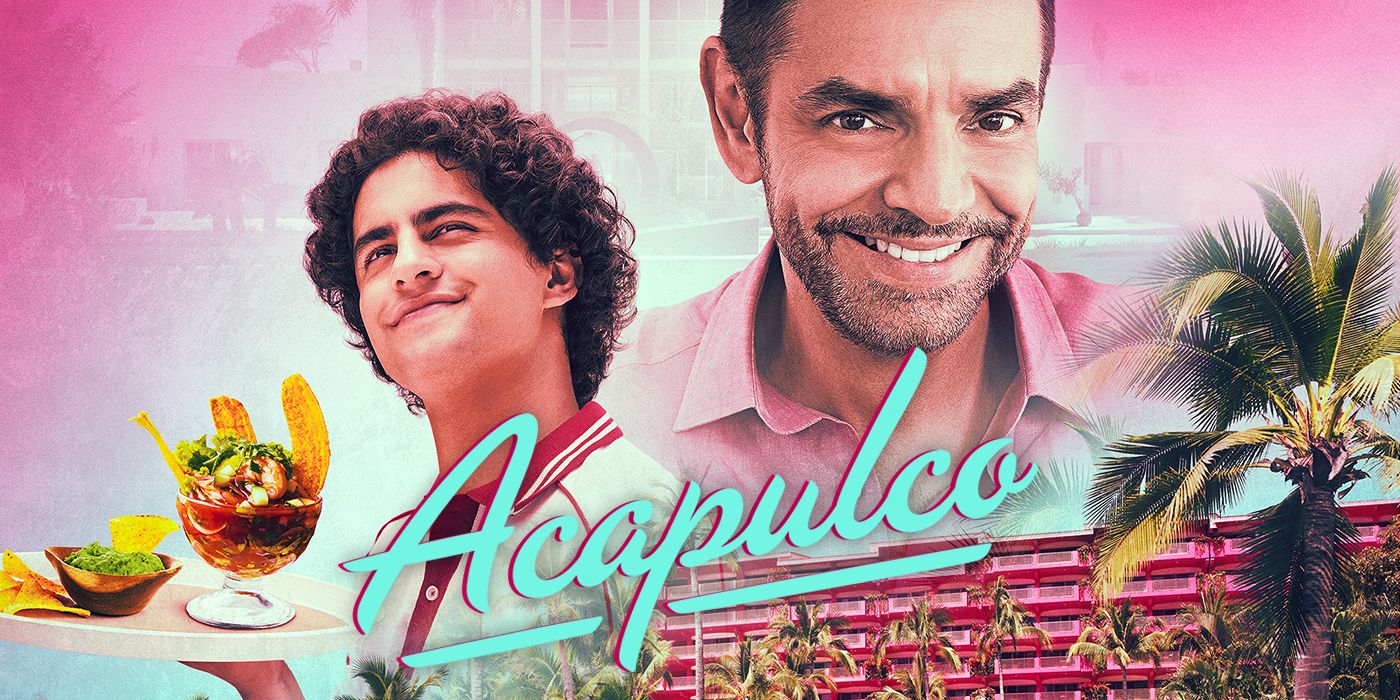 Fridays:
Acapulco, Fridays on Apple TV+ (Premiered October 8)
About: This latest half hour is a comedy of sorts. It begins with Maximo (Eugenio Derbez), a wealthy entrepreneur hosting his nephew for a weekend. Instead of taking him on an outing, he decides to share the journey of how he made it big. That takes us back to the 1980s where a younger Maximo (Enrique Arrizon) is embarking on his first job working at a resort for the rich. Most of the narrative takes place in that time, following Maximo's adventures and mishaps. All the while the older version provides a little insight through narration. It's a solid concept for a comedy and this one works OK. The style is fun in the first two episodes, each running about a half an hour. The cast is decent and the adventures are somewhat interesting. Apple TV+ has had an incredible year with some great original series. By comparison, this one is just OK. I like Derbez, but his role is greatly limited here. The idea and concept work OK, and in a less robust season of TV it might be worth exploring more. But in this crowded landscape there wasn't enough of a hook to make this one compelling.
Pilot Grade: C
Second Episode: C
Streaming Series:
Pretty Smart, Now Streaming on Netflix (Premiered October 8)
About: Netflix has created some interesting original series but despite myriad swings it can't seem to nail the traditional sitcom. Pretty Smart is the latest swing and it's about as dismal as the rest. This one focuses on a Harvard graduate (Emily Osment) who has been dealt a blow personally and professionally. She heads to Los Angeles and crashes with her estranged sister (Olivia Macklin) and her three roommates (Gregg Sulkin, Michael Hsu Rosen and Cinthya Carmona). She's a fish out of water trying to rebuild her life. Hilarity ensues, except that it doesn't. This one is painfully unfunny and, at times, just plain painful. All 10 episodes dropped Friday and each runs about a half an hour. Like previous sitcom attempts this one has a middling and stiff format that just doesn't work. This is easily skippable.
Pilot Grade: D
Second Episode: D
A Tale Dark & Grim, Now Streaming on Netflix (Premiered October 8)
About: It's a somewhat bleak take on Grimm's fairytales, only animated and for kids! Sounds like a winner, right? Well, this 10-episode series dropped on Friday, each episode running about 30 minutes. It has some famous voices in the cast, such as Ron Funches, Scott Adsit, Jonathan Banks and Adam Lambert. It seems self-aware that some of the elements of the plot—such as a pilot built around a woman who eats children (including her own) aren't really kid-friendly. Such was the nature of the original Grimm's Fairytales. At the same time, this appears to be a cartoon series aimed at children. Feel conflicted? I did as well. Anyway, I watched the first two and it wasn't my cup of tea. I'm also not sure it would be great for actual children, but at least you've been warned.
Pilot Grade: C
Second Episode: C
Matthew Fox is a graduate of the Radio, Television and Film program at Biola University, and a giant nerd. He spends his free time watching movies, TV, and obsessing about football. He is a member of the FSWA. You can find him @knighthawk7734 on Twitter and as co-host of the Fantasy Football Roundtable Podcast.