We're into October and the flood of new original programming is in full swing. With so many options, it can be hard to know where to start. Let these weekly posts be your guide as I look at the pilot and second episode of new scripted series this Fall. Don't see a new show listed below? Check previous weeks.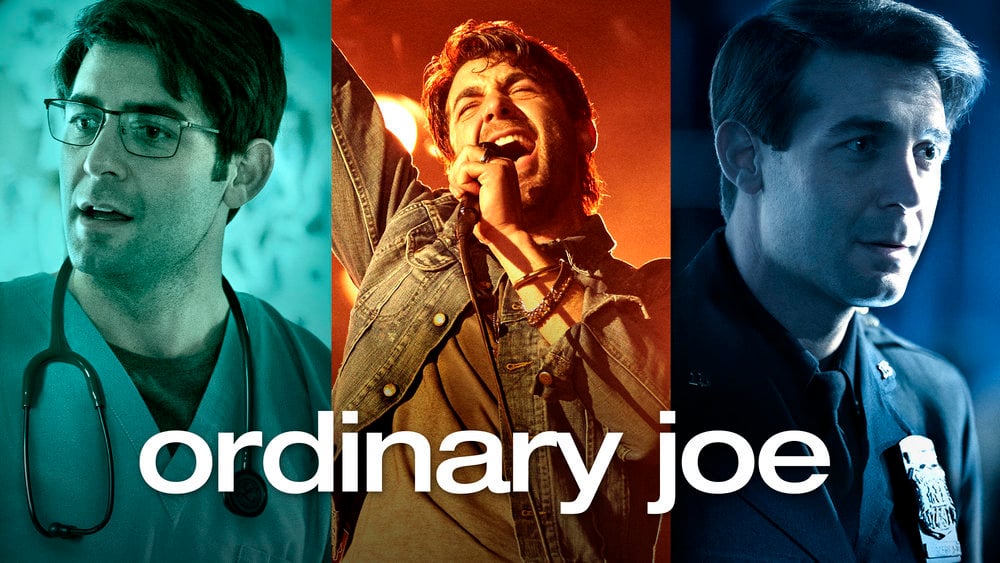 Mondays:
Ordinary Joe, Mondays at 10 p.m. on NBC (Premiered September 20)
About: This latest series is a high concept that finds Joe (James Wolk) as a man facing a choice as he graduates college. He can go one of three ways. Flash forward 10 years and we see how each of the three choices plays out, with Joe as a successful musician, following in his father's footsteps as an NYPD officer or working as a nurse, married to his college girlfriend and raising a son. The pilot tried to walk that tight rope, moving back-and-forth between the realities as Joe lives out the future tied to each choice. The second episode, which centered on 9/11, followed much the same pattern, building on the futures and stories laid out in the pilot. We've seen this idea before, and it's interesting. But it feels like the kind of concept that works better in a contained film than in an ongoing series. The series uses different lighting color concepts to try and indicate which reality you're in, but it can still be a bit tough to follow the action, especially since the same characters are in different relationships to Joe based on the future being considered. It's a big swing for NBC, and it had merit, but the reality of following this back-and-forth doesn't work well enough to feel connected.
Pilot Grade: C
Second Episode: C
Tuesdays:
Our Kind of People, Tuesdays at 9 p.m. on FOX (Premiered September 21)
About: This Prime-Time soap is set in Oak Bluffs, Massachusetts, and based on the Lawrence Otis Graham novel of the same name. This one focuses on a woman (Yaya DeCosta) who moves to the area with her daughter, hoping to find the truth about her mother, and clashes with the family that runs the community. I thought the pilot felt a little stiff, and the second episode carried that through. Prime Time soaps can be a fun genre if you connect with the characters and the world being built. Others might feel different, but this one fell flat for me. It also doesn't feel like a natural lead out to The Resident, but that's the way it goes sometimes for networks.
Pilot Grade: C-
Second Episode: C-
La Brea, Tuesdays at 9 p.m. on NBC (Premiered September 28)
About: NBC's other big Fall scripted series is La Brea, which is a drama centering on a family living in Los Angeles. Half of them fall into a giant sink hole that opens under La Brea. The other half are left topside, trying to affect a rescue. The question is, where did everyone go? How do we get them back and what does it all mean? This is an interesting series concept that feels like something different. It falls into that LOST sort of genre, with the pilot indicating the question might not be where they went but when. I like these kind of big swings narratively and I think this one has decent potential. I'm interested to see where it goes.
Pilot Grade: B-
FBI: International, Tuesdays at 10 p.m. on CBS (Premiered September 21)
About: This is the second spin-off to FBI, creating a franchise that runs the entire length of Prime Time on Tuesday nights for CBS. I noted that the pilot, which was the culminating hour of a three-part crossover event, didn't provide a great feel for what this would be like as a series. The second episode offered a better impression of the series week-to-week. It was fine. Personally, while I enjoy the original FBI I never got drawn into the first spin-off and don't feel connected to this spin-off, either. If you're a fan of the franchise, you might want to watch regardless. For me, it comes down to characters. While I'm invested in the characters from the original there wasn't enough of a hook in this one to make that happen when it wasn't connected to a larger story world.
Pilot Grade: C
Second Episode: C-
Wednesdays:
The Wonder Years, Wednesdays at 8:30 p.m. on ABC (Premiered September 22)
About: The Wonder Years is a re-boot of sorts, again following a young man (Elisha Williams) coming of age during the 1960s. This time it follows an African American family, beginning in April of 1968 in Montgomery, Alabama. The pilot ended with the death of Martin Luther King, Jr., while the Vietnam War is waging and the country is going through big changes. Those items are still a part of the narrative in the second episode, but the series put more of the focus on Dean (Williams) and his friends. There was a bit more comedy in the second episode as well, and I am enjoying both the narration from Don Cheadle and the performance of Dule Hill in the role as Dean's father. The second episode felt like it had a bit better flow and humor than the pilot, which had to do more heavy lifting to establish the characters, the world and the pattern. Comedies can take a bit of time to find themselves and given the second episode here I think The Wonder Years may be a show that improves as the first season moves on.
Pilot Grade: C+
Second Episode: C+
Thursdays:
The Problem with Jon Stewart, Thursdays on Apple TV+ (Premiered September 30)
About: This new talk show returns Stewart to television. He was the long-time host of The Daily Show, where he showcased his humor and hosting savvy. This new series gives him some more latitude, including a panel and off-site interviews as he looks in depth at one topic. For the pilot, that topic was health care for veterans. It was a 43-minute exploration, with some humor but also plenty of heart and emotion as he explored the topic. It was great to have Stewart back and I'm looking forward to seeing what he does with other topics as this continues. Apple TV+ is having a fantastic year and this looks like another hit.
Pilot Grade: A
Sundays:
BMF, Sundays at 9 p.m. on Starz (Premiered September 26)
About: This latest series is based on the true account of brothers who created a criminal empire in Detroit in the late 1980s before branching into the music scene. The pilot introduced the characters, specifically the brothers at the heart of the story. It ended with a bit of a cliffhanger, while the second episode picks up with one brother injured and the other trying to protect his family. The series is moving as a slow build in a genre we've seen succeed before. The idea is sound and the cast isn't bad but the story, characters and world didn't hook me through the first couple of weeks.
Pilot Grade: C-
Second Episode: C-
Streaming Series:
Ten-Year-Old Tom, now streaming on HBO Max (Premiered September 30)
About: Stop me if you've heard this one before, this is an adult comedy that's animated. It comes from the team behind The Life & Times of Tim, focusing on a 10-year-old boy, Tom (creator Steve Dildarian), who is trying to figure out life. The voice cast includes Todd Glass, Gillian Jacobs and John Malkovich. The stories were OK. Each episode contains two short stories and runs about 30 minutes. There are nine episodes in the season, all of which dropped Thursday. This didn't resonate with me, but it's not bad if you like the format and style.
Pilot Grade: C-
Second Episode: C-
Maid, now streaming on Netflix (Premiered October 1)
About: This Netflix limited series is based on Stephanie Land's memoir, Maid: Hard Work, Low Pay and a Mother's Will to Survive. The series centers on Alex (Margaret Qualley), who leaves an abusive relationship with Sean (Nick Robinson), taking her young daughter. She's hesitant to go to the police but has to come up with a plan quickly as Sean moves for full custody. That entails finding a job, accepting help and finding a way forward. Qualley does a nice job with some difficult material. The first two episodes are primarily about setting up the problem and the challenges for Alex. Veteran John Wells directs the early episodes with a strong hand, and the supporting cast including Billy Burke, Andie McDowell and Anika Noni Rose adds to the production. But this is a tough one to watch. All 10 episodes are available to stream now, each running about an hour. If you're sensitive to these kinds of stories of emotional and physical abuse, I'd urge caution. But Qualley deserves recognition for stepping into a tough role and doing it well.
Pilot Grade: B-
Second Episode: B-
Matthew Fox is a graduate of the Radio, Television and Film program at Biola University, and a giant nerd. He spends his free time watching movies, TV, and obsessing about football. He is a member of the FSWA. You can find him @knighthawk7734 on Twitter and as co-host of the Fantasy Football Roundtable Podcast.