"Your eyebrows aren't crazy, they're psychotic."—Coach Beard
Professional success and accolades are nice but at our core we're made for connection. When we don't have that connection, we feel hollow. This season on Ted Lasso we've seen our characters go through these struggles. They have holes in their lives that can't be filled and that has created stress, trauma and led to some interesting decisions. In this penultimate episode of the season, we see a lot of those issues rising to the front, as well as questions and decisions that have been in the background for all those who inhabit the series. And it comes amidst incredible professional success.
As we open, Richmond has won again. They're one win away from a return to the Premier League, and this one is thanks to Sam (Toheeb Jimoh). He had three goals and is being rightly celebrated by his teammates, but it doesn't feel complete. He misses Rebecca (Hannah Waddingham) and the connection they had.
The next day, Rebecca gets word that Edwin (Sam Richardson), a billionaire from Ghana, is interested in the team. As Edwin arrives, it turns out he's really just interested in buying Sam's contract so Sam can play for the premier team in Africa. While Edwin wines and dines Sam, giving him a robust offer, Rebecca begins to fret.
She comes to Ted (Jason Sudiekis) and confesses the truth of her affair with Sam. She's torn about whether to tell Sam she wants him to stay, not wanting her personal feelings—which still aren't clear to her—to prevent him from an amazing opportunity. Ted urges Rebecca to "listen to your gut and check in with your heart along the way."
Moved, Rebecca is at Sam's doorstep when he arrives home. Sam is riding high thanks to the prospect of the offer and a phone call with his father. Rebecca says she doesn't want Sam to go before heading out. He's left conflicted with a decision to be made. But he's not the only one.
Sharon Leaving Town
As the day begins, Ted is abuzz because it's Sharon's (Sarah Niles) final week with the team. He collects money for a gift and even teaches the team a choreographed dance number to surprise Sharon. When Ted learns she's left early, and without saying farewell, he's incensed. Higgins (Jeremy Swift) provides Ted with a letter, but it isn't enough. Ted marches to Sharon's house and awaits her return.
Ted confronts her about the way she left, before Sharon is able to convince him to read her letter. It's been a big year for Ted, who learned to open up in a new way. It was equally meaningful for Sharon. The pair head to the pub for a drink and a laugh before Ted sneakily leaves her a goodbye letter and one of his signature army soldiers, dropped right in her beer.
Roy and Keeley
At the end of last week's episode, Keeley (Juno Temple) got a confession of love from Jamie (Phil Dunster). It came at a time when her differences with Roy (Brett Goldstein) were coming to a head. This week, the pair are split at different activities before coming together for a big photo shoot with Vanity Fair. Keeley is being recognized for her influential work in business. Before that happens, she takes Nate (Nick Mohammed) shopping.
The trip goes well, with Nate gravitating toward some loud suits. But near the end, Nate misreads the signals and makes a move. At least, it seems he misreads the signals. It's an awkward moment for both.
Roy, meanwhile, heads to grab Phoebe (Elodie Blomfield) only to realize it's a half day. Instead, Mrs. Bowen (Ruth Bradley) is putting up the student's art for a parents' night. Roy soon learns that Phoebe's artwork—which is just tasteful nudes in charcoal—can't be displayed. Roy stays to help leading to an interesting exchange with Mrs. Bowen, particularly when she asks if he's married. Roy says he's not but lost in thought heads home for the photo shoot.
As the camera snaps away, Keeley and Roy make a series of confessions. Something isn't quite right and both have plenty to think about. They are nearly in tears as the photo shoot comes to an end putting the best couple in the show in jeopardy heading into the finale.
Nate's Betrayal
All season we've seen a different Nate. Success has gone to his head, but it's petty jealously that seems to color all his actions. He was my favorite character in season one but he's been a very different person in season two. Once again he jockeys for more recognition, hoping that Roy and Coach Beard (Brendan Hunt) will support his claim that Ted is stealing his glory. They don't, so he heads out shopping.
After that awkward incident, it's clear Nate is embarrassed and hurt. We've seen all year when that happens, he lashes out. As Ted returns home from his night with Sharon, he gets a message from Trent Crimm (James Lance). It's the link to a story that Ted had a panic attack on the sidelines, and Nate was the one who broke the story.
Ted is clearly shaken. He's made progress this season but he is still working on himself. Sharon is gone, dealing him a blow, and now someone he considered a friend has betrayed him. That's how we're left as the credits roll on an emotional week for our Lasso friends.
Sam is facing a big decision, Keeley and Roy are at a crossroads, Sharon is gone and Ted has been dealt a public humiliation. Oh, and by the way, the team needs a win to return to the Premier League. It's gonna be a heck of a finale next week!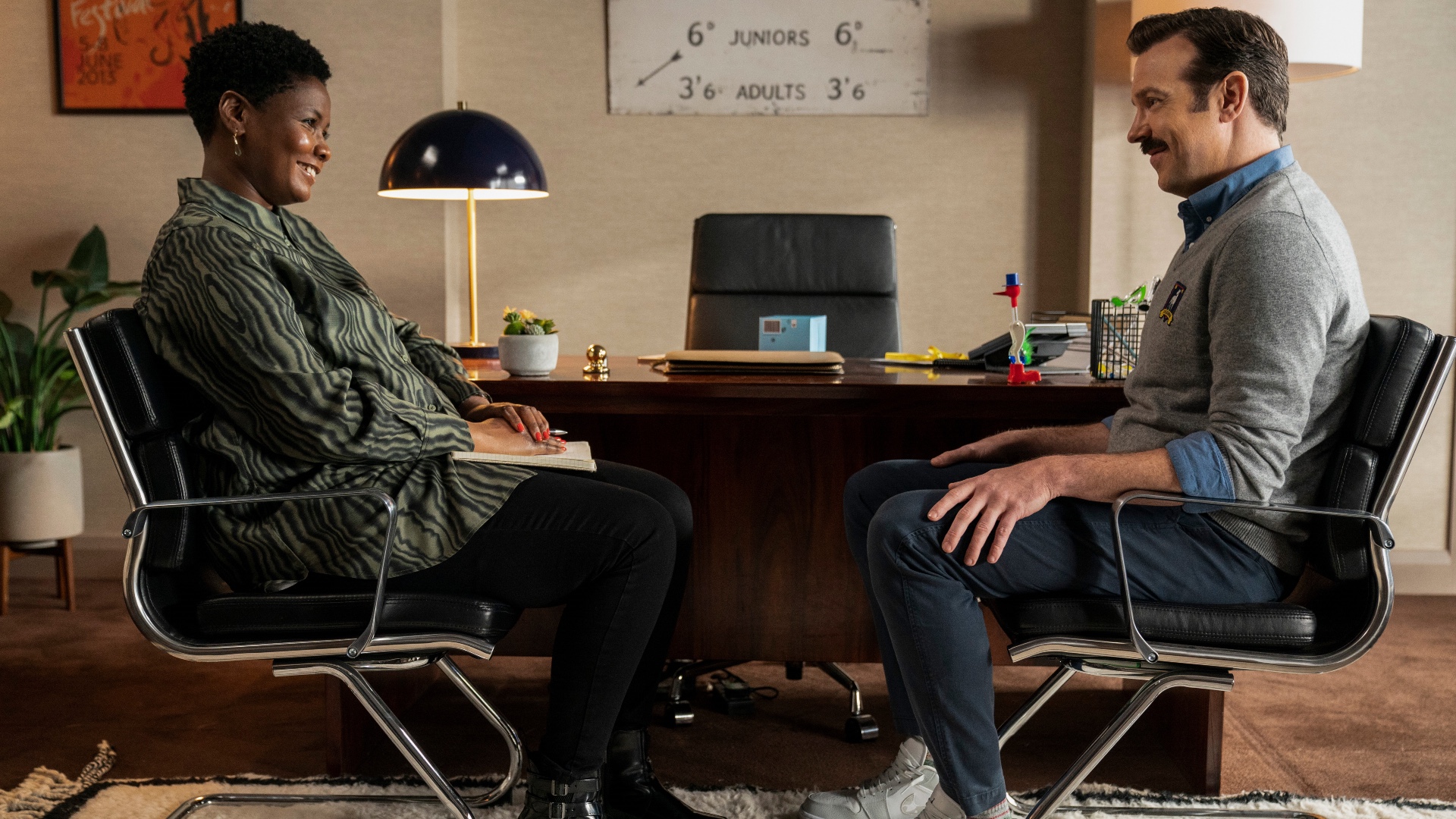 Episode Grade: B+
Best Scene
I love the relationship between Ted and Rebecca. My favorite scene this week was when she came to him for advice about Sam. It was delightful, as was the shout out to her confession in the penultimate episode of Season 1.
Pop Culture References
After some lighter episodes, this was a return to the pop culture reference explosions this week.
People: Abe Lincoln, Bone Thugs & Harmony, Ziggy Stardust, Viola Davis, Osama Bin Laden, Chuck Norris, Sharon Stone, Tina Turner and Liam Neeson get shout outs!
Songs and Such: We get a performance of Bye, Bye Bye and a reference to Vanity Fair.
Big Screen and Small: We get shout outs to Harry Potter, The Godfather, Dumbo, The Lion King, An Affair to Remember, Cheers, and I May Destroy You
Episode MVP
There wasn't a great clear-cut choice this week so I am going a little off script with Mrs. Bowen. She had a great moment a few weeks back and offers a few more words of wisdom, and a dallop of humor, in this week's heavier episode. That's a wrap on Midnight Train to Royston. Check back next week as we look at the Season 2 finale. I'm not prepared…
Matthew Fox is a graduate of the Radio, Television and Film program at Biola University, and a giant nerd. He spends his free time watching movies, TV, and obsessing about football. He is a member of the FSWA. You can find him @knighthawk7734 on Twitter and as co-host of the Fantasy Football Roundtable Podcast.