Belichik, Brady. Brady, Belichik.
It was like your typical teen love story. Belichik finds a young Brady, who all the other teams overlooked as he wasn't the prettiest, the most talented or the fastest. Belichik then works to make Brady the belle of the ball. When the time came for Brady to take the stage, he took it all the way and won homecoming king. Real Freddie Prinze Jr. feel to it.
Then we transition into the Lifetime movie portion of their careers. There were highs. Like, a lot of highs. There were lows. There was everything in between. No matter what life through at them, they made it through and they made it through together.
The story doesn't end there as it would in the movies. One of the partners didn't do enough to keep the other partner there, culminating in a divorce. A very public and chronicled divorce. We knew the relationship wouldn't last forever, but this one didn't last quite as long as we thought it would.
The man who pushed his partner out of the door wanted to move on to bigger and better things, as so often happens. Moving on from someone who is considered as the greatest ever can be hard, but he had something in his back pocket to soften the blow. Another former MVP was ready to be under center. A younger, more versatile player with both passing and rushing abilities. A Cam Newton.
Brady moved on as well. He got his pick of destinations, for the most part. I mean, who is going to tell Brady no? There were some teams that did and I'm sure they're kicking themselves now over it. It wasn't easy for him as he'd been with Belichik his whole NFL life. Moving on from someone considered at least a top five coach of all time shouldn't be easy. It should be a sad story.
Obviously Brady moved on and found a new love, and fast. Who would have guessed Brady would head to Tampa Bay and turn them into a Super Bowl winner immediately? I can tell you I was all about it, but even as a Brady fan I wasn't sure he was going to go all the way. I was telling people it was going to happen, but there was a deep seeded doubt that it would happen.
So many things were going against him. For one, he's older than the windmills in the Netherlands. The guy used to ride wooly mammoths to class. He was called a system quarterback (by the haters, but it was still there) who couldn't win without his other half. The Bucs had a few weak spots on offense and defense and one player wasn't going to fill all those voids by himself.
Cue the "NBA Superteam strategy" that is winning championships lefft and right over there in professional basketball. It's pretty simple. Find a really, really good player and bring them on your team. Then use that player to indirectly lure free agents over. Combine that with the obvious overtures Brady was sending out to guys to come be part of the ride, and all of a sudden the Bucs were looking like a powerhouse.
Cue the pandemic. COVID has thrown so much out of whack and so many for loops that it's legitimately hard to quantify. This affected the NFL greatly as well. Brady found his landing spot, he was bringing talent in left and right to create something never seen before, and all of a sudden the pre-season games where the team would have had a chance to gel, are gone. Without a preseason, how would all these new pieces fit together?
Well it seemed to turn out OK in Brady's favor. Despite some early season growing pains, the offense found it's footing and won eight in a row, including the playoffs, for a Super Bowl win. The offense scored 30 or more in their last seven games. All of this culminated in a 31-9 Super Bowl victory over the former Super Bowl champion Kansas City Chiefs. Pretty good for a guy that got dumped for a newer model.
Belichik's new single life didn't go anywhere near as well. The former juggernaut of a team went 7-9, good for third in a division they had owned for over a decade. They were outscored, outplayed and just all around not that good at any level. The turmoil in Pats land rolled over to this season as Belichik dumped his new QB, realizing the grass isn't always greener. The transition from Brady felt like a mid-life crisis move, but when Belichik brought in his new Miata convertable, the doors got blown off.
Cue Sunday night. Brady returns to Foxborough for the first time since the divorce. Obviously neither of the divorcees are admitting any extra excitement or intrigue coming from this game. Why would they? It's just the G.O.A.T. coming back to the town he brought home six championships for. No big deal.
Only it is a big deal. The fans in Boston can be fickle, but even they have to see it was Bill that ruined the marriage. It wasn't Tom's fault he was forced out and made to go win a championship with another franchise. There is no way they're going to boo him, right?
Brady has a commercial where he calls a Boston fan. The fan's caller ID says "Traitor" and when he answers, he immediately says "No we will not take you back." Tom replies with a, "yes you would," which is then followed up with both the guy on the phone and the others at the bar agreeing with Brady. The guy who answered the phone makes sure Brady knows he hates him before hanging up though, as is Boston tradition for those who leave.
It has come time for the jilted quarterback to come back and show the whole world that he has moved on and is better for it. This is very possibly the penultimate meeting of Belichik and Brady on the field. I won't say it will never happen again, as Brady might be the replacement for Mac Jones when he retires. Brady and Belichik going head to head is going to be a sight to see. Add in the fact that Brady is going to break the all-time record for passing yards and it just adds to the anticipation.
The Patriots are not very good. The Bucs are very good. For all intents and purposes, this should be another game, only it's not. Not at all. And it's all due to the love story.
Without further ado, here is your News or Noise!
Josh Gordon Will Be Fantasy Relevant…Ever
I think by the way I phrased the intro, you can tell I'm going with noise. Gordon's rookie season with the Browns had Clevelanders pumped. There was a new guy in town, and he looked really good, to the tune of 50 receptions for 805 yards with five touchdowns. He then followed that season up with a top of the league type second year, reeling in 87 receptions for 1,646 yards and nine touchdowns. The receiver looked like he was ready to be the next big thing in the NFL.
Gordon then had substance abuse issues and missed the bulk of the next three seasons. He played in five games in 2014 with a line of 24 receptions for 303 yards and no touchdowns and was out of the league for two straight seasons.
He came back to Clerveland in 2017 for five more games putting up 18 receptions for 335 yards and a touchdown. Cleveland had him for one game in 2018 before he moved on to the Patriots. He played 11 games as a Pat providing his new team with a 40 reception, 737 yard, three touchdown campaign. It looked like things were going to be okay for Gordon.
That's where the wheels came off again. Gordon only managed seven games the following season running afoul of the NFL's substance abuse policy again. That season he started out with the Pats, and then went to the Seahawks. Despite starting every game since his rookie season, the Hawks brought him off the bench for four of his five games there, and he was mostly ineffective for them.
He has been on the shelf since then, missing another full season as well as parts of both seasons on either end of his full season out. Gordon appeared to have lost his NFL career in a grand fashion. However, that was not to be the case.
Gordon was reinstated this week by Roger Goodell and the poweers that be. His time served was enough and they're going to give him another shot. As is the case with players that were top of the line but miss seasons, there was immediate interest in him joining several teams. However, only one landed him.
The Kansas City Chiefs have been looking for a true No. 2 receiver for years. All-World Receiver Tyreek Hill can handle the bulk of the load, but as evidenced last game against the Chargers, and to even a greater extent the week two matchup with the Ravens, Hill can be game-planned for. With nothing on the other side, defenses can shift double and even triple teams at him and the Chiefs don't have a consistent answer.
This is the second time in as many years that the Chiefs have made this type of move with this type of player. Last season, albeit with little fanfare, they brought Le'Veon Bell on board. While he was a big name (kind of), his performance didn't match expectation. After Bell sat out a season, he just hasn't been the same player.
Cue the Gordon signing. Is Gordon going to produce for the Chiefs? I sincerely doubt it. I've seen him getting snagged in quite a few leagues I'm in as a lottery ticket. I feel like this is just rechecking a losing ticket from three days ago hoping that the results have miraculously changed. They haven't. He's still going to be a sub-performing wide receiver, best to only be used when everyone else is injured, has COVID or gets suspended.
Any upside Gordon has might be for a single play over a few games. He's not going to provide any consistent performance, if he ever gets on the field at all. Bringing a guy in off the street carries a lot of potential issues by itself.
Gordon hasn't played a football game in two years. He's played 32 games over the last seven seasons. He hasn't been practicing with a team. He did spend some time with the FCFL, but let's be serious, that's closer to backyard football than the NFL. He's going to have rust, and a lot of it. Prepping himself for the big show is something he hasn't done for some time, and coming in at week four for what is already a great team isn't going to do him any favors.
Gordon should be avoided. In all leagues. For the rest of his career. "Flash" is no more, and hasn't been for years. He's a shiny new toy for the Chiefs to play with, but they're going to find out really fast that he's nothing more than a depth piece at best. With the way people are rushing to him, it's like he's a savior. He's more of a long long long shot. Even staying on the team isn't going to be easy, and finding another team that will take a shot at him if he gets cut is going to be challenging.
For all these reasons, I'm fading Gordon. For eternity. Unless you're keen on wasting roster space, you should too.
Marlon Mack Will Be A Productive Running Back Again
I'm going news here.
The last time we saw Marlon Mack get real run was 2019, where he rushed for 1,091 yards and eight TDs with only 12 starts. The year before he had 10 starts and had 908 yards and nine TDs. He wasn't the best in the league by any means, but in an offense that wasn't great, he was a bright spot.
Then he tore his Achilles. This once was a death sentence for athletes. While there is still a significant recovery time, it's no longer a career ender. Kevin Durant tore his Achilles and has done pretty well for his self, leading the USA to a gold medal as the best player on the team, Klay Thompson has recetly torn his, but he's had some significant setbacks due to other injuries so we haven't seen him out there yet. The late great Kobe Bryant also had a torn achilles and managed to hit both his free throws on the play before heading to surgery. Cam Akers is going to be checking in frequently to see how Mack is performing, having torn his Achilles at the beginning of this season.
Mack has plenty of good ball in front of him, and plenty of potential suitors. The rumors have him landing with the Ravens, the Rams, my 49ers, and more. Not knowing if Mack is going to return to his former self has some teams hesitant to go after him, but I think any team that does is not going to regret it.
Mack is at a position where injuries force players into spot starts and increased roles. Ty'Son Williams wasn't on the Baltimore radar to be a contributor this season, and he's their lead back due to knee injuries to J.K. Dobbins, Gus Edwards and Justice Hill.
Who knows what the Niners are doing at running back. They have like 14 of them and 10 are hurt at any given time. In a run first offense like this, or Baltimore's, Mack could make an immediate impact. He looks ready to go and would slot in for competition as the number one option.
The Rams have shifted to Darrell Henderson and traded for Sony Michel. Henderson's rap sheet was that he wasn't durable. He's already missed a game this season, so picking up another insurance back would be a big brain play. Sony Michel isn't out here wowing anyone.
With the significant change to the NFL in generals view on the bellcow back, Mack isn't going to be a solo contributor. The guy isn't like Derrick Henry. No one is like Derrick Henry but Derrick Henry. He does offer good skill, the ability to hit a hole, and the ability to handle a good number of carries. Getting the opportunity is what he's looking for. I think any trade is going to give him exactly that.
The Football Team's Defense Is Going To Right Itself
Before I looked at thier schedule, I was leaning news. After looking at their schedule, I'm firmly in the noise category. The Football Team (Can this please be their team name forever? Asking for a friend.) had a young defense that played out of their minds last season. They ranked top three in DVOA. For those that don't know what exactly that is, it's a defensive adjusted value over average. Basically, how well did your defense perform above the average defense and it's adjusted to the opponents faced. DVOA is a commonly used measurement for the performance of a defense as pure stats can be misconstrued.
This season, they're at the bottom of the league after three weeks. So far, they've played the on fire Chargers, the Giants with Crazy Legs Daniel Jones, and the Bills who have determined they want to be unstoppable and end up in the Super Bowl (as my friend Matt predicted before the season.) This has not been an easy go thus far.
The Football Team has a couple of games to get back on track with their next two opponents being the lowly Falcons and the incredibly up and down Saints. Maybe they can get their mojo back and find a way to get to the QB, as the front seven has only generated five sacks so far. With five of those players drafted in the first round, they have much more potential than this.
If they don't find a way, they're not going to be the first team to fall from near first to near worst. They would be the fourth team to do so since the AFL/NFL merger in 1970. The others being the 2013-14 Saints, 2012-13 Bears, and the1994-95 Cardinals. This is not company you would want to keep.
Having last year's Defensive Rookie of the Year and budding star Chase Young on your team should be enough to at least make your front seven respectable. With no sacks and few QB pressures to his name, he's just not performing as well as he did at Ohio State where he was gameplanned against and still put up gaudy numbers, much less what he did on the big stage last season. He's not the only problem, but he needs to find that high gear to make defenses fear him again.
With the next two opponents and all that talent, I felt that Washington was going to bring it and never look back. However, as I was saying, looking into the season long schedule makes me believe otherwise. It's not easy. Not at all.
With a game against the Chiefs, a game against the Packers, a game against the Broncos (who I'm not sold on their offense but they've been making it work) as well as another against those Giants. They also have one against the world champion Bucs, one against the emerging Panthers, one against the Seahawks, one against what I believe is an overachieving Raiders team, and two against the Eagles and the Cowboys who can both put points up on the board.
This is quite the gauntlet for a struggling defense. Will they improve as the season goes on? I'm sure of it. Will they rise to the top of the league again? No way.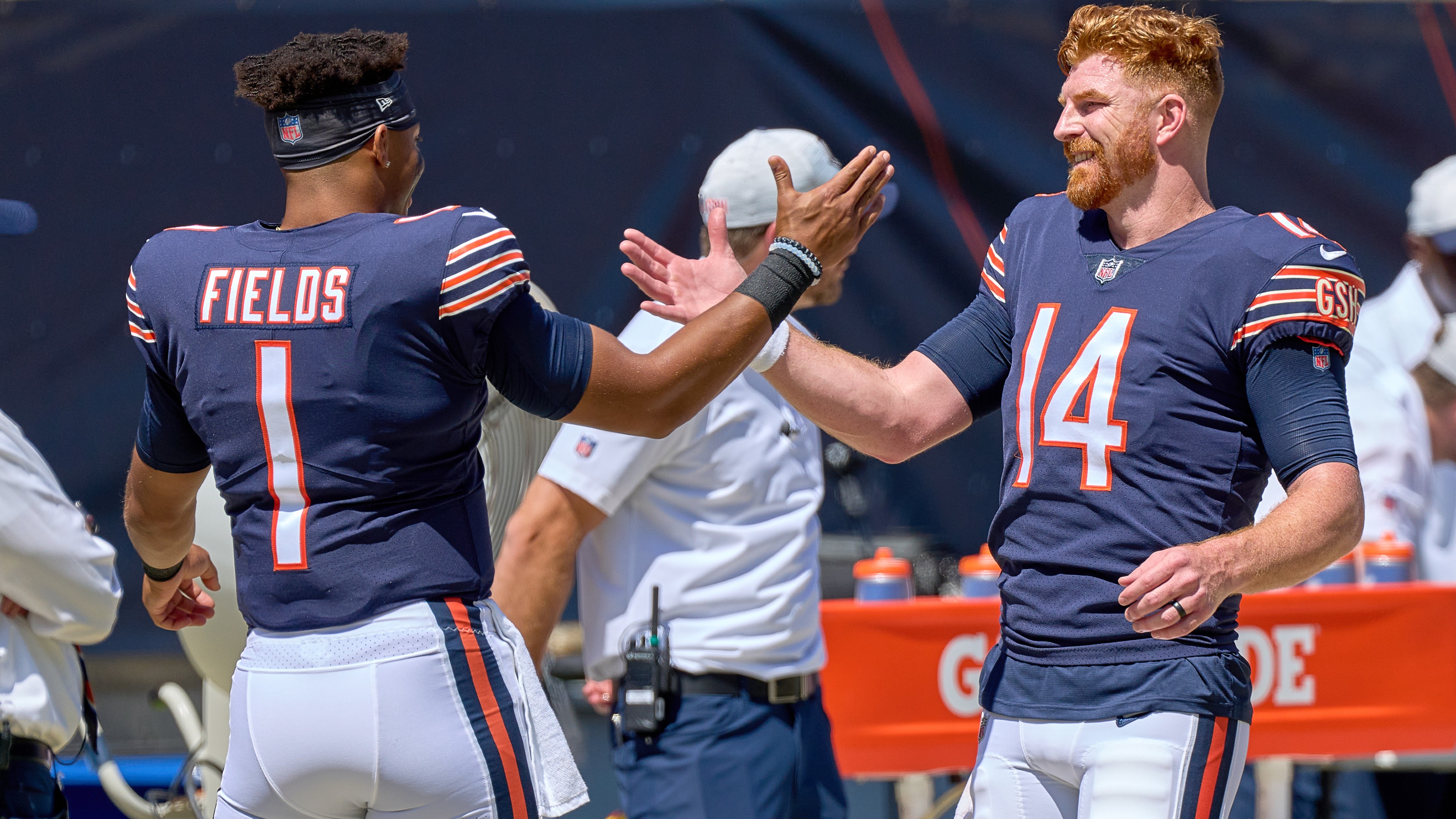 Andy Dalton Is Still The Number One QB In Chicago
Oh my gosh yes. News, news, news.
Andy Dalton played in Week 1 and 2 as the starting QB for the Bears. He didn't blow anyone's doors off, but played an OK Week 1, throwing for 206 yards on 27-for-38 passing against the mighty Rams defense.
Week 2 was going well against his former team, the Bengals. They have a much more forgiving defense and he was taking care of business, not in a flashy way, but a very efficient way, going 9-for-11 for 56 yards and a touchdown. Then he got hurt. At the time, it looked pretty bad and there was talk about him being gone for a significant period of time.
Turns out he could be back this week, and the Bears have to hope that's the case. Justin "The Future of the Franchise" Fields came in to take care of business and show everyone why he was taken in the first round of this season's draft. He didn't. It was gross.
In relieving Dalton in game two, Fields was only 6-for-13 for 60 yards and an interception. He did have 10 rushes for 31 yards, but fumbled once. Being thrust into the game midway through is tough so give the kid a pass. He'll be ready for game three after getting first team reps all week, right?
I don't know what happened other than a complete failure from head coach down to the equipment managers on this one. Fields was 6-for-20 in Week 3 for 68 yards. He threw no interceptions in this one, but was sacked nine times. You read that right. NINE TIMES. For 67 yards. That equates to a net passing yardage of one. The Bears got one net passing yard in an entire game from their future. That's a tough pill to swallow, even if he is young and needs development.
I would like to apologize here as I need a moment to comprehend that stat line.
Ok. I'm back.
With Fields not being the answer for who should be quarterback right now, it turns back to Dalton. Nick Foles is there, but Nick Foles as a starter feels like giving up and they might as well keep Fields in there to tank at that point. Enter a potentially injured Dalton.
He's the best chance they have of winning games. He's never been a superstar. I'd go as far as to say he's never truly been a star. Regardless of that, he can manage a game. The Bears can win in a managed game. They're not going to be blowing people's doors off. They're probably going to miss the playoffs. I'd bet on it even.
Throwing Fields out there to blow his confidence would only stunt his growth. It's nice to get game reps, but when you end up on your back a dozen times a game and can't get anything going as you aren't ready for NFL game speed, it can be counter-productive. I'd make sure Nick Foles was ready to go in if Dalton can't play and hope Dalton's injury doesn't keep him out of any more games. Otherwise, it's going to be pretty emBEARassing. Get it? Guess I should apologize for that too…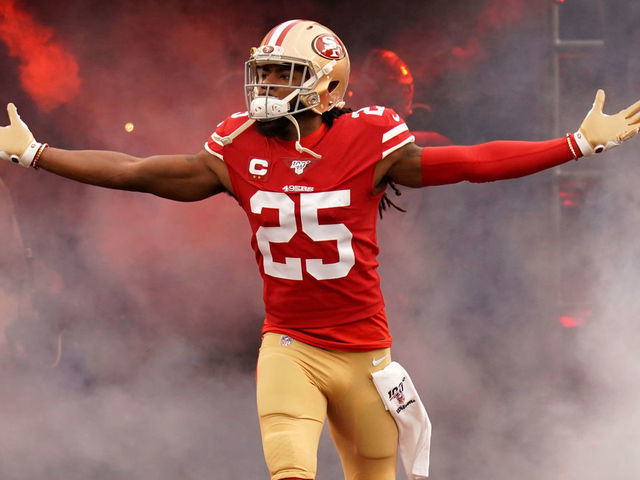 Richard Sherman Going To Tampa Bay Was His Best Possible Move
This is news even though I don't love it.
Sherman has not been on a team this season. Last year, the 49ers parted ways with Sherman due to financial situations. As a key contributor for them, it was a bit of a blow. As he had fallen off a good bit, it wasn't really the worst case scenario for the team. Sherman also had his choice of landing spots which in turn wasn't the worst case scenario for him either.
Of course in life, things happen. Sherman was involved in a situation at his in-laws place that resulted in multiple charges being brought against him. His fragile mental health situation was put out for everyone to see. From a personal perspective, that's incredibly difficult to deal with as mental health is still taboo in many circles. Now multiply that by a million as this is a high profile athlete in the age of the interent. The talking heads latched on and still haven't let go.
The 49ers reached out to Sherman to help him. Being his most recent team there were many players and people throughout the organization that wanted to be supportive in his time of need. Those same talking heads said it was a selfish maneuver to try and bring him back at a well below market value. Sometimes things are just done out of kindness people.
With injuries in the NFL come signings. There are a lot of injuries right now throughout secondaries all accross the league. Many of these are not as well documented as the Bucs, as the world champs going for a repeat with 22 of their 22 starters coming back for season two. Through three games, they've lost two of their top three defensive backs. At a position they were already light in both talent and depth, this could seriously derail those repeat chances.
Enter Sherman. He's not the guy he was in Seattle as part of the Legion of Boom. He's probably going to take a couple weeks even to get back to where he was last season. Between learning the playbook and getting back in game shape, it's not going to be easy. Once he gets up to speed though, he's definitely going to make an impact.
Even just being in the locker room and with the team is going to help. The Bucs are young at DB. Like really young. Having a veteran presence around like Sherman should show immediate dividends on the back end. He's also a good locker room guy in general which never hurts.
The benefits to the Bucs are tangible. The benefits to Sherman are as well. He was recruited by Brady himself. He feels wanted and spoke to that in a press conference. "He's the all-time great quarterback reaching out, and anytime he makes that call, it's a very difficult opportunity to pass up," Sherman said. Game recognize game.
With Brady's history of taking troubled players in and helping them personally as well as professionally (see Josh Gordon/Antonio Brown), Sherman found the perfect team for himself from a mental standpoint, which is the most important thing right now. Brady is always available to teammates and with the emphasis on mental health throughout sports nowadays, Sherman will have plenty of people to turn to.
The other side of that coin is the spotlight will be squarely on him. He just went to the reigning champs who are absolutely looking to repeat. His position is their weak point. His performance will be under a microscope. His teammates and his orginization will be there for him through it all. Going for a ring is never easy, and life has it's ups and downs, but Sherman found a great landing space for both.
Looking for a lineup question to be answered? Got offered a trade you're just not sure on? Think fantasy football is neat and want someone to talk to about it? Get in touch with me @IHeartCaravans on Twitter. Hope to hear from you soon!