Remember a month ago when we felt that lull in new content? Yeah, me either. The flood is turning into a tidal wave as the first set of network shows debuted on top of an already robust streaming and cable slate. And there's no signs of easing as we careen into October. All of that can leave you wondering what's worth your time. Let these weekly posts be your guide as I review the pilot and second episode of new scripted series this Fall. Don't see a new show listed below? Check previous weeks.
Monday Nights:
NCIS: Hawai'i, Mondays at 10 p.m. on CBS (Premiered September 20)
About: This is the latest installment in the NCIS universe. This one is fairly by-the-numbers. The stories feel similar to the other installments of NCIS and the location is solid. If you're a fan of the franchise, this will work for you. Vanessa Lachey is decent in the lead role and the rest of the team fill their roles, as well. There is nothing new or unique here, but CBS is great at building crime drama franchise pieces and this one feels like another solid addition.
Pilot Grade: C
Second Episode: C
Ordinary Joe, Mondays at 10 p.m. on CBS (Premiered September 20)
About: This one features a Sliding Doors concept, where a guy named Joe (James Wolk) is graduating college. He has three possible paths… flash forward 10 years and we get three parallel stories, seeing where Joe would land. In one he's a rock star, married to his graduation day crush Amy (Natalie Martinez). In one he followed his college girlfriend, Jenny (Elizabeth Lail), and he's now married with a son, working as a nurse. And in the final one, he's a cop, following in the family business. The show launches from there, showing three overlapping stories to see how things would play out. That can be a lot to follow. This feels like a real high concept swing but it can be hard to nail in concept. None of the futures was incredibly compelling and the way it intercuts in the pilot makes it confusing. This probably works better as a film but we'll see where it goes beyond the pilot. For now, this feels like a miss.
Pilot Grade: C-
Tuesday Nights:
Our Kind of People, Tuesdays at 9 p.m. on FOX (Premiered September 21)
About: This Prime-Time soap is based on the novel of the same name from Lawrence Otis Graham, focusing on a woman (Yaya DaCosta) who moves to a swanky neighborhood called Oak Bluffs, Massachusetts, to fulfill a promise to her mother. She clashes with a wealthy family (Nadine Ellis and Morris Chestnut) in a world of wealth and privilege. This wasn't one I was excited about as Prime Time soap operas can be hit-or-miss and this one didn't land for me. I wasn't taken by the characters or story and the pilot felt flat. This also feels like odd counterprogramming following The Resident. There is potential for shows to improve post pilot, but for now this feels like a big miss.
Pilot Grade: C-
FBI: International, Tuesdays at 10 p.m. on FOX (Premiered September 21)
About: No one does franchises like CBS, especially when it comes to crime dramas. One of the franchises added in recent years is FBI, from uber-creator Dick Wolf. It already spawned a second installment, FBI: Most Wanted, which debuted last year. Now it has another spin-off, FBI: International, which completes a full night of FBI programming. This new one is set overseas, following a group of agents that move from country-to-country to chase fugitives. The cast is led by Luke Kleintank, and the pilot was the third part of a crossover event on Tuesday night. The pilot set up the characters and the basic premise but it's hard to say how the show will stand on its own until we see a stand-alone story. Still, if you're a fan of the franchise this will likely be one you're looking to see. The pilot was sturdy and we'll see where it goes.
Pilot Grade: C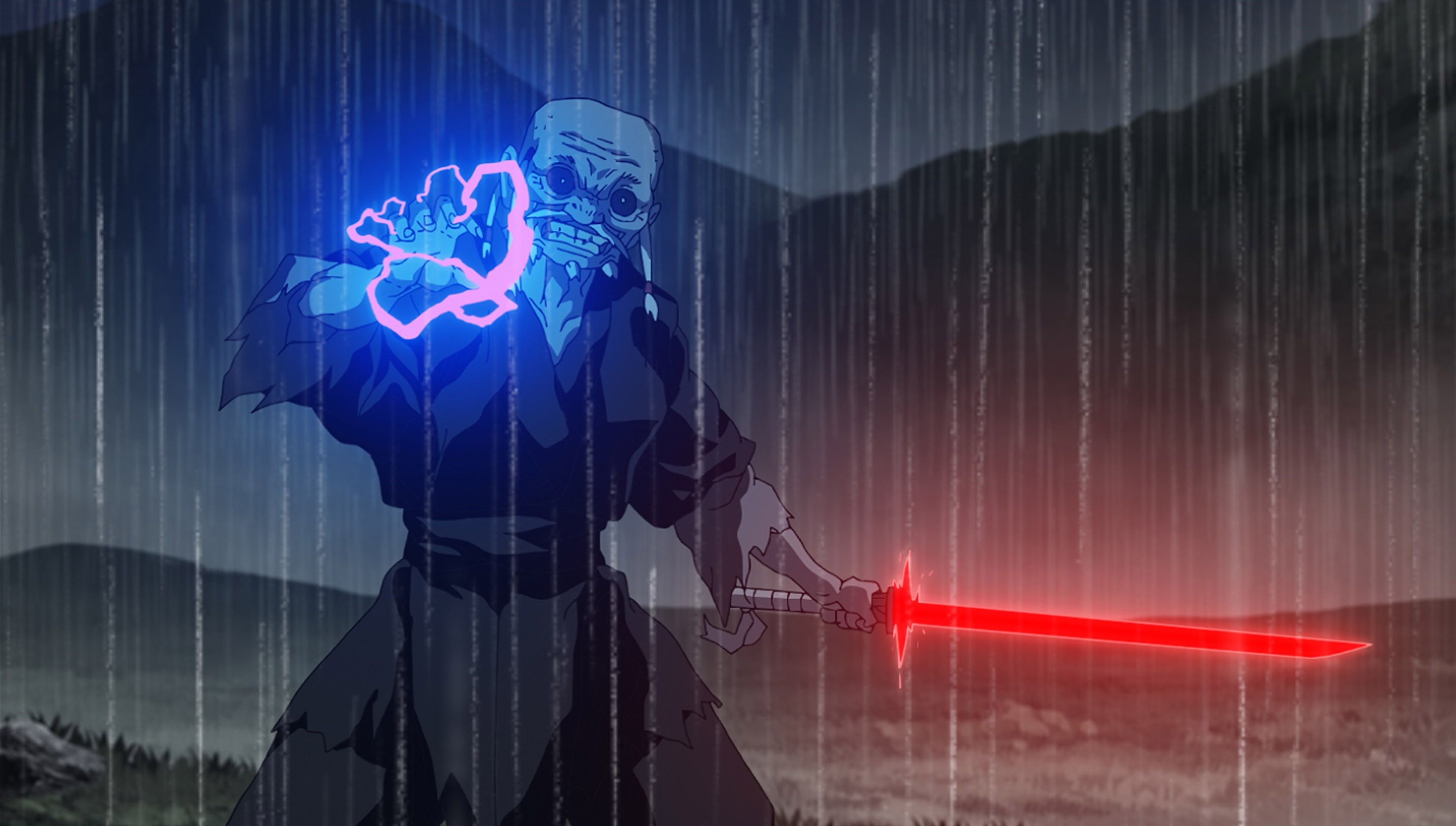 Wednesdays:
Star Wars: Visions, Now Streaming on Disney+ (Premiered September 22)
About: We have seen the advent of Disney+ has opened up a whole new world of short-form storytelling for creators in the world of Marvel and Star Wars. In this new animated series, we get original stories as told by some of the best purveyors of anime in the world. And in a rare move for a Disney+ series, all nine episodes dropped on Wednesday. The episodes vary in length but are generally fairly brief. I watched the first two and while I was impressed with the technical craft the stories didn't totally pop for me. Likely that's in part because anime isn't my favorite format. If you're a fan of anime, you may feel differently.
Pilot Grade: C
Second Episode: C
The Wonder Years, Wednesdays at 8:30 p.m. on ABC (Premiered September 22)
About: Elisha Williams takes the lead as Dean Williams in this re-boot of the classic series about coming-of-age in the 1960s. This one, narrated by Don Cheadle, moves the action to Alabama and focuses on an African American family. In fact, the pilot takes place the day Martin Luther King, Jr., was assassinated. There was some humor and some heart in the pilot, and I enjoyed the narration and the work from Dule Hill as the patriarch but this was a slower opening frame. There's potential here, but the series needs to develop a bit.
Pilot Grade: C+
Thursdays:
The Lost Symbol, Streaming Thursdays on Peacock (Premiered September 16)
About: This series, based on a Dan Brown novel, sees Robert Langdon (Ashley Zukerman) tasked with solving a mystery, this time to save the life of a friend and mentor (Eddie Izzard). This is a big original for Peacock, trying to help get it established. I thought the pilot was engaging and drew me in. The second episode, by contrast, felt like a lot of wheel spinning. That makes me wonder if this is viable as a series or perhaps is better confined to a self-contained movie. I am still curious to see where it goes, but I'm certainly less bullish after the second installment.
Pilot Grade: B-
Second Episode: C
Fridays:
Foundation, Streaming Fridays on Apple TV+ (Premiered September 24)
About: Apple is having quite the year. They have four of my favorite shows of 2021 in Ted Lasso, The Morning Show, Schmigadoon! and For All Mankind, and yet they continue to turn out interesting new shows. Foundation, based on the book series from Isaac Asimov, is an ambitious project. David S. Goyer and Josh Friedman developed the series for television which is set in a futuristic society where a band of exiles, the Foundation, realize the only way to save an empire is to destroy it. The series follows Hari Seldon (Jared Harris), a brilliant mathematician and leader of the Foundation. He recruits a brilliant young mathematician, Gaal (Lou Llobell), whose work challenges the Empire and forces their hand. The Empire is led by Brother Day (Lee Pace), the middle-aged genetic clone of Cleon I, who serves as emperor. His confidants are Brother Dusk (Terrence Mann), an older, retired clone of Cleon I, and Brother Dawn (Cooper Carter), a young clone in training to one day be the emperor. They perceive Seldon as a threat and exile him, potentially opening the door to their own doom. This one is well acted and beautifully crafted. The story is dense and it takes most of the first two episodes made available for release to understand the scope of what is happening if you haven't read the books (I haven't). I loved the visual style and I enjoy the cast and where this is going. Apple has continuously put the focus on quality of content over sheer quantity but in 2021 they've provided both and continue to be the best bang for the buck in the streaming space.
Pilot Grade: B-
Second Episode: B-
Sundays:
BMF, Sundays at 9 p.m. on Starz (Premiered September 26)
About: The latest for Starz is a docudrama based on the true story of brothers who created a criminal empire. It is inspired by the true story of two brothers who rose from the streets of Detroit in the late 1980s and gave birth to one of the most influential crime families in this country. Demetrius "Big Meech" Flenory's and Terry "Southwest T" Flenory's partnership's vision extended beyond the drug trade and into the world of hip hop, which made the pair and the organization, known as the Black Mafia Family, infamous. Curtis "50 Cent" Jackson is producing the series, which begins in the 1980s and shows the family and economic conditions that led the brothers to want to change their fortunes through illegal means. The pilot lays out the characters and world but it felt a bit dry. We've seen these kinds of stories before and to stick there needs to be a good hook. I didn't get that from the pilot, but we'll see if it comes on stronger as the story builds.
Pilot Grade: C-
Streaming Series:
Midnight Mass, Now Streaming on Netflix (Premiered September 24)
About: This new series for Netflix comes from Mike Flanagan, who previously produced two seasons of the horror anthology series House on Haunted Hill. This one is set on a small fishing island of 127 where a recently paroled man (Zach Gilford) returns home dealing with guilt and a loss of faith. He's confronted by the new priest (Hamish Linklater), who challenges his notions of faith and tries to push him into a new space. All the while mysterious and supernatural events are taking place on the island. This seven-episode series is available to stream, with each episode running over an hour. This is a fascinating slow burn, each episode carrying the title of a book out of the Bible. The series is an exploration of religion, including classic hymns and musing on faith. In the midst of that is the stories of broken and hurting people, a small island and a lot of mysterious and unexplainable events. Coming from Flanagan you expect some haunting turns in the story, but through the first two episodes there are merely allusions. This feels a lot like a Stephen King novel with the setting, religious themes and the characters created. I enjoyed the first two episodes and can't wait to see where this one goes. This was a highly anticipated release from Netflix this Fall and it appears to deliver the goods with a strong cast, a solid story construction and a great look.
Pilot Grade: B-
Second Episode: B-
Matthew Fox is a graduate of the Radio, Television and Film program at Biola University, and a giant nerd. He spends his free time watching movies, TV, and obsessing about football. He is a member of the FSWA. You can find him @knighthawk7734 on Twitter and as co-host of the Fantasy Football Roundtable Podcast.