"Ted, don't worry."—Dr. Sharon Fieldstone
When last we left Ted Lasso (Jason Sudeikis), he wasn't doing great. He walked off the field in crunch time, the weight of his relationship issues finally breaking through his façade. Dr. Sharon Fieldstone (Sarah Niles) found him crumpled up in her office, finally ready to talk.
We're coming off an Olympics, and really a summer, where mental health has been at the forefront, even for athletes. It's nice that the show is wading into this topic and showing that it isn't easy. We see Ted meet with Sharon three times in the episode, or rather try to meet. The first time he tries to deflect, as is his custom, and eventually bails. The second time, Ted gets angry—a side of him we haven't seen and walks out. But he tells Sharon he doesn't quit, and true to his word he returns again, this time willing to listen to her and begin the healing journey.
But it will be a journey. There are no easy answers offered in Headspace, which makes sense. Ted is going to have to put in the work, and that includes being willing to be open and honest with everyone. When Trent Crimm (James Lance) corner's Ted at the pub to ask for a quote, Ted repeats the cover story about food poisoning. It's clear it doesn't ring true for Trent, and it doesn't sit right with Ted, either.
But that will be a journey for another episode. Now, for the rest of the episode's storylines.
Too Much Time Together
The episode begins with a delightful montage of Roy (Brett Goldstein) and Keeley (Juno Temple) going through their morning routine. Essentially, everywhere Keeley goes, the kitchen, the car, the team complex, Roy is there. And it's becoming a lot. Keeley vents to Rebecca (Hannah Waddingham) and Higgins (Jeremy Swift). Later she shares her struggles with Ted and even Jamie (Phil Dunster). All of them urge her to speak to the only person that matters—Roy.
When she finally snaps and says something, Roy realizes that she's been complaining about him to everyone and storms out. After an icy reception the following morning, Roy is confronted by something, or rather someone, who helps him see things differently. Jamie of all people offers some wisdom through his explanation of why he's giving his teammates space to create on the pitch, and Roy suddenly realizes what he needs to do.
At home, Keeley is greeted by Roy, who has prepared a nice bath and an evening of quiet. He's realized everyone needs their personal space to create, regardless of how they feel about each other. It is a fun a delightful storyline for a duo at the heart of the show. It's a great example of how the writers are helping these characters and these relationships feel real. Even those who are in love struggle to find balance sometimes, and the way this arc played out felt right for the show and the characters.
Nate's Big Head
I love Nate (Nick Mohammed). He's been one of my favorite characters since the beginning, and I loved his arc last season. This year we've seen him struggle with finding his place, at times seeming over confidence. That over confidence returned in a big way after helping guide the team to a win. We pick up the next morning, and Nate is riding high—until he crosses paths with his parents.
At work, everyone seems focused on Nate's verbal faux paus and not his win. The old Nate would have appreciated the good-natured ribbing. This Nate is filled with rage. After he jilts Colin (Billy Harris) and is even nastier to him in his office, Coach Beard (Brendan Hunt) has had enough. Beard knows that Ted is dealing with a lot, and he steps up. He confronts Nate the following morning and tells him to do better.
Nate responds by offering a public apology to Colin before practice, and all seems to be in a better place. After practice, the team offers Nate his own Wonder Kid jersey, and it clearly doesn't sit right. When Nate later reads some unflattering comments online, he directs his rage to his replacement Will (Charlie Hiscock). I miss the old Nate and I hope we get him sorted before the season ends.
A Love Connection?
The final dangling thread carried over into this episode was Rebecca's match on Bantr. It turned out, in a shocking revelation, to be Sam (Toheeb Jimoh). We ended with Sam proposing a meeting and days later, Rebecca hasn't been able to respond. It's also clear from this week's episode that neither of them realizes they've been chatting with the other. Keeley and Higgins are pushing Rebecca to take the leap, while the team are rooting for Sam to make a connection. There is a collision coming soon, and I have no idea how this is going to go.
That's it for a packed episode that was mostly about tackling season-long storylines rather than pushing the ball dramatically forward.
Episode Grade: B
Best Scene
There were a lot of good scenes this week, but the one I'm going with is the practice scene where Jamie opens Roy's eyes. It really demonstrates the growth of both characters, Jamie being willing to be a part of the team and think of others while Roy is open to hearing advice. It was also a fun and funny scene as Jamie had no idea what was happening.
Pop Culture References
There were a few good ones this week, here's what I got.
Pop Culture Figures: Glenn Close, author Dan Brown, the Jerky Boys, basketball standout Dikembe Mutombo, Vladimir Putin and, naturally The Knights Templar
Films, Books and Shows: Roy is reading The Da Vinci Code, Sam loves Ratatouille, Keeley is all about Sex and the City and we got a reference to Citizen Kane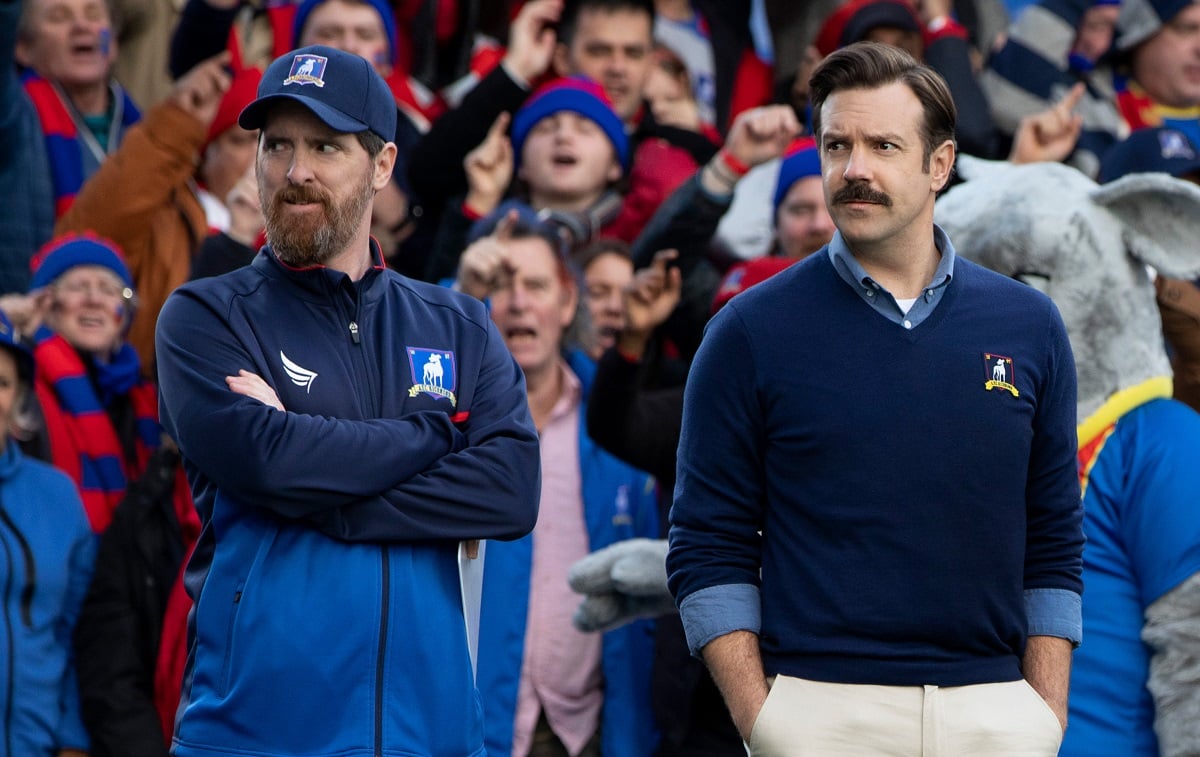 Episode MVP
I'm going with Beard this week. He's been in the background a lot but he steps up when he needs to get things done. His confrontation with Nate was long overdue and served to help two friends. He knows Ted's in no place to pick up these threads and Nate needs a kick in the pants. It was a fun moment.
That's a wrap on Headspace. Check back next week as we look at Manchester.
Matthew Fox is a graduate of the Radio, Television and Film program at Biola University, and a giant nerd. He spends his free time watching movies, TV, and obsessing about football. He is a member of the FSWA. You can find him @knighthawk7734 on Twitter and as co-host of the Fantasy Football Roundtable Podcast.