Directed by: Leos Carax
Written by: Ron Mael and Russell Mael
Produced by: Charles Gillibert and Paul-Dominique Win Vacharasinthu
Starring: Adam Driver, Marion Cotillard, Simon Helberg
Los Angeles, today. Henry (Adam Driver) is a stand-up comedian with a fierce sense of humor who falls in love with Ann (Marion Cotillard), a world-renowned opera singer. Under the spotlight, they form a passionate and glamorous couple. With the birth of their first child, Annette, a mysterious little girl with an exceptional destiny, their lives are turned upside down. A film by visionary director Leos Carax (Holy Motors), with story & music by Ron & Russell Mael of Sparks, this original musical is a journey of love, passion & fame.
140 Minutes | Rated R
Amazon Studios on Prime Video August 20th, 2021.
The movie's tone kicks off with a fun little music number that showcases all the cast in a way that reels you in within a matter of moments.
Driver has become a staple in the film world throughout the last few years. He broke out in a HUGE way in his moving performance in Marriage Story that led to his first Oscar nomination. Can 2021 be the year of Driver as he stars in this and the upcoming Ridley Scott film, House of Gucci?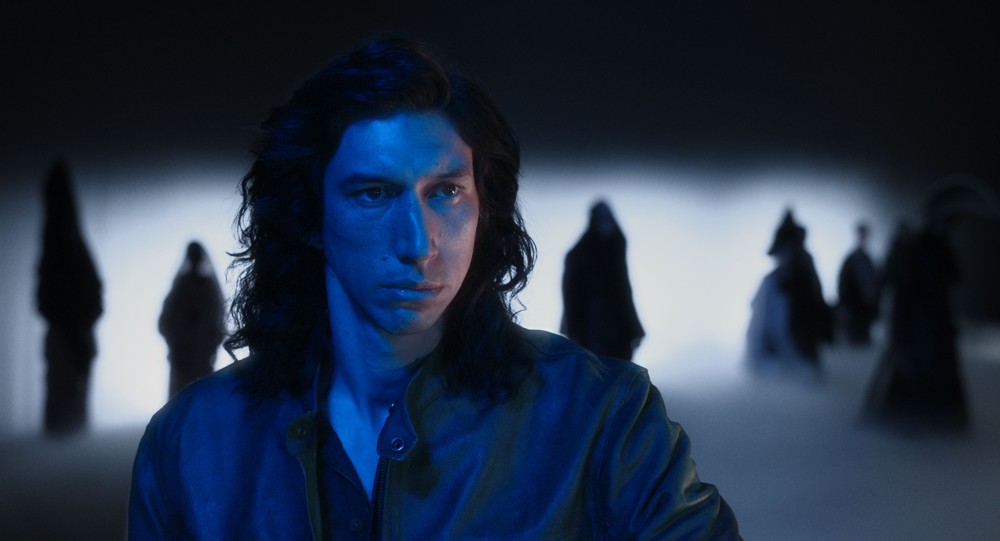 Long answer, within the first 15 minutes of this film, the first dialogue out of Henry (Driver), has this stage play that he is performing on and my god Driver raps, sings, and acts out of this world in one of my favorite scenes I've seen this year. The scene is just Driver on a stage with a mic and performing this long-winded skit, and it's absolutely enthralling. It is a showcase that Driver is one of the best working actors in Hollywood.
Henry is filled with this troubling emotionless demeanor and hates love while being in love. Throughout the film, you can never tell whether he knows the difference between when he is on the stage or in real life. Driver has a way with words that captivate you to cling to every word that he says in this role.
Cotillard is a fantastic opposition of Driver as Ann. When you have two actors of their caliber bringing their A-game, it results in some beautiful head-to-head screen time. And my goodness, does she have a beautiful voice. I was blown away by her singing.
I will openly admit this movie is far too long and sometimes loses its way to what exactly it is supposed to be. Carax is a visionary in truly breathtaking ways, and it shows throughout this movie, but the unevenness of the film's script truly takes away from the profound moments in which you are in love. You find yourself checking in and out of this movie because of the film's strange pace. I wanted to love this film because so many things stand out throughout the movie, but overall you can't and it is somewhat infuriating. There are moments in the film that I will think about for the rest of the year, and I mean that in both good ways and bad ways.
Annette is a spectacle of two tales. You have a first act and part of a second act that is truly remarkable in every way and then you have the second half of the film where it completely wipes away all of that charm and emotion. The risk Carax takes with the second half of this film fails to connect and takes away any feeling that it built in the first half.
The Verdict: B