For many, it's Spring Break. It's a time to take a breather and, perhaps, catch up on some shows. But what shows are worth catching up on or diving into? Let this weekly column be your guide as I look at the pilot and second episode of new scripted, and some unscripted, series debuting this Winter and Spring. Don't see a new show listed below? Check previous weeks.
Friday Nights:
Falcon and the Winter Soldier, Fridays on Disney+ (Premiered March 19)
About: This is the latest Marvel series, following close on the footsteps of WandaVision, which has been the best new series to debut in 2021. WandaVision set the bar high for original Marvel content, which we should get each week. Falcon and the Winter Soldier focuses on two members of the MCU, Sam (Anthony Mackie) and Bucky Barnes (Sebastian Stan), both of whom were close friends with Captain America. As the series picks up, both are trying to find a way forward while grieving the loss of their friend. The pilot launches into the series and introduces the characters where they are now, setting up the plot. There is a great action set piece in the first act and plenty of emotional moments in the rest, ending with a surprise reveal that might have been spoiled for you if you have been on Social Media. This is shaping up to be an engrossing and engaging series, and another potential hit.
Pilot Grade: B-
Sunday Nights:
The Gloaming, Sundays at 9 p.m. on Starz (Premiered March 21)
About: This latest addition to the lineup of original series on Starz is an international production set and filmed in Australia that focuses on a pair of police officers, Molly McGee (Emma Booth) and Alex O'Connell (Ewen Leslie), who are investigating a series of crimes. The pilot aired Sunday, and it's a slow-moving, dark and moody hour that sets up the characters and the crime. Starz has an odd mix of original programming, from some salacious original hits to a set of slow-paced foreign crime dramas. It thought the premise here was interesting but the reality of the first episode was slow and uneven.
Pilot Grade: C-
Q: Into the Storm, Sundays at 9 p.m. on HBO (Premiered March 21)
About: HBO's latest Sunday night offering is another docuseries that is a bridge before its next scripted series debuts in April. This six-episode documentary about the QAnon and the movement he or she kicked off is airing in back-to-back installments over three weeks. The first two episodes aired on Sunday night, setting the stage for how QAnon first began posting, the followers the posts have inspired and the site that plays home to the posts. It's an interesting exploration, especially for those that want to know more about this movement that's had a vast impact on our political process. But it's not for the faint of heart. There is some serious adult content, particularly when exploring the deep web sites where these "drops" occur. I thought the first two episodes, directed and narrated by Cullen Hoback, worked well. If nothing else, it gives you a window into a movement you might not know much about.
Pilot Grade: C+
Second Episode: C+
Mini-Series:
Genius: Aretha, airing this week at 9 p.m. (Premiered March 21)
About: Genius, the original series from National Geographic, is a scripted anthology series that tells the history and inspiration of great artists and thinkers throughout history. The first season looked at Albert Einstein while the second season focused on Pablo Picasso. This third season sees Cynthia Erivo starring as Aretha Franklin. The first two episodes aired Sunday night and the rest of the eight episode season is airing back-to-back throughout the week, and is available to stream on Hulu. Like previous productions it's well put together, and Erivo makes for a compelling lead. But like previous installments, I felt the narrative was a bit dry the way it's constructed. For those looking to learn more about the life and career of these icons, this series works well.
Pilot Grade: C
Second Episode: C
Streaming Series:
Calls, Now streaming on Apple TV+ (Premiered March 19)
About: This is a unique offering, not just for Apple TV+ but for television in general. This short-form series, which released its full 10-episode season, is an audio-only experience. The episodes range in length from around 13 minutes to close to a half an hour, and each episode features a different cast and story. The first two episodes I sampled had a sci-fi bent, and that seems to be the pattern for the rest of the series. You're listening to a series of phone calls, all the while some graphics and names appear on the screen. But this is an experience that asks you to listen closely and use your imagination. I thought the idea was clever, and the cast here is strong, but I wasn't hooked with the presentation. The episodes were Ok, but it felt like a strange experience. The plethora of content production channels allows for myriad creative ideas, and I applaud the out-of-the-box thinking here, but this series will likely have a limited appeal.
Pilot Grade: C
Second Episode: C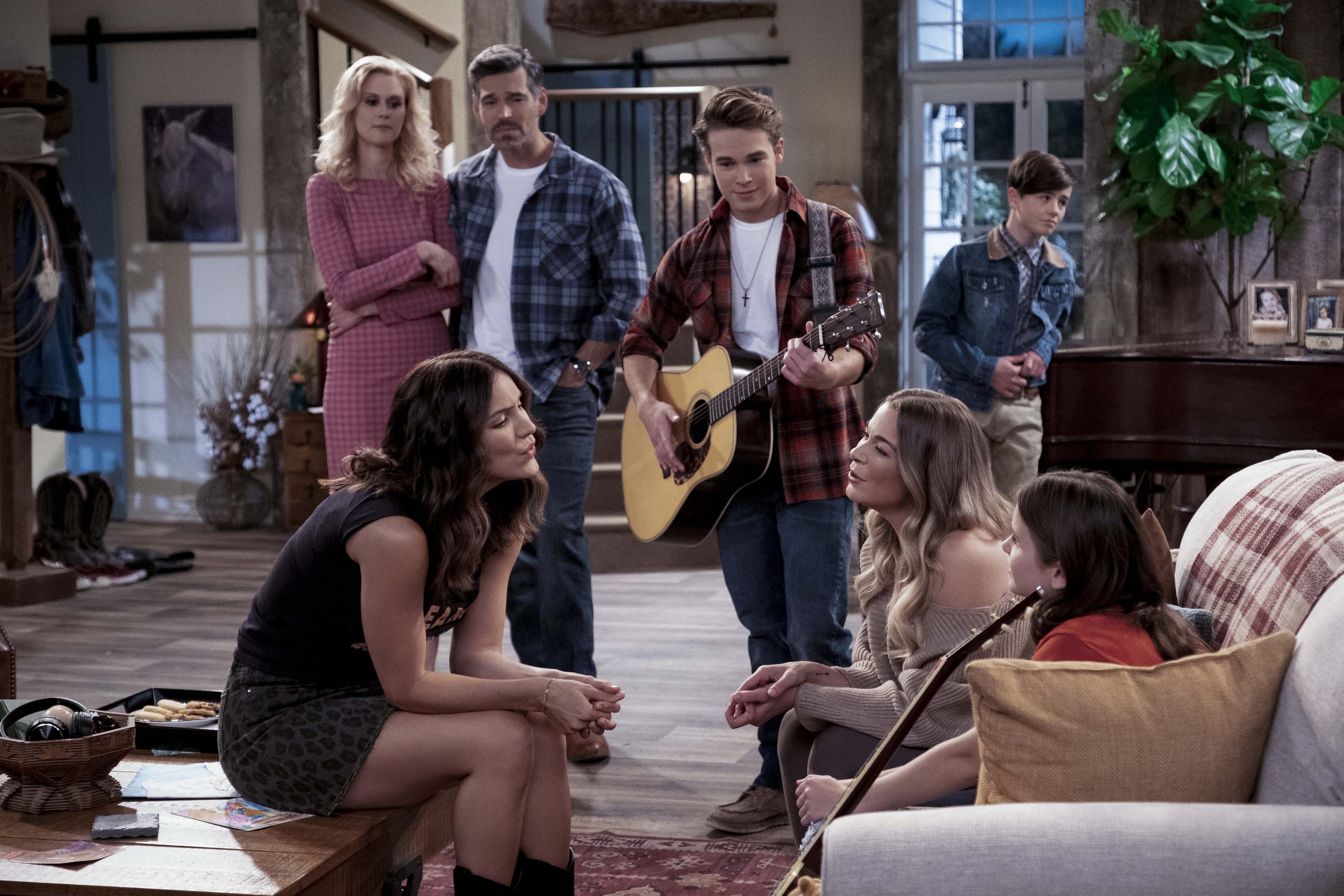 Country Comfort, Now Streaming on Netflix (Premiered March 19)
About: Again Netflix is wading into the waters of a traditional sitcom set up. This one focuses on a singer whose career, and relationship, has gone bust. So Bailey (Katharine McPhee) stumbles into a job as a nanny for a widower (Eddie Cibrian) and his five kids. This seems like the kind of traditional set up that we'd have seen on a network back in the day. Episodes run 20-28 minutes, so it's not a big time commitment, either. And there are some recognizable stars. All the elements are here, and it makes sense for Netflix to try to diversify this way. The problem is, this series is terrible. The acting is stiff, the stories are ridiculous and the construction of the series is wooden. This was a total misfire, as have nearly all the attempts at sitcoms from Netflix. This should rightly flame out quickly.
Pilot Grade: D-
Second Episode: D-
Cypher, Now Streaming on the ROKU Channel (Premiered March 19)
About: Just when you think we're out of new outlets for original content, more appear. For those that have ROKU, there is a channel provided on the device and, like other media outlets, it has expanded into original content. The first original scripted series is Cypher, which dropped on Friday. It's a mystery series about a hidden code and the code breaker (Martin Dingle Wall), who tries to solve the puzzle before it's too late. This eight-episode season runs around 45 minutes an episode. Not all productions are created equal, and while it makes sense that all these sites would want to branch into original offerings, this one isn't great. The acting is wooden and the production values reveal a pretty low-budget attempt at pulling off this concept. I watched the pilot and thought the concept had merit but the execution was very poor. If you have a ROKU, you can try the series, but you probably (hopefully) have better options.
Pilot Grade: D-
Matthew Fox is a graduate of the Radio, Television and Film program at Biola University, and a giant nerd. He spends his free time watching movies, TV, and obsessing about football. He is a member of the FSWA. You can find him @knighthawk7734 on Twitter and as co-host of the Fantasy Football Roundtable Podcast.