Last week I chronicled my re-watch of The West Wing, which was fun and emotional. I wasn't quite ready for it to end. So, naturally, I moved on to some Secret Service films. You may not grasp the connection, but that's OK, it made sense for me. This week I decided to look at five Secret Service films I've been watching, two of which were competing when they came out. But only one of which spawned a successful film franchise.
So, without further ado, on to this week's Binge Watch. And, remember, if you have a favorite in the genre, be sure to drop it in the comments! My list will appear in chronological order.
In The Line of Fire (1993)
About: This classic from director Wolfgang Peterson features Clint Eastwood as an aging Secret Service agent. He has been working under cover and is near the end of his career, the last active agent who was part of the detail protecting John F. Kennedy. When an assassin (John Malkovich) decides to make him part of the plot to kill a president, Frank Horrigan (Eastwood) finds himself running alongside a Presidential motorcade again, but few people are interested in his hunches or insight, even if he's right. I remember seeing this several years ago for the first time and have seen it several times over the years since. The cast is solid and I enjoy Eastwood in the role. Malkovich makes for a good adversary and this one has some fun investigative elements to it as well.
The Sentinel (2006)
About: This one centers on an aging agent, Pete Garrison (Michael Douglas), who is having an affair with his protectee, the First Lady (Kim Basinger). He uncovers a potential plot to assassinate the President and soon becomes the prime suspect, so Pete goes on the run to uncover the real threat. Chasing him is the lead investigator and his former partner (Kiefer Sutherland) and his former protegee (Eva Longoria). This one has a good cast and an interesting set up. Douglas is affable in the lead role, and he has some fun exchanges with Sutherland, channeling his best Jack Bauer, and Longoria. This one is more of a mystery ride but has a pretty good climatic sequence.
Vantage Point (2008)
About: This one tells the story of a crime from several perspectives, focusing on a big announcement of a new deal in Spain that sees the U.S. President (William Hurt) assassinated. I'll be honest, I was partially excited about this one when it was released because Matthew Fox is one of the lead performers. It's not a great film, however. Dennis Quaid plays an aging hero Secret Service Agent who ends up uncovering a larger plot and foiling it. As I'm looking at this now, these first three films are sort of a tribute to the aging white male agent as hero. Anyway, this one has a diverse cast, but shows a lot of the same sequences time and again, and that gets a little tedious. This was an interesting idea, but it doesn't quite work in execution. Fortunately, it's only 90 minutes.
Olympus Has Fallen (2013)
About: Every once in a while we get dueling movies. This is two different movies that have roughly the same story concept that are released in close proximity. I remember when I was in high school, that happened with Deep Impact and Armageddon, both of which featured a plot centered on an asteroid threatening to destroy the Earth. One had President Morgan Freeman and a teenage marriage, the other had Michael Bay and Ben Affleck, so it's not hard to imagine what won. In 2013, we got dueling stories about terrorists taking over the White House… maybe they were just eight years early. Anyhow, this one features Gerard Butler as the former head of the President's Secret Service detail who was banished after an incident that saw the First Lady lost. Now he's just a Secret Service Agent working on the fringes in Washington, D.C. But he's in the right place at the right time when an all-out assault on the White House begins. Mike Banning (Butler) then rides to the rescue to save the President (Aaron Eckhart). This one comes from Antoine Fuqua, a great action director. This one is ultra-violent if you haven't seen it, and it debuted first, coming out in March. At the time I thought this would be the lesser of the two based on cast. I enjoyed the movie, but I liked the other one better. However, I think after a few years, we've seen this was more successful, spawning a franchise that includes London Has Fallen and Angel Has Fallen. All three are enjoyable and a fourth is yet to come. But this is where it started.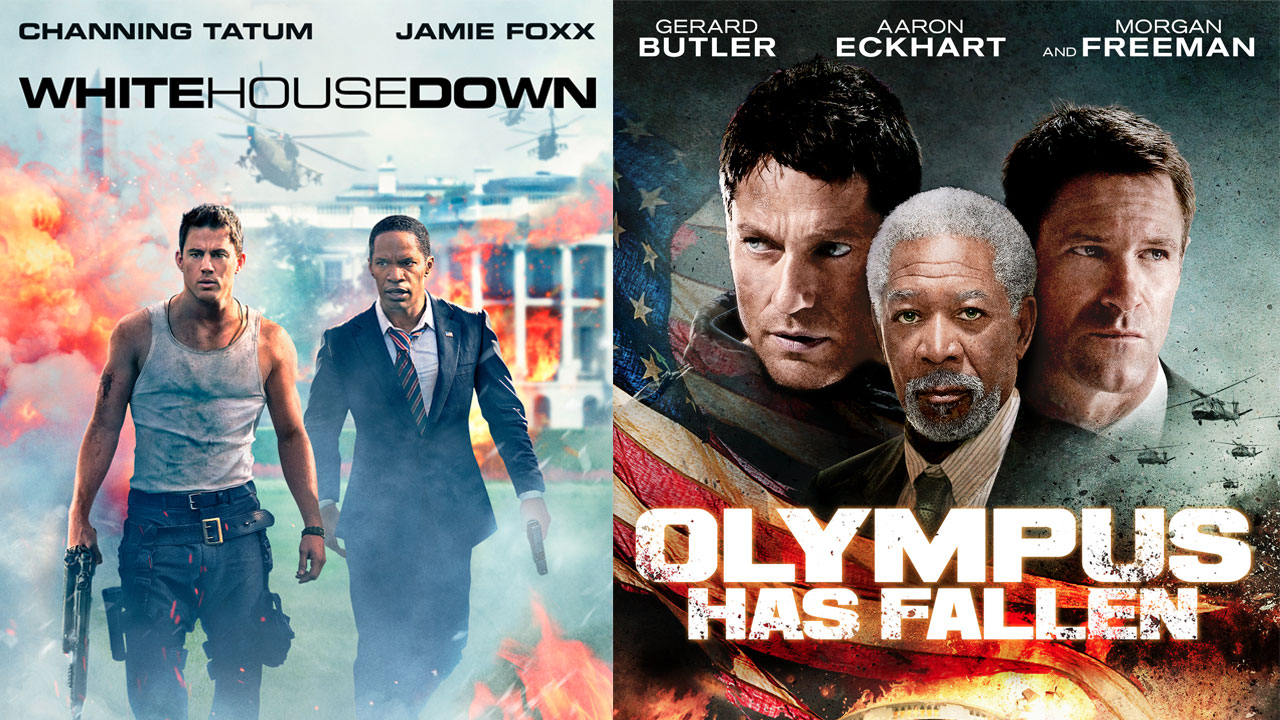 White House Down (2013)
About: This was the other film about terrorists attacking the White House that was released in 2013. This one centered on Cale (Channing Tatum), a member of the Capitol Police who wants to be part of the Secret Service. He arrives with his daughter (Joey King) for an interview at the White House that doesn't go well. However, while taking a tour and licking his wounds, he's in the right place at the right time when terrorists seize the White House trying to kidnap the President (Jamie Foxx). This one comes from director Roland Emmerich, who is no stranger to destroying U.S. landmarks, and it's violent as well. However, this was a summer blockbuster with a big-name cast that came in as PG-13. I liked this movie when it was released and thought this one had a more comedic vibe. It holds up well despite the fact Olympus Has Fallen seems to have been the more successful version of the story.
Matthew Fox is a graduate of the Radio, Television and Film program at Biola University, and a giant nerd. He spends his free time watching movies, TV, and obsessing about football. He is a member of the FSWA. You can find him @knighthawk7734 on Twitter and as co-host of the Fantasy Football Roundtable Podcast.