I'm going to Vegas!
It's a first for me. Also going to be traveling by myself. That's a first for me as well. There's not a lot of things that would pull me into this situation. The When We Were Young Festival is one of those things. I tend to call this a playlist concert. Growing up, I discovered punk and emo music early. Right about the time that Blink 182 hit, I started hanging out with a new group of friends that I met after high school. I quickly learned the ins and outs of bands like Something Corporate, Taking Back Sunday, Bright Eyes, Blink 182 before the "pop" album, Dashboard Confessional, Brand New, and many many more.
I loved them all. Emo music for a teen with angst is like nectar from the gods. It made it OK to feel your feelings. It showed there were other people out there that had the same emotions and thoughts running through their minds. It created a community of people that could share their favorite songs and why they resonated with them in a way that other genres could not. Fast forward a few years and I began managing a Journeys shoe store. For those that aren't familiar with Journeys, it was the go to for skate shoes like Etnies, DC Shoes, DVS and quite a few others. We also sold the classics with Chucks and Vans being top sellers. There were also brands like Ugg and Crocs for those less skate inclined. A one stop shop for most young adults.
Being in that line of work you got a lot of punk and emo music thrust on you. We had DVDs with fresh and classic songs from popular and lesser known artists with the primary focus being for emo kids. We were THE spot to head to. Being a retail manager, I put in a lot of hours. Like a lot lot, topping 80 hours in a week was definitely not unheard of, and 65+ was pretty standard. Since the DVDs were typically around three hours long, you heard them a lot. You'd pick out songs you liked and which DVDs they were on and constantly change them once the new month's got stale. The first store I took over had at least two years of DVDs from months past. There was a lot of content and plenty of time to listen to it all.
This led to learning more about the genre. Whether it was seeing new videos, the occasional VIP tickets for concerts, or just conversations with the other staff and customers, you learned a lot. New music, new musicians, fresh takes on familiar songs. Working at Journeys was an experience and music was a driving force.
Now there's the When We Were Young festival. A "three" day event held in Las Vegas. The first show had to be cancelled due to a high wind advisory. People thought this was going to be the Fyre Festival all over again. But Sunday came along and the day went on without a hitch. The videos from people there were nothing but fire. The place is jumping and it's all to music that is held dear to many people around my age.
It's a once in a lifetime experience, and I was lucky enough to pull down a ticket through a huge waitlist. Avril Lavigne bailed on the second weekend show and was replaced by a couple of bands I have no interest in seeing. This is actually not a bad thing as it allowed me to streamline my day to see every band I want to with very little overlap. This is going to be an incredible experience. Not only will I be in Vegas and unsupervised, but I'll be at the coolest music festival I've ever heard of. It will be the best show I've ever seen. At least until next year.
And now without further ado, here's this week's News Or Noise!
Kadarius Toney Is Going To Be Worth His Trade Cost To The Chiefs
Absolutely noise. NOISE I SAY!
Toney has been a bust for the Giants. After taking him 20th overall in 2021, Toney is averaging a robust 35 yards per game, with 189 of those yards coming in one game. A game he got ejected from for throwing punches. Not a great thing to do in your coming out game. So, if you take out that game, Toney averages 21 yards per game. He hasn't caught a pass this season. And it's not like the Giants have a boatload of receivers in his way. They don't have a No. 1 receiver. They rely on a bunch of guys that would be borderline No. 2s on other teams. He has opportunity.
Some of the problem has been injuries. In typical Giants fashion, the guy can't stay healthy. Even when he was healthy, they didn't get him the ball. It's going to be interesting to see how he performs for the Chiefs. They already have a stable of receivers from meh to he's OK. This is going to be another name to add to the list.
At the time of me writing this, the deal is for a conditional third and a sixth. Not a lot for a second year first round pick, but at the same time it's probably more than he's worth. Look for him to fade into a crowded room with the occasional tease with a good game.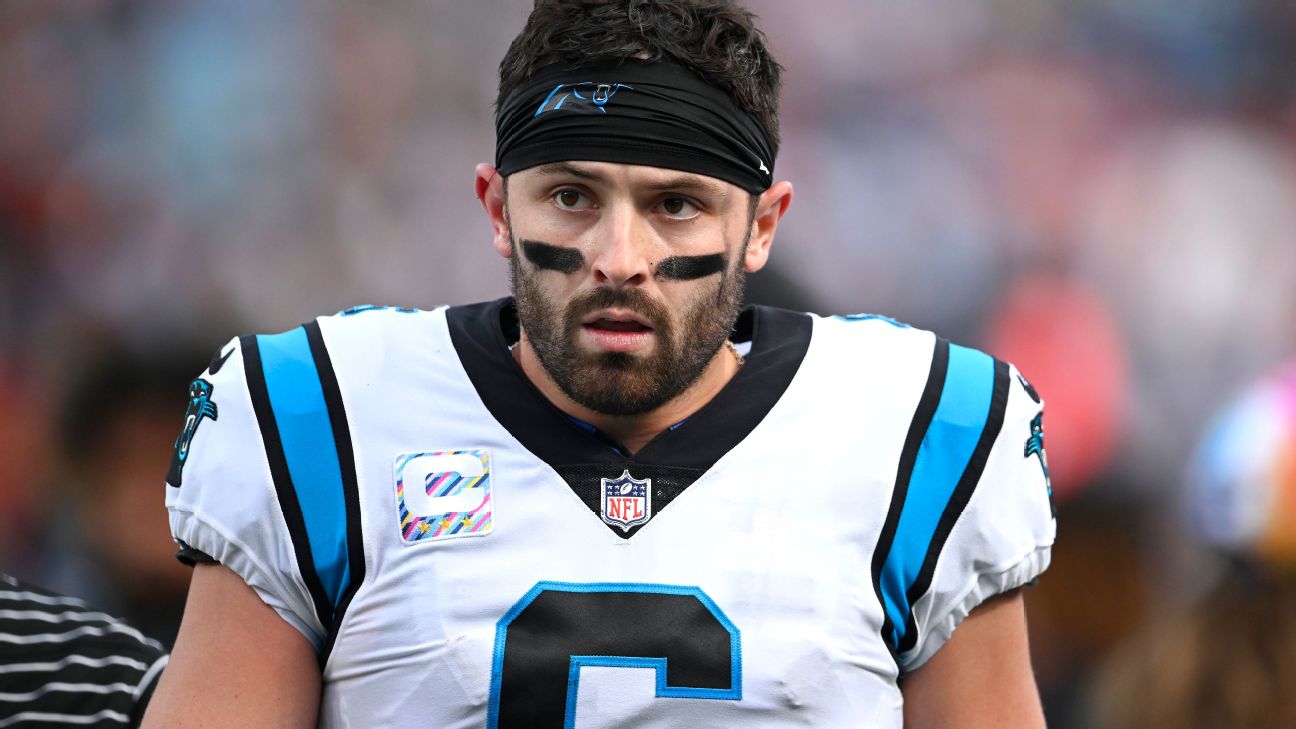 Baker Mayfield Has Started His Last NFL Game
I'm going to say noise, but hear me out.
Baker is healthy and will be the backup to PJ Walker in this week's game against the Falcons. PJ Walker is anything but a superstar quarterback. Baker was a No. 1 overall pick. A Heisman winner. And now he's a clipboard holder. I don't see him as ever really relinquishing those clipboard duties. The only reason I say he hasn't started his last game is that he's good enough to be a number two quarterback for most franchises. Someone will get hurt. Baker will get a start.
He's on his fifth year option from his rookie contract. There are no guarantees out there that he'll ever see a playing field after this year. But the talent is there. Not a lot, but it's there. He can handoff the rock and do some game management stuff as long as he's not put under too much pressure. He's going to get a contract somewhere. He's just not going to be THE guy anywhere.
Tom Brady And The Buccaneers Will Miss The Playoffs
I'm going with noise.
Brady and the Bucs have looked bad this season. Points are way way down. Defense has been average. Nothing seems to be working for them. Brady is king of the move the chains offense. Take what the defense gives you with underneath throws, check downs that are actually primary options, and play action passes. None of that is showing up in this year's games.
In watching the Thursday night game against the Ravens, they looked out of sync. Most games this year they've looked out of sync. Whether it's missed timing on a route, or false starts due to not having reps together, they've looked bad. The only real thing they have going for them is playing in the NFC South. The Falcons are currently in the top spot at 3-4. The Bucs with the Ravens loss drops them to 3-5. The Saints have been playing poorly, and the Panthers are going full blown fire sale or at least should be. Rising to the top of the division is not out of the question.
I see them getting back on track a bit. Every receiving target Brady would throw to has spent some time on the IR this season. Injuries can hit a team hard, and that appears to be the issue in Tampa Bay. As Brady gets more reps with his guys, they'll end up on the same page and get back to winning games. Until then, it's going to be ugly.
Tyler Boyd Is The Receiver To Own While Chase Is Out
I'm going with news.
Now that Ja'Maar Chase is sidelined for several weeks with a hip injury, the Bengals will have to reshuffle their offense a bit. Tee Higgins is going to slot into the No. 1 role that Chase had occupied and someone else will have to step up as the other outside receiver, with Boyd being a slot guy, his role shouldn't change.
Higgins is good at football. He's actually pretty darn good. But he's not Chase. He's now going to be seeing the number one corner from the other team on a regular basis which is not something he's dealt with since college. Trying to produce at the level he was before he got put in this role just became more difficult.
Boyd on the other hand is not going to change roles. If anything, he is going to see more volume from the slot which should mean more production. Covering downfield guys seems to be easier than covering the underneath routes when you're watching games. Somehow the slot guy always seems to find a soft spot in the zone or is catching slants and comeback routes.
With Boyd already having a great year, this might just push him over the top. By no means am I saying Higgins isn't going to get his. I just think going after Boyd is going to be a sure thing week in and week out, and at a much lower price. Go get Boyd and get that playoff push going.
The Cowboys Are Going To Destroy The Bears
I don't know if this really needs said, but it's news.
The Bears have been playing a wee bit better over the past couple games. The defense has been stepping up here and there throughout the season thus far. The offense is entirely based around the legs of Fields and whatever running back is on the field. Fields has been able to scramble for first downs almost at will. They lack a big play guy due to not really throwing the ball. but overall, they've moved from cellar dweller to averageish.
The Cowboys are going to be down their starting running back. I think that makes this team better. Tony Pollard is definitely more explosive than Elliott at this point in time in each's respective careers. He gives them an option that can hit the outside, catch the ball out of the backfield, and make people miss. Elliott is more of a hope people bounce off of him.
Dalton Schultz is ouchie, but is going to play. They have Gallup back and he's had a couple weeks to get in sync with Dak. Dak had a warm up week to get back in the swing of things so the offense should be humming. Throw in the fact that Chicago just traded their best defender and it is primed to be a blowout. I'm going to take the Cowboys covering and the over as I could see them going high 30s and even into the 40s against the depleted Bears defense.
Looking for a lineup question to be answered? Got offered a trade you're just not sure on? Think fantasy football is neat and want someone to talk to about it? Get in touch with me @IHeartCaravans on Twitter, Medium, uStadium, TikTok, and the Fantasy Life App. Hope to hear from you soon!