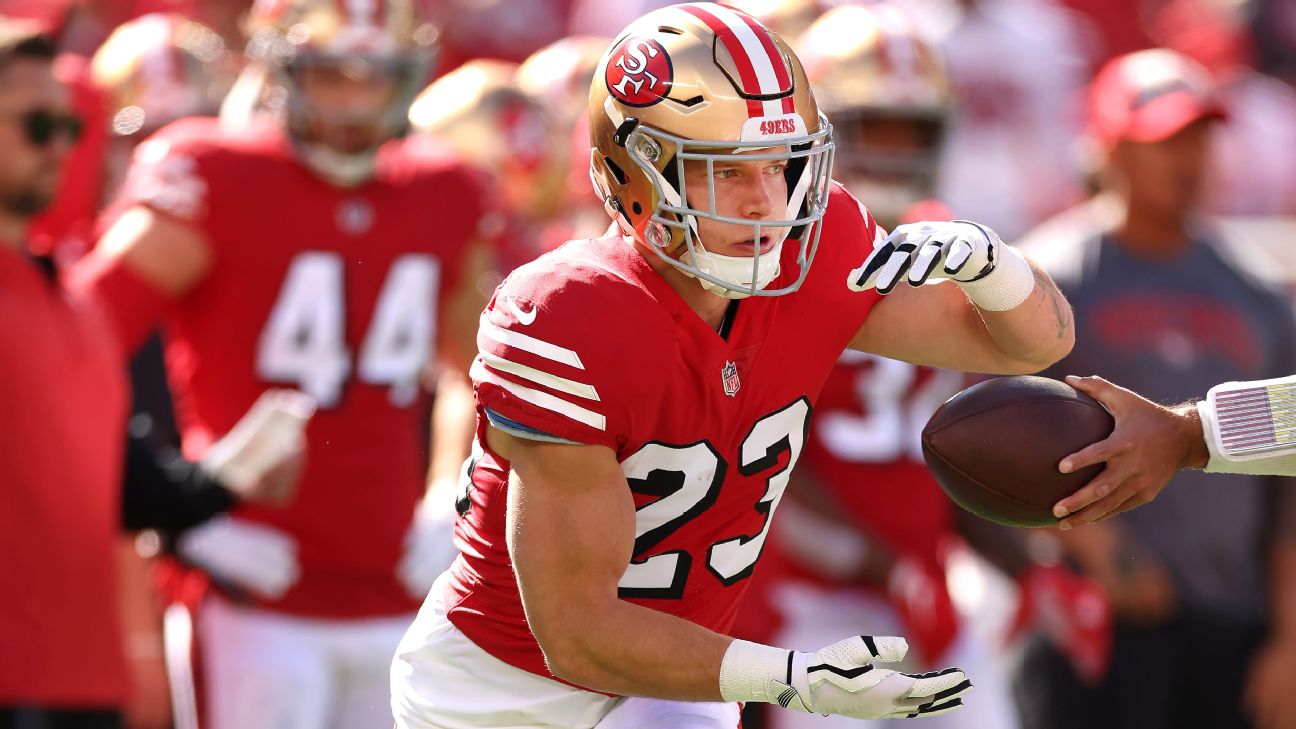 Oh, Week 7 of the NFL Season. We saw some crazy outcomes, some heart-breaking injuries and much more. All that could leave you looking for a Monday night miracle. Unfortunately, I'm not sure this game is the one that will give you those fantasy miracles. But more on that in a minute. First, let's consider what we've learned from the rest of Week 7.
Christian McCaffrey isn't the 49ers' savior
The trade that rocked the NFL world happened Thursday night. The 49ers went all in on 2022, shipping off most of the draft picks they have left to the Carolina Panthers for McCaffrey. He's a great running back and another big weapon for an offense that already has plenty of stars. In the aftermath of the trade, the Panthers surprisingly won 21-3 over the Buccaneers, while the 49ers got slammed in a 44-23 loss to the Chiefs, falling to 3-4 on the season. McCaffrey looked fine, and likely will contribute well on offense. But the 49ers have plenty of work to do to pull themselves out of the middle off a pack in the NFC and make it back to the NFC Championship Game or Super Bowl.
It's time to take the Giants and Seahawks seriously
It's been seven weeks, which makes it more than a blip on the radar. The New York Giants are 6-1, taking on everyone on their schedule and coming away with a near perfect record. In a league where parity has pushed most records to the middle, the Giants boast one of the best records in the league as we near the mid-point in the season. The Seahawks, meanwhile, don't have an incredible record. The team is just 4-3 with a win over the Chargers on Sunday. What they do have is sole possession of the NFC West. While the talent-laden 49ers and Cardinals sit at 3-4, and the defending champion Rams are an uneven 3-3, the Seahawks have ridden the hot hand of Geno Smith, and the powerful legs of Ken Walker III to a lead in the NFC West. It's quite an accomplishment in an NFC season that has, to this point, defied a lot of our expectations.
It's been a brutal season for RB-heavy builds
Jonathan Taylor, David Montgomery, Elijah Mitchell and D'Andre Swift have all missed time with injuries. Javonte Williams, Rashaad Penny and Breece Hall both suffered season-ending injuries. Najee Harris doesn't have much blocking. J.K. Dobbins couldn't work his way back from injury. Ezekiel Elliott, Aaron Jones, Travis Etienne and Clyde Edwards-Helaire are in some kind of a time share. And who knows what's happening in Washington, where three backs are somehow involved. That doesn't even account for the low-volume backfields. There have been some bright spots—like rookie Dameon Pierce—but mostly it's been a difficult and confusing year for running backs. And as we head toward Week 8 of the NFL season, it doesn't look like it's getting any better.
And now, on to the Monday night preview.
Chicago Bears (2-4) at New England Patriots (3-3)
I mentioned early in the week that the Prime-Time games this week aren't great. That was true Thursday night and Sunday night, and it's true of tonight. The Bears' offense has been nominally better the past few games, but still, something of a work in progress. The Patriots' best offensive showings have come with third string quarterback Bailey Zappe at the helm. Mac Jones is back, so it's unclear how that will continue. Either way, if you're looking for miracles, this might not be the game to provide them.
For the Bears, I'm staying away from Justin Fields, even in Superflex, unless you're desperate. But perhaps you are. In one of my leagues, due to injuries, I do have to start Fields. But I'm not expecting a lot. Montgomery gets a lion's share of the work in the backfield and remains a starting option. Khalil Herbert has looked explosive but his volume isn't sufficient to feel confident. He's a boom-or-bust Hail Mary choice. I'm also not confident starting any pass catchers, but if I had to I'd go with Darnell Mooney.
For the Patriots, the offense is even more of a mystery. I'm not confident in Jones in his return, but he'd feel like the better option over Fields. The backfield has been solid. Rhamondre Stevenson has looked good but Damien Harris is due to return, which likely caps the ceiling on both players. Among receivers, it's been a toss up week-to-week. Tyquan Thornton looked good in Week 6, but can you trust him? All the receiving options for the Patriots—Thornton, Jakobi Myers, DeVante Parker, and Hunter Henry—are all kind of yolo options.
Either way, we're getting a game of some kind. Let's hope it's competitive.
The Pick: The Patriots
Matthew Fox is a graduate of the Radio, Television and Film program at Biola University, and a giant nerd. He spends his free time watching movies, TV, and obsessing about football. He is a member of the FSWA. You can find him @knighthawk7734 on Twitter and as co-host of the Fantasy Football Roundtable Podcast.