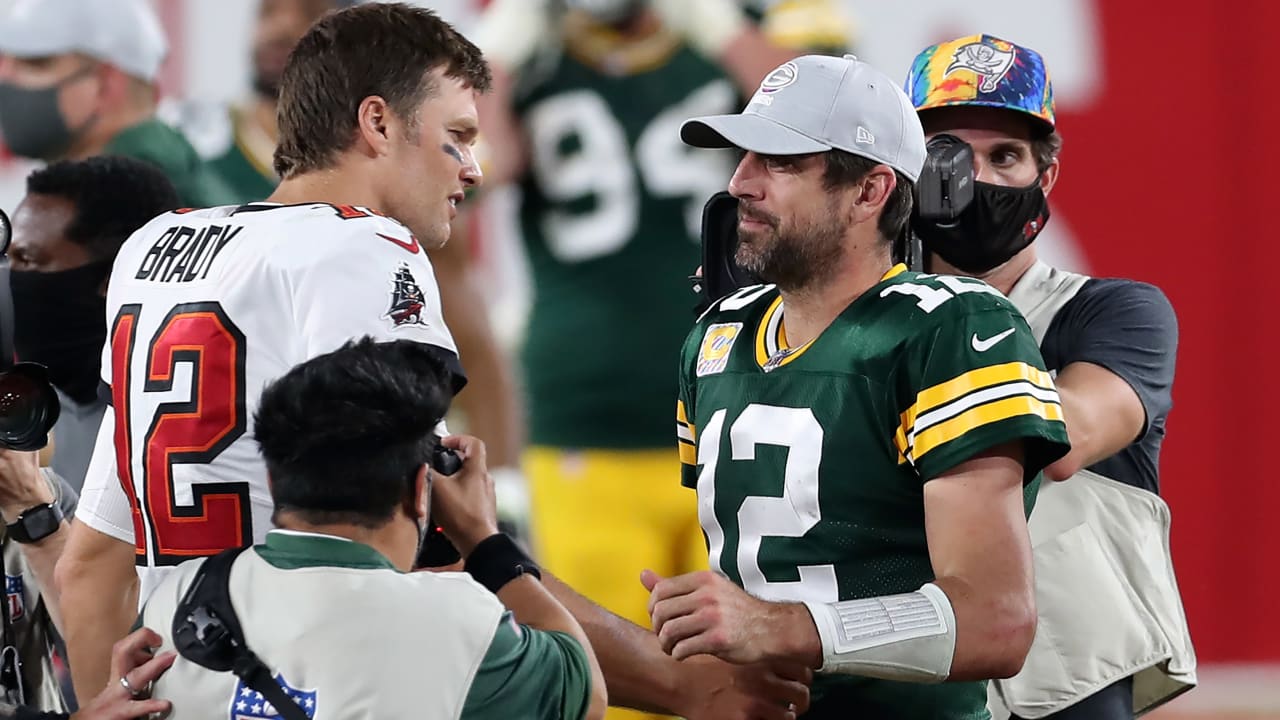 What a wild week. I know we say that a lot, but it continues to be true. Tonight, we get a fun AFC West battle between the Denver Broncos and the Los Angeles Chargers. I'll have more on that in a minute, but first let's consider the rest of what we learned from Week 6 in the NFL.
Tom Brady and Aaron Rodgers are struggling
Both veteran quarterbacks figured to get wins on Sunday. And yet, both veteran quarterbacks saw their offenses sputter in losses. Rodgers was home against the New York Jets. After a nearly scoreless first half, the Jets took advantage on offense, defense and special teams, while the Packers' offense simply had no answers. The Packers scored just 10 points, losing 27-10 to drop to 3-3 on the season. For a team that's won 13 games each of the last three seasons, it is a worrying sign. The Packers are struggling to replace Davante Adams and it's beginning to show as they now sit two games back of the Vikings. The Buccaneers have their offensive weapons and fortunately don't have anyone running away with the NFC South, but a 20-18 loss to a Pittsburgh Steelers' team with Kenny Pickett and Mitch Trubisky at quarterback isn't inspiring. Worse yet, the Steelers were missing a number of key defenders, especially in the secondary. And yet, Brady and the pass offense couldn't get it going. The Buccaneers are also now 3-3 with plenty of work left to do. There's a lot of season left, but after six weeks it's clear nothing will be a walk in the park for these Hall of Fame quarterbacks.
The NFC West is really wild
There are three teams tied atop the NFC West. The San Francisco 49ers, Los Angeles Rams and Seattle Seahawks are all 3-3. Each of them has looked good at times. Each of them has looked lost at times. And now, heading into the end of October and the stretch drive in the next two months, they're deadlocked atop the NFC West. The Arizona Cardinals, who've struggled at 2-4, aren't out of it either. This is shaping up to be one of the most competitive and one of the craziest divisions in 2022.
The Bills-Chiefs rivalry is the best in the NFL right now
For years, we looked forward to seeing Tom Brady and Peyton Manning duel. I even have a book written about their matchups over the years. Now, that mantle has passed. Patrick Mahomes and Josh Allen are the best quarterbacks in the NFL right now, and fortunately their teams are built to compete. Their playoff battle in the Divisional Round last year was not only a thing of beauty, but it was also one of the best games I've ever seen. It was also heart-breaking for me. Their matchup in Week 6 was everything you'd hope for from this battle. I can't wait for them to meet again in the playoffs.
And now, I've delayed it as long as possible, let's talk about tonight's game.
Denver Broncos (2-3) at Los Angeles Chargers (3-2)
It's been 11 days since we last had to endure the Broncos. But you're welcome America, they're back in Prime Time for the fourth time in six weeks. The Broncos are 1-2 in those games, though I'd argue America might be 0-3. Yes, they are my team. Yes, I still love them. No, I'm not blind to this team's flaws.
In terms of fantasy, you might be playing a lot of folks, and there are some options if you need a Monday Night Miracle. For the Broncos, Russell Wilson has struggled. STILL, he's a QB2. If you're in Superflex, you could do worse. I also like Melvin Gordon as a borderline Top 12 option. Courtland Sutton is a Top 12 receiver through five weeks, so I'm playing him, too. Jerry Jeudy is more of a YOLO option.
For the Chargers, Justin Herbert is a Top 5 option. Austin Ekeler is great, so you're playing him. The question will be the passing game. I like Gerald Everett at tight end, but with Keenan Allen seeming unlikely to play, Mike Williams will likely see Patrick Surtain II. I'm not holding him out, but I'm certainly moderating expectations.
As for the game itself, let me spin you a yarn. When Manning first game to the Broncos, the team started 2-3 in his first year. They faced the Chargers in Week 6 that year, falling behind in the first half. The Broncos came back to win that game, moving to 3-3 and not losing again that season. Will history repeat itself? I don't know. But I am leaning into that history regardless!
The Pick: The Broncos
Matthew Fox is a graduate of the Radio, Television and Film program at Biola University, and a giant nerd. He spends his free time watching movies, TV, and obsessing about football. He is a member of the FSWA. You can find him @knighthawk7734 on Twitter and as co-host of the Fantasy Football Roundtable Podcast.