Not everyone loves re-draft leagues. I've been drafting all summer for dynasties and some of my league mates will only do that type of league. I say I lean this way as well, yet I find myself in 10 or so re-draft leagues annually. Every year I say I'm going to take a step back from some leagues, only to find myself add more in late August that inevitably push me over my pre-determined limit (I try to cap at 35).
With re-draft resetting year over year, it's easier to go with a specific draft strategy. However, the strategies are all over the board. Best available, 0 RB, 0 QB, 0 WR, 0 TE, , homer picks, what does the book say, etc. None of them are guaranteed to do better than any of the others. You do you boo.
Some people love snake drafts. Some people love auctions. Some just love fantasy football and don't mind the drafting format. I love both. I'm a fan of online snake drafts and live auction drafts. But again, I'll pretty much do whatever.
I've written in the past about how to win your auction draft. While the player names have changed (Carson Palmer is referenced…), the basic strategy is the same. Get the best players you can.
My home league is a live auction and I auctioneer yearly for another live auction. I'm in another auction league on ESPN as well, but since it's online there are drawbacks. Auction drafts are fantastic due to being able to go get the players you want as opposed to having to wait until your turn in a snake draft. Doing it online can be incredibly frustrating though due to auto-bids bidding all the players nominated up higher than they might normally go.
I recommend everyone jump in an auction league at some point and try to do it live. The level of trash talk is heightened as you'll be there anywhere from 3.5 hours to upwards of eight, depending on roster size, food and restroom breaks, speed of bids, how it's being tracked, and a host of other things. Just know that it should be fun the whole time, or you're doing it wrong. You'll also get to see people that you might not see for the entire year until the following draft year!
With snake drafts, you've got your picks coming and going. Depending on your platform and league rules, you might be able to make some pick trades that can liven it up a bit, but it's kind of like "DO THE THING! I DID THE THING! NOW WAIT UNTIL I CAN DO THE THING AGAIN!" I love doing those online so there's a set amount of time for people to make picks, and between picks you can do pretty much anything else while waiting. They typically conclude much faster, require less thinking, and you can set a queue and change it to auto-pick if you get too bored.
As draft season goes on, I'll bring some highlights to all of you. Things you can do to liven up your league. Rule tweaks that are more fun in action than on paper. Reaches and steals. Anything that I find that's fun in any of my far too many leagues, I'll do what I can to bring it to my readers.
Fantasy football draft season is like Christmas but it's not limited to one day. I hope it's the same for you!
Good luck on your '22 draft season. I'd love to hear some good stories about your leagues. Send them to me on Twitter @IHeartCaravans and I'll work on getting them in here!
Without further ado…onto the News or Noise!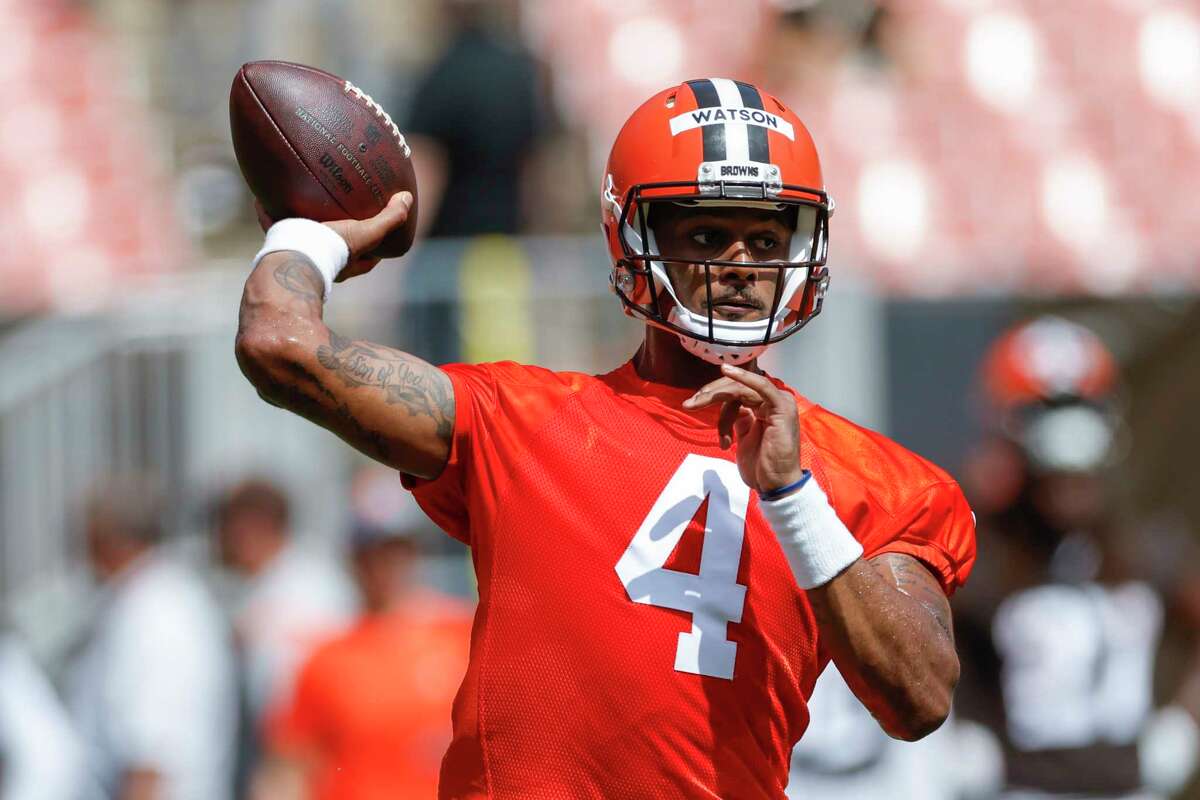 Deshaun Watson Will Play Regular Season Games In 2022
I'm going with noise and it's pretty loud.
For those of you who have been on interstellar missions with no access to media for the past couple years, Watson was sued for sexual misconduct. Had this been one case, maybe he gets by with a game or two or a fine. This was 25 suits. You read the number right. Twenty Five women came forward and accused Watson of being incredibly inappropriate during massages during his time with the Texans.
Watson is not the only one who has had to settle with the women for his actions, as the Texans found they had culpability as well and have settled with the women that have come forward. This was an institutional fail brought about by one man and his inexcusable sexual proclivities.
The Browns didn't exactly make a positive statement about their concerns with Watson's behavior either. They signed him to the largest contract in NFL history, fully guaranteed. And the kicker of it all is they constructed the contract where he hardly makes anything this season. This was obviously so he lost as little money as possible while serving the suspension handed down by the NFL, effectively encouraging teams to sign players who have egregious behavior and structure their contracts around potential suspension, limiting the actual impact of being suspended tremendously. Browns are gonna Browns I guess.
The initial ruling on Watson was a six game suspension and no fine. Since the Browns backloaded his contract so much, he's basically getting a reasonably priced vacation from being hit by monsters repeatedly. The NFL didn't like that though and is appealing the ruling. They are out for blood, going for at least a year and a hefty fine. With the amount of transgressions and pattern of inappropriate sexual conduct, combined with the lack of remorse by Watson (he has publicly stated he does not regret any of his actions), should offer the arbitrator plenty of reason for the NFL's case against him.
One small snag in that is the arbitrator is only allowed to use the evidence that was presented to the judge in the case which was only four women as the rest had settled with Watson privately. In my opinion four is as good a reason as 40 to give him a year off with no pay and a substantial fine. I'd love to see the NFL void his ridiculous contract as it obviously was not negotiated in good faith.
One way or another, he needs to be made an example of. I think the NFL wins this one and he doesn't play this season. If there was justice, he would simply never play again. Just because you can throw a football doesn't mean you can be a sexual predator. Hopefully the arbitrator has the same view.
And that leads me into my next segment…
Jimmy Garappolo Will Be Traded To The Browns
I have to go news here.
It's no secret the 49ers have moved on from Jimmy G. They have their new shiny toy in Trey Lance and they're confident enough in him to trade their incumbent starter that has led them to a Super Bowl and an NFC Championship game.
Jimmy makes a boatload of money this year. His contract when initially signed was unheard of for a player with as little experience as he had, but the Niners wanted to lock him up long term. Well they did, and here we are. An expendable quarterback with a huge cap hit and a limited or even non-existent trade market for him.
The trade market for him seemed to all but close up shop when the Browns traded Baker Mayfield to the Panthers. This eliminated the last open spot for a quarterback of Jimmy G's caliber to walk into the starting role with limited to no competition.
But due to the Browns being the Browns, they also gave up their Watson significant suspension insurance. They said they needed an adult at quarterback, and like MJ so many times, Baker took that personal. Regardless of the potential to start there for another year, he was not going to play for the Browns ever again. Now the Browns are looking at a wasted season with Jacoby Brissett under center.
The Browns have a window open for a deep playoff run. They aren't star studded at receiver with only Amari Cooper really moving the needle, but they're deep at running back (more on that later), and their defense is lights out. Sounds like a team Jimmy G has had success with previously right?
Since Jimmy is essentially a one year rental, he's the perfect insurance for Watson. He can come in and give them stability under center and a legit shot at a playoff run, without having to worry about any hard feelings when he leaves after the season. It also gives Jimmy the opportunity to show he can be better than average for a team with a different system so his free agent value in 2023 gets higher. So it's a win-win.
Another things working toward the potential of a trade is Kareem Hunt. He wants out. He's at the end of the deal and the Browns just gave all their money to a creeper so they can't hit him with any kind of big bucks. Hunt is the back-up to Nick Chubb and D'Ernest Johnson showed out when he got opportunities last season.
We all know how the Niners love their running backs, and Hunt can be moved around the field as well which is another thing San Fran has been doing with Deebo. If you have Deebo and Mitchell AND Hunt running from the backfield to slot to out wide, how is a defense supposed to keep up? Acquiring a weapon like Hunt would make sense.
So we have a guy that needs traded and a team that needs him, and a player that wants traded and a team that would find a way to use him. The Browns will be fine without Hunt in the backfield. The Niners will be fine without Jimmy G as a backup to Lance (assuming Lance isn't the second coming of Jamarcus Russell). It's a no brainer trade. The Niners could also assume some of Jimmy's contract and get more than just Hunt out of the deal. I think the Browns need to move sooner than later, as the preseason is happening and getting a new quarterback up to speed can take some time.
I think the trade will happen soon, and those jerseys are going to go into the long line of starting QB jerseys the Browns have had since their re-entry in the league with Tim Couch.
Trey Lance Will Lead The 49ers To The Super Bowl
As you may have read in my 49ers Season Preview, I think this is noise.
Trey Lance is going to be a good quarterback (hopefully). He's shown that he can do a lot of things Jimmy G could not do. He's also shown that he's still raw and has looked like a rookie in several practices. He only played a little last year due to Garappolo playing well, so it is kind of a rookie season for him. Hopefully he's ready by the start of the regular season.
Lance has the ability to make moves out of the pocket and wheels to get him to where he needs to be. There's always going to be hiccups when trying to throw while scrambling, but some of his issues are due to bad decision making. If he can tidy those up, he's going to be good to go, and he will take his team far into the playoffs. If it goes sideways, the whole front office will get cleared out due to trading far too much to get him and him being a swing and a miss.
The Niners defense is all-world. Potentially the best in the league, they shored up their secondary issues and should be one of the top defenses in the league yet again. They beat the eventual Super Bowl champs twice in the regular season, with one of the wins essentially being a play in game. Then they had them on the ropes again in the NFC Championship game and were one dropped interception from going to the big game.
Lance brings a whole new style to the team. His teammates have been nothing but supportive and he's built some really good connections with his pass catchers. His [laying style fits what head coach Mike Shanahan has installed as his game plan. He has the physical tools. I just don't know if in his first year as a starter he can push the team that far down the road. I have them getting to the NFC Championship again, but not winning it.
So you're saying there's a chance
Mitchell Trubisky Will Start For The Steelers This Season
This one is kind of a gimme, but it's news.
Everyone knew Big Ben was retiring, and everyone but Mason Rudolph knew that Mason Rudolph was not going to be the starter this season. It was not surprising when the Steelers brought in a veteran quarterback. It was also not surprising that they took a quarterback in the draft. That is to anyone besides Mason Rudolph.
So now the Steelers have two potential starters at the position (three if you're Mason Rudolph) and none of them wow you. Trubisky came in the league as the No. 2 pick in 2017. He was incredibly underwhelming for such a high draft pick, but he still managed to start for the Bears for four season until they moved off of him. The Bills picked him up as a backup last year and played in six games. He completed six-of-eight attempts to his team, and one completion to the opposing defense.
Rudolph is not good at professional football, and has shown that in the opportunities he's been given. Trubisky isn't good, but he's better than Rudolph. In comes the wild card.
The Steelers drafted Kenny Pickett out of Pitt with the 20th pick of the draft. It was kind of a stretch to draft him there, but he was considered the top quarterback of the class by many so they didn't want him to fall past them.
Pickett has looked good in training camp thus far and could definitely push Trubisky for the starting spot sometime during the season, especially when they start off poorly. I'm sure anyone reading this has heard about Pickett's tiny hands. While not as bad as the character from Scary Movie 2, the hands are pretty small. Whether that translates poorly to the NFL game, we don't know. It probably doesn't help though.
Ben has been hot garbage the past few seasons as his body was breaking down. Replacing him with a cardboard cut out of himself might have been better some games. Having said that, the cardboard cut out might outplay any of these guys.
Even if it's determined Pickett is the better option, the Steelers will probably roll out Mitchell to save face for the contract they signed him to. It's not a mind blowing number by any means, but it's more than you'd go out and sign a backup to a mediocre rookie to.
I live around a lot of Steeler fans and not one of them has mentioned Trubisky to me. He's not exciting. He's not the answer to Ben's retirement. He's just a guy that stands under center and tries not to lose games for his team. Luckily, that's all the Steelers are asking for this year, and he might just be the guy to do it. Don't expect a lot, but expect him to be the starter.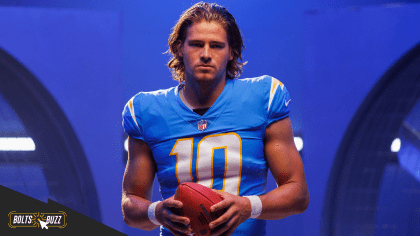 Anyone But Justin Herbert Will Be QB1 This Season
I bet you already know my view on this one is noise so I'll get to the why.
Justin Herbert is a beast. Since Tyrod Taylor was seriously injured by the Chargers training staff Herbert's rookie year, he has shown that he can be and will be the man for years to come. He combines a good vision in the pocket, some intelligent scrambling, and a fearless demeanor.
What about Pat Mahomes you say? Well he lost his No. 1 receiver in Tyreek Hill and the replacements are all either under achievers from past systems or unproven guys that might or might not be able to catch a football. Travis Kelce is still there, but without Tyreek to take the top off the defense, he's going to see a lot tighter coverage. They still don't have anything of note coming out of the backfield to keep defenses from playing heavy coverage, so I'm not seeing him put up the numbers he has in the past. He's still a top three guy, just not a top one guy.
Josh Allen is a different story. His team is a monster that could win a Super Bowl. He combines his field awareness with a willingness to scramble that makes him mostly unstoppable. Add in his receiving corps and Dawson Knox at tight end and you have the makings for QB1. There's really not a wrong answer between Allen and Herbert.
With Mike Williams showing he is a very good to great wide receiver after teasing us for years boosts Herbert's cause. He still has Keenan Allen. He's got a bunch of ho-hum tight ends that are all serviceable. What I think pushes him over the top is the warm weather as well as the defense. He gets to play in sunny California for half of his games and Allen gets cold. Like real cold.
While the Chargers defense added Khalil Mack and should take a step forward this season, it doesn't balance out to what the Bills have. The Chargers are going to be playing high scoring games. It also helps that their stud running back loves to catch the ball out of the backfield.
Warm weather and having to put a ton of points on the board every week is a good indicator that Herbert is going to have plenty of opportunities to be the man. I say he takes advantage of them and climbs straight to the top.
Good luck with your drafts and see you back here for some preseason nonsense!
Looking for a lineup question to be answered? Got offered a trade you're just not sure on? Think fantasy football is neat and want someone to talk to about it? Get in touch with me @IHeartCaravans on Twitter, Medium, uStadium and the Fantasy Life App. Hope to hear from you soon!