Eric Kripke brings the moment every fan of The Boys has been waiting for with the third season's sixth episode but does 'Herogasm' fulfill our expectations? Or are we left blue-balled in agony?
The story is well and truly underway as everything begins to reach a boiling point for the disgraced superhero bunch and vigilante misfits. After being teased and edged into the series, Jensen Ackles' Soldier Boy is making his presence known, and he is one super soldier to be reckoned with. We're still figuring out his history, there is a lot we remain in the dark about; however, 'Herogasm' is the first time we start to unlock some doors and get a peak at what Soldier Boy could be capable of.
Ackles has taken to the role like a duck to water. He has quickly established his place within the series; it feels like Ackles has been a part of the show since the beginning, and it's already strange to imagine it without him. The modern world isn't built for a guy like Soldier Boy; he has the potential to become a diabolical menace, which he clearly was back in the day, but we won't say no to more chaos – hey, sometimes it's ok to watch the world burn. Ackles has been tackling the braw material like a true champ, channeling plenty of charisma into Soldier Boy, as well as playing into the dark comedy that is persistent throughout the series. He's a tough act to follow… And can we please, please, please get a studio release of Rapture?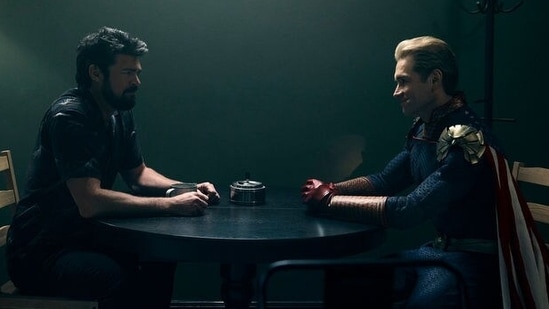 As with every episode, the cast bring their A-game to the table, and once again, Antony Starr is able to steal the show with a single expression. Homelander has met his match, there's no question about it. Starr has been branching out into all areas of villainy this season, and he is damn near terrifying to watch as Homelander gravitates towards the edge of the cliff. We have to give it to Starr. We never know when his character will flip the switch; it's an agitated waiting game; though we can pinpoint the exact moment it's game over for anyone who dares cross his path. There's always another side to the coin though, because we get to see Starr dip into a rare bout of vulnerability. The transition is seamless; it's hard not to applaud Starr's performance.
Let's get into what we're all here for, right? 'Herogasm' is perhaps one of the biggest controversies from the comic book series. So, what is 'Herogasm' exactly? It's pretty much what it sounds like, your imagination hasn't done you wrong here, but even your wildest dreams cannot compare to the rawdog of trauma you are about to witness. 'Herogasm' – in the comics – is an annual orgy-event which has various supers engage in graphic and disturbing sexual activities, including the leading characters. While controversial, Kripke breaches the bar of success with his on-screen adaptation of the event. Ask and you shall receive, literally in this context. Few words can bring justice to the episode; we're already aware that The Boys has the shock factor, so you'd think they'd tighten the reins eventually. Well, thankfully they go all out for 'Herogasm' – again, literally. The nature of The Boys is summed up perfectly by the episode. It is bizarre, funny, vulgar, unimaginably frisky, Kripke works his magic so much so that we'll never doubt him again.
The Boys has never been afraid to push boundaries or cross the line of decency, and it certainly isn't about to stop now. In fact, the series is so far gone from the line that we might as well be flying solo here. It is adrenaline-pumping at best while keeping the drama and mystery at a high. There's no telling where Kripke will go from here, we're merely bouncing on our toes as we await what is to come. 'Herogasm' is an extremely vital episode in progressing the narrative, and is possibly the most important chapter of the third season so far. There is a huge pay-off to an otherwise tense build-up, and in more than one spot; pieces of the puzzle are falling into place.
'Herogasm' continues The Boys' impressive streak of delivering non-stop action and award-worthy performances, and momentum continues to climb towards an earth-shattering, toe-curling, white-knuckled climax.