Doctor Strange in the Multiverse of Madness: Directed by Sam Raimi
SYNOPSIS: Doctor Strange, with the help of mystical allies both old and new, traverses the mind-bending and dangerous alternate realities of the Multiverse to confront a mysterious new adversary.
Phase four of the Marvel Cinematic Universe has left a rather mediocre taste in my mouth so far. Somethings I've loved: Spider-Man No Way Home, Moon Knight and Shang-Chi and the Legend of the Ten Rings, just to name a few and some that I have been lukewarm on: WandaVision, Eternals and Black Widow. Doctor Strange in the Multiverse of Madness was one of my most anticipated projects of phase four so far. What looked like the stepping off point for the more big and grand plans that Feige and the other execs have going forward.
I had a really enjoyable time watching this film. It is definitely unique, which I think is a good thing, but sticks to some of the formulas that I believe works. Sam Raimi is a brilliant director, you don't need me to tell you that, and I believe that when he was able to flex his style it was done extremely well. The performances are all great, but the biggest shout outs need to go to Elizabeth Olsen and Benedict Cumberbatch who are just fantastic in this project. It really is a film about them and their struggles and they both step up to the plate in the best ways.
I tend to be in the minority here but I really like and respect MOST of the writing. We will get into my negatives in the spoiler section. I was really intrigued by the exploration of grief not just by Wanda, but by Strange in this movie. The theme of phase four is without a doubt grief and coping with what happened in phase three, but it really digs deep for both of these characters. While the emotion didn't always cut as deep as I wanted it to, I still left with a real respect for what they were trying to achieve with the main character arcs.
PAST THIS POINT WE WILL BE DISCUSSING SPOILERS. YOU'VE BEEN WARNED
Most of my negatives come in the form of spoilers. The illuminati was really written badly. And I mean really bad. This was the thing people were worried about in Spider-Man No Way Home. Sure, it was cool to see Captain Carter on screen with Patrick Stewart back as Professor X. And damn was it cool to see John Krasinski as Reed Richards, but it was executed so poorly. The concept was there, but the execution was just bad.
This was the definition of a fan service dump just to get people in seats, and while it will work, most people will be sour about it. The first major problem is the fact that the pacing and plot go completely out the window and everything stands still. It would have been so much more worth the effort if they actually contributed anything at all to the story, but they were simply used as fan service and to show how brutally powerful Wanda is. Which we already knew. The choice to kill every single character in said Illuminati was a choice I was actually ok with, if it had actually contributed anything to the story. But it didn't and that left a sour taste in my mouth. Of everything in the film, this was actually my least favorite part and it shouldn't be that way.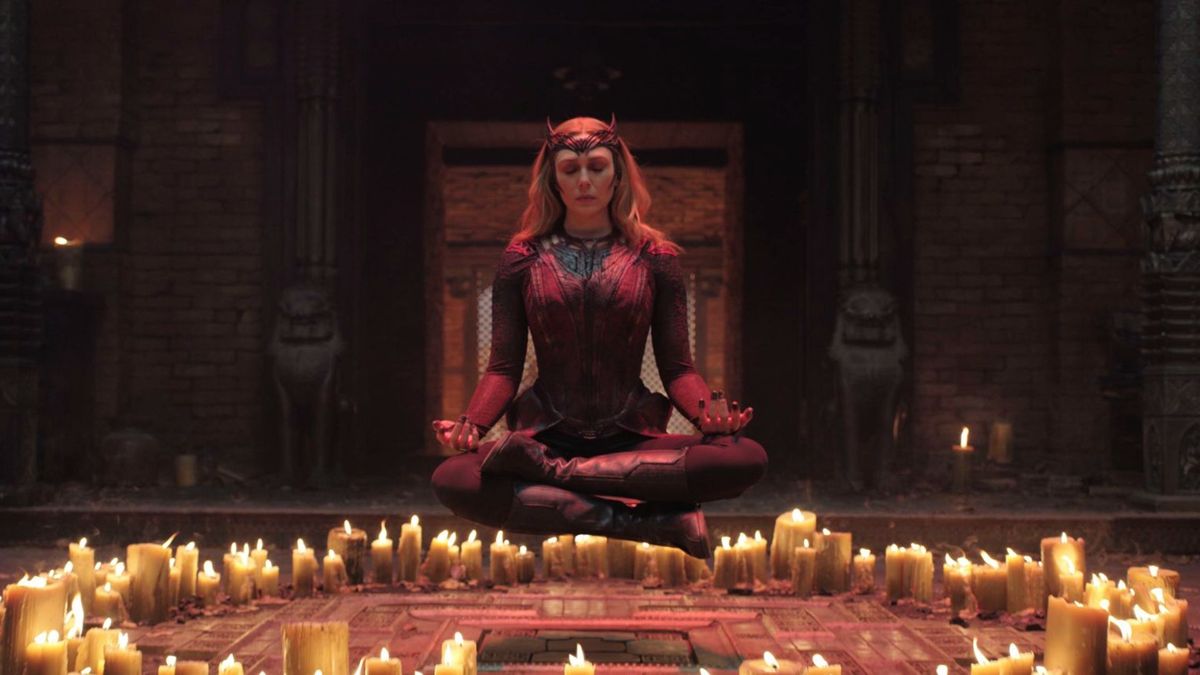 The 'death' of Wanda also kind of rubs me the wrong way. I really like that redemption arc she has at the end of the film, and really respect the decisions that she makes to free herself from the pain and suffering she was under, but this was a Loki level death. She will definitely be back without any doubt and that takes away the emotion a little bit. Love the decisions, but again it's the execution and the out-of-film knowledge that we have that ruin that emotion.
FINAL: Doctor Strange in the Multiverse of Madness is a film with a lot of really good features including the absolutely brutal horror direction by Sam Raimi and some stellar performances from Cumberbatch and Olsen. The writing is excellent with a really nice exploration of grief and the pursuit of happiness. The area where this film fails is in the cameo sequences and the handling of emotion at the end. If these areas were handled differently, this could have been one of the arguably best films in the Marvel Cinematic Universe. Still very good, but just not elite.
Point Breakdown:
15 for Writing: 12
15 for Performances: 13
10 for Entertainment: 10
10 for Direction: 9
10 for Emotions: 7
5 for Cinematography: 5
5 for Score: 4
5 for Pacing: 5
15 for Technical: 13
5 for Rewatchability: 4
5 for Automatic: 5
Doctor Strange in the Multiverse of Madness: 87/100

Jack Lautaret is a Banana Meter approved film critic and Host of the Jack Lautaret YouTube Channel. He is a member of the Online Film and Television Association. Twitter: @JackLautaret