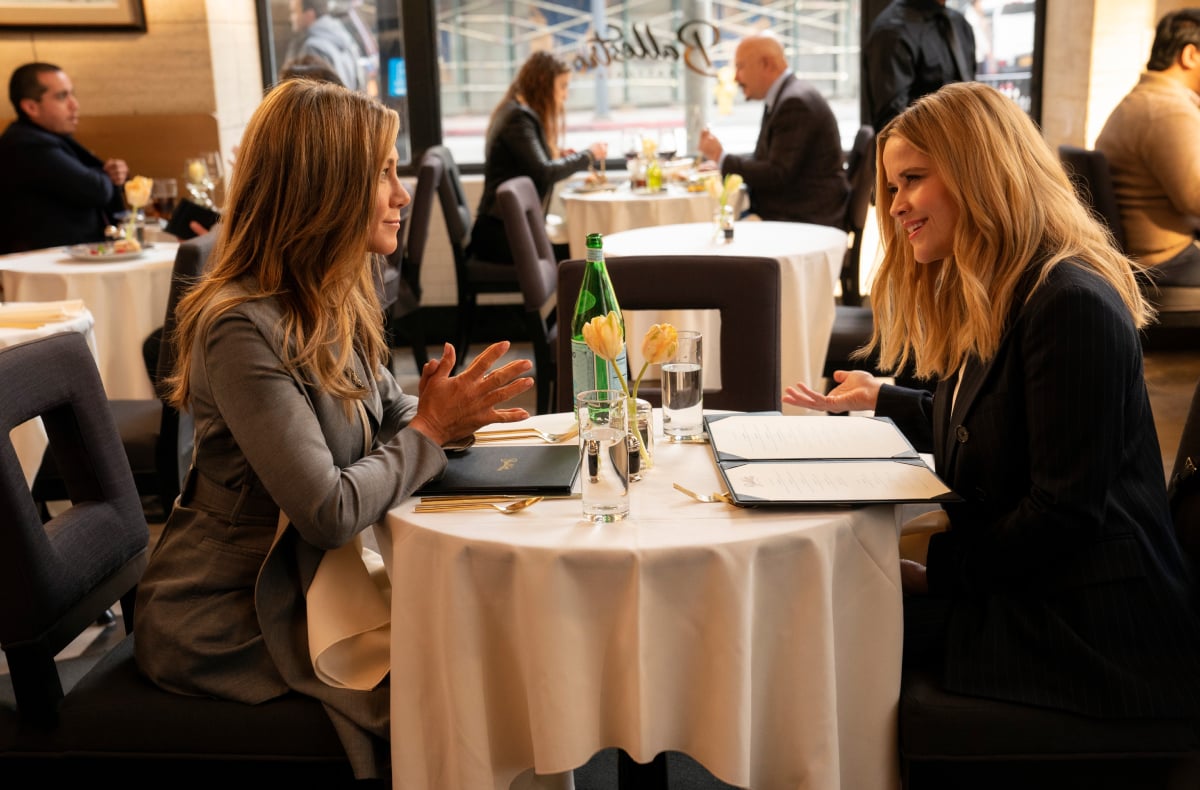 "Well then, I guess I should apologize to you! Where are my manners!"—Bradley
We pick up where last week left off. Alex (Jennifer Aniston) is home and shattered. She looks at the letter Mitch wrote for her—the one that would absolve her of the truth to be revealed in Maggie Brener's (Marcia Gay Harden) forthcoming book—and puts it in a drawer. She won't sully Mitch's (Steve Carrell) memory by using the lie she forced him to tell.
Bradley (Reese Witherspoon) has her own problems. Hal (Joe Tippett) is repentant when he wakes up but Bradley is still frustrated. She wants to make a clean break but she can't give up on her brother—especially when he agrees to go to rehab. She agrees to pay for it and take him there.
Alex heads into the station with Doug (Will Arnett) in tow. She meets with Cory (Billy Crudup) and Stella (Gretta Lee) and says she's quitting. She offers to return the money and plans to leave on March 16, the day before Maggie's book. Alex knows what's in it and she knows what that means. Cory protests and tries to convince Alex to fight but she's resigned to what's going to happen. She's committed to giving her best for a couple weeks and fading into obscurity. She knows she's about to be cancelled.
Alex heads to the studio to mend fences with Bradley. Bradley wants to deepen her friendship with Alex, who appreciates the gesture but suggests it would be better for Bradley's future if she kept her distance. Meanwhile Paige (Embeth Davidtz) arrives at the station to ask, as a mother, if any of Mitch's former colleagues will attend his memorial service, set for a week from Monday. It's a frosty reception, especially when she locks eyes on Alex.
While Bradley takes Hal to rehab, Alex returns to host with Laura (Juliana Margulies). They bond on air and after the show Alex makes peace with Laura. She accepts blame for the fracture in their relationship and says she'll do better. Laura seems both surprised and moved by the gesture.
Alex's attempts to smooth things over with Chip don't land quite as well. He's doing his job—until she finds another producer—but their relationship seems changed. Last week's rage has yet to subside.
Bradley, meanwhile, has her own problems. She arrives at rehab but when she tells Hal she plans to make a clean break despite his work to get better, it leads to a blowout. Bradley is shaken but hardly has time to dwell. Cory has arranged for Bradley to interview Maggie Brener, which means Bradley gets to read an advance copy of the book. It doesn't take long for Bradley to realize how it makes Alex look and why Alex urged her to keep her distance.
At the memorial for Mitch, it's a mixed bag. Paola (Valeria Golino) is in attendance thanks to Alex, who intends to make good on the promise to open doors for her. Perhaps the most interesting remarks come from Dick Lundy (Martin Short). But, before long, Alex arrives. She makes a short and quick speech, sharing the changed Mitch she found in Italy and offering an apology to his family and Paige.
It's time for Bradley's interview, which is on in Prime Time live when Alex arrives home. She clicks it on and prepares to be roasted. Instead, Bradley shrewdly turns the tables on Maggie Brener, revealing the book to be the hit job on Alex it appears to be. Alex turns to social media and the support comes pouring in.
At home, Laura presses Bradley about why she sprung to Alex's defense. Bradley says it was about the truth, but it's clear she cares about Alex. She and Laura have never been in a better place, with Laura even inviting Bradley to visit her in Montana—where she's retreating to avoid COVID. But just as all seems right for Bradley her doorman delivers and envelope of cash. She knows it's from Hal and she knows something isn't right.
Alex, meanwhile, awakens in the middle of the night to see the Internet has turned against her. She discovers a video of her speech at the memorial has leaked and, like that, she's lost the good will of the people again. In a daze, she stumbles and falls, getting a concussion and waking up in the hospital to learn she's tested positive for COVID. That sets the stage for an epic finale!
Odds and Ends
In a side story worked into everything, Yanko (Nestor Carbonell) is enjoying a little street food while he's on leave. There he runs across Claire (Bel Powley). They catch up and the spark is still there—until she learns that Yanko plans to attend the memorial for Mitch. They argue and it comes out that Claire is the one funding the lawsuit for Hannah's father (David Paymer). This will surely come up again, but for now it feels like a piece of the puzzle dropped in the middle of a hurricane.
Episode MVP
I'm going with Bradley. This season has been about her making the tough decisions, realize who she is and what she wants and acting. Her interview with Maggie Brener was a stroke of genius and a powerful moment that showcased just how far Bradley has come and just how much she cares about her friends.
Episode Grade: A-
That's a wrap on Testimony. Check back next week for the season finale, Fever!
Matthew Fox is a graduate of the Radio, Television and Film program at Biola University, and a giant nerd. He spends his free time watching movies, TV, and obsessing about football. He is a member of the FSWA. You can find him @knighthawk7734 on Twitter and as co-host of the Fantasy Football Roundtable Podcast.