I Know What You Did Last Summer the series is coming to Amazon Prime starting on October 15. The first four episodes will drop and a new one every week after. Today, I reviewed the pilot of the series.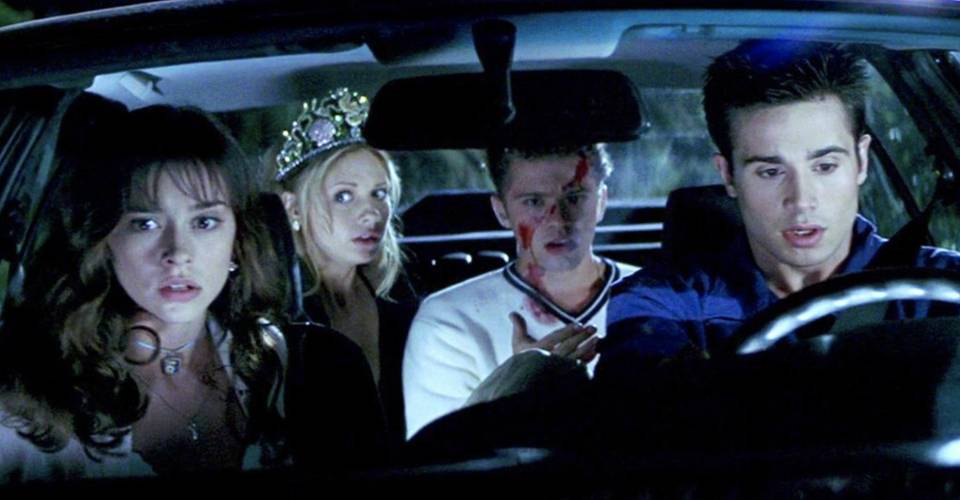 Honestly, I was scared to watch this because I LOVED the original movie. It was uniquely different at its time, and many years later, it still holds up. Also, the original cast was loaded, Sarah Michelle Gellar, Jennifer Love-Hewitt, Freddy Prince Jr. and Ryan Phillipe. But, I have hope, hope since the original creators are involved, so here we go.
We open with a mystery, introducing our lead, Allie (Madison Iseman), who seems a bit uneasy at any sudden movement. However, she is back home for the summer and her family is excited to see her, but she knows that she has to face whatever happened. Graduation party is happening and we see Allie reunited with everyone and she is not thrilled.
Sidebar: I think it was insane for being a party hosted by parents. There was a ton of drugs at it. Well, on second thought, maybe that's why there are good drugs at it.
Allie and her sister have an interesting relationship, where she is basically slut-shaming her into trying to have sex with her boyfriend. She also releases that she slept with her lifelong crush, great sister, yikes.
The crew gets in the car, and well, you know the rest is history. They follow the identical sequences from the original movie here, which I am more than OK with. However, it still brings back my initial thoughts of what I would have done in the same scenario.
It was a very good introduction to the characters, including an outstanding performance from Madison Iseman, tossing in the origin story that brought back good memories. We have ourselves a fun pilot that I can't wait to watch more unfold.
The Verdict: B+
Plot: In a town full of secrets, a group of teenagers are stalked by a mysterious killer a year after a fatal accident on their graduation night.