"I believe this could be something very special."—Sam
There has been a lot going on in the world of Ted Lasso and much of it came to a head in Man City, the season's eighth episode. It was a profound and emotional episode that was one of the season's best. Let's dive in.
We pick up as Richmond is on the cusp of a huge match in Wembley Stadium against Manchester City, who is heavily favored. But that's far from the only thing going on. As we begin, Sharon (Sarah Niles) is doing her own therapy and naturally talking about her struggle to connect with Ted (Jason Sudeikis). Her therapist suggests Sharon and Ted are more alike emotionally than she'd like to admit, urging her to open up a little and get the dialogue going. As she rides in for the morning on her bike, she collides with a car. Before the opening credits we're already on edge. But, never fear, Sharon is fine, as it turns out.
While Ted goes to get Sharon from the hospital, Roy (Brett Goldstein) and Coach Beard (Brendan Hunt) have found a mutual admiration, much to the dismay of Nathan (Nick Mohammed). Roy is set to lead training when he gets a call and has to disappear. Instead, Nathan is set to lead while the guys are in the weight room.
Both Jamie (Phil Dunster) and Sam (Toheeb Jimoh) get calls from their father. Jamie declines his, worried about another disastrous interaction. Sam answers and learns that the oil company he's fought against is leaving his homeland of Nigeria. Inspired, he again asks his online crush out on a date. This time, Rebecca (Hannah Waddingham) agrees, setting up a meeting. Sam is over-the-moon, so much so that he asks Isaac (Kola Bokinni) for a haircut. The table is set for a big week in the world of Ted Lasso.
Ted and Sharon
Sharon isn't thrilled Ted is the one to meet her at the hospital and escort her home. When in her personal space, she clearly isn't comfortable seeing Ted. Yet, he persists in calling to check on her since she has a concussion. During that call, Sharon decides to take a step, sharing with Ted how she feels in the wake of her accident. She allows Ted a peek behind her wall and it clearly resonates with him. More on that in a minute.
A Foul Issue
As Roy responds to a call from Phoebe's (Elodie Blomfield) school where he learns she's been disciplined for swearing, and not for the first time. It doesn't take long for Roy to realize his impact on Phoebe's vocabulary, which causes him to take a hard look in the mirror. This one hit home for me as I, too, have wondered about whether I'm a bit too loose with the profanity at times. Roy urges Phoebe to find a better means of expression, sharing with her his fears that he isn't a good role model. She assures him her life is better because of Uncle Roy, but it was clearly something that Roy is continuing to chew on.
A First Date
Rebecca and Sam both arrive at the restaurant and are both surprised to see each other. After some casual chatting, both settle in to await their blind date. When the dawning realization comes that it's each other, Rebecca immediately tries to put a stop to it. She's his boss and much older, it would never work. But the two agree to stay and share a meal and it's clear the chemistry is palpable. All those nights spent pouring their heart out over text meant something. Yet, at the end of the night after a big kiss, Rebecca says it has to end. She dashes into the house and leaves Sam to wander home. But, that's hardly the end.
Game Day
Despite all on their collective plates, the team has to rally for a game. It begins in a good spot as Ted comes clean to Roy, Nate, Coach Beard and Higgins (Jeremy Swift) about the real reason he left the sidelines in the previous match. In turn, each of the four share a difficult secret of their own. It brings them all together, endowing Ted with newfound confidence.
That doesn't translate to the game, where Richmond is crushed by Man City. In the aftermath, Jamie's father (Kieran O'Brien). He mocks Jamie and the team and when Jamie won't come to heel, his father shoves him. Jamie responds with his fists, knocking his father to the ground as the team looks on. While Coach Beard escort's Jamie's father out of the Locker Room, Jamie stands there shattered. Seeing Jamie broken and alone, Roy walks straight up and gives him a hug. It was, honestly, one of the most beautiful and touching scenes in the show to date.
Meanwhile, the whole scene shakes Ted. He dashes outside and calls Sharon—finally revealing that his own father killed himself when Ted was 16. It's the opening they both need to begin the healing journey. That will come in the future, but for now Ted's taken the first step and offered a peek behind his own wall.
Later that night, Rebecca is at home when she sees Sam's post-game interview. Moved, she rushes to the door to go and find him only to discover he's on her doorstep waiting. The two embrace as the music soars and the screen fades. Is it true love? That, too, will wait for another day.
Episode Grade: A-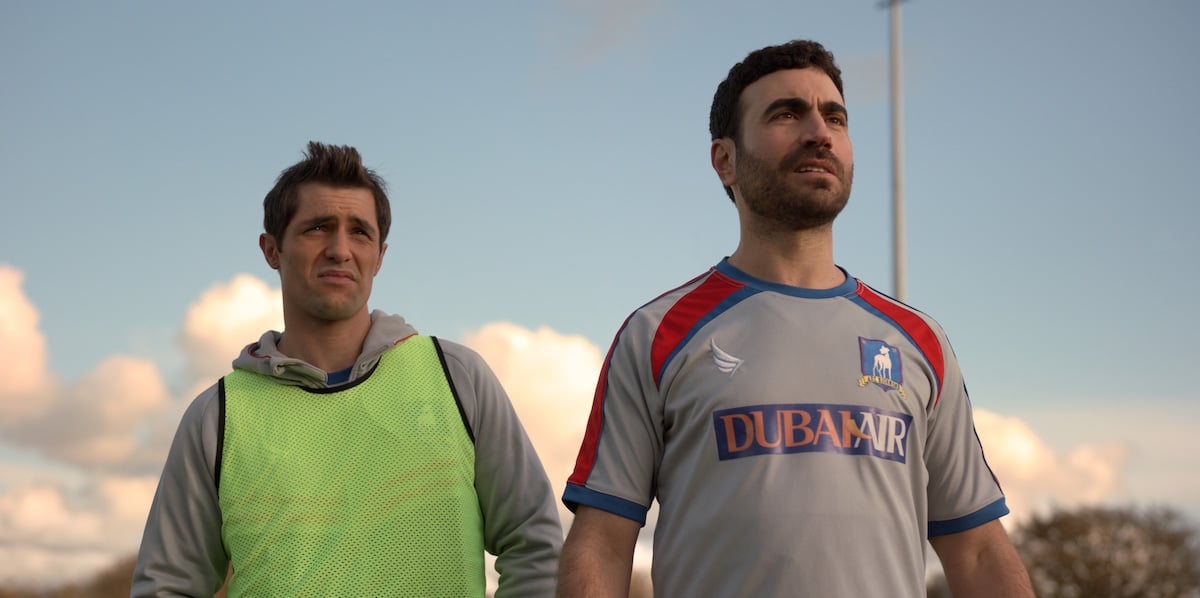 Best Scene
This one's easy for me, it's the Locker Room after the game. Jamie's confrontation with his father has been a long time in coming, and the emotion of that scene was palpable. It was also beautiful to see Roy respond to a brother in need.
Pop Culture References
This one didn't have as many as some but it made them count.
Screen Stories: Ted shared his love of Grey's Anatomy and referenced Sling Blade, West Side Story and The Wizard of Oz.
People and Places: We got shout outs of Steven Sondheim, Kyrie Irving, Liev Schreiber, Queen and Live Aide.
Episode MVP
It's Roy Kent. This has been an incredible season for Roy, who might be might favorite character on the show. Between his touching scenes with Phoebe and his support of Jamie, Roy showed his character.
That's a wrap on Man City, but check back next week for Episode 9 of the second season!
Matthew Fox is a graduate of the Radio, Television and Film program at Biola University, and a giant nerd. He spends his free time watching movies, TV, and obsessing about football. He is a member of the FSWA. You can find him @knighthawk7734 on Twitter and as co-host of the Fantasy Football Roundtable Podcast.