Auction drafts are amazing.
I try to do several auctions each year. My home league is an in-person auction draft. I auctioneer a draft every season for a great group of guys that have been running the league for like 30 years. I also get in the here and there online auction, or as ESPN calls it, salary cap draft.
I've got a thought process behind in-person drafts. Auctions are better held in person. There is a lot of information you can get from your opponents during the draft. You can drive up players value much more easily, or down if the mood suits you. It's also just a great time to hang out with friends for a few hours and trash talk.
It's not very often you can gather that many people together for a six hour chunk. Not in today's fast paced world. I might only see some of the guys from my league during the draft over the course of the year. I like these guys, but life happens and making time is not as easy as it sounds. But come draft day, it's like we've never lost touch. We're back in the saddle for another run at fantasy football immortality.
I've found that being in-person for a snake draft is far less satisfying. For one, the time it takes is significantly less. Getting some of that trash talk going can be difficult as there is no bidding, just "I get this guy" and time to move on. Making fun of guys for bad picks can be fun, but it just isn't the same as bidding someone up to $7 for a kicker because you know it's his guy.
Don't get me wrong. I participate in dozens of snake drafts every season. Dropping into a draft lobby online is pretty great. It's a lot of fun planning who you want to draft from a certain spot, and most of the leagues I'm in don't give you your position until the draft lobby opens. This means you have to be prepared for anything.
I don't mock draft or anything like that. I typically just keep a close eye on the queue so I know who I want when it comes time for my pick. I feel it keeps me more in tune with my roster (whatever that means.) I can pivot away from a strategy much quicker when I really don't have one!
Snake drafts just don't do it for me the way an auction draft does. You can build your team any way you want in an auction, as long as you have the bidding chops to do it. Do you run heavy on those running backs thrown out early and go studs and duds? Do you try to go zero RB and pound away at your top end recievers right off the bat? Maybe it's Mahomes or Kelce you think is going to be worth the big bucks this season. However you want to play it, every player has the same opporrtunities at the same players.
Auctions add difficulty to the draft as well. Having to ration your funds to make sure you are getting all the players you want, or at least being able to have someone that might get into a game when you need them is a much bigger challenge than just waiting for your turn.
I've never liked coming into a draft with a "I can spend this on QB and this on RB" type of plan. Every season, I'm bidding someone up and all of a sudden everyone gets quiet. This year, that player was Kyler Murray. I definitely didn't overpay for him, but I had other QBs in mind at a much lower ticket and had to start from scratch after my first guy was someone more expensive than I had planned. By a lot actually. My team finished out pretty well, and with a couple breaks I'm gonna win it all. At least that's what I'm hoping for. That way I get to walk into next year's draft with my championship ring and a big batch of swagger.
Win or lose, I'm already looking forward to draft season next year. Hopefully I'll find some more auction leagues.
Without further ado, here is your News or Noise!
Kenny Golladay Becomes An Elite Receiver In New York
I really don't love saying this, but I'm pretty sure this is noise.
Golladay showed flashes of brilliance during his time in Detroit playing with Matthew Stafford including a superb 2019 where he had 65 catches for 1,190 yards and 11 touchdowns. He came back down to Earth a bit last season due to only playing five games, but didn't impress in those games. He's missed 17 games over the prior four seasons. That's not very dependable if I'm being quite frank.
There's also the downgrade at quarterback to discuss. While the Giants believe (kinda, maybe, perhaps?) in Daniel Jones, I don't. He's a servicable QB that falls down when running in the open field. If you don't know what I'm talking about, check this out. Jones TD/INT split last year? 11 TDs 10 INTs. In his two seasons in the league, he has 29 fumbles over 27 games. When your QB drops the ball more than once a game, your prospects of blowing the top off the defense gets reduced.
Stafford wasn't the best quarterback in the league, but has posted a QBR in the mid to high 90s five of the past six seasons. Stafford and Golladay were both purged by the Lions in their attempt to tank for…well I'm not sure, but they're definitely gonna stink. That broke up what could have been an epic match as there were points that Kenny G was called "Babytron" by the Lions faithful, referencing the Lions' greatest receiver of all time, Calvin Johnson. High praise for anyone, but it looked like he was going to live up to the hype for a couple seasons.
Back to the Giants. They don't have a great line, which will hurt on developing routes. Kenny was hurt in the pre-season so he hasn't built rapport with Jones yet. They'll have Saquon back at some capacity, but he's not going to be full go right off the bat either, throwing another wrinkle into a developing offense.
There's a lot going on in MetLife Stadium right now, and not much of it is good. There are too many ifs for me to have any faith in Golladay this season. With his talent, there is always the possibility that he could prove me wrong and I would love that. With him already spending time on the sidelines this season and everything else I've mentioned, I just don't think it's going to happen.
I've faded him in all my drafts and I think that was the smart move. He just doesn't have the potential I need to see. I think he finishes with a couple good weeks, a bunch of ok weeks, and some time on the sidelines nursing some sort of injury.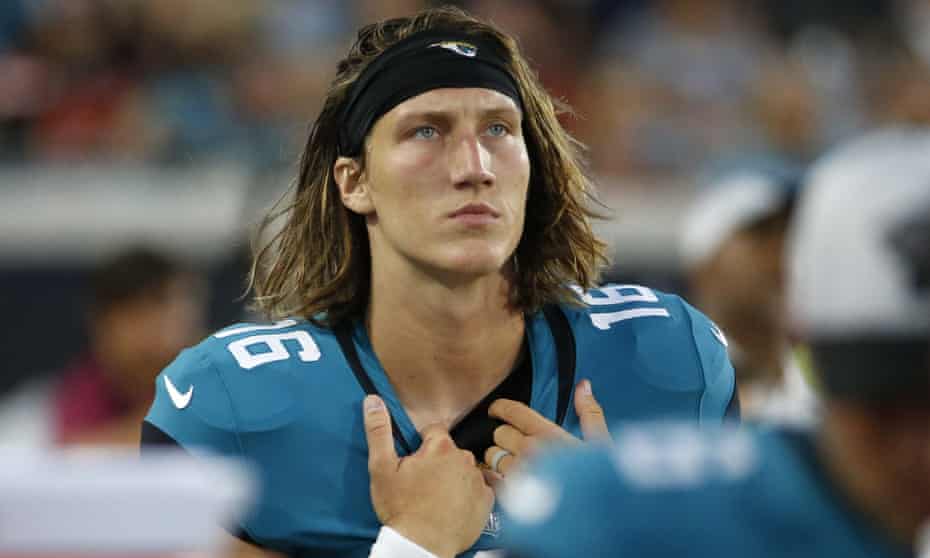 Trevor Lawrence Is This Year's Offensive Rookie Of The Year
I'm going with the field on this one and declaring it noise.
There are just too many studs on offense this season. Someone always pops that is unsuspected. For every Cam Newton, you have an Eddie Lacy. For every Kyler Murray, you have a Justin Herbert. TLaw has a great cast around him. He did lose what was predicted to be a focal point out of the backfield in Travis Etienne, but with Laviska Shenault, DJ Chark and Marvin Jones III, he has plenty of weapons. There isn't much there at tight end but beggars can't be choosers.
I think there will be a push to run the ball this season to take a lot of the pressure off of Lawrence as he acclimates to NFL game speed. Even Peyton Manning sucked his rookie season, so this is not taking anything away from the kid's future. For all intents and purposes I see him as being a star. I just think someone else is going to pop this year and take some of the spotlight off of him. That could even be a good thing, giving him a chance to grow into the role without having to carry the hopes of the NFL on your back.
I'm intrigued by a couple other names. Mac Jones running Newton out of town makes that spot interesting. If Mac can turn that collection of have-nots and never-weres into a smoothly running offense and get some good wins on the board, he has a real chance to grab the hardware. Then again, it's going to be hard to overcome that lack of receiving talent on a run first team and making it into the OROTY conversation.
Trey Lance/Justin Fields both look might interesting in this category. Both have legs on them. My guy, Trey Lance, is going to be on a very good team which always helps pull the eyes of the voters. Fields will propbably get on the field consistently sooner though. Either of these guys need to hit the field ASAP in order to get into this conversation, but once there, they could definitely take down this award.
Najee Harris has an outside shot. As most of the offensive whatever of the year awards typically go to QBs, it would take a strong showing to get him the award. Definitely believe he is going to have a strong showing. The line in Pittsburgh is pretty bad though and he might just not get to where he needs to be in order to be in this conversation.
Even Kyle Pitts has a shot at it. While he is definitely on the outside looking in at this one, with a dazzling season that he is most definitely capable of, he could vault himself right into the conversation. When was the last time a rookie tight end won the rookie of the year vote? Never. Could Pitts be the first? Absolutely, but he would have to go OFF.
Lawrence is the front runner in many people's books, but not in mine. There are just too many variables. I'm personally pulling for Lance. If he provides that type of season, it means great things for my 49ers.
Le'Veon Bell Is Worth A Waiver Wire Bid
I'm a Bell truther so I'm obviously going news here.
This is the most opportunity that he has had over the past few seasons. The Jets were never a good fit. The coaches didn't want him there and showed it in their game scripting. Bell then went to KC and while he wasn't amazing, he had some super deep league appeal. But second man in on a pass happy
Cue this season. Bell sat unsigned until this week. I had already started dumping shares of Bell left and right for younger, more upside players. It's really a shame as even if he isn't good, he's going to get the ball. For a fantasy football player it is generally a good thing to be guaranteed touches. This counts especially for running backs as there aren't as many unrostered guys out there that have such a clear path towards relevancy.
Depending on how deep your league is, I think Bell should be picked up almost everywhere. Maybe not in 10-team leagues or below, as there is probably a little meat left on the bone to pick at and a later waiver bid should get him assuming opportunity equals production. In a 12-team league, I say go for it. That is unless your running back room is stacked.
In dynasty leagues, I'm loving him. Not for the long term potential. For the fact you will have that guy on your roster that can be parted with without much fanfare. A guy that probably will be there later in the season for you to pick back up. Get after him and you have a potential bye week guy depending on how deep your starting line ups are.
The way I'm looking at this is through rose colored glasses for sure. I've always liked Bell. A lot of people don't, and I get it. I think their dislike for the guy clouds their prediction of how he performs this season. The same thing happened with Bell's old teammate, Antonio Brown, until he showed he had plenty left in the tank.
Do I think Bell has the type of season Brown is about to? No. Brown is a flex starter type of guy and my thoughts on him is coming soon enough. Probably just down the page a bit. Bell is going to be featured in any games that Edwards doesn't play in. While that doesn't provide for incredible enthusiasm by all at the moment, by the time it happens I could see some potential excitement for his owners. Again, opportunity trumps talent and I feel Bell is going to get plenty of opportunity this season.
Matt Ryan Finishes The Season Inside The Top 15 At QB
Noise. Just noise.
Matt Ryan is a pretty consistent QB. He tends to finish as a fringe starter in 12-team leagues. Last season, Ryan threw for 4,581 yards and had a TD/INT ratio of 26:11. These are decent numbers but not mind blowing by any means. Here is what is keeping Ryan out of my top 12 this season; he doesn't rush the ball. He only had 92 rushing yards and two TDs last season.
Ryan has transitioned into a run first offense. I feel this is going to be a big deal for his fantasy positioning. As Ryan doesn't run the ball, and the Falcons are going to run the ball, that means less opportunities for Ryan to get into a groove in the air. Less throws without being able to make up those points on the ground is not a recipe for fantasy success.
His No. 1 target is no longer Julio Jones. Let's talk about this for a sec. Julio is one of the greatest receivers of all time. His ability to go get the ball wherever Ryan put it was tremendous. Ryan is going to miss him for sure. The depth with moving Ridley into the one spot is spotty at best. Russell Gage and Olamide Zaccheaus are not exactly world beaters out here. There's no one with any kind of buzz, at all, behind these guys. Nothing.
Kyle Pitts you say? First year tight ends, even the really good ones often have soft first seasons. Tony Gonzalez had a 33-368-2 line. Kelce dressed for one game but never got in and then his season was cut short by injury. Kittle's line was 43-515-2. Antonio Gates? 24-389-2. It took Shannon Sharpe three years to really crack the lineup. I can keep going, but you probably get the point. I don't expect huge production out of him right off the bat.
Ryan finished as QB12 last season, right at the end of the line-up for starting QBs. With up and comers like Burrow, Hurts, Lawrence, Fields, and Lance, there is going to be a lot of competition for those QB1 spots. Add in Stafford and Fitzpatrick moving into excellent situations which could easily put them ahead as well and you've got Ryan closer to QB 20 than QB 12. I'm very confident Ryan doesn't crack the Top 15. I'm pretty sure he won't be Top 18.
Antonio Brown Leads The Bucs In Receiving Yards This Season
I'm laying down a hot take here and am going with news.
Coach Bruce Arians is excited. They got Brown for pennies on the dollar last season and he performed well for a Super Bowl winning team. This season Arians was quoted as saying he was seeing vintage Brown out there. The best he's looked in four or five years. This does not bode well for the Bucs' opponents this year.
Having Mike Evans and Chris Godwin (as well as an older but still involved Gronkowski) limits your upside somewhat as those guys are going to feast again. Evans is a huge over the top player with incredible physical gifts and the talent to boot. Godwin is a great receiver in his own right, going for over 800 yards and seven TDs last season. This doesn't seem like it allows Brown many targets, but I don't think that paints the whole picture.
Brown came in after an eight game suspension last season and supplied a 45-483-4 season. He transitioned to a new offense, missed all that time and opportunity to gel with the rest of the team, and was third on the depth chart for receivers. He still would have put up over 900 yards and 8 TDs if you extrapolate the data. That's pretty darn good for a third/fourth option in a stacked offensive line-up.
This year Brown has had a whole offseason to blend into the offense. He's gotten most if not all of his legal problems behind him. He could actually devote his time to football and it showed in camp. Repeating those glory days in Pittsburgh might not be a possibility, but this guy has still got plenty in the tank.
His relationship with Tom Brady really helps his chances. Brady let the mercurial receiver move in with him at one point. They lived together. This isn't one of those situations where a college QB and a skill position player room together in college (I'm looking at you Andrew Luck and Jack Doyle). This is one of the most cerebral quarterbacks in history. He practices routes with anyone who will play with him in the backyard. You think they never hooked up while he lived there? Brady was pounding the playbook into his head.
The amount of information Brady was able to share was paramount in the success showed by Brown last season. With this whole offseason to bake Brown into the offense, to get him working with not only Brady, but the whole system on a consistent basis. With defenses not able to guard everyone (I'm still going to include Gronk here as there are going to be a lot of targets spread around), and the pretense of a run game, the Buccaneers offense looks unstoppable. Again.
Brady is going to be cooking this season and he has shown he loves Brown. I'm not saying Brown gets the most TDs. I expect Evans to get that as he is the most dominating red zone receiver on the team. Godwin will still have a very good season as he is very talented as well. Gronk will get enough work to justify him being out there but is no longer the force he once was by any stretch of the word. I have Brown getting the most looks, and thus the most yards.
Looking for a lineup question to be answered? Got offered a trade you're just not sure on? Think fantasy football is neat and want someone to talk to about it? Get in touch with me @IHeartCaravans on Twitter, Medium, and the Fantasy Life App. Hope to hear from you soon!