I think I have too many fantasy football teams.
To be more accurate, I KNOW I have too many fantasy football teams. For the past few seasons, I've been rolling about 40 teams deep. I know, I know, it's a problem. I can't treat any single team with the regard that it deserves. I find a way though, and most of my dynasty teams are in a good position to either win now or have a solid chance next year to win. Well that's if J.K. Dobbins and Travis Etienne come back healthy, but that's a story for another intro.
I love to draft. I get in so many leagues because I'm just offered the opportunity to draft them. Draft day is like Christmas, you get to build a team the way you want to. At this point in the season, you're probably just running out redrafts as that's where I've been for the past few years. This season has changed for me. I've dove into bestball.
Bestball is a format perfect for those of us who really don't have the time to manage ANOTHER team but still have that craving to draft. The way it shakes out is you have a deeper roster than usual and it begins like your standard redraft league. The strategy differs when drafting though, as the way the game is played is significantly different. See if you can follow me here.
You are drafting high upside plays. Bestball rosters are locked after the draft. No waivers or pick ups, no switching people in or out, no worrying about who is going to go off this week. It's got everything covered for you. Bestball makes all the decisions for you. A starting position set is established. It can be anything–two QB, two tight end, you could even go five RB if you wanted. Once you have your league is setup in their positions and scoring, everything gets simple. You run through your draft and when you're done you forget about it and only need to check it to see how you performed. The system maximizes your lineup so you get the best scoring available. If the guy you drafted in the 31st round is one of your top scorers, they're automatically inserted into the lineup. It's like you set your perfect lineup every week.
The benefit to this is pretty obvious. You get to do the draft, which is the best part of the year, then sit back and watch it play out. A perfect perspective on how your draft actually went as opposed to getting to tweak your team as you go. I'm talking to you James Robinson owners from last season.
I cut several leagues this season to try and get under 40, and I succeeded until I got offered spots in some best ball leagues. My team count will probably be over 45 this season, but I'm only going to have to worry about waivers, trades and lineups in about 35 of them. I've been drafting pretty much constantly since the middle of July, sometimes three and four teams at a time. I've been digging into my roster, making trades, hitting the waiver wire and making decisions as far as win now or go for assets.
I've been having a blast and I hope to be winning all of my best ball leagues as my drafts have all gone very well. Of course I'll bring my results to the table at the end of the fantasy season, as well as what strategy I used, why I picked certain players, and what paid off for me in the end.
We have a lot of football between now and then. You probably have several drafts coming up over the holiday weekend, maybe all the way up to Wednesday or even Thursday morning for those that like cutting it close. I want to wish you good luck in all of them and first and foremost, HAVE FUN. In the words of Michael Berry, "You can't win a league in your draft, but you can lose one." Unless it's bestball Berry, unless it's bestball.
Without further ado, here is your News or Noise!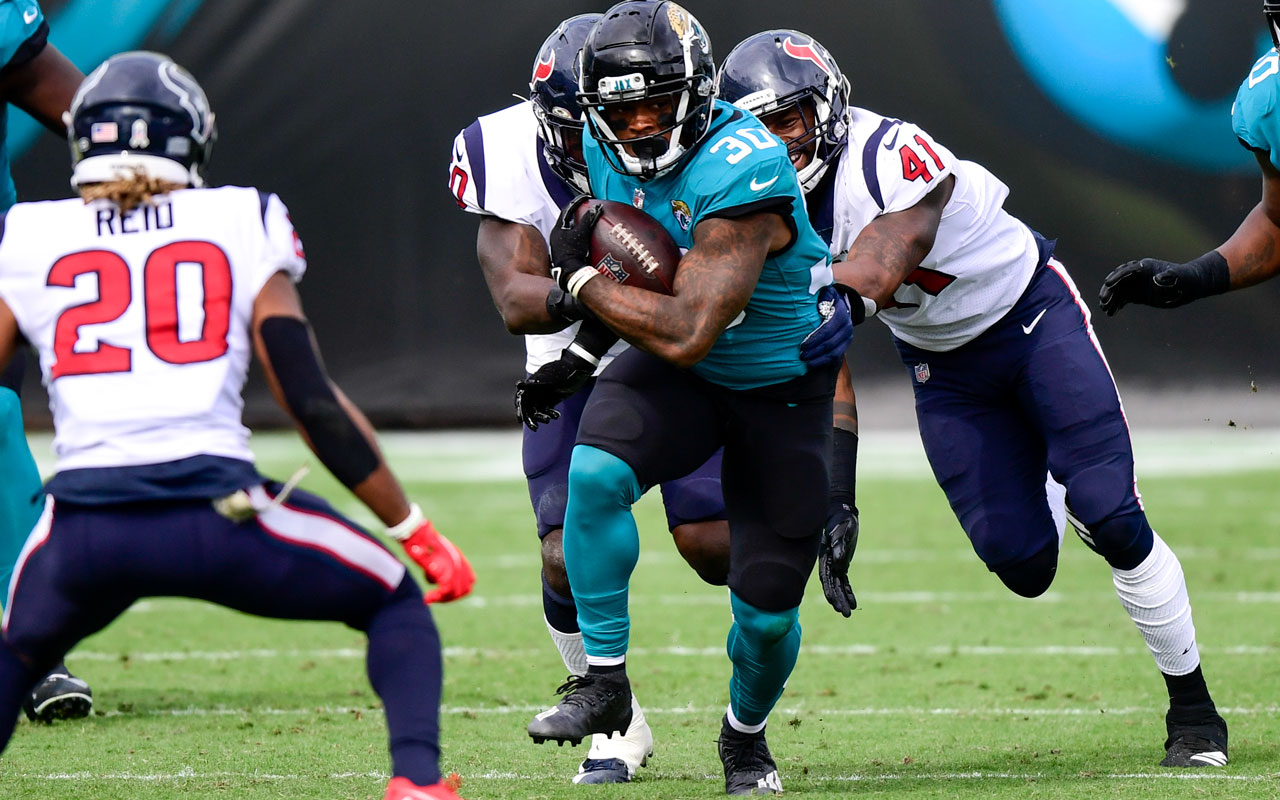 James Robinson Will Be A Top 12 Running Back This Season
I'm going to call this noise. Even with the injury to Etienne, I don't think Robinson replicates his season from last year. Robinson had 240 rushing attempts go for 1,070 yards and seven touchdowns. That's an average of 4.5 yards a tote, which is decent but not blowing anyone's mind. He also added 49 receptions for 344 yards and three touchdowns. He averaged seven yards per catch and with his longest catch being for 28 yards, there wasn't a long run to skew the average. Pretty good for an RB.
There are a few reasons I don't believe Robinson is an RB1 this season. There is a new system and no one knows if it will work. There are quite a few examples of amazing college coaches moving to the NFL and not having a positive impact. Will Urban Meyer buck that trend? Potentially, but with a rookie signal caller (even if he's the best prospect since Andrew Luck, or so people say) and a bad defense, they are going to be in some spots where running the ball isn't going to be a real option.
The Jags also acquired a guy Urban is very familiar with at the running back position. The Carlos Hyde signing went mostly under the radar as an afterthought to the drafting of Etienne and the expectation that Robinson would be getting the totes and Etienne everything else, with some running volume as well. With Etienne being gone for the season with a Lisfranc injury, Hyde is now a vital piece of the Jags offense.
While Hyde hasn't exactly wowed the world over the past few years, he's still got some juice left in the tank. He's going to get enough work to frustrate Robinson owners. Maybe not as much as Etienne would have gotten. Actually, I can pretty much guarantee he won't get that much work. At the same time, I think his style matches Robinson enough that there isn't going to be a huge decline in talent as they split the carries.
Hyde in 2019 gave you 1,070 yards at a 4.4 ypc clip. He got you six TDs as well. This was a year where the Texans really didn't know where they were going on the ground and didn't have a very good team on either side of the ball (Thanks Bill O'Brien). Last year, he was buried on the Seahawks bench behind their stud RB Chris Carson. I don't see this happening with his former college coach making the decisions. Hyde has shown in the past he CAN catch balls thrown his way, he just hasn't been utilized that way since his days with my 49ers.
Add all that up and you've got vulture potential. I believe Meyer mixes in Hyde more than fantasy owners of Robinson will want leading to a decline in Robinson's performance overall. Running backs often get into a rhythm and constantly subbing out takes them out of that rhythm. This does not bode well for Robinson's fantasy value.
With all this being said, I'm fading Robinson in all formats. I think the consensus is the same as my prognostication as he is going RB15 in standard 10 team PPR drafts on ESPN. Just outside of the Top 12, but ahead of guys like David Montgomery and Carson, both of who I like more. If you factor in that he's going one spot behind Josh Allen and right in the same mix as Terry Maclaurin, Allen Robinson and CeeDee Lamb, I think I'm looking WR or QB if Allen is still available. I've had the opportunity to take Robinson in several redrafts so far this season, and I've left him out there and went zero RB.
The moral of this story, is draft him at your own risk. He's a viable RB2 play but I think he underperforms his draft slot. Maybe even an RB3 with touchdown upside. If he falls to you or you love you some James Robinson, go get him. I respect that and good luck to you. You won't see me with any Robinson shares this season.
Cam Newton Will Play NFL Football Again
Let's keep moving pretty quickly on this one and call it noise. As soon as Cam was signed by the Pats, I knew they were not going to get what they wanted. Sub-par QB play leading them to a middling record, not bad enough to draft a top three QB, not good enough to make it worthwhile to completely design an offense around an aging runner with limited throwing abilities.
My opinion is Belichik held on to Cam through camp to ensure Mac didn't overwork and injure himself. He obviously could not have let the info that Cam was on the chopping block out as that would have made huge ripples in the locker room. Cam is a good locker room presence so he can provide that for a team at this point in his career, but not much else. He has become a gadget guy.
I can't see a team out there that would be willing to take on a Cam that has expectations of being a major piece in their offense. I also don't think Cam is looking to be someone's backup. The guy is a former MVP and stated before he made it to the Pats he wasn't looking to be a backup. The good news here is Cam doesn't need to take a job he doesn't want. The guy has made over $50 million over the years, and that's just in NFL money. He'll be ok.
A lot of times, teams want to bring in a backup who they can either develop or who can work with the starter to make them better. Cam isn't really in the position to do either. His style doesn't translate to hardly any other QBs. The guy is a monster, he can't throw very accurately, and once again, he has to have an offense built for him. This doesn't really translate. He's not offering any competition in camp. He is well past his effective years. The guy is done. I think the consensus around the NFL is the same, and I have to agree with them. Hopefully Cam goes out gracefully into the sunset. I don't think he honestly has much of a choice.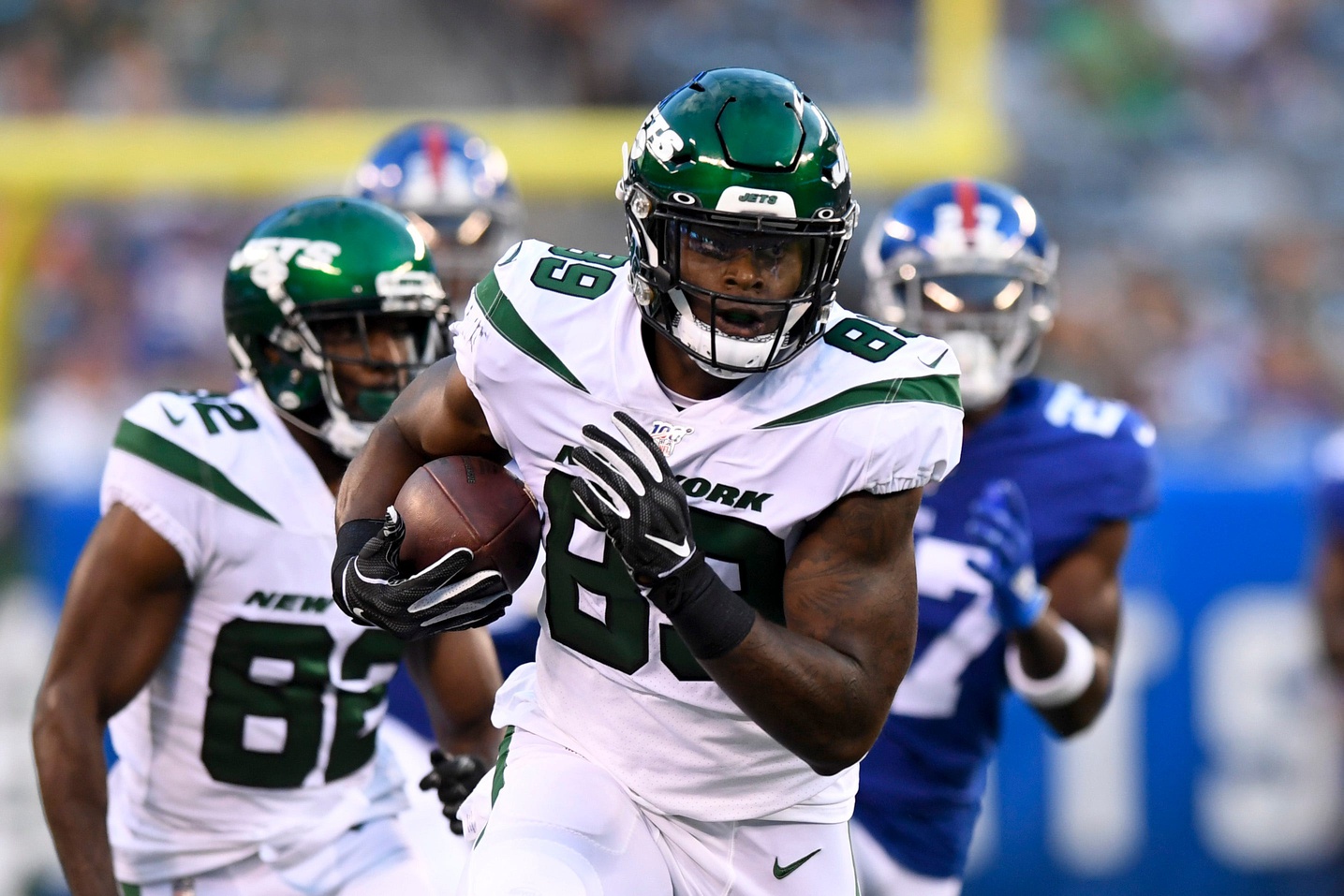 Chris Herndon Is Going To Be Outside Of The Top 20 Tight Ends This Season
News! When the Vikings found out they lost Irv Smith, Jr. for the season, they wanted to pick up another tight end as they were light at the position. They ended up making a deal with the Jets to bring over Herndon to compete with Tyler Conklin for the starting tight end spot. This was by far not the most interesting thing that happened this off-season.
Herndon popped as a rookie in 2018, opening some eyes in his general direction with a 39/502/4 line. There was much hope for him going into 2019, but since that rookie campaign he has been beset by injuries, a suspension, and poor play. What the Vikings saw in him to make them trade a fourth for him and a sixth, I don't really know. Maybe the Adam Gase rule will apply to Herndon. Maybe the NFL actually follows the Adam Gase rule. If they don't, they should.
Conklin is no world beater, as evidenced by the Vikes going for another tight end. He has been with the team for several years and is familiar with the system. He also had a good camp and solid preseason, albeit not one expecting to become the starter. I feel that a fourth round pick for Herndon pushes Conklin out of the starting gig, but that doesn't mean he is a sure thing at all.
Here's another thing in the way of Herndon doing anything of note for the Vikings this season–they have used multiple tight ends in a rotation before. Even with Smith, they trotted out Kyle Rudolph enough to frustrate owners. For them to do that when they had Smith, I'm sure they're not going to throw the full load on either tight end unless one of them absolutely blows up. Neither of these guys really excite me, and in a committee even less. Fantasy relevance on a team that doesn't really go heavy to the tight end, has Justin Jefferson and Adam Thielen as receivers, and let's not forget Dalvin Cook demanding the ball quite a bit, is not going to be there. I don't think this was a good deal for the Vikings in real football, and even less for fantasy. I'm going to avoid in every type of league possible.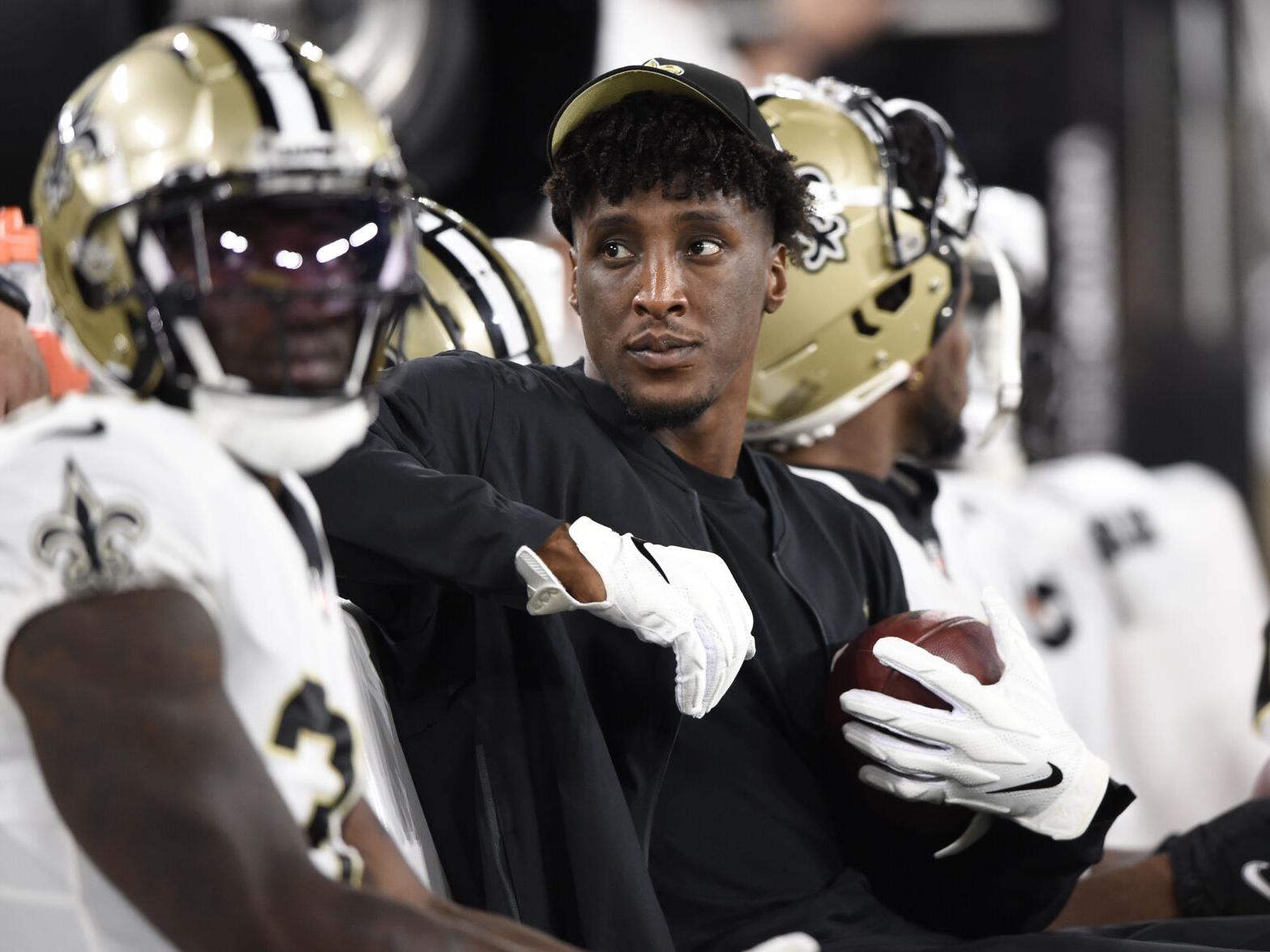 Michael Thomas Will Be A Top 20 WR When He Comes Back From PUP
I truly believe this is noise. Taking Thomas late in a draft in the WR5 area isn't too bad. You could potentially get some value from him towards the meat of the season. There are a few things that worry me though. Let's go through each thing separately so I can try to talk you into this as well.
Thomas has been one of the best wide outs in the league since his time at Ohio State. Drew Brees and Thomas were one of the best tandems in the league for years. Like top five receivers type good. Then came last season. Thomas missed time for a couple of injuries and was largely ineffective while out there. He just didn't look like himself, and barely played on top of that.
Fast forward to this off-season. We came to find out that Thomas had decided to rest an injury the Saints had thought he was getting surgery for. Obviously he didn't heal as he wanted to and had to get the surgery in June. He also went months without answering anyone from the Saints messages. This might have had to do something with the injury, or he could have simply become "mercurial" as typically gets applied to any player that doesn't fall lock step with his team. Personally, I don't think an employee blowing you off for months at a time when he is supposed to be working on a project (surgery/rehab) is a good look, and I'm sure the Saints are in the same realm of thought.
There is not much of a continuum in the offense with Brees retiring in the offseason. Jameis Winston is not looking like a first ballot hall of famer, and never has. I am still loving his 30/30 season two years ago, but more for a weird statistical aside than anything significant. He will spread the ball around, and obviously isn't afraid to chuck it into traffic. He will make the ball go around.
Winston has never had an Alvin Kamara behind him before, so there is going to be a lot more structure to what he is doing than in the past. This could bode well for Thomas, but without being able to build any kind of catching rapport with him, he's done himself no favors. Thomas has shown a hall of fame level talent in the past, but I don't think he is going to get the QB play this season to make it shine.
The guys that have been out there have been showing off and showing out as well. Marquez Callaway has drawn all the raves through camp and the preseason. The guy has had the chance to get real close with both of the Saints quarterbacks. As such, he is going to be the favorite target for a while, and it's hard to imagine Thomas comes straight off the shelf and is back at the All-Pro level someone who drafts him would like. If Callaway plays as well in the season as he's been playing thus far, there is the potential that Thomas might not be the go to guy right away. I think that potential for disappointment keeps me off him this season, and I think it's a good idea for you to be off him as well. I've got him as a WR3 in points per game this season. I'm not saying don't draft him. I'm just saying don't go out of your way to do it.
Ryan Fitzpatrick Will Be A Top 12 Quarterback This Season
I might be under a Fitzmagic spell, but I'm calling this news. I am really big on Fitzpatrick. While he is a journeyman QB, he has really found his stride later in his career. Everytime the guy gets a chance, good things happen. Well he's definitely got a chance now. The Football Team (still my favorite team name in the NFL) has given him the reins and plenty of toys to play with.
Lining up behind him is a quality three down back in Antonio Gibson. I'm real big on Gibson this year, but that's a conversation for another week. He will be a great target for Fitzpatrick, and will provide a good escape plan for if there is a broken play. I could see Gibson catching around 80 balls this season. That's a great starting point to hit the ground running for a QB.
Now we come to the receivers. There's this one guy there. I hear he's pretty good at the ol' foosballs. Something like, Terry McScorin or something like that. This is going to be potentially the best receiver Fitz has had the opportunity to play with. He's real real good. Curtis Samuel has always shown flashes of being great. He's going to be a great target for Fitzy as he's a dynamic player with tons of upside. Rookie Dyami Brown has shown good things this preseason, so they seem to go three deep at the WR position. Another receiver we have to account for is Logan Thomas. He went absolutely nuts last season considering he was a 29-year-old journeyman to that point. The sky is the limit with the significant improvement in quarterback play and an upgrade in the outside guys to draw the defense off of him.
Add all that up and you're looking at a very good season for Fitzmagic. I've got no reason to believe he is going to finish outside of the QB1 spot in a 12-team league. He is also a GREAT guy to pick up with how deep he is going in drafts. I've taken him as my starter in several leagues already, and he shows up in almost every best ball I've done so far. I see big things for the guy this season, and that includes a Top 12 finish.
Looking for a lineup question to be answered? Got offered a trade you're just not sure on? Think fantasy football is neat and want someone to talk to about it? Get in touch with me @IHeartCaravans on Twitter. Hope to hear from you soon!