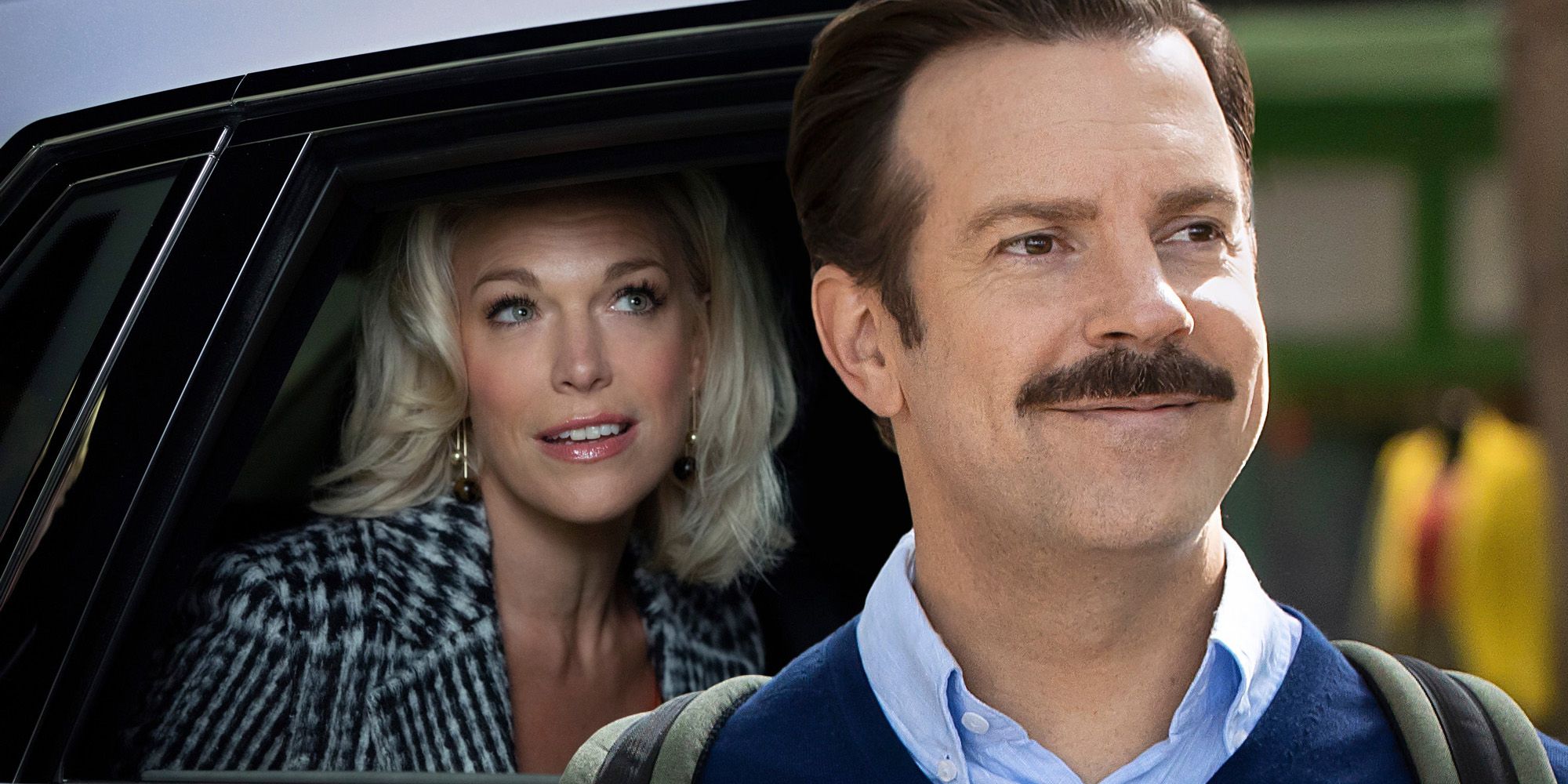 "You'll know it when you see it."—Roy Kent
When last we left the gang, Roy Kent (Brett Goldstein) finally accepted Ted's (Jason Sudeikis) offer to join the coaching staff. It was an emotional high for many but seemed to throw Nate (Nick Mohammed) and his new-found confidence for a loop. As we pick up this week, the "Roy Kent Effect" has been a positive one for AFC Richmond, which is riding a winning streak into the FA Cup. Roy has mentored and guided everyone—except Jamie Tartt (Phil Dunster). It's clear early on that Roy's frosty relationship with Jamie, and Nate's feelings of inadequacy will be explored this week. But that's not all.
It's a jam-packed episode that begins with Rebecca (Hannah Waddingham) and her new boy-toy Luca (Oliver Savile) being interrupted as her mother arrives, announcing she's left Rebecca's father. Meanwhile Rebecca doesn't know how to respond and doesn't know what to do with her continuing anonymous flirtation with a mystery man on Bantr, the team's new primary sponsor! In other news, Coach Beard (Brendan Hunt) is back with Jane (Phoebe Walsh). Beard is pleased, and while Ted and Nate are concerned, they remain silent. Not so for Higgins (Jeremy Swift), who feels like he owes his friend better.
All this threatens to break through the wall for Ted, who begins the episode as he usually does, the care-free and happy life of the party who picks everyone else up—no matter how he feels inside. But Dr. Sharon Fieldstone (Sarah Niles) keeps a watchful eye, probing Ted for more and waiting for him to finally reach a point of opening up. All this while Richmond is on the eve of a HUGE match with Tottenham.
Roy and Jamie
Jamie tries to get Ted and the gang to push Roy to coach him, but they all decline. It's Keeley (Juno Temple) who offers the winning suggestion that Jamie just agree with everything Roy says to break down his wall. Jamie tries it, to humiliating effect, but Roy remains a brick wall. When Jamie protests, Ted finally intervenes and Roy offers a piece of advice—Jamie's become too much of a team player. When the moment is right, Roy suggests, Jamie needs to find his old self on the field to be the game-changing player he's meant to be. He asks Roy how he'll know when it's time, to which Roy offers this week's quote at the top. And boy is it a doozy. More on that in a minute.
Rebecca and Debra
Rebecca's mom is hanging around the club, so she asks Keeley and Ted to join her for lunch. The relationship drama for Rebecca's mom stirs old wounds for Ted—as does a phone call from his son's school just prior to lunch. We've seen that Ted is barely holding it together at times, but he refuses help. Still, Rebecca clocks that he's reaching a breaking point.
When it comes to dealing with her mother, Rebecca is at a loss. She tells Higgins she's resigned herself to the idea that it's best to bite her tongue. Higgins disagrees. He says he can't do that with Beard, and Rebecca shouldn't hold back either. "If you care about someone you have to keep trying. Maybe one day you'll get through," he tells her. And after the big game, Higgins says his peace to Beard, who appreciates the gesture but keeps going with Jane. Rebecca determines to do the same with her mother, but when she arrives home her mother is gone, returning to her father and a broken relationship.
Rebecca in turn invites Luca over and returns to messaging her mystery man who turns out to be…Sam (Toheeb Jimoh)! A week earlier the show seemed to imply Ted would be the mystery man, something fans have wondered. While I'm glad that relationship remains a deep friendship that is one of the most beautiful on the series, I was shocked to see Rebecca's mystery man is Sam. The question is does he realize that? And what happens when the truth is revealed? But that's a story for another day.
Back to the Pitch
In the game, Roy does indeed find the right time and method to signal Jamie, as he, Ted, Beard and Nate all flip the star player the bird. Jamie responds by drawing a foul and nailing a big goal that has the team up at the half. In the second half, as the pressure mounts, Ted crumbles. He flees the field, claiming to have an upset stomach. In the confusion, Beard and Roy are left befuddled, but Nate seizes control. He makes substitutions, calls the play and Richmond pulls off the unexpected victory. Nate earns kudos from everyone, including Roy, having found his voice again.
Meanwhile, no one can find Ted. While everyone is concerned, it's Sharon who stumbles upon a crumpled-up Ted laying on her couch in the dark. He's finally ready to ask for help, and Sharon is ready to listen. More on that next week. While Richmond got the win, there's plenty of big balls in the air yet to be addressed.
Episode Grade: B
Best Scene
This is a tough one, but I'm going with the final game. Ted is gone, the team is in confusion and time is running out when Nate steps up. I've mentioned before how much I love Nate, and this was one of his best moments—followed by a classic Nate moment when he fumbles the post-game press conference. It was a great scene for the character, the team and the show.
Pop Culture References
After last week's Romantic Comedy explosion, this was a tamer episode for references.
People and Icons: We got mention of David Blaine, Sue Grafton, Jeff Bridges, Brene Brown, Pearl Jam and N.R. Puff N Stuff.
TV Shows: The boys at the bar don't just like football, they enjoy the British Bakeoff
Places and Events: We got a reference to Area 51, Q-Anon, Ticketmaster and, naturally, March Madness.
Episode MVP
Higgins has had a great season. He nearly won the day at Christmas, but he finally gets the nod here. He's been dealing beautiful advice all season, and the way he stepped up like a true friend for Coach Beard was admirable.
That's a wrap on The Signal. Check back next week for a recap of Headspace.
Matthew Fox is a graduate of the Radio, Television and Film program at Biola University, and a giant nerd. He spends his free time watching movies, TV, and obsessing about football. He is a member of the FSWA. You can find him @knighthawk7734 on Twitter and as co-host of the Fantasy Football Roundtable Podcast.