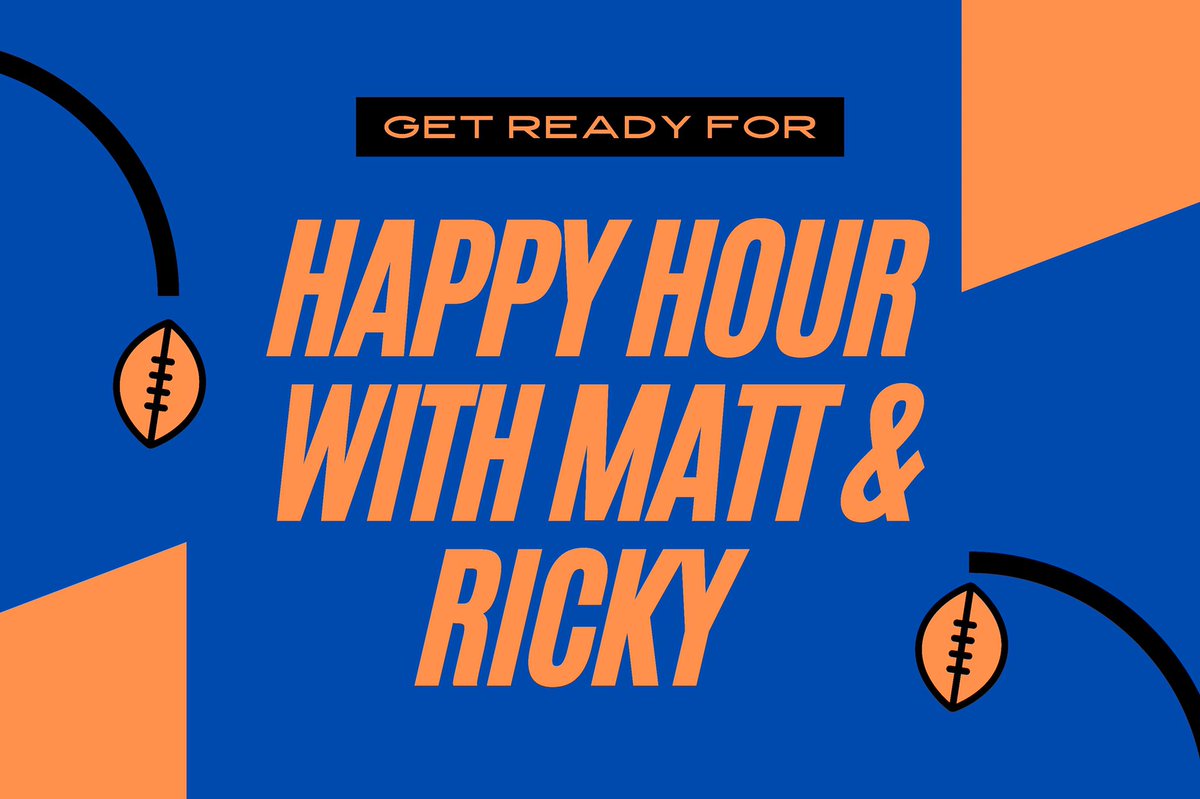 For the third week of The Happy Hour Podcast, we looked at receivers. In this week's installment, I'm looking at my Top 60 receivers, basically through WR5. If you want to see my full rankings for pre-season and week-to-week, in addition to Ricky's rankings, be sure to bookmark this link to our 2021 rankings sheet here. You can, and should, follow the show on Twitter @ffHappyHourpod as well. You can subscribe to the show here.
Without further ado, let's get to my receivers. This position feels crazy deep, and since many plays in leagues with three WR starters and/or multiple Flex options, you might need all these 60 to start for you at some point this season.
Top Three:
1. Calvin Ridley, Falcons
2. Tyreek Hill, Chiefs
3. Davante Adams, Packers
About: I stopped with three here because these are the guys I think have the best shot at being WR1 for the season. Adams was it last year and doesn't figure to fall off with Aaron Rodgers back. Hill is a high-volume option in Kansas City and Ridley figures to be the guy for the Falcons, especially with Julio Jones gone. Ridley did well with Julio out last year, and I think he does it again. He's my pick at WR1, which might be a bold call but I'm bullish on his talent and his team's need.
WR1s:
4. Stefon Diggs, Bills
5. DeAndre Hopkins, Texans
6. Keenan Allen, Chargers
7. Allen Robinson, Bears
8. Justin Jefferson, Vikings
9. D.K. Metcalf, Seahawks
10. CeeDee Lamb, Cowboys
11. Terry McLaurin, Washington
12. A.J. Brown, Titans
About: If I had any of these guys as my WR1 for my team, I'd be pumped. A couple teams I have more than one of these guys (often with no good RBs). I think all will have great seasons and you can make an argument for sliding them up or down a few slots. Diggs is the one outside the Top 3 I think has the best shot at being THE WR1. The rest are great receivers in great pass offenses. Lamb might be my biggest swing, but I think he begins to take over the top spot in Dallas and ascends to WR1 levels.
Fringe WR1s:
13. Chris Godwin, Buccaneers
14. Robert Woods, Rams
15. Amari Cooper, Cowboys
16. Mike Evans, Buccaneers
About: With this next group of four, I think any of them could end up Top 12. For Godwin and Evans, it's a matter of if everyone stays healthy I think there are so many mouths to feed it limits the ceiling for all of them. But it doesn't take much to jump up, as we saw with Evans in 2020. Cooper should be great, and if I'm off on Lamb he could easily be the Cowboy in WR1 range. I think at least one Cowboy ends up there. Woods is constantly under-rated, and I love his talent. I think he and Cooper Kupp both have great seasons, but Woods ends up the highest. WR14 just feels right, but him finishing WR11 or WR12 wouldn't be a shock.
WR2s:
17. Tyler Lockett, Seahawks
18. Cooper Kupp, Rams
19. D.J. Moore, Panthers
20. D.J. Chark, Jaguars
21. Julio Jones, Titans
22. Juju Smith-Schuster, Steelers
23. Ja'Marr Chase, Bengals
24. Courtland Sutton, Broncos
About: This is probably the hardest group for me. Wide receiver is deep, so rounding out the WR2 group (Top 24) is about making some gut calls. I think a Steelers receiver finishes Top 24, and I went with Juju. I think a Bengals receiver finishes inside the Top 24, and I settled on Chase. And I love Sutton and think he paces the Broncos, landing just inside the Top 24. Meanwhile Lockett, Kupp and Moore seem like solid bets, I'm bullish on Chark this season and I'm not betting against Julio Jones.
WR3s:
25. Kenny Golladay, Giants
26. Brandin Cooks, Texans
27. Brandon Aiyuk, 49ers
28. Odell Beckham, Jr., Browns
29. Adam Thielen, Vikings
30. Diontae Johnson, Steelers
31. Chase Claypool, Steelers
32. Tee Higgins, Bengals
33. Curtis Samuel, Washington
34. Jerry Jeudy, Broncos
35. Christian Kirk, Cardinals
36. Jaylen Waddle, Dolphins
About: This group is a lot of guys with potential. If I had any of these guys that I needed to start, I'd feel good. Some of it is about preference and predicting the offense. I think Jeudy is better, but Sutton is the top guy. I love Higgins, but I think Chase ends up finishing better. I think Thielen sees his TDs come down and he loses volume to Dalvin Cook, Jefferson and Irv Smith. Others are about offense—I think the Steelers come back to Earth a little, producing a WR2 and two WR3s instead of three WR2s, so I have Johnson and Claypool in this range. I also think Kirk takes a step forward and Waddle leads the Dolphins, while Samuel is a good fit in Washington but not quite as productive as in 2020. The biggest questions are Cooks and Golladay. With Cooks, I don't believe in Houston a ton, so I have him as a high-end WR3, about eight spots off his 2020 finish. Golladay is the toughest to rank. I love his talent, but there are questions about durability, his quarterback and adjusting to a new team and offensive scheme. So, he lands just outside my Top 24.
WR4s:
37. Corey Davis, Jets
38. Robby Anderson, Panthers
39. Mike Williams, Chargers
40. Tyler Boyd, Bengals
41. DeVonta Smith, Eagles
42. Tre'Quan Smith, Saints
43. Michael Gallup, Cowboys
44. Michael Pittman, Jr., Colts
45. Jarvis Landry, Browns
46. Antonio Brown, Buccaneers
47. Rashod Bateman, Ravens
48. Marquis Brown, Ravens
About: Here's the WR4 range for me, which includes some guys with potential but questions about offense. That includes my first receivers for the Jets (Davis), Eagles (Smith), Saints (Smith), Colts (Pittman) and Ravens (Bateman and Brown). In each case, for me, it's a matter of passing volume, competition and/or health. Meanwhile we get another Panther (Anderson), Charger (Williams), Bengal (Boyd), Cowboy (Gallup) and Buccaneer (Brown), that will benefit from being in more robust passing offenses. Anderson was a big breakout last year, but I think Moore and a healthy Christian McCaffrey take more of that work this year. Gallup is a good talent, but Cooper and Lamb steal the spotlight in Dallas.
WR5s:
49. Michael Thomas, Saints
50. Darnell Mooney, Bears
51. Deebo Samuel, 49ers
52. John Brown, Raiders
53. Laviska Shenault, Jr., Jaguars
54. Jalen Reagor, Eagles
55. Cole Beasley, Bills
56. DeVante Parker, Dolphins
57. Elijah Moore, Jets
58. Rondale Moore, Cardinals
59. Darius Slayton, Giants
60. Randall Cobb, Packers
About: Thomas was due for a bounce back season, but his injury status has given me pause. It looks like he could miss half the season, so I have him just inside the Top 50. This is a group of receivers that I like the talent, or possible opportunity, but have more questions. Some are rookies (like Rondale and Elijah), others face stiff competition and questions about the offense. For Shenault, I'm not as bullish as others because I think Chark takes off while Travis Etienne eats into some of his role, helping them cancel each other's value. Time will tell. Nevertheless, these are all guys that should be rostered and will be started at some point this season.
Matthew Fox is a graduate of the Radio, Television and Film program at Biola University, and a giant nerd. He spends his free time watching movies, TV, and obsessing about football. He is a member of the FSWA. You can find him @knighthawk7734 on Twitter and as co-host of the Fantasy Football Roundtable Podcast.