The 2021 NFL Season is upon us and the Music City Drive In has you covered. We'll be previewing all 32 teams, as well as our picks for award winners and playoff participants each day through Monday, September 6. Check back daily at 4 p.m. EST for each new piece in our preview series.
The Jaguars won 10 games and were one game away from a Super Bowl in 2017. In the three seasons that have followed, they won 12 games, including an abysmal one-win season a year ago. Out goes Doug Marrone, and in comes the controversial hire of Urban Meyer.
One of the only good things that happened was the Jets decided to win a few games down the stretch and propel the Jaguars into the first overall pick of the draft. With that in comes one of the most talked-about Quarterbacks coming out of college in a long time, Trevor Lawrence.
Lawrence is easily one of/if not the best I've ever watched in my time of scouting quarterbacks. He has all the tools to be a top-tier NFL starter for years to come for this franchise. The biggest question do they have the talent around Lawrence to succeed? And what about the defense?
Off-Season Changes
I mentioned Lawrence and Meyer being two of the big moving pieces for their off-season. In addition, they added some big playmakers on the team in Marvin Jones, Travis Etienne, Shaquill Griffin and Rayshawn Jenkins throughout the offseason.
Fantasy Prospects
Lawrence comes in around the 14 to 16th Quarterback off the board, which is a solid value for him. I don't think people remember that Lawrence can make plays with his legs; although he is no Lamar Jackson, he did have 17 rushing touchdowns over the last two seasons. I say he hits around the four to five range and factoring in the defense for the Jaguars isn't grand. Lawrence has a QB1 upside.
So, it's Etienne or Robinson, Robinson or Etienne that is the debate heading into the season. According to Fantasy Pros ADP, they are 23rd-24th running back off the board. But I think both offer something to fantasy owners when it comes down to the numbers. Etienne could see around 50 to 60 catches, while Robinson could be the running back that gets them down the field with yards but honestly, we have zero idea. I don't love either of these two guys in that range when I have guys like Mike Davis, Myles Gaskin or even Chase Edmonds. I prefer Etienne because of his PPR value, but overall, I am staying clear.
D.J. Chark will finish in the Top 20, period, end of story. I love his value sitting around the 32nd receiver off the board and people forget how good this guy can be. Chark has produced more than 1,714 yards and 13 touchdowns in the last two seasons with inept quarterback play. So enter Lawrence into the fold and Chark to the moon, folks.
I have zero interest in Laviska Shenault (sorry) or Jones because I am not sure either will be consistent enough to start them weekly. So, I think it will come down to you starting the wrong guy weekly. If you go running back heavy, I don't hate Jones' value due to Lawrence's potential veteran target.
Tim Tebow comes in at tight end and will finish the season on the ESPN College Football broadcast team. James O'Shaughnessy should step up to be the guy at the position, but I am not sure he provides any fantasy-relevant value until we see how this offense is run.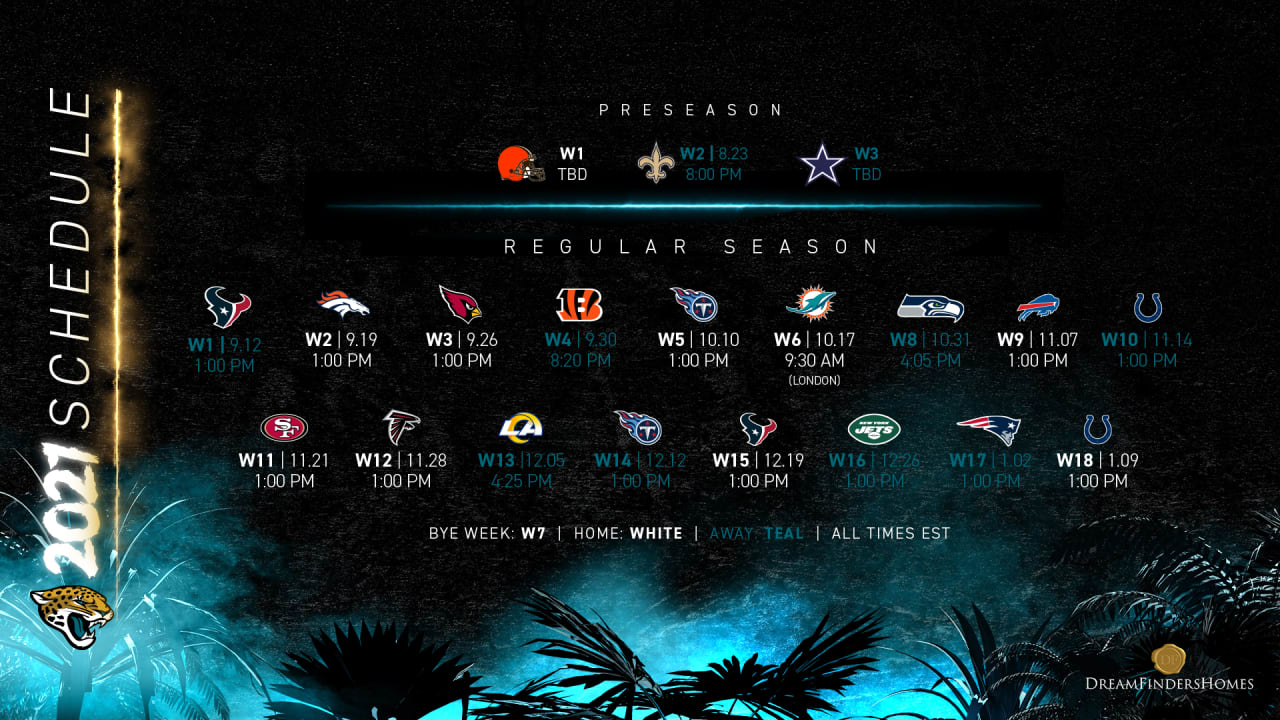 Prediction
Look, I know I am crazy to think this, but I think the Jaguars could surprise teams this year. We always have this team with some new pieces that can come out and win more than maybe they should. They start the season with three or four very winnable games, and down the stretch, they have four winnable games. I by no means are saying the Jaguars are winning the Super Bowl, but I do think they win close to six to seven games this year.