"Sometimes you have to do the right thing even if you lose."—Nora
When last we left Ted (Jason Sudeikis) and the gang, he had just decided to go against his initial instincts and bring Jamie Tartt (Phil Dunster) back to AFC Richmond. The hope is that Jamie can help the team get a win and break its tie streak. But it's clear that the team—and many of the staff—haven't forgotten what it was like to be teammates with Jamie Tartt, particularly Sam (Toheeb Jimoh).
It's clear early on that integrating Jamie into the team, and winning over Sam, is going to be a huge focus of the episode. In the opening press conference, while noting that Richmond should be big favorites for their match this week, Trent Crimm (James Lance) brings up the elephant in the room of whether Ted can cultivate a winning locker room culture with Jamie back in the fold. Ted believes he can, but nothing is that easy.
We cut to the locker room where Keeley (Juno Temple) arrives to show Sam his new Dubai Air campaign. It leads to some ribbing from his teammates, but when Jamie tries to jump in, he's rebuffed. Next, Jamie tries to offer an apology, which devolves into a shouting match before Ted re-directs folks to traffic. Sam, as he leaves, offers the knowing wink to Ted, reminding him that he'd said this would be the result of bringing back Jamie Tartt.
On the pitch, Jamie is assigned to the second team to work his way up. He thinks he'll earn his team's respect, but it doesn't happen. Sam slide tackles him to the ground quickly and it appears it's going to be a long road back for Jamie. Next, Jamie decides he'll buy his teammates affections, to which Ted launches his own plan, rolling out his alter-ego Led Tasso to try bringing the team together with Jamie by making him the focus of their ire. None of it works, a fact Dr. Fieldstone (Sarah Niles) quickly points out.
Jamie finally turns to Keeley for advice, but she has a different idea. Keeley drags Jamie to Dr. Fieldstone, who does a session to try and help Jamie get to the root of his problem.
Meanwhile, things aren't smooth sailing for Sam, either. While he's excited about his first endorsement deal, his father lets him know that Dubai Air's parent company is responsible for catastrophic damage to the environment in his home in Nigeria. Conflicted and deflated, Sam pulls out of the ad campaign. While Rebecca (Hannah Waddingham) is quick to help, it still doesn't feel like enough for Sam.
As he mulls a bigger move, it opens a door for Jamie. But more on that in a minute.
Rebecca and Nora
In the major B plot of the week, Rebecca's friend Sassy (Ellie Taylor) is back for a conference, and her 13-year-old daughter Nora (Kiki May) is staying with Rebecca. Rebecca is determined to make up for years of not being around, planning to take Nora to all of her favorite things… but she doesn't exactly know what those are. After bumping into Roy (Brett Goldstein), who is hanging with his own niece Phoebe (Elodie Blomfield), she gets a key piece of advice—all Nora wants is to share Rebecca's life.
Shifting gears, Rebecca invites Nora to accompany her to work and see what it's like to run the club. The pair bond in a new way, even having fun in handling the situation with Sam and Dubai Air.
Odds and Ends
It was a light episode for Roy, but his stint on Football Saturday continues to be a joy.
Keeley's new side hustle is schilling for the dating app Bantr, which gets plenty of discussion from characters. We know Rebecca is on it, and I suspect it will play a role in helping her finally move on.
Back to the main story, Sam is still trying to find a way to stand up for his country. After looking in the mirror, he grabs a roll of black tape and decides to cover up the Dubai Air logo on his jersey. Some fellow Nigerian teammates do the same, and Sam lets the rest know he doesn't expect them to join him in the protest. Much to his surprise, Jamie Tartt stands up and follows suit, prompting the rest of the team to do the same.
Their protest doesn't sit right with the Dubai Air CEO, and knowing the team is already facing financial issues, this will surely come up again. But for tonight, it's a win for Sam as he stands on principle. In the post-game press conference, Ted turns it over to Sam to share why this meant so much.
Back in the locker room, despite losing the game, it's a festive atmosphere for Richmond, who heartily celebrate Sam upon his return, with Jamie leading the post-game cheer. The first win on the field is yet to come, but Ted has his team back together and on the same page, which feels like a victory. This was the best episodes of the new season so far, and one that left me really fired up for what comes next.
Episode Grade: A-
Best Scene
This episode was a well-deserved showcase for Sam, and naturally he factors in the week's most powerful scene. It comes with him alone as he's riding the stationary bike. He's overjoyed about the campaign, sending it to his father. His joy soon turns to sorrow as his father tells him what kind of a company Dubai Air really is, sharing his disappointment that his son would be their spokesman. Jimoh is so wonderful always as Sam, and has such delight, your heart breaks as he reads his father's text. It was incredibly powerful.
Pop Culture References
Musicians and Personalities: We got a Pat Benatar reference during Ted's press conference. Later, we got references to Larry Bird, Chuck E. Cheese and Tim Burton.
Movies: Sam name-checks Frozen in the most delightful way, while Ted references Cinderella and the entire episode is a reference to the Spike Lee film Do The Right Thing.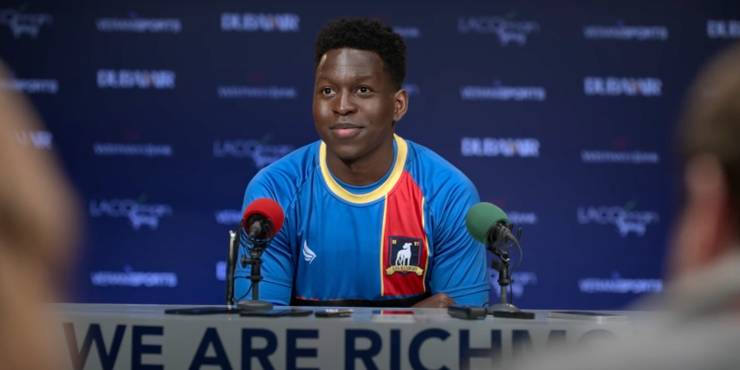 Episode MVP
How could it be anyone other than Sam. He's the heart and soul of the episode, a showcase for his character and the delightful performance from Jimoh. One of the best moments is when he's with Rebecca and Nora, recalling their shared love of Frozen before sharing his own love for the film and saying, "It's a beautiful metaphor for many of life's journeys, particularly puberty." Sam is one of the best characters and I loved his arc in this week's episode.
That's a wrap on Do The Right-est Thing, check back next week for a discussion of Carol of the Bells.
Matthew Fox is a graduate of the Radio, Television and Film program at Biola University, and a giant nerd. He spends his free time watching movies, TV, and obsessing about football. He is a member of the FSWA. You can find him @knighthawk7734 on Twitter and as co-host of the Fantasy Football Roundtable Podcast.