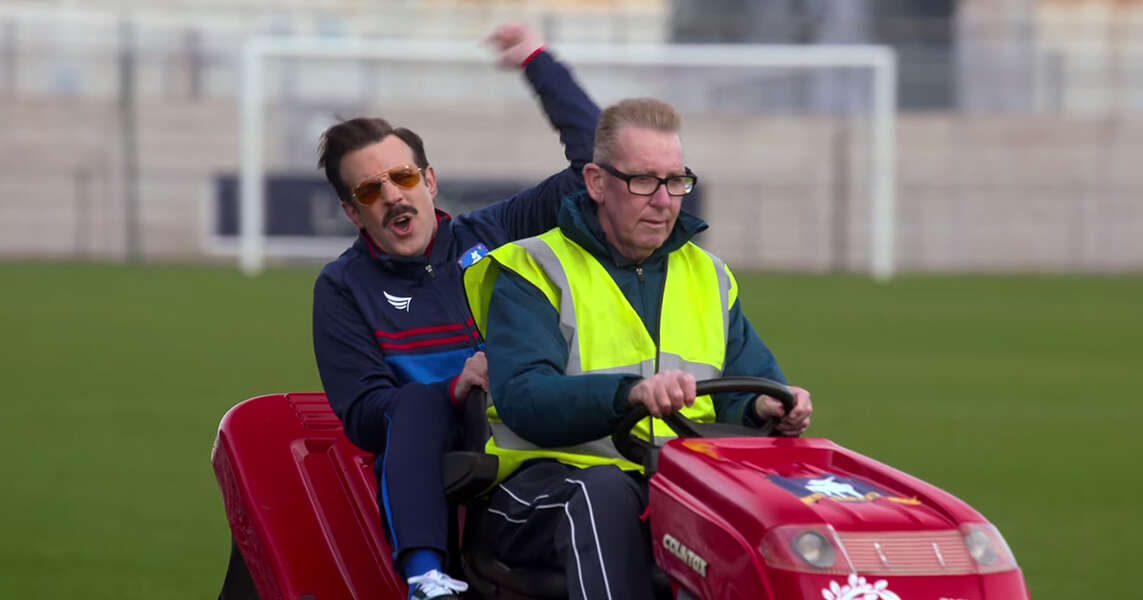 "Heavy is the head that wears the visor, coach Lasso." –Dr. Sharon Fieldstone
We're back for episode two, this one drawing its title off a sub plot that I have to assume is going to pay off at some point. But more on that in a bit. We pick up the action right where we left off in Goodbye, Earl, with Jamie Tartt (Phil Dunster) facing possible elimination on his reality dating series Lust Conquers All. Apparently weary of playing for Manchester City, Jamie took a break to appear on the series, washing out there as well.
Now, Jamie finds himself in a bit of a pickle. His reality TV career is flaming out and Manchester City won't take him back. Looking for a break, he decides to turn back to AFC Richmond. He seeks out Keeley (Juno Temple) to ask for advice, but soon finds himself at the pub coming face-to-face with Ted (Jason Sudeikis).
Ted is torn. He loves Jamie, but he knows that Jamie is a polarizing player in the locker room. After an exchange about fathers, Ted shows his care for Jamie but says it won't work out. Still, photos of the two of them leak online, causing tension among the Richmond squad. Sam (Toheeb Jimoh) angrily storms off. Ted confronts him and assures him he told Jamie no, but the whole thing makes him re-consider.
Ted seeks the opinions of the Diamond Dogs, who are split. Later, he turns to Dr. Fieldstone, but more on that in a minute.
An Icy Reception
Throughout the run of the series, we haven't found a single person Ted Lasso can't charm. But with Dr. Sharon Fieldstone (Sarah Niles), Ted seems to be at a loss. He's flummoxed when Higgins (Jeremy Swift) hires her for the full season but tries to make the best of it. He uses his biscuits and his charm to make an inroad but finds both rebuffed. In fact, Dr. Fieldstone seems amused at Ted's methods and, instead, suggests observing practice.
She does, coming ever closer to the action. She's also on hand when Sam storms off, watching how Ted reacts to the situation. All this leaves Ted nervous and uncomfortable as she can read him and his moves like a book.
Roy on the TV
Keeley won't give up on seeing Roy (Brett Goldstein) reignite his passion. Roy's team loses its playoff match, ending the season. Meanwhile Keeley wants to see Roy find the emotion and spark he last had giving his retirement speech, which has provided her with its own kind of inspiration. Finally, she persuades Roy to give the TV gig a try—once at least. Once on set, Roy's passion and intensity leak out in a profanity-laced break down of his former team Chelsea. Roy's a hit on TV and may have finally found his new calling.
Odds and Ends
Higgins is still a man without a desk, and still unable to keep from knocking over his pen container. Finally, he finds a spot as he's given space along with Nate (Nick Mohammed) in the Coaching Office.
Speaking of Nate, he continues to clash with Will. He's upset to find lavender added to the laundry detergent and pineapple added to the water. He also criticizes Will's towel placement and seems oblivious to what he's doing. He also seemed a bit put off by having to share an office with Higgins. This will be something that gets more air time later most certainly.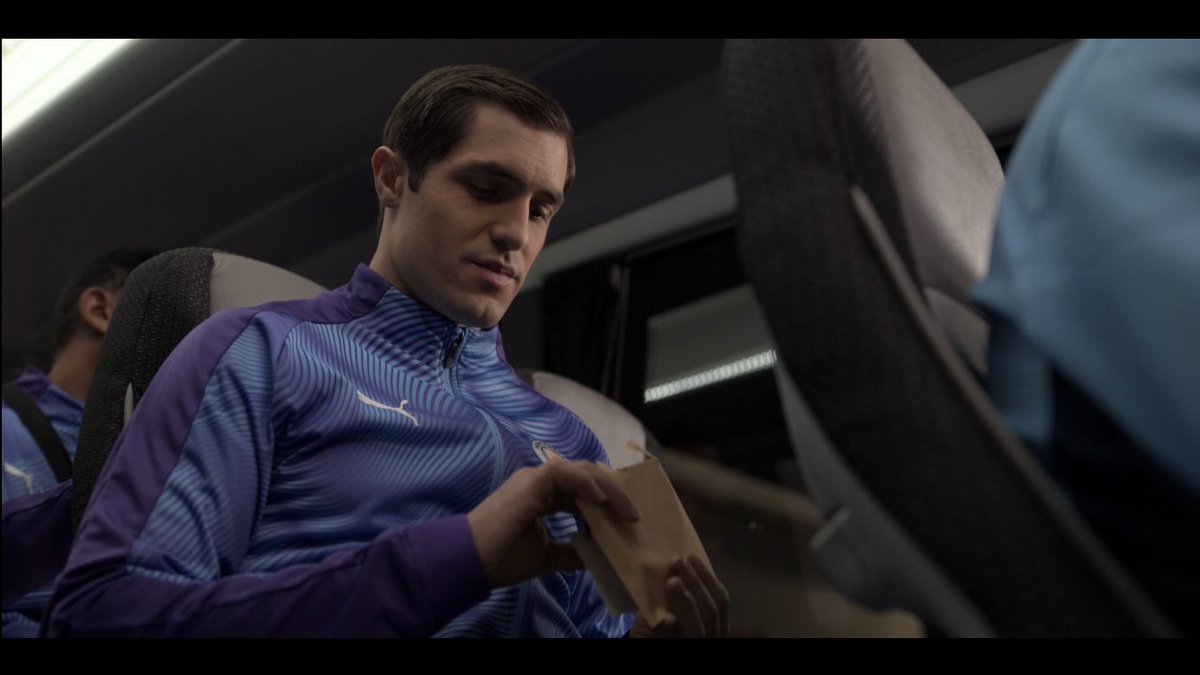 Back to the main plot, Dr. Sharon meets Ted outside the facility, praising the culture he's helped build at Richmond. The ice also thaws as she allows Ted to call her "Doc," and shares her favorite book, The Prince of Tides. Mostly, though, she challenges Ted to shake up the status quo if he wants to get that elusive first win.
The next day at practice, everyone is watching as the snow lightly falls and Jamie Tartt comes out of the tunnel on to the pitch for practice. Doubtless Ted will have some fences to mend but Jamie might give them the lift needed to get a victory. Time will tell if he has changed enough to blend with the team and appreciate his teammates as well.
Episode Grade: B
Best Scene
I'm going with Jamie and Ted's exchange at the pub. It starts with Jamie bringing back the army man Ted gave him, a note of recognition for the ways Ted cared for Jamie despite his attitude. We also got a good sequence with Mae (Annette Badland), an under-rated part of the ensemble. It's another scene that blends humor with heart and was one of the most delightful of the episode. A close runner-up is Sam's chat with Ted after leaving the field.
Pop Culture References
Here's what I got out of Lavender
Literature: Ted's favorite book is The Fountainhead, while Sharon picked The Prince of Tides.
Odds and Ends: the City of Santa Monica, the Free Masons and Video Games in General
Musicians and Personalities: We got Frank Sinatra, Bono and the Joshua Tree album, Robert Plant, Jimmy Page, Dave Grohl, Jimmy Buffett, Ted Danson and Julia Louis Dreyfuss.
Plays: This one was subtle, but Coach Beard (Brendan Hunt) dropped a reference to Hamlet.
Episode MVP
This was a tough one, but I'm going with Dr. Sharon Fieldstone. It seemed at first that she was going to be a nemesis, but I think she provides perspective. Ted has issues below the surface that emerged at times in season one and I think will flare back up here in season two. Dr. Fieldstone not only seems to appreciate Ted, but she's warming to him, too. This, as they say, seemed like the start of a beautiful friendship.
That's a wrap on Lavender. Check back next week for a recap of Do the Right-est Thing.
Matthew Fox is a graduate of the Radio, Television and Film program at Biola University, and a giant nerd. He spends his free time watching movies, TV, and obsessing about football. He is a member of the FSWA. You can find him @knighthawk7734 on Twitter and as co-host of the Fantasy Football Roundtable Podcast.