Last summer Apple TV+ gave us a gift in the form of a 10-episode comedy about a fun-loving American college football coach who moves to England to coach Premier League Soccer. If you're skeptical about that description, you're not alone. I was, too. Then I fired up Ted Lasso and fell in love. It was by far my favorite season of TV in 2020 and re-watching it to prepare for Season 2 made me love it even more.
Season 2 debuts on Friday, July 23, and this season I'll be recapping the episodes. But before it kicks off, for those on the fence or those that just want to bask in the glory of the show, I'm offering 10 reasons why Ted Lasso is great.
10. Great Example of Leadership. Ted gets to his new team in England and doesn't totally know what he's doing coaching soccer, but he does know how to lead people. The early episodes in particular showcase how great a leader Ted is as he builds a coalition, and wins over the players, support staff and the city itself.
9. Hannah Waddingham as Rebecca Welton. At first, Rebecca, the team owner, seems vindictive and somewhat cruel. But over the course of 10 episodes, we get to know her and her depths. She ends up a kind friend who was working her way through her own issues. Her vocal performance in episode seven is also one of the highlights of the first season.
8. The Culture Clash. Ted is a fish out of water in England in the best way. The running jokes about his disdain for fizzy water and tea are great, as are the ways he has to try to understand the language and even the game he's playing. It never fails to make me chuckle.
7. Juno Temple as Keeley Jones and Brett Goldstein as Roy Kent. On their own, each character is fun. Keeley is light and bubbly, lifting those around her. Roy is gruff and brooding but earns the respect and/or fear of his teammates. Together, their paring was and is magic. The scene where she goes to meet Roy in the locker room during the final game melts me every time.
6. Pop Culture References. I enjoy a good pop culture reference, and so does Ted Lasso. They drop them into almost every episode, like little Easter eggs for those who are paying attention.
5. Brendan Hunt as Coach Beard. A co-creator of the show, Hunt is often an MVP, especially in early episodes. Coach Beard is a confidant, a cheer leader, a source of knowledge and, most importantly, a friend. He's got great heart and makes the show better.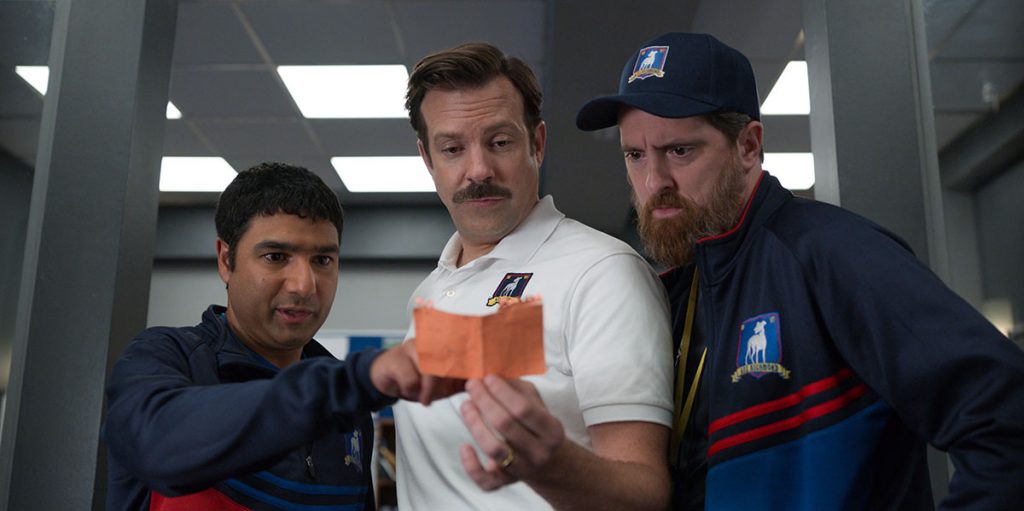 4. It's a great sports show. I am not a big fan of soccer, but you don't have to be to love Ted Lasso. And, like the best sports shows, it's real about competition, which means things don't always work out perfectly even if you want them to. The finale, in particular, was inspired.
3. Nick Mohammed as Nate the Great. Nate is the equipment manager when the series opens, one who is shocked when players or coaches are nice to him. But by the end, he's an integral part of the coaching staff and the team. Mohammed plays it perfectly, and his big pre-game speech in episode seven is one of the first season's highlights.
2. Boundless Joy. If nothing else, Ted Lasso the show and character are incredibly joyful. That's not to say he doesn't suffer at times, but his ability to see the good in people—and situations—is infections. He makes me want to be a better person.
1. Jason Sudekis as Ted Lasso. Sudekis is a gifted performer, one I've enjoyed in a number of projects. But this is his greatest role. He's been winning awards, and all of them are deserved. He's the heart and soul of this show, and he's perfect in season one. I can't imagine that stops when season two begins Friday.
Matthew Fox is a graduate of the Radio, Television and Film program at Biola University, and a giant nerd. He spends his free time watching movies, TV, and obsessing about football. He is a member of the FSWA. You can find him @knighthawk7734 on Twitter and as co-host of the Fantasy Football Roundtable Podcast.