It's early July, so naturally we're ever so close to the NFL Season but still so far away that news is sparse. To help fill the void, I decided to look at some all-time selections at six different positions—Quarterback, Running Back, Wide Receiver, Tight End, Defense and Coaching. Over the next six weeks, I'll be giving my Top 10 at each, continuing today with Wide Receivers.
Before we jump in, I thought I'd share a bit about this process. First, I was born in 1981 and have been watching football since the mid-to-late 1980s. The NFL has been around a lot longer, but in order to make sure bias doesn't play too big a role in choices, I've limited this look back to the last 41 years, since 1980. Second, this is a subjective list. While I consider stats, performance and metrics, I'm the one doing the evaluation, so ultimately it's my list. I encourage you to share your own thoughts and criticisms each week in the comments.
Now, on to the list. The group will appear in ascending order, beginning with one or two each week that just missed. On to this week's list!
Just Missed: Brandon Marshall (Denver Broncos 2006-2009, Miami Dolphins 2010-2011, Chicago Bears 2012-2014, New York Jets, 2015-2016, New York Giants, 2017, Seattle Seahawks, 2018)
Stats: 970 receptions, 12,351 yards, 83 touchdowns
About: Marshall will always hold a place in my heart because he began his career as a Bronco. He had some good times there, recording three straight 100-reception seasons before being dealt as part of a re-shaping of the Broncos' receiving corps. Marshall will also be remembered for his good seasons in Chicago, re-teaming with Jay Cutler. He's a fierce advocate for mental health and was a fierce competitor on the field. Marshall made the Pro Bowl six times and sits as No. 23 on the all time Receiving Touchdown list and No. 16 on the All-Time Receptions list. He was one of my favorites to watch, and in my early days of fantasy football. It was a tough call, but he just narrowly missed this list.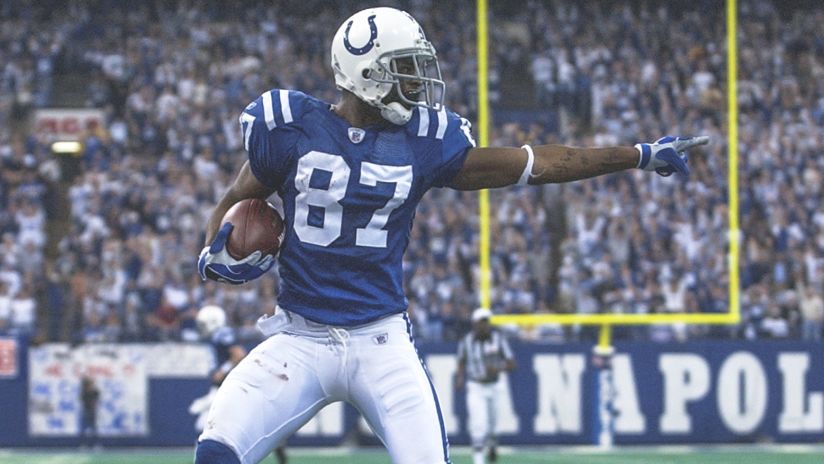 10. Reggie Wayne (Indianapolis Colts, 2001-2014)
Stats: 1,070 receptions, 14,345 yards, 82 touchdowns
About: Wayne was a huge weapon for the Colts and one of the greatest to play the game. He stayed with the team his whole career, much of it playing alongside Peyton Manning. Wayne made the Pro Bowl six times and was a Super Bowl Champion with the Colts. He was one of the most feared and revered receivers in the game during his career, sitting as No. 25 on the Receiving Touchdowns list and No. 10 on the All-Time Receptions list. He's an under-rated player that I suspect will eventually get into the Hall of Fame.
9. Andre Johnson (Houston Texans, 2003-2014, Indianapolis Colts, 2015, Tennessee Titans, 2016)
Stats: 1,062 receptions, 14,185 yards, 70 touchdowns
About: Johnson was an incredible force on the field. He had some huge seasons, recording five 100-plus catch seasons, leading the league twice in receptions and twice in receiving yardage. But he remains under-rated because he toiled for most of his career with the Texans, who weren't that great. Johnson was a fierce competitor you didn't want to cross, which made him a lot of fun to watch. He made the Pro Bowl seven times and sits at No. 11 on the All-Time Receptions list.
8. Cris Carter (Philadelphia Eagles, 1987-1989, Minnesota Vikings, 1990-2001, Miami Dolphins, 2002)
Stats: 1,101 receptions, 13,899 yards, 130 touchdowns
About: Carter is a great announcer and analyst, but he was also an incredible and incredibly productive receiver. He began as an Eagle, but the heart of his career was with the Minnesota Vikings. He was a prolific receiver during an era that was much less pass-happy than it is now. He recorded back-to-back 122 reception seasons in 1994 and 1995. He also teamed with Randy Moss early in Moss's career, forming an incredible duo. Carter made the Pro Bowl eight times and is now in the Hall of Fame. He sits as No. 4 on the Receiving Touchdown list and No. 6 on the All-Time Receptions list.
7. Marvin Harrison (Indianapolis Colts, 1996-2008)
Stats: 1,102 receptions, 14,580 yards, 128 touchdowns
About: Our second Colts' receiver, and another player who was a force for Peyton Manning. Harrison and Wayne actually teamed up for several seasons, and it's a wonder the Colts didn't win more titles. Harrison sits in the Hall of Fame, won a Super Bowl with Indy and made the Pro Bowl eight times. He is an under-rated competitor, recording 100-plus receptions four times, including an NFL-leading 143 receptions in 2002. Harrison sits at No. 5 on both the All-Time Receptions and Receiving Touchdowns lists.
6. Tim Brown (Los Angeles and Oakland Raiders, 1988-2003, Tampa Bay Buccaneers, 2004)
Stats: 1,094 receptions, 14,934 yards, 100 touchdowns
About: As a die-hard Broncos' fan, I hated Brown. That's because he was so darn good, and he made the Raiders better, too. Brown, out of Notre Dame, toiled for the Raiders for 16 seasons, doing most of his damage during a Hall of Fame career. He also made the Pro Bowl nine times and sits at No. 9 on the Receiving Touchdowns and No. 7 on the All-Time Receptions lists. Brown was a fun player to watch and an easy pick to make this list.
5. Terrell Owens (San Francisco 49ers, 1996-2003, Philadelphia Eagles, 2004-2005, Dallas Cowboys, 2006-2008, Buffalo Bills, 2009, Cincinnati Bengals, 2010)
Stats: 1,078 receptions, 15,934 yards, 153 touchdowns
About: Owens was a polarizing player at times. He shined for the 49ers for the bulk of his early career. He made a splash with the Eagles, including memorably playing for them in a losing Super Bowl effort, then went to the rival of both teams, the Cowboys, for three memorable seasons with Tony Romo. All the while, he was one of the best to play the position and put up imposing stats while helping his teams win. He was a six-time Pro Bowl selection and finally made it into the Hall of Fame, where he belongs. He sits as No. 3 on the Receiving Touchdown list and No. 8 on the All-Time Receptions list.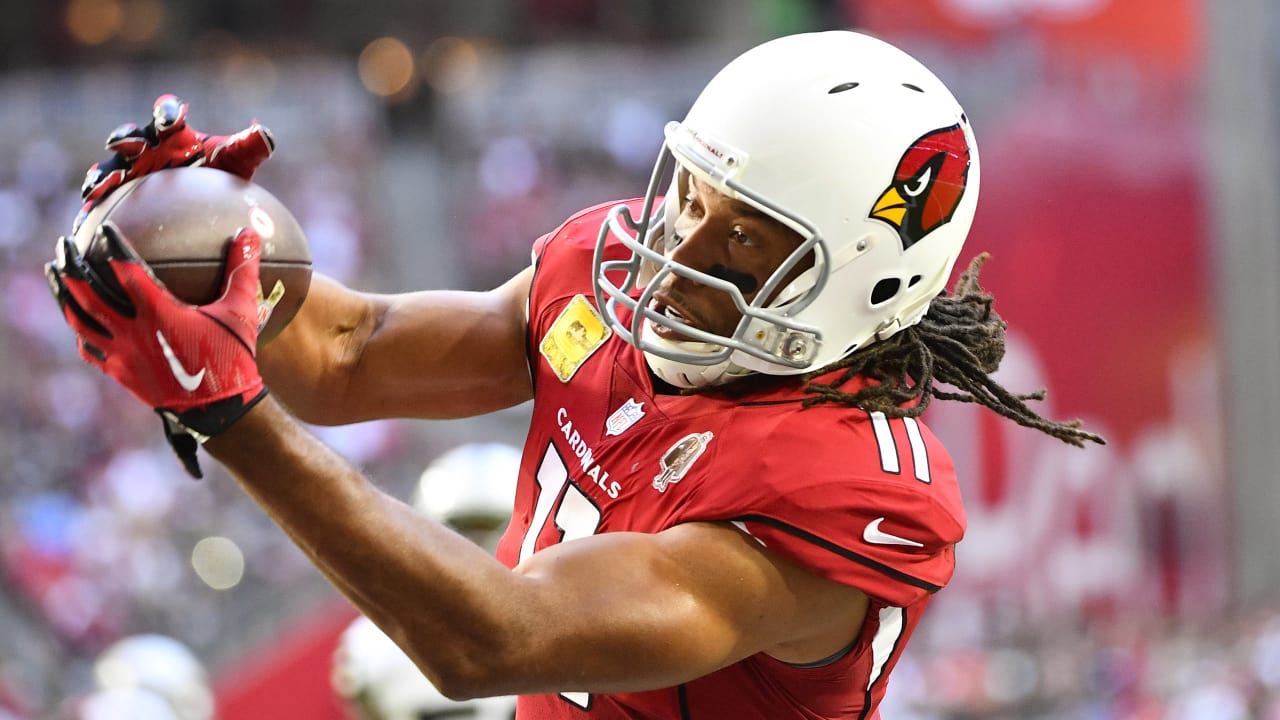 4. Larry Fitzgerald (Arizona Cardinals, 2004-2020)
Stats: 1,432 receptions, 17,492 yards, 121 touchdowns
About: Fitzgerald is currently a free agent, but he's yet to officially retire. He may return to the Cardinals, for whom he's played his entire career, or end up going somewhere like the Kansas City Chiefs to chase the one thing that's eluded him throughout his career—a championship. Either way, when he hangs it up, Fitzgerald will merely need to wait five years to make the Hall of Fame. His career has been impressive and long-lasting, but he's constantly under-rated because he's toiled mostly in obscurity for the Cardinals. He's made the Pro Bowl 11 times and been a Walter Payton Man of the Year. He's also No. 6 on the Receiving Touchdown list and No. 2 on the All-Time Receptions list. If he plays a season or two more, it's not out of the range of possibility that he could catch or surpass the leader there. He's one of the best to ever play the game.
3. Calvin Johnson (Detroit Lions, 2007-2015)
Stats: 731 receptions, 11,619 yards, 83 touchdowns
About: Johnson earns a place on this list not for his gaudy numbers, but for his gaudy and memorable play on the field. Like another famous Lions' great who was on the running back list, Johnson burned bright and burned out quickly. He played just nine seasons, and he doesn't have some of the numbers that others on this list do, but he made an impression. Had he played 12 to 15 seasons, I have no doubt he'd be among the leaders at receiver. He was one of my favorite players to watch, and imposing and physical receiver who made incredible catches, sadly toiling for unsuccessful teams. He made the Hall of Fame and made the Pro Bowl six times. He was one of my favorites to watch, so he lands way up on my list.
2. Randy Moss (Minnesota Vikings, 1998-2004, 2010, Oakland Raiders, 2005-2006, New England Patriots, 2007-2010, Tennessee Titans, 2010, San Francisco 49ers, 2012)
Stats: 982 receptions, 15,292 yards, 156 touchdowns
About: Few played the game like Moss. He was an outsized talent on the field and an outsized personality off the field, and that marked his career from the beginning to the end. He also was part of some incredible teams in Minnesota and New England, teams that fell just short of the elusive Super Bowl title he sought. Through it all, he put up some gaudy numbers and some eye-popping players. He is in the Hall of Fame and made the Pro Bowl six times. He's No. 15 on the All-Time Receptions list and No. 2 on the Receiving Touchdown list. There was no one quite like Randy Moss.
1. Jerry Rice (San Francisco 49ers, 1985-2000, Oakland Raiders, 2001-2004, Seattle Seahawks, 2004)
Stats: 1,549 receptions, 22,895 yards, 197 touchdowns
About: No one ever played the game like Rice. He was THE receiver in the NFL for decades, playing his best ball for the 49ers before moving across the Bay to play with the Raiders for a few memorable seasons. He's in the Hall of Fame and made the Pro Bowl 13 times and was a three-time Super Bowl champion. Rice is also No. 1 all time in Receptions, Receiving Touchdowns and Receiving Yards. Two of those marks don't seem likely to ever be broken. No list of great receivers is complete if Rice doesn't sit at the top.
Matthew Fox is a graduate of the Radio, Television and Film program at Biola University, and a giant nerd. He spends his free time watching movies, TV, and obsessing about football. He is a member of the FSWA. You can find him @knighthawk7734 on Twitter and as co-host of the Fantasy Football Roundtable Podcast.