The 2021 NFL Draft began Thursday and wrapped up on Saturday. A total of 259 players were selected and some of the people most interested in who those selections would be were NFL veterans wondering who their team would select and if that player would be at their position. Some got added competition, others were spared.
Below is a look at some established players who were winners and losers in the NFL Draft. The list is organized by position.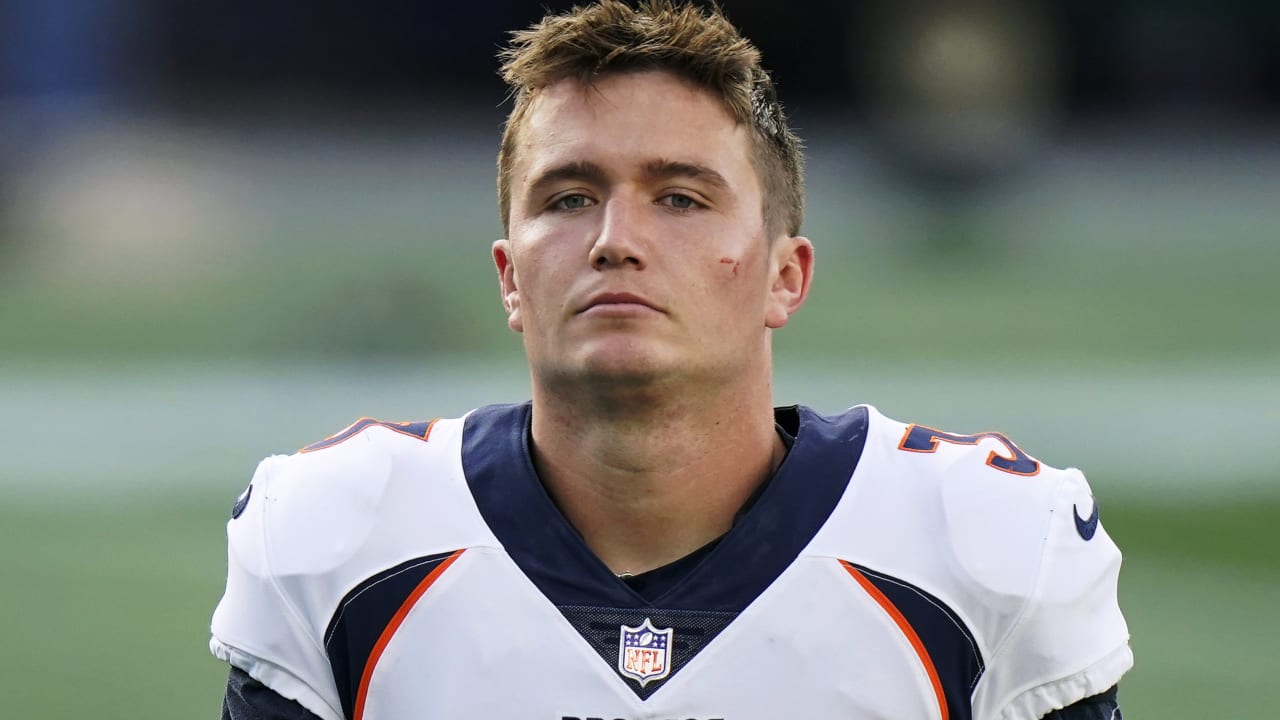 Quarterbacks:
Winners:
Drew Lock, Denver Broncos: All off-season the rumor has been the Broncos were going to make a move at quarterback. While the team made a trade for veteran Teddy Bridgewater just prior to the NFL Draft, the big question was whether they would take a rookie in the First Round. The Broncos had Justin Fields and Mac Jones available at pick No. 9 and passed on both. This will truly be the make-or-break year for Lock.
Jalen Hurts, Philadelphia Eagles: Sure, the Eagles signed Jamie Newman as an undrafted free agent, but they were another team that had Fields and Jones available at their pick and, instead, took wide receiver DeVonta Smith. The Eagles appear to be building around Hurts to give him a shot to prove he can be the guy in Philadelphia.
Losers:
Andy Dalton, Chicago Bears: Dalton signed a free agent deal with Chicago this off-season and looked to be in position to be the starter. The Bears moved up in the draft and took Fields, the top quarterback prospect out of Ohio State. Dalton could start at the outset of the season, but the clock will be ticking.
Cam Newton, New England Patriots: Newton didn't have a great 2020, but when he re-signed with the Patriots it seemed a small vote of confidence. The Patriots didn't trade up but still landed a quarterback of the future in Jones, out of Alabama, at No. 15. Newton will have little leeway in 2021 as the future is now in New England.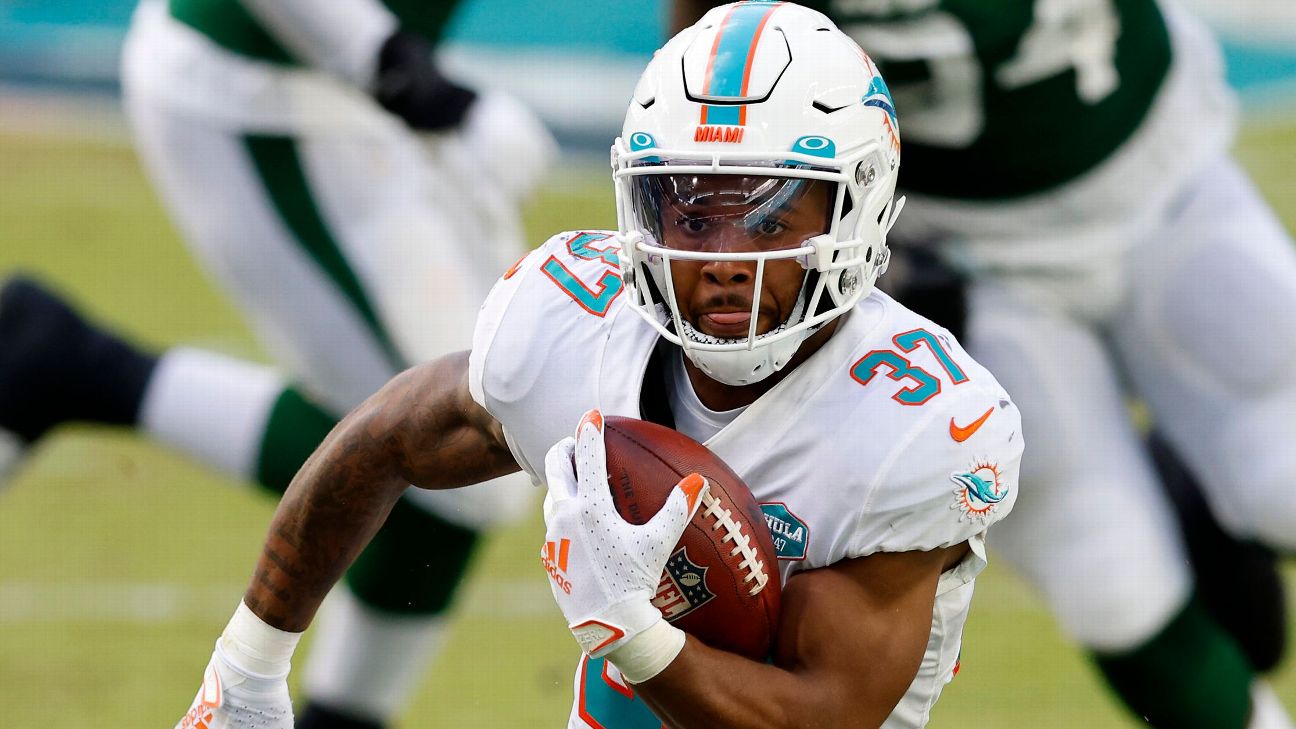 Running Backs:
Winners:
Myles Gaskin, Miami Dolphins: Gaskin showed flashes of greatness while injuries limited his games played in 2020. It seemed the Dolphins would take a running back high in the draft and limit Gaskin's potential in 2021. That didn't happen. Instead, the team addressed other positions, leaving Gaskin, Salvon Ahmed and veteran Malcolm Brown to lead the running back group. This should be a big boost to Gaskin's value.
Mike Davis, Atlanta Falcons: The Falcons were another team expected to take a running back. While they added Javian Hawkins, the runner out of Louisville, as an undrafted free agent, the lack of a high pick spent on a running back is an endorsement of Davis, the free agent signed from Carolina this off-season. Aside from Hawkins, the Falcons' running back room includes Qadree Ollison and Cordarelle Patterson, meaning Davis appears to be the guy for Arthur Smith in Atlanta.
Losers:
Raheem Mostert and Jeff Wilson, Jr., San Francisco 49ers: The 49ers appeared to add clarity to the backfield when Tevin Coleman headed to the New York Jets and Jerrick McKinnon wasn't re-signed. Instead, the 49ers spent a Third-Round pick on Ohio State running back Trey Sermon and a Sixth Round pick on Louisiana running back Elijah Mitchell. It's a crowd again in San Francisco.
James Robinson, Jacksonville Jaguars: Robinson was the darling of 2020, an undrafted free agent who ran for 1,000 yards and was a bright spot on a dismal Jaguars' team. Then the team drafted Clemson running back Travis Etienne at pick No. 25 in the First Round. That leaves Robinson's future and fantasy ceiling murky at best.
Melvin Gordon, Denver Broncos: Gordon signed a two-year free agent deal last off-season but spent the first half of 2020 splitting time with Phillip Lindsay. After Lindsay's season ended, Gordon looked decent carrying the load. When the Broncos declined to sign Lindsay this off-season, it seemed to be wheel's up for Gordon in 2021. Then Denver traded up on Day 2 and took Javonte Williams out of North Carolina with the No. 35 pick. Gordon is in the last year of his deal and Williams was viewed by some as the best back in the draft, that spells trouble in 2021.
Wide Receivers:
Winners:
Tre'Quan Smith, New Orleans Saints: The Saints let Emmanuel Sanders walk this off-season, leaving them thin at receiver. While many suspected the Saints would take a receiver in the draft, they went with other positions. That leaves Smith with a golden opportunity to step up and be the No. 2 behind Michael Thomas in 2021.
Mecole Hardman, Kansas City Chiefs: The Chiefs saw Sammy Watkins roll out in free agency this off-season, leaving a question as to who will be the No. 2 receiver in 2021. The Chiefs didn't make a significant move in the draft, leaving Hardman a chance to prove his mettle in 2021.
Michael Pittman, Indianapolis Colts: The Colts were another team that some suspected would add to their receiver group in the draft. It didn't happen. Veteran TY Hilton is back and Parris Campbell is due to return from injury, but the lack of a pick at the position appears to confirm the Colts' faith in last year's Second Round pick Pittman.
Losers:
Kenny Golladay, Sterling Shepherd, and Darius Slayton, New York Giants: This off-season Golladay was the big signing at wide receiver for the Giants, joining Shepherd and Slayton. On Day 1 of the draft, the Giants grabbed Kadarius Toney at pick No. 20. The Giants' receivers now find themselves in a crowd, but can the pass offense with Daniel Jones support that?
Preston Williams, Miami Dolphins: As a rookie, Williams showed flashes. His 2020 didn't go as some hoped and this off-season the Dolphins added Will Fuller V to the mix. The pick of Alabama receiver Jaylen Waddle at No. 6 overall seems to put a final nail in the fantasy upside for Williams with the Dolphins.
Sammy Watkins and Marquise Brown, Baltimore Ravens: The Ravens haven't been a high-volume pass offense with Lamar Jackson. Brown saw 100 targets in 2020 and was looking for more, while Watkins signed with the Ravens this off-season. Then the team drafted Rashod Bateman in Round One and Tylan Wallace in Round Four. It's suddenly crowded in Baltimore and, much like with the Giants, it's unclear if there are enough targets to go around.
Tight End:
Winner:
Anthony Firkser, Tennessee Titans: Jonnu Smith left in free agency this off-season, leaving Firkser as the last man standing in Tennessee. The team didn't grab a tight end in the draft, either, affirming their faith that he can take over the position. That makes Firkser an excellent value for those that stashed him this off-season.
Losers:
Mike Gesicki, Miami Dolphins: Gesicki had a good 2020, but he's seen the Dolphins add receivers and, in the Third Round, tight end Hunter Long. After trading for Adam Shaheen last season, it seems the Dolphins are committed to running tight end by committee, which puts a ceiling on Gesicki's targets and fantasy value.
Hayden Hurst, Atlanta Falcons: Hurst was a big acquisition for the Falcons last off-season but he had an uneven 2020 on the field. He seemed to be gaining steam as the season wrapped up, but the Falcons made a splash taking Kyle Pitts out of Florida at the No. 4 overall pick in the draft. It's the highest pick ever for a tight end and Pitts figures to be a huge factor right away. That leaves Hurst with an uncertain path to targets in Atlanta.
Matthew Fox is a graduate of the Radio, Television and Film program at Biola University, and a giant nerd. He spends his free time watching movies, TV, and obsessing about football. He is a member of the FSWA. You can find him @knighthawk7734 on Twitter and as co-host of the Fantasy Football Roundtable Podcast.