Spring has mostly sprung, though if you live in a place like Colorado the snow is hardly done for the year. Still, I've switched from calling this the Winter premiers to the Spring premiers, but the basic idea remains the same. Let these weekly posts be a guide to the new shows offered this Spring. In each piece I review the pilot and second episode of new scripted series.
Fridays:
The Falcon and The Winter Soldier, Fridays on Disney+ (Premiered March 19)
About: The second episode of Disney's second live-action Marvel series aired on Friday. And we finally got to see The Falcon (Anthony Mackie) and The Winter Soldier (Sebastian Stan) together on screen. That was good, as were their scenes and chemistry together. We also spent a lot of time meeting the new Captain America (Wyatt Russell), which was less appealing. I don't think you're meant to like the character, and I'd wager (hope) he's gone by the end of this season, but I truly disliked that portion of the second episode, which impacted my enjoyment of the series. This feels like a more straightforward presentation than what we got with WandaVision, but through two episodes it's also less compelling for me. That being said, I'm sticking with it to see where it goes. I'm still invested in Sam and Bucky, and I want to see what happens. But this one has some work to do to reach the heights of Marvel's first scripted series.
Pilot Grade: B-
Second Episode: C
The Might Ducks: Game Changers, Fridays on Disney+ (Premiered March 26)
About: Marvel wasn't the only one providing an original series for Disney+ on Fridays, as we also got the debut of the spin-off Mighty Ducks series. The original film, which saw lawyer and former hockey player Gordon Bombay (Emilio Estevez) recruited to coach a ragtag youth hockey team debuted in 1992. It was followed by a couple sequels. Now, the new spin-off series sees the Might Ducks as a youth hockey franchise with extremely high standards and no Bombay. When Evan (Brady Noon) is cut from the Ducks, his mother Alex (Lauren Graham) starts a new team, recruiting others who aren't given a chance to shine with the Ducks. She finds them ice space at a rink run by none other than Bombay, who's no longer associated with the Ducks, hates hockey and isn't fond of kids. The first episode is mostly about introducing the world and setting the stage, but you'd have to assume Bombay doesn't stay away from this new team for long. I was a fan of The Mighty Ducks as a kid, and I thought this new series had some potential. It's nice to see Estevez back, Graham is always good in a series and the new group of kids have plenty of pluck. The pilot wasn't incredible, and I don't know if it's a franchise I needed to revisit, but the first episode was enjoyable enough to pique my interest.
Pilot Grade: C+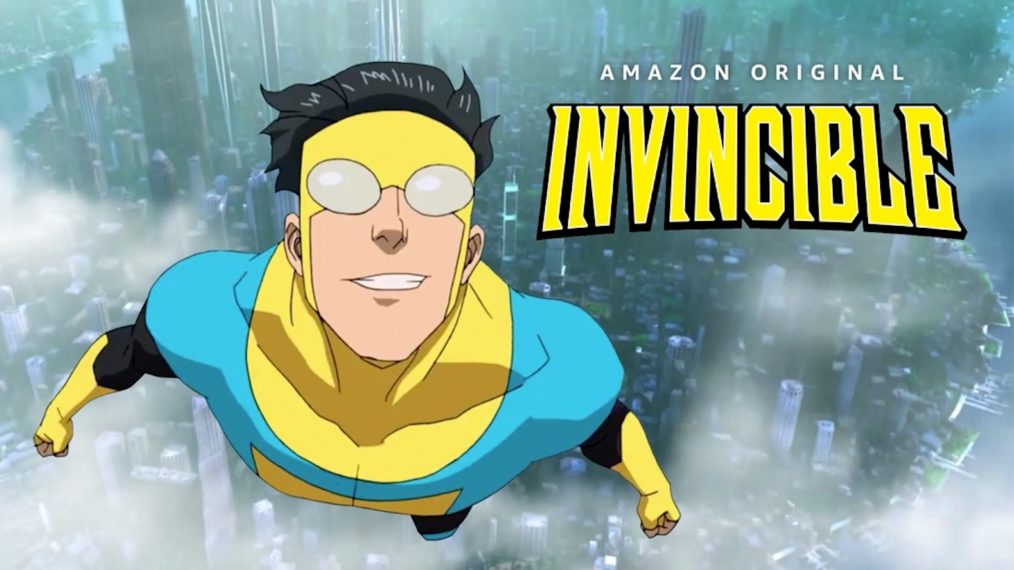 Invincible, Fridays on Amazon Prime (Premiered March 26)
About: This latest series is an animated one, coming from The Walking Dead creator Robert Kirkman and based on another of his comic books. It centers on a group of heroes, specifically the greatest hero in the world, Nolan Grayson (J.K. Simmons), and his son Mark (Steven Yeun), who recently developed powers and goes by the handle Invincible. The first three episodes dropped on Friday, with subsequent episodes dropping weekly. The rest of the voice cast include Sandra Oh as Nolan's wife and Mark's mother, as well as Gillian Jacobs, Jason Mantzoukas, Zachary Quinto, Seth Rogen, and Mark Hamill, among others. The first two episodes are an interesting blend of humor, action, and drama. Though its animated, this isn't aimed at children. The violence, at times, can be quite intense, but the story is engrossing and the episodes end on cliffhangers to keep you coming back for more. This is a different kind of superhero journey, and one that was compelling enough in its early episodes to keep exploring.
Pilot Grade: B-
Second Episode: B-
Sunday Nights:
The Gloaming, Sundays at 10 p.m. on Starz (Premiered March 21)
About: This latest series, a crime drama set in Australia and imported from that country, adds to Starz' original offerings on Sunday night. It features two detectives (Ewen Leslie and Emma Booth) paired together to solve a crime. Both are also haunted by a shared past trauma. The first episode played out fairly slow and didn't have a great hook. I thought the same of the second episode. Starz has struggled to nail its original programming. American Gods was high profile but was recently cancelled after three seasons. Outlander has been a hit, but has also been on a long hiatus. The network has launched a few original series and brought in a few foreign co-productions in the past 18 months, but none has really landed for me. The Gloaming doesn't land either. For fans of crime dramas, there might be a hook here but there are better options even within the genre.
Pilot Grade: C-
Second Episode: C-
Streaming Series:
The Irregulars, Now Streaming on Netflix (Premiered March 26)
About: This new series focuses on a group of kids in London who are recruited to work for Sherlock Holmes. This one imagines Sherlock (Henry Lloyd-Hughes) as an addict who takes credit for the work of his shadow team. Meanwhile the crimes they investigate are part of a surge of dark supernatural events plaguing the city. The full eight-episode season was released, each episode running around an hour. Its got an interesting and moody feel, and a decent cast. I liked the primary young actors, and veterans like Clarke Peters add to the experience here. That being said, the first two episodes were a bit strange and a bit dry. There's time for this to develop into something engaging for those who stick with it, but likely the content here makes it an acquired taste. It was a dream to develop this story for creator Tom Bidwell, and the production is solid but the stories are a little too dry through the first two episodes.
Pilot Grade: C
Second Episode: C
Matthew Fox is a graduate of the Radio, Television and Film program at Biola University, and a giant nerd. He spends his free time watching movies, TV, and obsessing about football. He is a member of the FSWA. You can find him @knighthawk7734 on Twitter and as co-host of the Fantasy Football Roundtable Podcast.