The NFL's legal tampering period began Monday, setting off a flurry of moves as players move to new places. While the deals with Jonnu Smith (Patriots) and Shaq Barrett (Buccaneers) got the ball rolling early, there was plenty of other action Monday night and early Tuesday. Below is a look at some of the frenzied activity.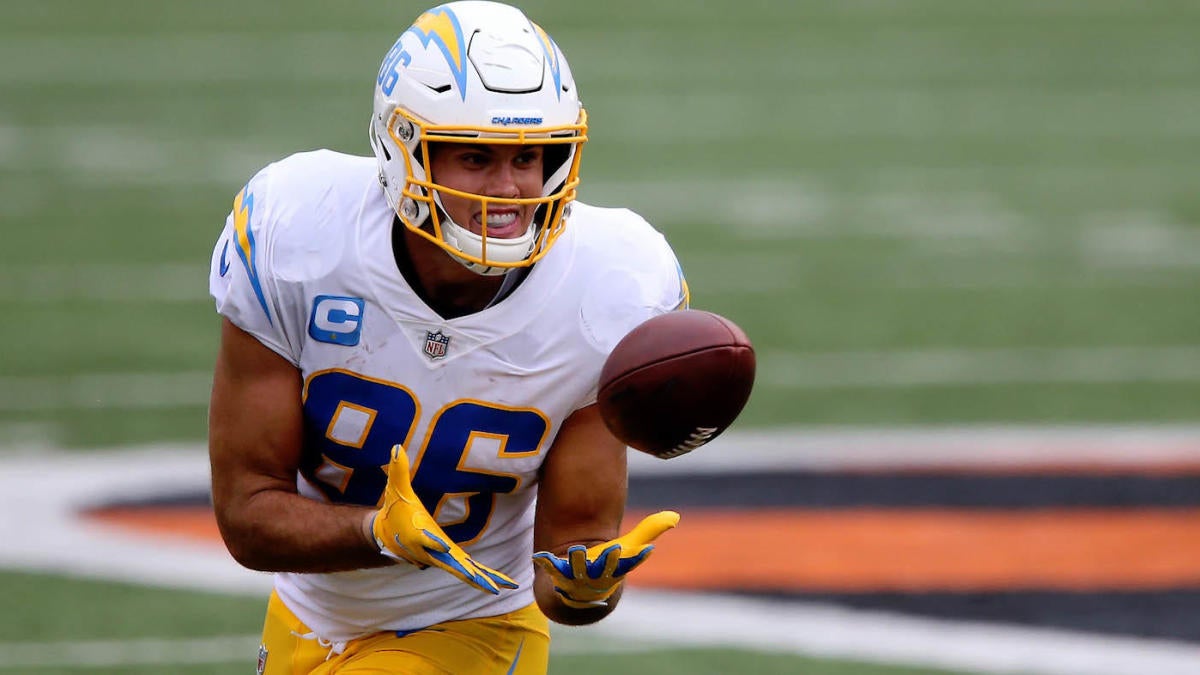 Patriots Open Up Their Wallets
The spending spree for New England continued. Smith signed a four-year, $50 million deal Monday, but he was hardly the only big signing. Later Monday evening, the Patriots beefed up their wide receiver group by signing Nelson Agholor, formerly of the Las Vegas Raiders, to a two-year, $26 million deal and adding former 49ers receiver Kendrick Bourne on a three-year, $22.5 million deal.
But the Patriots weren't finished. The team added another high-profile free agent tight end, former Charger Hunter Henry, on a three-year, $37.5 million deal. The Patriots' passing game struggled in 2020, but the addition of Smith, Henry, Agholor and Bourne, along with Julian Edelman returning from injury give them plenty of options. The Patriots also signed the top two free agent options at tight end. While this will be great for the team, it likely impacts the fantasy ceiling for these players.
Henry posted 196 receptions for 2,322 yards and 21 TDs in five seasons with the Chargers, including 60 receptions for 613 yards and four TDs in 2020. He finished as TE12, while Smith finished as TE16. Both figure to be TE2s in fantasy in 2021. The Patriots' offense has sustained two good options at TE before, and could again, but for now the upside of both is capped a bit. Agholor had 48 receptions for 896 yards and eight TDs in 2020, his only year with the Raiders. He has some big play ability, finishing as WR34. He has WR3 potential with the Patriots, possibly higher depending on his target share with Edelman and Bourne. The Bourne signing feels like one that's better for NFL purposes than fantasy purposes. He caught 137 passes for 1,769 yards and 11 TDs in four seasons with the 49ers. For now I view him as more of a deep fantasy stash, and see Edelman as a WR3/4.
The Patriots also made a splash on defense, adding defensive tackle Davon Godchaux, a former Dolphin, on a two-year, $16 million deal. The team added former Ravens' linebacker Matthew Judon on a four-year, $56 million deal and former Eagles' cornerback Jalen Mills on a four-year, $24 million deal. The team figures to be greatly improved on both sides of the ball with the free agent haul and players returning after opting out in 2020.
Veteran Quarterbacks Sign
Veteran quarterbacks Ryan Fitzpatrick and Jameis Winston both signed one-year deals on Monday, while Andy Dalton signed a one-year deal on Tuesday. Winston, as expected, signed a one-year deal to return to the New Orleans Saints, where he was a backup to Drew Brees in 2020. Winston and Taysom Hill are expected to compete for the starting job after Brees announced his retirement. Whoever wins the job has QB1 upside working with coach Sean Payton and weapons that includes running back Alvin Kamara and wide receiver Michael Thomas.
Fitzpatrick signed a one-year, $10 million deal with the Washington Football Team. Though it was rumored he might retire, Fitzpatrick figures to be the starter for a Washington team that made the playoffs in 2020. Fitzpatrick, who was once Winston's teammate in Tampa Bay, has played for eight NFL teams, most recently spending two years in Miami with the Dolphins.
In 2020, Fitzpatrick went 4-3 as a starter, throwing for 2,091 yards and 13 TDs along with eight INTs. He figures to be a QB2 option with Washington, providing upside for WR Terry McLaurin and tight end Logan Thomas.
Dalton, meanwhile, agreed to a one-year, $10 million deal with the Chicago Bears. Nick Foles is still on the roster there, and it figures to be a competition between the two veterans. Dalton spent nine years with the Bengals before serving as a backup in Dallas in 2020. He started nine games with the Cowboys, going 4-5 with 2,170 yards, 14 TDs and eight INTs. For fantasy purposes, either Dalton or Foles figures to be a QB3.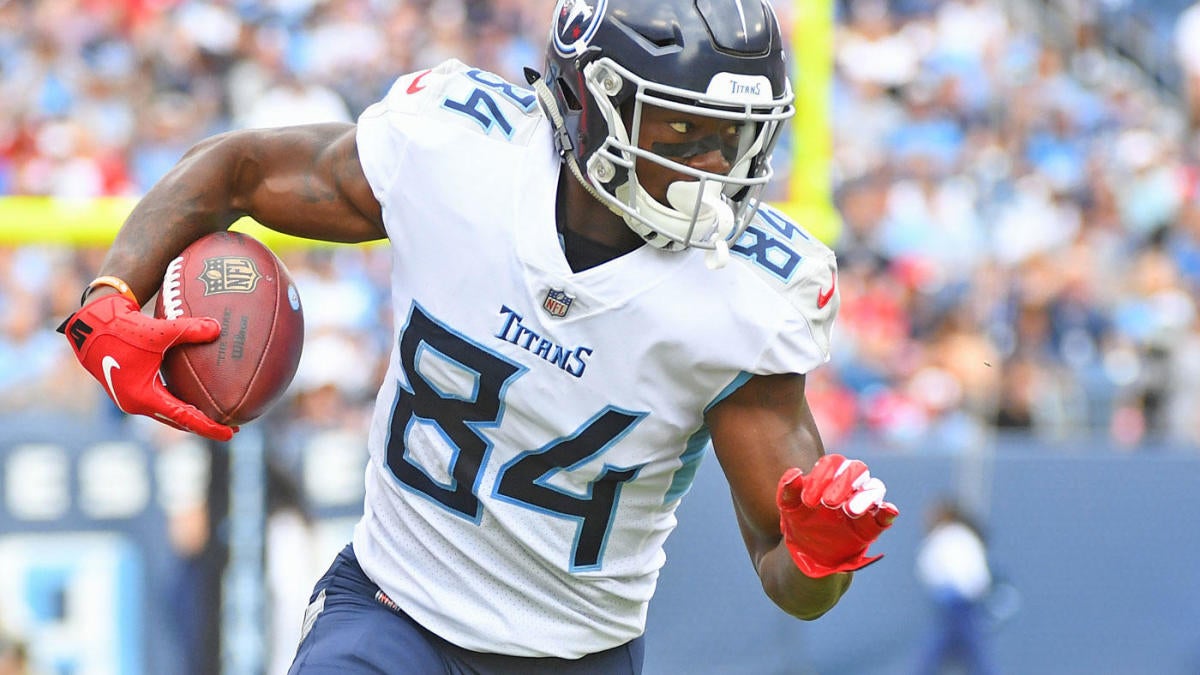 Davis is a Jet
The Tennessee Titans lost a second starter in the passing game Monday as wide receiver Corey Davis signed with the New York Jets. The deal is for three years, $37.5 million. Davis provides an upgrade to the passing game for whoever ends up playing quarterback in New York, joining second-year pro Denzel Mims and veteran Jamison Crowder.
Davis, a former first round pick, had his best year with the Titans in 2020, catching 65 passes for 984 yards and five TDs. That was good enough to be WR30 for fantasy. Crowder, limited to 12 games, was the Jets' best receiver in 2020, catching 59 passes for 699 yards and six TDs, while rookie Mims caught 23 passes for 357 yards in nine games.
Determining fantasy worth is tricky without seeing who ends up at quarterback. The deal and recent season lead me to believe Davis will be the top receiver, with WR3 value. Mims has the most raw potential, but Crowder could have a safe floor if he stays on the field. Mims is a stash, Crowder is a WR5/6 for now.
Veteran Running Backs Sign
A pair of running backs signed deals to provide depth and options for new teams. Carlos Hyde, who has bounced around to the Browns, Texans and Seahawks since starting his career with the 49ers, signed a two-year, $6 million deal with the Jacksonville Jaguars. Hyde had a 1,000-yard season in 2019, but rushed for just 356 yards and four TDs on 81 carries in 2020 with Seattle. He figured to provide good depth behind James Robinson, who led the team with 1,070 yards and seven TDs as a rookie in 2020. For now, I still have Robinson as a high-end RB2.
Meanwhile Devontae Booker signed a two-year, $6 million deal with the New York Giants. Saquon Barkley, a Top 5 RB, is still the starter there, but Booker provides some solid depth with upside. Backing up Josh Jacobs with the Raiders in 2020, Booker rushed for 423 yards and three TDs, catching 17 passes for 84 yards.
Other News and Notes:
As expected, tight end Rob Gronkowski re-signed with the Tampa Bay Buccaneers on a one-year deal worth $10 million. Gronkowski re-signing is another key free agent returning to the Buccaneers as they look to defend a Super Bowl title.
Defensive Lineman Leonard Williams, who received a Franchise Tag from the New York Giants for the second year in a row, agreed to terms on three-year, $63 million deal.
Linebacker Bud Dupree is moving from the Pittsburgh Steelers to the Tennessee Titans. Contract details are still pending, but it is expected to pay him $16 million per year.
The Chiefs moved to protect Patrick Mahomes and fill their void on the offensive line by signing former Patriot Joe Thuney to a five-year, $80 million deal.
The Browns signed former Rams' safety John Johnson III to a three-year, $33.75 million deal.
The Chargers signed former Packers' center Corey Linsley to a five-year, $62.5 million deal.
The Broncos added two players on defense, in addition to picking up linebacker Von Miller's option. The team re-signed defensive lineman Shelby Harris to a three-year, $27 million deal and reached an agreement with former Washington Football Team cornerback Ronald Darby on a three-year, $30 million deal.
The Raiders added former Jaguar and Raven defensive end Yannick Ngakoue on a two-year, $26 million deal.
Rams' linebacker Leonard Floyd re-signed on a four-year, $64 million deal.
The Jaguars made a move to strengthen their secondary, agreeing to terms with former Seahawks' cornerback Shaquill Griffin on three-year, $44.5 million deal.
Matthew Fox is a graduate of the Radio, Television and Film program at Biola University, and a giant nerd. He spends his free time watching movies, TV, and obsessing about football. He is a member of the FSWA. You can find him @knighthawk7734 on Twitter and as co-host of the Fantasy Football Roundtable Podcast.