The Super Bowl was Sunday, and following it we got the traditional new show launch. But, was it any good? And how about the other new shows that bowed this week? Let these weekly posts be your guide through the flood of new content this Winter and Spring. Each week I review the pilot and second episode of new scripted series. Don't see a new show listed below? Check previous weeks!
Wednesday Night:
Resident Alien, Wednesdays at 10 p.m. on SyFy (Premiered January 27)
About: This series stars Alan Tudyk as an alien trying to fit in as a doctor in a small Colorado mountain town while searching for his ship to, you know, end the Earth. I thought the pilot was fun in an unexpected way. Tudyk is a great performer and a gifted physical comedian. The pilot felt quirky and different and I was excited about the possibility. The second episode, by contrast, was a let down. It felt pretty stiff and felt like it was missing a lot of the pilot magic. It was awkward and felt stilted. So which show are we getting? It's possible that was just a temporary hiccup, but to me it felt like a worrying sign that this might have been an excellent movie concept but won't work week-to-week. There are a lot of shows on now, and more are coming now that the NFL season is past and we're in February sweeps. I liked the pilot, and I like Tudyk as a performer, but I'm not sold on the show.
Pilot Grade: B-
Second Episode: C
Sunday Nights: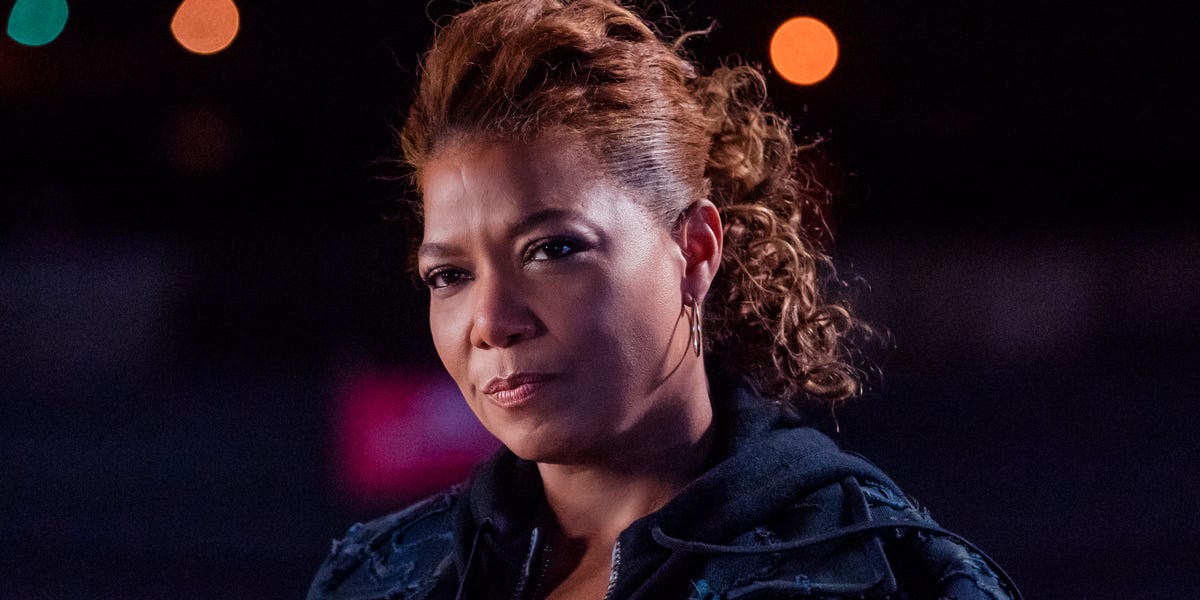 The Equalizer, Sundays at 8 p.m. on CBS (Premiered February 7)
About: This is one of two big new series to bow this week on CBS. Both were feature film projects with high-profile stars, but only The Equalizer got the post-Super Bowl bump. This version stars Queen Latifah as a former CIA Operative who has retired from the day job but is looking for purpose. She stumbles upon a young girl being framed for a hit and decides to use her special skills to set things right. The Equalizer was born in 1985 as a TV series starring Edward Woodward. In more recent times it spawned two successful action films with Denzel Washington in the lead role. Now, the cycle of story life continues as it's back on the small screen, this time with a gender-flipped lead character. This one has a decent supporting cast, which includes Chris Noth and Adam Goldberg, and I thought the pilot was more engaging than expected. I enjoyed the Washington films for what they were, more of a hard action approach. This felt closer to the premise of Person of Interest, but Latifah is an affable lead and I thought the pilot moved at a decent clip. CBS bet a lot on this landing as a successful series. The post-Super Bowl show always draws big ratings, so it will be interesting to see how many folks come back for Week 2. I know I'm intrigued to see where this one goes.
Pilot Grade: B-
The Long Song, Sundays at 9 p.m. on PBS (Premiered January 31)
About: This mini-series debuted last week and continued Sunday night opposite the big game. Hayley Atwell stars in the adaptation of the novel about the last days of slavery in Jamaica, and the world there for both slaves and former masters in the aftermath. The pilot mostly showed slavery and moved at a somewhat glacial pace, not helped by the truly unlikeable characters. The second episode moved into the immediate aftermath. The story advanced, with some characters remaining unlikeable. I also felt like it was a bit predictable how it went, and I feel like I have a pretty great idea of where it's going next. We've seen these types of stories told a few times, and while I agree it's an important story to tell, there are better versions of it.
Pilot Grade: C-
Second Episode: C
Streaming Series:

Firefly Lane, Now Streaming on Netflix (Premiered February 3)
About: This new Netflix series is based on the novel of the same name from Kristin Hannah. It stars Katherine Heigl and Sarah Chalke as the adult versions of lifelong best friends. The girls met when they lived on the titular Firefly Lane as teens, and the story tracks their relationship from that time through to their early 40s in the early 2000s. This is a high-profile cast and felt like a decent project coming down the pipeline. But I wasn't taken with how the show, adapted by Maggie Friedman, is structured. Each episode bounces around in different timelines, seemingly organized by a common theme over time. That's somewhat interesting, but also disorienting. We start with the premise these women are connected by a deep, life-long friendship, but that isn't conveyed strongly in the way the episodes are structured. I watched the first two, and both operated similarly. I believe the entire series does, running 10 episodes, each between 45-60 minutes. The entire season is available, and I admit I'm not the target audience here, so others have likely already binged it. Each of the episodes I saw ended with something of a cliffhanger, the pilot doing so in a way that seemed, at least to me, to indicate a story twist we didn't see play out in episode two. I like the actresses fine, but this didn't work for me. It was OK, but not compelling enough to make me power through the series.
Pilot Grade: C
Second Episode: C
The Head, Now Streaming on HBO Max (Premiered February 3)
About: This series, mostly in English, follows an international crew at an Arctic research station. It's a place where the sun isn't seen for 179 days of the year. We drop in on the last day of sun, a party where the extended crew is preparing to depart and leave a skeleton crew for the winter. But things don't go as expected. Six months later, when the relief crew arrives, they find a sole survivor, several bodies, and a few missing people. That leads to a lot of questions, which play out in a real-time investigation and flashbacks to what happened when the group was left alone in the dark. This one is four episodes, so a shorter commitment, each around an hour. Your interest in the series will largely depend on how you feel about the genre, and subtitles. I thought the pilot was a little dry but the second episode picked up the pace. There is enough intrigue and a short enough commitment I want to see where this one lands.
Pilot Grade: C
Second Episode: C+
The Snoopy Show, Now Streaming on Apple TV+ (Premiered February 5)
About: Apple TV+ is now home to the Peanuts. That means both the season specials (with the Valentine's Episode available now) and original series. The streamer offered a Peanuts series when it bowed in November 2019, but now its got another one, The Snoopy Show, which debuted Friday. I've long been a fan of the Peanuts, and I'm excited there is a new series to offer another generation a chance to fall in love with these characters. I watched the first two, which each ran about 25 minutes and contained two mini-stories in each episode. This is a great watch for kids and families, or those who've been lifelong fans of the Peanuts.
Pilot Grade: B-
Second Episode: B-
Matthew Fox is a graduate of the Radio, Television and Film program at Biola University, and a giant nerd. He spends his free time watching movies, TV, and obsessing about football. He is a member of the FSWA. You can find him @knighthawk7734 on Twitter and as co-host of the Fantasy Football Roundtable Podcast.